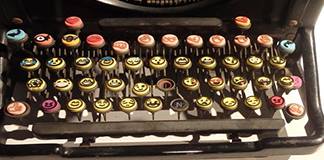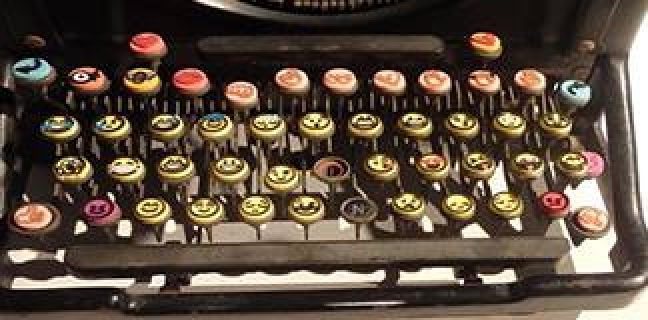 Many of you might not like to work with the default keyboard of your mobile phones. You should know that they are not the only option and that you do have lots of more options like the third party keyboard apps for Android that are great to work with and their main motto is to enhance your chatting or texting experience with its amazing features.
Below is the list describing a list of 10 best free emoji keyboard apps for android. It is not necessarily a ranking based list and there are many more apps like these and this is just to assist you for a reference purpose.
Best Emoji App for Android
AI Type Keyboard Plus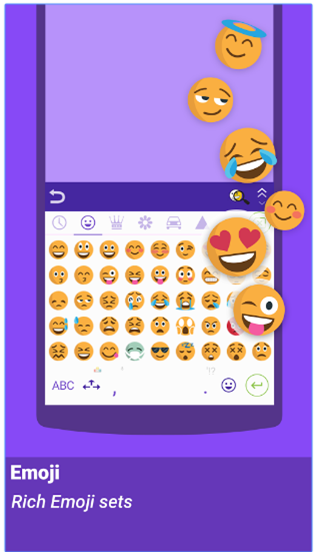 It is the suggestive smartest, most personalized keyboard for your smartphones and tablets. It has over 40 million users worldwide and is transforming the messaging experience. It lets you type better and faster as it learns your writing style and it also lets you customize and personalize your keyboard the way you like.
Its premium features being prediction, completion, correction, swiping and emoji. You have more than 800 emoji and more than 1000 graphical characters to express yourself exactly the way you want to.
Galaxy Emoji keyboard Theme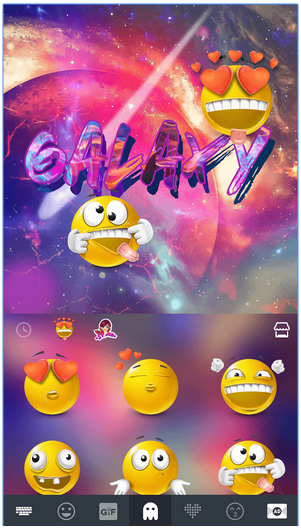 Play Store Link
This is a theme for your keyboard and the keyboard supported is iKeyboard only. You can download iKeyboard for free which is a smart keyboard app for Android which enhances your typing faster, easier and makes it more fun.
It has 800+ emoji and emoticons. Its features are colorful themes, search and send Animated GIFs, word predictions & suggestions, smart autocorrect, customized fonts, voice input, swipe-to-type
Fleksy keyboard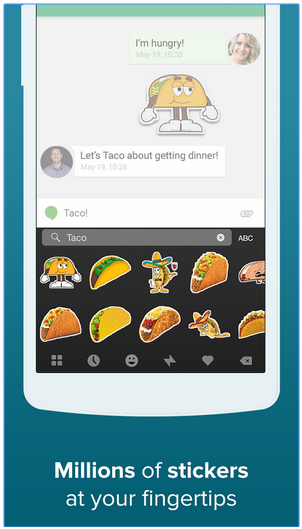 It is the most fun, customizable way to type, and officially recognized as the fastest keyboard in the world. This keyboard lets you find and send GIFs, and customize your keyboard with powerful Extensions and beautiful themes.
It has powerful extensions for custom functionality. No keyboard is more customizable. You can use Fleksy Extensions to customize your keyboard with incredibly powerful features.
It uses next-generation auto correct such that you can type without even looking, and that too with record-setting speed using intuitive gestures. It has over 40 colorful themes. It has over 800 emoji.
GO Keyboard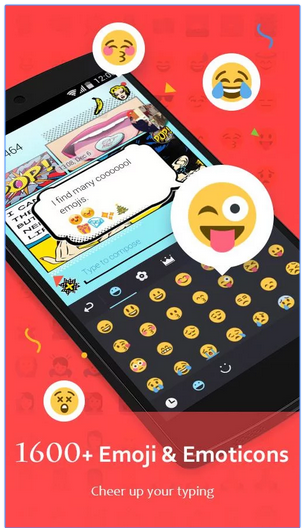 It is the recommended best keyboard on Google Play with more than 200 million users worldwide. It helps you make your typing faster and correct. It has personalized emoji keyboard where you can enjoy smiley emoji, sticker and font to key tone with your friends anytime.
It provides you with 10000+ colorful themes and 100+ fonts and you can slide to input smoothly. It supports more than 60 languages and thousands of themes.
The emoji, emoticons and sticker provided by this keyboard are compatible across all the popular apps. The emoji and emoticons can be easily found in the keyboard area. And the best part is you can use the pack of 800 emoticons, emoji and sticker free of cost.
Google Keyboard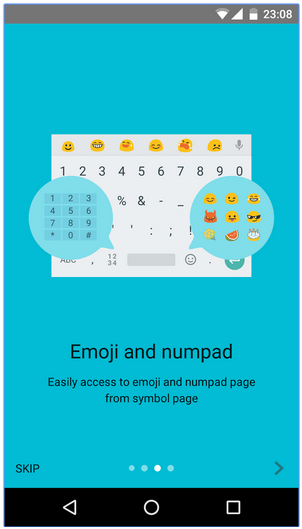 It makes typing fast and easy with gesture and voice. You can glide through letters with Gesture Typing to enter words. You just need to lift your finger to finish a word and gesture again, no spacebar required.
You can also compose text on-the-go with Voice Typing. When you can't find the right words, express yourself with hundreds of perfect emoji. It works perfectly on all your Android devices.
Multiling O Keyboard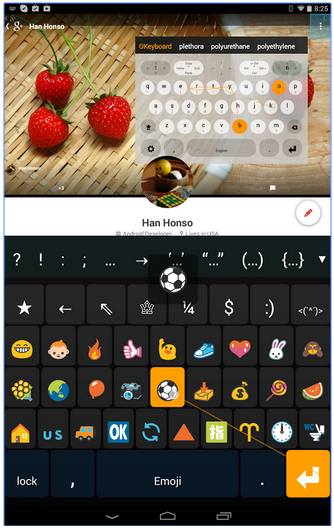 Play Store Link
It is also known as OKeyboard or OKey. It is super lightweight that is one third MB and yet flexible and powerful. It is all in one with respect to languages, it supports more than 200 languages.
Its features are accurate gesture input i.e. swipe, it saves battery power, resizable and easy positioning, fits all screen sizes, unlimited themes with styles and color mixing, wide range of emoji sticker, easy switch between languages, layouts, voice input, or even other keyboards, and no internet permission required.
KikaEmoji Keyboard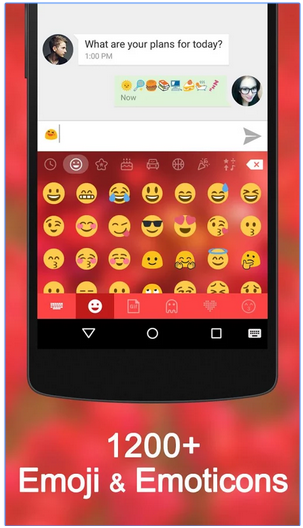 It is a smart emoji keyboard app for android phone that makes typing fast, easy and fun. 
It provides you with 1200+ emoji& emoticons, smileys, stickers, colorful and customizable themes, massive funny GIFs, word predictions, smart auto-correction, smooth swipe, 60+ supported languages and more, it delivers everything you'd expect from a world-class smart keyboard app and that too free of cost.
Smart Keyboard PRO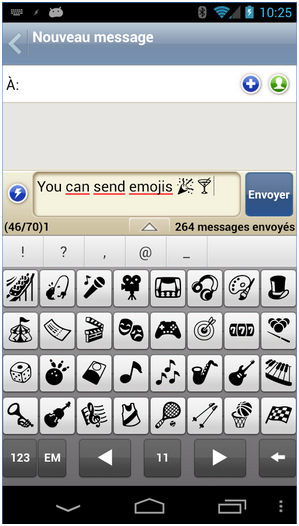 Play Store Link
 It is a fast multi touch keyboard with multi-language support, skins, voice input, T9 and compact mode, Smart dictionary, custom Auto-Text, hard keyboard support, calibration, and many other appearance and prediction options. 

TouchPalEmoji Keyboard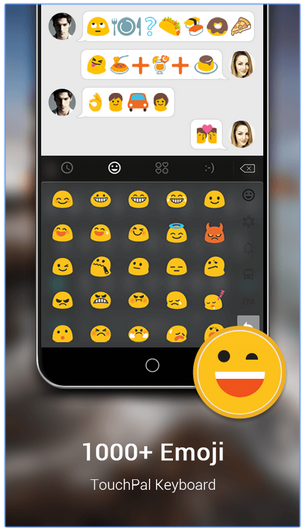 Play Store Link
It is a free keyboard app for your Android phones and tablets that lets you to fast input with more than 800 emoji, emoticons and text faces conveniently, and also supports customizable keyboard themes, delivers best next word prediction and much more.
It is the Mobile Innovation Global Award winner and has over 400 million users worldwide who are using its emoji and creating their own keyboard themes.

Swype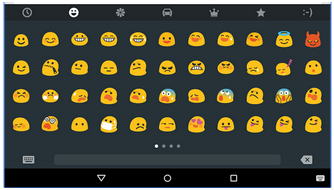 It is all about YOU. It analyzes whether you're a fast tapper, exact typer or a Swype Ninja, it helps out for a better, faster keyboard experience that gets smarter the more you use it.
It pays attention to the way you input text and creates a personal language model that follows you from device to device. It is the world's most powerful keyboard.
Its some of the features being the too many themes according to occasions, its new EMOJI keyboard, more customization options, next word prediction, bilingual support, gestures etc.

As you have already gone through the list by now, you know about the best possible options you can think to change to so that you get the best chatting experience. There are many more other keyboard apps too. The above all are free. There are paid keyboard apps too.