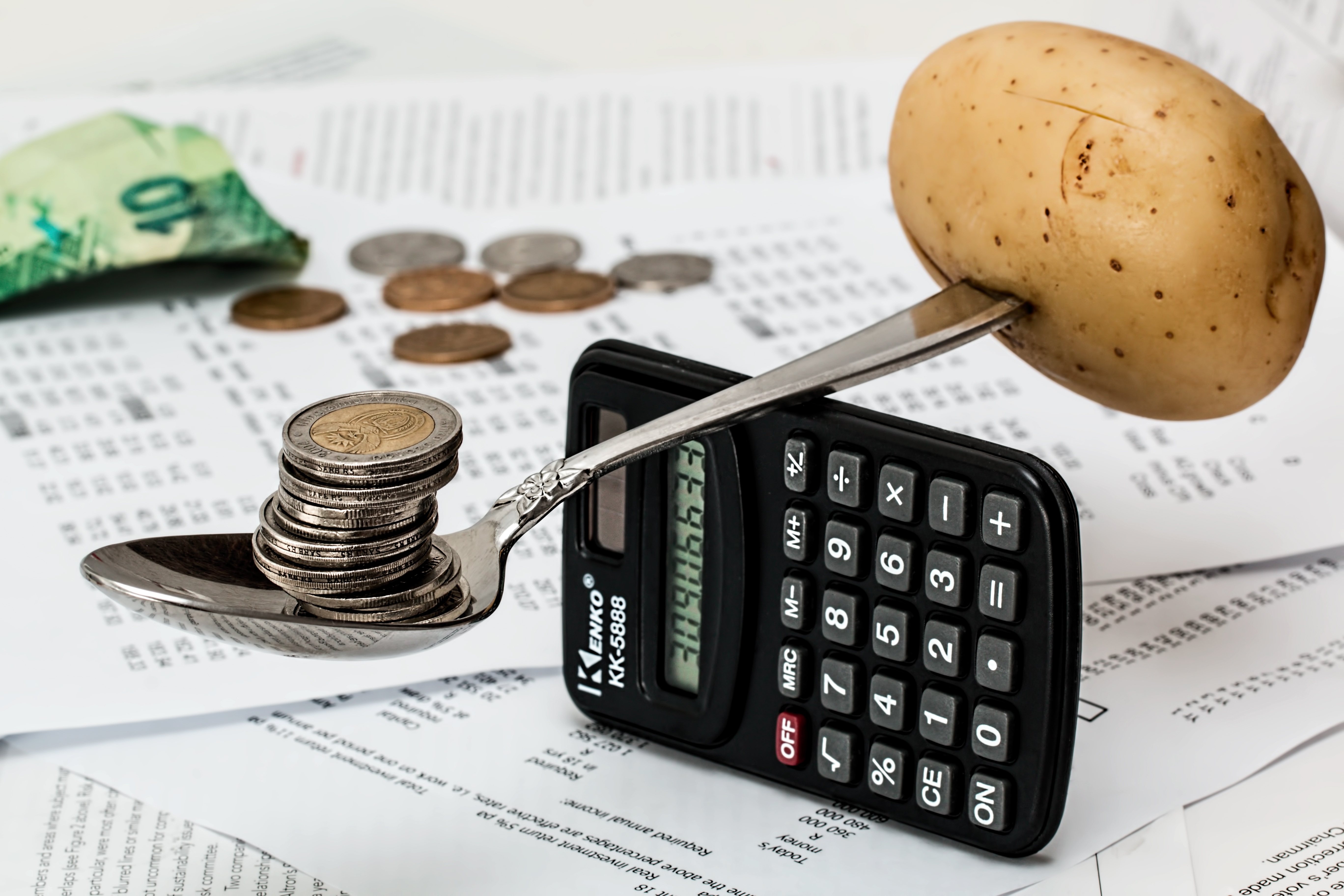 Smartphones can be used to take important decisions on financial matters. Do I sound crazy? Not at all because there are tons of financial calculator apps available for both popular mobile platforms, Android and iOS that can help you to solve complex finance, real estate or business related calculations in few seconds. Most of these financial calculator apps are available for free, and even if some have a cost associated with them, you won't mind paying because of their excellent features and easy to use functioning.
You cannot use a regular calculator in many cases, for example, if you want to calculate the depreciation of any product, or interest rate on a personal load then either you need to appoint someone or download an advance calculator app specially designed for such issues.
10 Best Financial Calculator Apps for Android and iOS
So, without wasting any time further, have a look at some of the best financial calculator apps for iOS and Android OS. Also check EarlySalary India's First Mobile App for Instant Cash
Tydlig (iOS)

It's a Premium app with price $1.99 only.

The Tydlig calculator app is developed by Andreas Karlsson and is available for iOS users. The app redefines the use of calculators and is highly useful for financial calculations. It has a canvas plus on the bottom right corner which updates the results automatically for any number edited over there.
You can select those numbers and pass on to the operational links. The app offers real-time graphing, works like a spreadsheet, allows users to export the entire canvas and more. The app doesn't require an internet connection and can work offline.
Download: iOS
PowerOne Finance Calculator (Android, iOS)

It's a Premium app with price $4.99 only.
PowerOne Finance Calculator is a powerful app for finance, real estate, and any business related calculations and works fine with both Android and iOS devices. It offers a broad range of spreadsheet-like templates that are preinstalled in the app library and can be used for any analysis.
It has a sleek algebraic and RPN calculator with lots of functions for one-off calculations. You can also see results in the form of graphs and analyze investment growth, loans, etc. in a better way. The app is customizable and allows users to create their templates.
Calzy – The Smart Calculator (iOS)

It's a Premium app with price $1.99 only.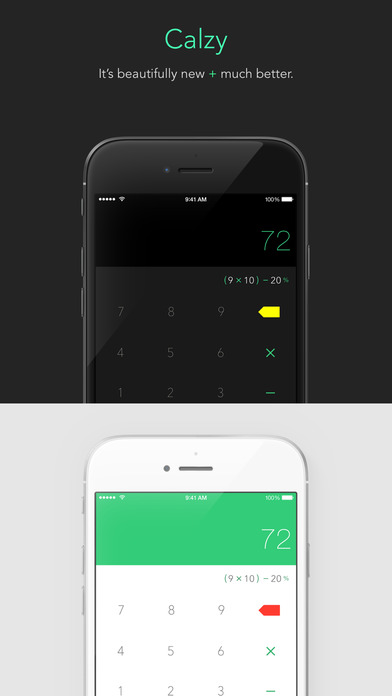 Calzy is a cool calculator app which performs daily calculations in an efficient manner and is available for iOS devices such as iPhone and iPads. It includes plenty of features such as Currency Rounding which lets users switch to currency calculation quickly expression edits such as delete, edit, or reorder, easy share options like email and air drop and calculates as the user types.
The app comes with multiple color schemes and dark/light mode for less strain on the eyes. It is easy to use and has a simple interface with gestures.
Download: iOS
Calculator + (iOS)

it's a FREE app.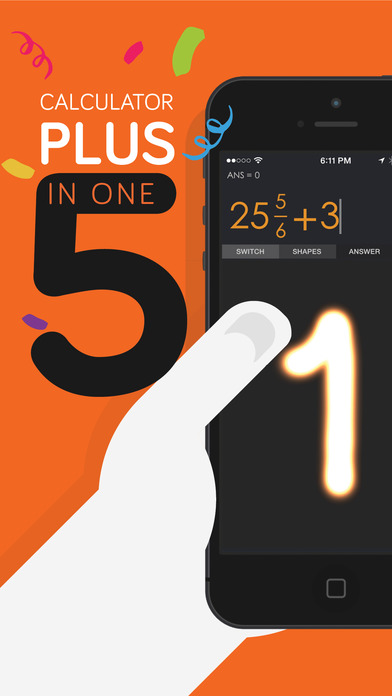 Calculator + is introduced by xNeat.com and is available for iOS devices like iPhone, iPod Touch and iPad. The app requires iOS 7 or later version to function and is free to download. You won't see any unwanted advertisement popping up while doing your calculations. The app has an elegant user interface and provides support for Apple watch as well.
The app allows handwriting and showcase results along with the equation simultaneously. Since it supports a large number of objective functions, Fraction, and Percent, etc., it can be used for various types of calculations including finance or business related calculations too.
Download: iOS
10bii Financial Calculator (Android)
It's a Premium app with price $5.99 only.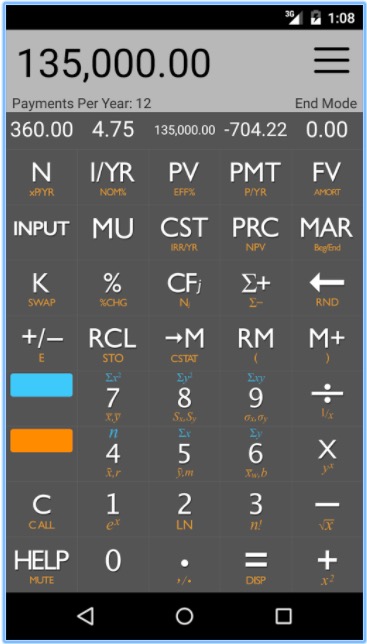 It is a feature rich financial calculator app for Android users. The app offers Breakeven, Bonds, Depreciation, Probabilities, and Trig so that you can figure out the exact value of any item in less time and efforts. You can see current N, PV,  I/YR, PMT and FV values above the buttons and save or even take a print out of PDF Amortization Schedules.
The app is easy to use and includes video tutorials in the help section. You can quickly reload any recent calculation as it automatically saves them. The app can also be used to draw Cash Flow Diagrams, and Uneven Cash flows for the time value of money.
Download: Android
Financial Calculators (Android)

it's a FREE app.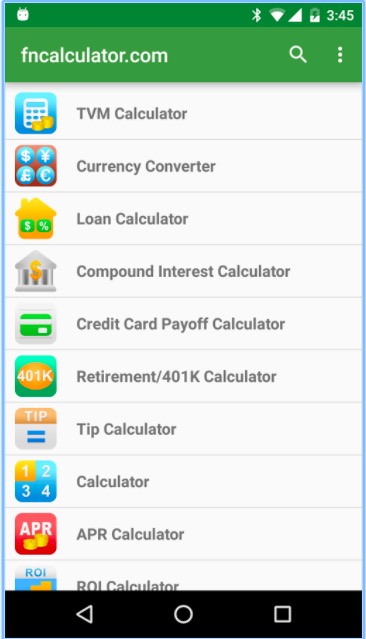 It is a complete package of financial calculators that offers the variety of services such as Loan calculation, Loan Comparison, Loan Analysis, Loan Refinance, calculation related to Mortgage Tax Saving, Comparison of Fixed vs. Adjustable Rate, Bi-weekly Payment for loan related issues.
It also features TVM Calculator, Currency Converter, IRR NPV, Bond and MIRR Calculators. There is a vast range of services available for Retirement, Stock, Credit Card detailed calculations and much more. The app is free to download and available for Android users.
Download: Android
BA Financial Calculator Free (Android)
it's a FREE app.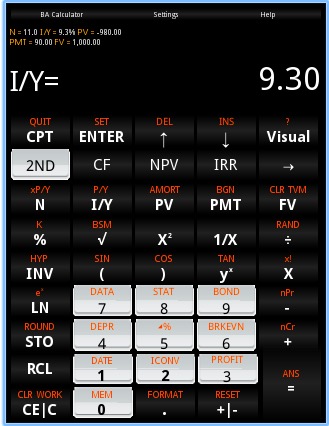 BA Financial Calculator is another great financial calculator app which can be downloaded for free on Android smartphones and tablets. You will see two lines on the display that is updated on the real time basis and allow users to track input as well as a result simultaneously. It also helps you to perform various operations such as accounting, finance via the financial calculator.
It draws cash flows under separate interest rates, depreciations, and amortization. The app allows users to calculate bond price, profit margin, etc. It also does basic mathematical calculations such as trigonometric function, square and logarithm.
Download: Android
CF Financial Calculator (iOS)

It's a Premium app with price $4.99 only.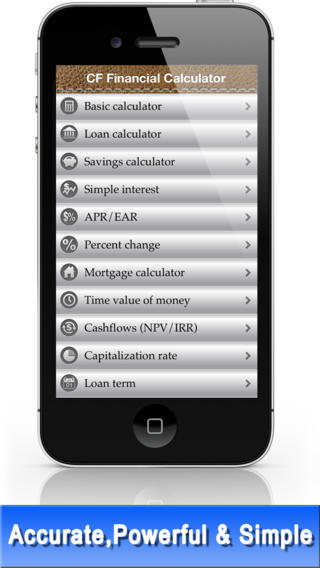 It is a powerful app to solve business equations and do financial calculations with accuracy. It packs a huge variety of calculators for various scenarios such as Loan Payment, Mortgage, IRR,  NPV, Amortization, Simple interest, returns, savings, Time Value of Money (TVM), APR/EAR and more.
The app also lets you evaluate capital investments for real estate and other industries. You can quickly calculate interest rates on credit cards or loans by annual percentage rate (APR) and efficient annual rate (EAR). 
Download: iOS
EZ Financial Calculators (iOS)

It's a FREE App.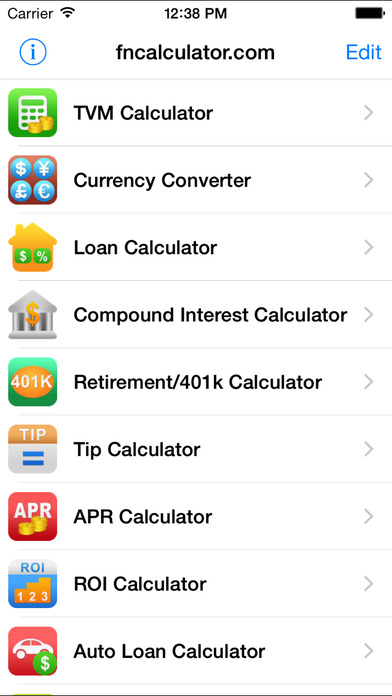 EZ is a popular Financial Calculator app that includes many calculators for multiple scenarios like Time Value of Money (TVM), loan, Tip,  Annual Percentage Rate (APR), Credit Card Pay Off, Return on Investment (ROI), IRR NPV, Auto Lease, Auto Loan, Percentage, Compound Interest, Retirement and more.
The app features a Currency Converter too and features PV, FV, Rate, PMT, and Periods buttons on the right side. The app is available for iOS devices such as iPad, iPhone, and iPod touch and can be downloaded for free.
Download: iOS
Touch Fin Financial Calculator

It's a Premium app with price $4.99 only.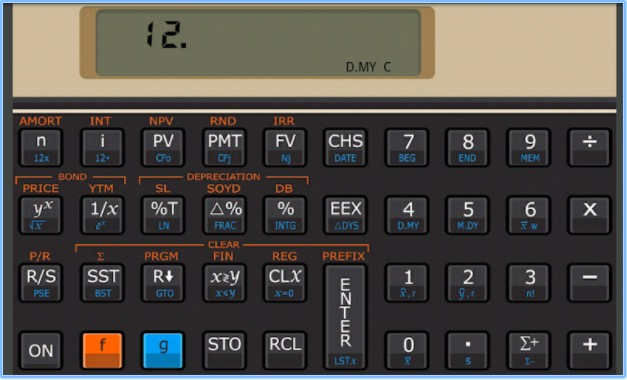 Touch Fin is comparatively less attractive an RPN financial calculator app which can solve many finances or business related equations. The app has a premium version that includes a variety of useful features portrait layout, 100% full screen, saves memory images and more. The touch Fin financial calculator is available for Android users and requires OS version 4.0.3 and later to function.
Download: Android
Some of these financial calculator apps draw graphs and show you visuals in a better way, some of them include spreadsheets so that you can do accounting and other works simultaneously. In short, these simple financial calculator apps can help you a lot in your job and show a clear picture of every business related activity.