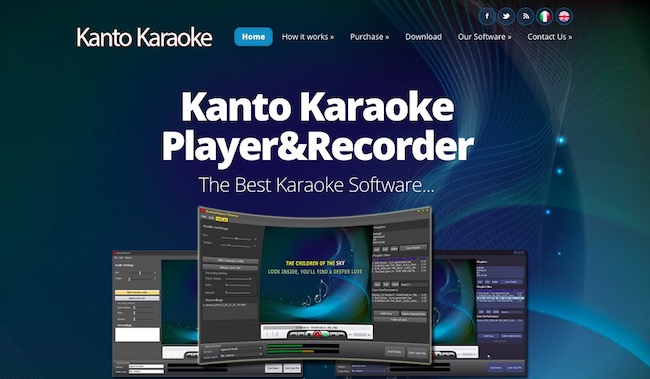 Since its inception in the 1970s, karaoke has been a favorite among most people. Back then karaoke machines came with rolling lyrics and a microphone and were very heavy and expensive as hell. But slowly the karaoke machines started showing up in all the bars and pubs. It started serving as one of the main sources of entertainment in these places.
However, the scenario has gone through a huge change and now all you need is your Windows or Mac device and a good karaoke app or software which will provide you with the music and the lyrics of the song so that you can sing your heart away. You will also like to check out these latest Karaoke songs list.
Also Check:
11 Best Karaoke Apps for Android and iOS That Will Help You Singing Songs
What is Karaoke Software?
Karaoke software is a program that helps singers and songwriters to create, edit, and publish their own karaoke music. It includes a music editor, lyrics editor, and video editor. The software can be used to create karaoke tracks for personal or public use. It can also be used to create karaoke CDs or DVDs.
Best Karaoke Software For Windows and MAC
Here we will provide you with ten top apps and software which will provide you with the ultimate karaoke experience right on your Windows or Mac device.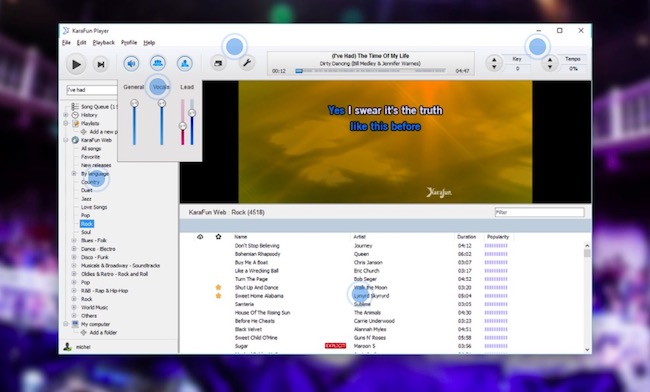 KaraFun Player is one of the majorly downloaded Windows karaoke software. The software has more than 21000 songs enlisted and has the option of offline syncing so that you can enjoy it even when there is no connectivity. It comes with a dual display screen and also has customizable keys. It allows you to save all the songs that are dear to you. Be it CD+G, MID, KAR or MPEG or any other kind of karaoke file you want to play, you can always rely on KaraFun Player.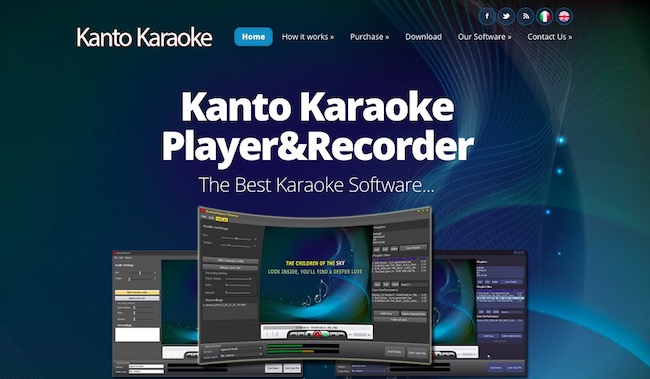 Next, on our list comes Kanto Karaoke which supports almost all multimedia and video formats that are available today. Apart from providing you with a super karaoke experience, it also allows you to record your voice and listen to it later. The CD+G player provided with Kanto Karaoke allows you to convert your Mac into a professional karaoke device. Unlimited playlists, live performance management, playlist management, edit audio settings and full-screen mode are just some of the facilities provided by it. Kanto Karaoke comes in both free and paid versions for you to select from.
3. OneKaraoke(Windows)
If you have the basic Windows management skills, then you are good to go with OneKaraoke. It is one of the simplest to manage karaoke software available for your Windows system. OneKaraoke allows you to organize your songs as you like and also supports multiple types of files like WMV, WMA, mpg, Avi, MOV, DAT, mid, mp3, kar etc. OneKaraoke offers you multiple options to operate it with. Be it operational hand held remotes for the times you want to go mouseless, keyboards or numeric keyboards you can operate OneKaraoke with them all.
If you are up for a night of fun with karaoke, then iStar will surely provide you with one. It can convert almost all files and play them for you. Once you have imported the file of your choice, you will be able to compile all your songs into a list of your choice and play as and when you like it. You can also classify your playlist. iStar also supports various kinds of multimedia files so that you can import from all kinds of sources without any restrictions.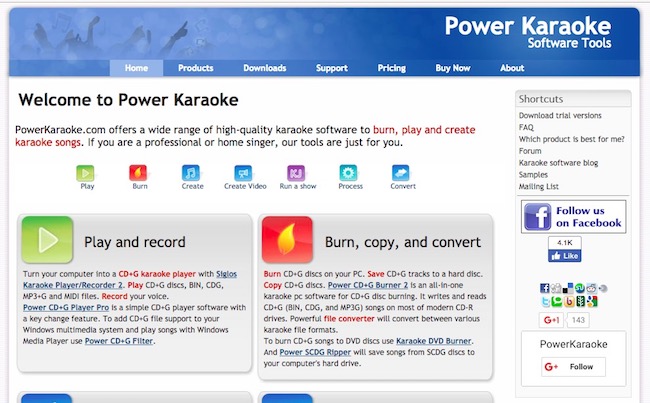 Just as the name suggests, Siglos Karaoke Professional is truly one of the best karaoke software which you will get online and which will provide you the ultimate karaoke experience so that you can have unlimited fun working with it. Available with a two screen display, Siglos Karaoke Professional relieves you of carrying loads of CDs for the need of karaoke. All you need to do is load all your favorite songs on it and you are good to go. It helps you provide people with the best karaoke experience just like a karaoke machine and that too at your own Windows device. It is super easy to use and it consists of advanced functionality which makes the lyrics look better.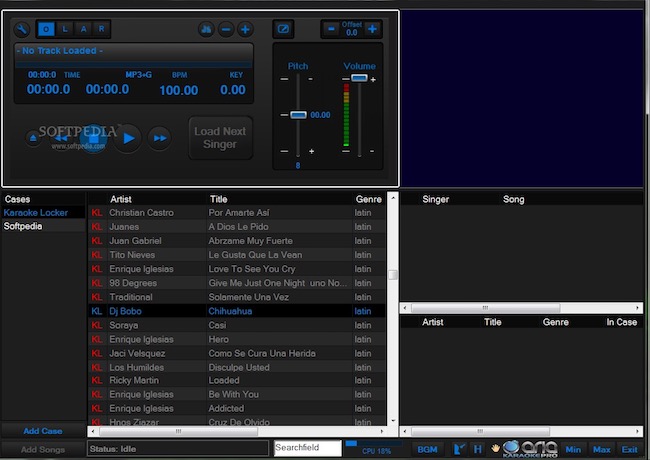 If you are looking for the real karaoke experience and not some games, then you should definitely try out Aria. One of the most authentic karaoke experiences giving software for your Mac device. Aria will produce awesome entertainment for both your friends and your family. The interface of Aria is very simple to use. It helps you to compile all your favorite songs so that you can select and play them whenever you want. You can also choose from the various Aria play modes that are available.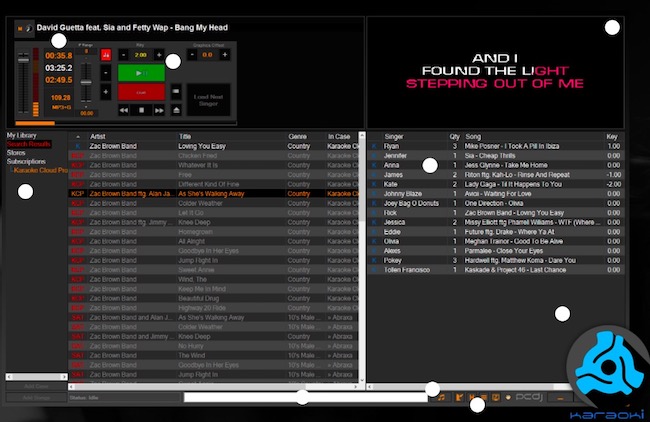 If you are planning to hold a karaoke themed party for your friends, then PC DJ Karaoki is one software you must have installed on your Windows device. PC DJ Karaoki consists of all the major features that are required to provide you with a fun filled evening. Next singers screen, jukebox background music, new ticker, singer history and key control are some of the best features offered by PC DJ Karaoki. PC DJ Karaoki consists of many other features which allows you to host the karaoke nights in a much faster manner. It has now integrated SongBookDB which provides you a richer karaoke experience.
8. QMIDI V2.0(Mac)
If you are looking for a karaoke player that plays varied kinds of files on your Mac device, then QMIDI V2.0 is one to go with. With the help of QMIDI V2.0, you can not only have some karaoke fun but also edit various texts and chords of the songs that you have loaded on it. It also helps you to synchronize your playlist and helps you to play your favorite songs in a sequential manner.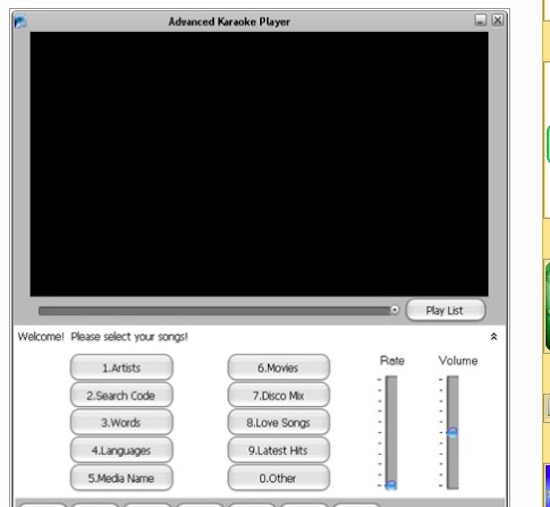 People have their favorite music scattered all around the house in various formats and it often becomes hectic to look into various places for your favorite songs. But with Advanced Karaoke Player you can now store all your favorite tracks under one single roof. This Windows karaoke software allows you to sing your heart out to your favorite song whenever you feel like it. Advanced Karaoke Player manages all kinds of media files for you so that you can just sit back and enjoy the experience.
Just Karaoke 2 is one Mac software which is made for the ultimate sing-along host who is super excited about karaoke. This is a digital karaoke platform which is no non-sense in nature and provides you with a simple user interface where you can have the time of your life. It provides you with a playlist, history of the singer, auto rotation of songs among other various features which are awesome to use. It also provides you with a list of 70000 + songs which you can pick and choose from or you can download your favorite song too.
11. Karaoke Player (Windows)
If you have a Windows PC, Karaoke Player will be more than happy to convert it into a karaoke machine. We admit that the interface is pretty much bland, but it is super easy to use and the software is fun. Although the designing is poor and black and white in nature, still it provides you with various levels fun while signing with the help of it. You can control Karaoke Player with the help of a few keys. Depending on the source from which the music has been downloaded, the music is quite clear and can be enjoyed along with your singing.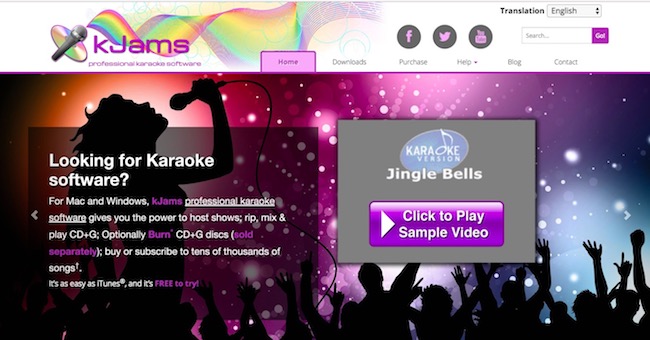 When you are dealing with karaoke, you can never go wrong with kJams on your Mac device. It is heavily in sync with iTunes and the UI of both the software are similar in more than one way. All you need to do is add your favorite tracks to the system and hit play. It will provide you with the best possible karaoke experience ever. It comes with a powerful management tool for controlling the singing and a duplicate window provides you with the lyrics of the songs. It comes in lite and pro versions and is good to go even in professional parties.
Types of Karaoke Software
There are many types of karaoke software, and each has its own set of features that make it perfect for different users.
Some people just want a basic program that will let them sing along to their favorite songs, while others may want a more advanced program with features like vocals lessons and recordings of other people's performances.
The following is a list of the most popular types of karaoke software and their respective features:
-Karaoke CDs: This type of software is the simplest and most basic form, and lets you sing along to your favorite songs on CD.
-Karaoke Software for Macs: This type of software is specifically designed for use on Macs, and includes features like backing tracks and harmonies.
-Karaoke Software for PC: This type of software is available on both PC and Mac platforms, and includes features like recording your performance and sharing it online.
-Karaoke Software for iPhone/iPad: This type of software is specifically designed for use on iPhones and iPads, and includes exclusive features like microphone input and professional editing tools.
What to Look for in a Good Karaoke Software
When it comes to karaoke software, there are a variety of features that you'll want to take into account. Here are some of the key features to look for:
1. Recording and playback capabilities – Make sure the software has both recording and playback capabilities so you can easily capture your performances and share them with friends.
2. Song selection – Make sure the software has a wide variety of popular karaoke songs available so you can choose what you want to sing.
3. Features for advanced singers – Some karaoke software includes features that make it easier for advanced singers to perform correctly, such as automatic pitch correction and voice recognition.
4. Customizable interface – Make sure the interface is customizable so you can change the look and feel of the software to suit your own preferences.
These are some of the best possible Mac and Windows software you can get on the internet which will provide you with a never before karaoke experience right at your home with your very own device. We hope you have a great time having fun with this software while you organize your list of favorite songs and sing along with their charming tunes.