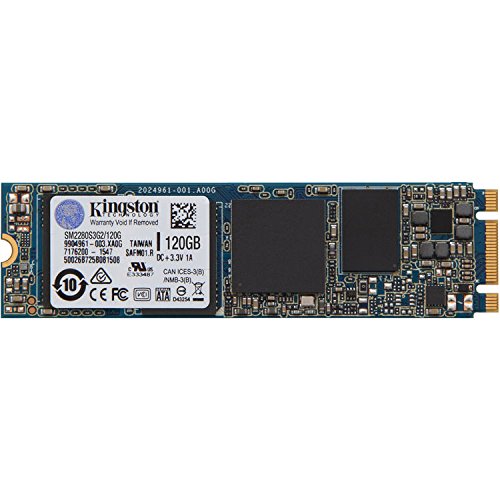 If your computer still stores its secondary data in a hard disk drive, soon you will have to discard the magnetic memory junk in favor of SSDs or Solid State Drives that are based on semiconductor technology as opposed to hard disk drives that are based on magnetic storage technology. Although hard disk drives are relatively cheaper as compared to solid-state drives, the latter is catching up with more and more people choosing to buy semiconductor driven storage drives. This trend of replacing their HDDs in favor of SSDs is not just for office and lab computer systems, but even for home computers, especially for programming and gaming purposes.
What is M.2 SSD ?
 If solid state drives were not futuristic enough to spin your head in amazement of Moore's law, the nerds doubled down on the semiconductor shrinkage research and introduced the M.2 technology. Formerly known as Next Generation Form Factor (NGFF), M.2 solid-state drives fit on your motherboard's PCI slots (Peripheral Component Interconnect), unlike those ugly enormous metal armored HDDs.
With all the tech gore aside, the SSD M.2 technology is not just a contender anymore, but a master in revolutionizing storage technology. An M.2 SSD card will fit in a small corner of your motherboard, providing a robust data transfer speed of 4 GB/second. Also, it works on SATA bus configuration and supports USB 3.0. As for now, this is more than what one can ask for in computer storage.
Put The Metal On Your Hard Disk To The Right Use. Let M.2 SSD Store Your Secondary Data.
Apart from providing a staggeringly awesome data transfer speed, an M.2 SSD card also provides you with facilities like Bluetooth and Wi-Fi connectivity. This also helps you get rid of any need to add connectivity devices such as an extra dongle on your computer.
List of Best M.2 SSD for Gaming & High Performance Systems
Below, we have listed eight M.2 SSD cards based on practical criteria that take performance metrics and a corresponding value for money into consideration. The list goes from the best at the top to the 'least best' at the bottom.
Here You Go:
 Samsung that has been making waves for its smartphones recently has now entered burgeoning and lucrative SSD market and why they wouldn't. The tech giant promises you a unique V-NAND technology, which makes this M.2 SSD 'the most evolved' in Form Factor Technology among all the contenders competing in the market.
It is equipped with a high-speed read/write technology with top speeds of 540MB/second for reading processes and 500MB/second speed for write processes. It also comes with a random read-and-write IOPS power of 97k for reading and 89K for write processes.
With a data transfer rate of nearly 6GB/second this is certainly one of the fastest M.2 SSDs out there.
It is also energy efficient which is enough to assure you that will not eat up a lot of energy while it is functioning at its peak. Given that this is a serious issue as many computer peripherals burn out due to heating and have to be replaced before time. It looks like Samsung has figured out how to stay true to the game by taking care of this problem.
However, the most worthy of mention-worthy of this SSD is that is mainly made to fit perfectly into smaller computers such as laptops and netbooks. You can easily fit this M.2 SSD in your standard laptop and expand its capacity to 250GB. Also, this one comes with a five-year warranty with it.
Intel, the master of microchips now comes with its series of M.2 SSDs that can help you maximize the performance of your computer's secondary storage drive. Equipped with a PCLe 3.0×4 interface which is a standard for most of the computers out there, with this one, you can be sure that this one will likely fit your computer's motherboard.
They come in ranges, with 4 GB, 8.5 GB, 17.5 GB and 32 GB that provide you with a sequential read of 770MB/second, 1570 MB/second, 1775 MB/second and 1800 MB/second respectively for each for the capacities given above. While the sequential write capacities are 450 MB/second, 540 MB/second, 560 MB/seconds and 560 MB/seconds for the same.
If you think this is too much of a nerd stuff that you cannot wrap your head around, let us explain this in simple terms. The read and write speeds are the speeds at which the inner semiconductor setup reads the input data and writes new data inside its cache memory (or reserve memory).
The M.2 SSD has been designed in such a way that it can be easily installed in most of the machines without having to face any compatibility hassles.
With a five year warranty, you can say that it is locking horns with Samsung in its overall specs. So if you are making your personal list out of our list, it would be fair to consider a tie between Samsung and Intel on this battleground. Although, regarding price, this one costs more than Samsung.
ADATA is not a very known brand when it comes to flash drive products, however, by making an entry in the M.2 SSD market, they are setting it straight that are here to provide high-quality SSD products for a lower price.
Most of the interfaces for connecting your SSD devices are based on SATA III; this SSD will perfect fit on your desktop computer. Also at an average of below $100 it provides a data transfer rate of 6 GB/second.
The sequential read and write average out at typically 560 MB/second and 520 MB/second respectively.
Also, it has a total TBW capacity of 200 Terabytes. Nerdy stuff again? We'll explain. TBW refers to 'Terabytes Written' which alludes to the total amount of data written on the SSD before it fails.
The biggest USP of this M.2 SSD is its price that packs so much quality inside it. If you take a careful look at its specs, you can notice that there isn't anything much remarkable about the features. However, where it triumphs is the price. Are you an avid gamer who can afford no more than a hundred dollars at their disposal? And want to update their secondary storage arsenal? This one is one of those that you should go for.
 Add into it, a total capacity of 256 GB which makes it perfect for medium capacity storage.
SanDisk, known for its high-quality flash drives since more than a decade, has now come up with a high-quality M.2 SDD card that fits your high expectations that you would usually have from your average hard disk drive. However, before we begin with its core features, we would like to talk about the encryption technology it comes with.
This is a self-encrypting model by SSD that keeps it safe from most of the commonly possible security breaches that flash-based technologies usually have to face. It comes encrypted with a 256-bit AES encryption technology that does not allow a breach of data while data transfer is taking place.
Also, it comes with support for hard drives that are encrypted by TCG Opal and Microsoft, which make them easy to use. Advanced flash management technology allows you to transfer a high amount of data within seconds efficiently.
Thermal throttling being one of its main features, it prevents the overheating of the device without compromising on the efficiency. So unlike your everyday hard disk drives, this M.2 SDD by SanDisk can cool off easily without compromising on its performance even during peak hours of data transfer or usage. So now you can be sure that your secondary storage drive will not die due to heating overload.
With a capacity of 512 GB, though it does not provide as much space as your detachable hard disks in Tbs, so much else that you get is a good trade-off.
This one is another low-end contender in the game of big boys. However, we have to remember that this one is a below one hundred dollar contender who also packs a lot of qualities inside it that you can also possibly find in those manufactured by big players.
With a size of 42mm and SATA III configuration required for its compatibility with the motherboard, it is a fairly commonly available M.2 SSD card that will be a fair and square fit for your computer.
It comes with a capacity of 256GB, which is ideal for your smaller computers such as laptops and netbooks. Therefore, let us help you know that if you are a gaming enthusiast with an ambition to live-stream their games on YouTube while giving a refined commentary on something random, you can settle for one that is bigger and better in its capacity.
Given that most of the games nowadays require higher capacities, this one might be inadequate for you.
It comes with a sequential read of 560 MB/second and a sequential write 510 MB/second, which is your run-of-the-mill processing capacity, yet still is in the better range for M.2 SSD.
With a three year warranty, you can say that this is where it loses against big boys like Samsung and Intel who provide you with a full-fledged five-year warranty. So if you are someone who cannot take chances with the money they shell out for this semiconductor miracles, you should look for greener pastures with the ones listed above this one.
It is not to say that this M.2 SSD is of sub-par quality, however, if you are someone who is operating on a mid-tier budget for a computer upgrade, this one and the one above is a better choice.
Kingston has been around for years and has rightly earned for itself a name in the flash drive market. However, this one model they have come up with measures only 120 GB which is a very limited capacity for any M.2 SSD in this list. Usually, you will find them in at least 256 GB of capacities, and therefore 120 GB feels like your needs haven't been considered.
So let us put it this way that Kingston, a major player in flash drive technologies has come up with a low-end M.2 SSD drive that is mostly usable for low-end purposes. Have a work computer that you use exclusively to write and store office suite files? Go for this one. Have a computer that you mostly use for writing documents and storing data that does not amount more than a GB or rarely does? Buy this one?
In a nutshell, this M.2 SDD from Kingston is meant for those who are looking for quality with low-end usage. While some of you might be skeptical about buying M.2 SSDs from non-branded lesser-known manufacturers, you can go for Kingston which is a known name in the world of flash drive technologies.
They say that things finally come to a full circle and end where they started. Our list, in some way, is starting to resemble that saying/belief. However, for some, it may not be surprised that we have come back to SanDisk given that they also have a lower-end model in M.2 SSDs that is meant for those who have lower secondary storage needs.
At a capacity of 128GB, this SSD provides a lower secondary storage capacity to those who don't plan to conquer the world with high storage capacities.
One striking feature of this SSD card is that consumes a low amount of power which helps in keeping off heat build-up and hence slowly destroying your SSD card.
If you direly want an affordable SSD card that does not compromise on quality, we already hooked you up with Kingston, and now we bring you SanDisk once again. For those who are skeptical about the quality of lesser-known brands, buying these lower-end M.2 SSD cards seems like a sound option.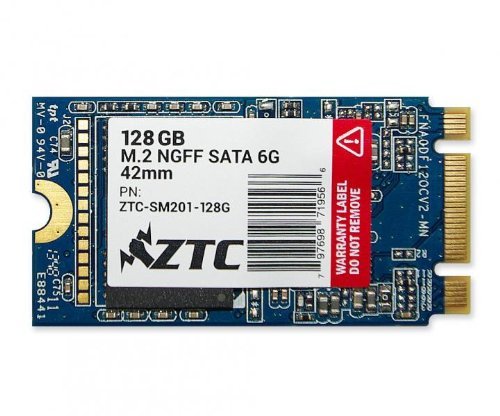 This is the last one, but it brings something interesting with it. We have seen how M.2 SSD cards have their unbelievably small sizes as their key features. With this one, it goes even smaller. So small that the manufacturer claims, that this M.2 SSD card is the smallest of all in the market. 'Ultra-compact' as the manufacturer labels it; they say that this is the smallest one you will find in the market.
The small size especially comes handy for computers such as the HP Stream 200-100 Mini Desktop or the Chromebook from Acer.So if you are a digital nomad who is usually seen working on his 'mobile workstation' while bungee jumping or traveling on the top of a train in the middle of nowhere, this is the SSD card that suits your compact-computer.
It comes with a read speed of 550MB/seconds and writes speed of 490MB/seconds which is just perfect for any M.2 SSD card of its level. It comes with a capacity of 128 GB and is not very bad. The only thing that puts it at the bottom of the list is its non-branded status.
As for this SSD card, size does matter.And the smaller it gets, the better it is.
Concluding Words:
This list is not exhaustive and is not very strict word to word. You should certainly do your research and try to find out your preferences through it. However, for sure what it does is that it eases off this load of responsibility from your mind to look for a good M.2 SDD right from scratch. Therefore, with this information at your helm, you work is eased to a great extent.
The question remains, what criteria have we used to compile this list, and here we answer the golden question. We have compared the products on three main parameters, namely, the brand, its specs, and their respective prices. Higher the brand, higher the specs they have, higher the value they have on the list. On the other hand, as the list descends, we find that the branded ones start fading out and make way for the non-branded ones, which deliver nearly similar specs but with significant differences that pitch them in the lower-end. So if you have a lower budget, you can go for the non-branded cheaper ones.
With all that being said, now you are free to use your old hard disk drive as a good paperweight.