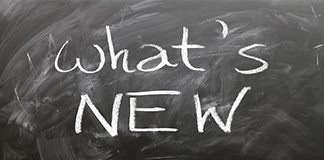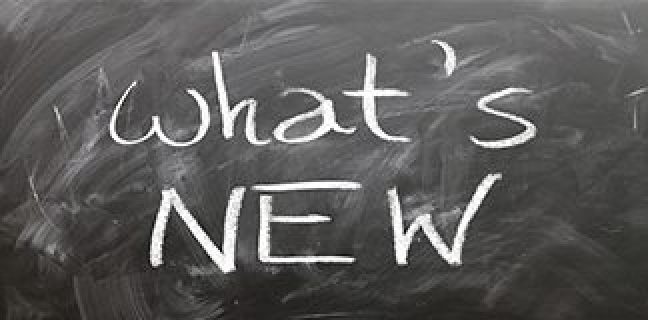 In the WebWorld Push Notification service is the best way to engage your users or visitors. The Push Notification is replacing the Email Subscription services. Many Webmasters have already started using it. With this service, your subscriber gets instant notification about your latest content, post or offers.
Push notification services have come on a lot in recent years. But now it's becoming more popular, the reason behind is, it is all new way to the digital marketing of the product.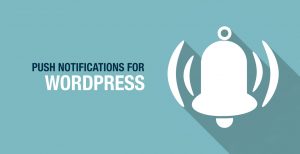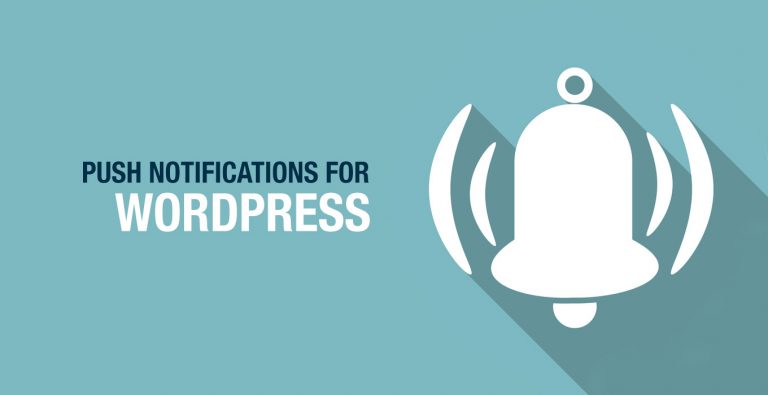 Today we are going to see the best push notification services on the web. But before we proceed with the list, let's first take a look at what push notifications actually are and how they're being used.
What is a Push Notification?
Let me tell you the fact that push notification is totally based on the permission. Let's understand it with a simple example of WhatsApp. Whenever you got a new message, you receive a notification of that. It the same thing works on your website, whenever you publish a new article, your user will receive a notification of that.
Now there are some more benefits of the push notification service:
Your subscriber gets notifications about every new article you publish.
Tell your users of various offers to your subscribers.
Inform your subscribers about any news before your competitors do.
Increase affiliate earnings/sales using push notifications.
Take surveys.
Promote CPI/CPA Campaigns.
Some Push Notification Services also allow custom notification.
Now you'll know what's the benefits of the Push notification services. So, we made the list of the best push notification services. Let's take a look at them.
Best Push Notification Services (Free/Paid)
1. AdPush (WebPush: All Major Browsers)
AdPush is the best all-around service for sending web push notifications to desktop and mobile devices. You can get started with a 14-day free trial, and if it makes sense for your business, you can keep it gratis with the company's generous Forever Free plan that offers 2,000 subscribers, one website, and up to five notifications each month. When scaling up from the Forever Free plan, you have the option to choose between the Professional and Enterprise plans. Most customers will end up choosing the Professional option, which offers the best bang for your buck for both features and subscriber allotment.

AdPush offers a web-based platform for creating and sending push notifications. You do not need an app to use AdPush. It supports mobile and desktop devices, allowing you retarget your customers through their browsers. Setup is easy thanks to clear documentation and support if you need it.
These are the features that stand out the most:
Support for HTTP and HTTPS sites
Daily statistics report, real-time data, and lifetime analytics
Option for bigger images on your notifications
Notification scheduler
Emoji support
Welcome notifications
Segmentation for targeted remarketing
Time zone optimization
There are other options out there for web push notifications, but we heartily recommend starting with AdPush. It has all the features you need, setup is painless (you don't have to enter your credit card), and the platform UI is the best we have seen.  Seriously, try it out right now.
2. Wigzo (Android / iOS / WebPush)
Wigzo is a complete marketing tool for the professional bloggers. It was Founded in 2013, almost 4 years ago in India. Wigzo provides both free and paid version, so if you want to try it for some time then you can go with the free version, but can't access all the functions. The plan only for 5000 subscribers and the paid plan, unlimited subscriber, and notifications of 19$ per month.


Wigzo gone through many turns but the end they came with the today best marketing tool which specializes in Browser/Web Notifications and Email Services. Here are the key features of the Wigzo offers:-
Analytics / ROI Tracking
Campaign Segmentation
Contact Management
Multi-Channel Management
Multivariate Testing
Content / Blogging Platform
Direct Mail Management
Lead Management
Email Drip Campaigns
Website Visitor Tracking
Call Support
When you signup, you will get a call from their technical team to help you in setting up.
3.Vizury (WebPush Notifications)
Vizury's web push notifications is built and fine-tuned exclusively for viral eCommerce. Replete with straightforward implementation, it is supported on all the major browsers such as Chrome, Mozilla and Safari. Drawing on its strong retargeting background, Vizury has positioned its latest offering as extremely focused on personalization through user segmentation, helping marketers group their audiences into neat segments without the hassle of slicing and dicing jumbled up data.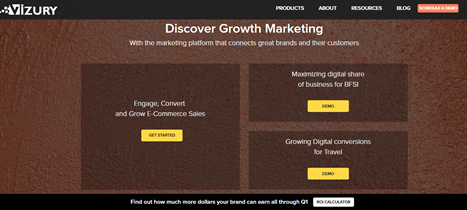 Custom built for eCommerce
Out of the box eCommerce use cases.
Dynamic feed-based personalization (Actual product name, image and recent price included within the notification)
Conversion Tracking
Life-cycle based triggers to users (eg: Price drop, X minutes after drop off)
Custom product recommendation at a user level
Intelligent notification triggers (when user is online)
4. OneSignal (Android / iOS / WebPush)
OneSignal is the best push notification service for the beginners. OneSignal is free for all, you can send the unlimited push notification to unlimited users or subscribers without spending a single penny. The best part of the OneSignal is it's totally free.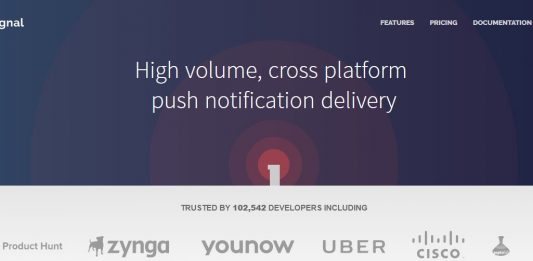 OneSignal can also send the push notification to mobile devices, as well as users on PCs through its Web Push API. It supports almost all the biggest and important platforms including iOS, Android, Windows Phone 8, Windows 8.1. I personally used the OneSignal for 6 months and didn't face any kind of problem.
Here are some of the Key Features of the OneSignal Push Notification:
Easy Setup
Faster Delivery
A/B Testing (You can also send 2 Push notification for try)
Real Time Tracking
Segmentation Targeting
Automated Push Notification
OneSignal comes with essential features for WordPress, as it also provides the Official plugin for WordPress. You can also configure OneSignal easily with WordPress plugin. It's API is also available for almost all platform.
FoxPush is another best push notification suit for the marketing. Fox Push guarantees an average CTR of 20%, which by the way is huge. FoxPush supports all the popular platform as Windows, Mac, Android. The best part also supports the android platform.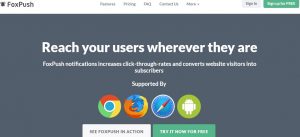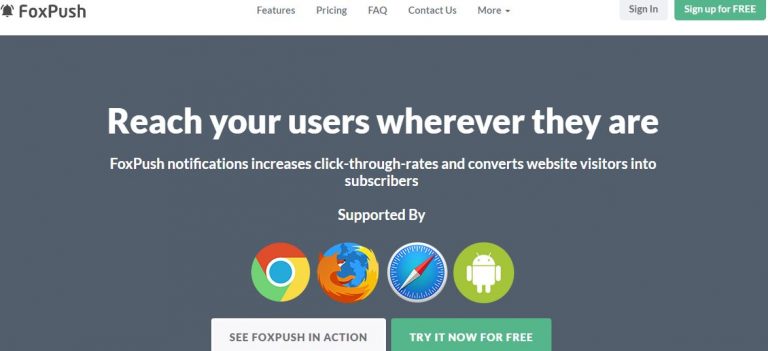 Now let's take a look at the key features of the FoxPush:-
Quick and Easy Setup
Instant delivery
Multiple-device support
Emoji-Support
Multi-Browser Support
GEO Targeting
Device Targeting
Live Tracking
FoxPush comes with three pricing Basic, premium, business as well. Here are the plans, you can choose any of them what suit the best: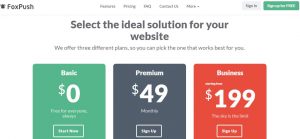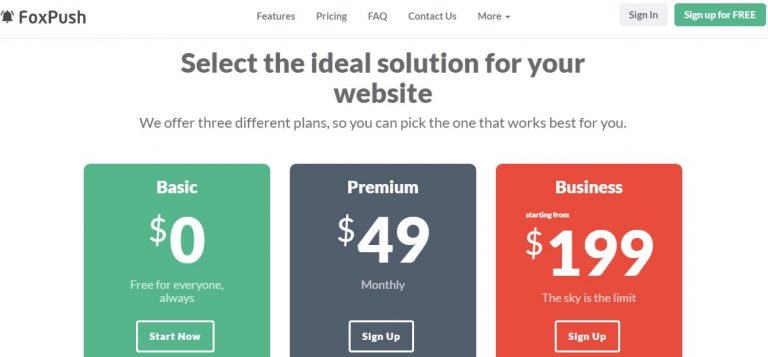 The Basic plan which is free is enough for most of the users.
Aimtell is another widely popular, push notification suit for the website. The best part of the Aimtell is it comes with the variety of plans. So, have that liberty to choose the plan which good for you. Aimtell also supports almost all the browser as Chrome (Desktop and Mobile), Safari(Desktop), Mozilla, and Opera.
Aimtell has its own WordPress and Shopify push notification plugin to easily confiqure and manage it from your own site panel.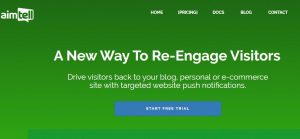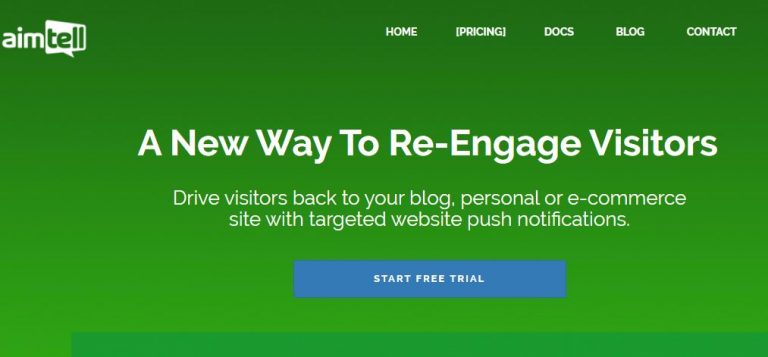 Some of the coolest features of the Aimtell listed here:
Location
Page Views
Items Purchased
Shown Interest
History and much more

Automated/Repeating Notifications

Event Based Notifications

WP and Shopify Plugin.
As we told you that Aimtell comes with a variety of plans so you have the liberty to choose. Each plan of the Aimtell has contained some unique feature. Here are the plans: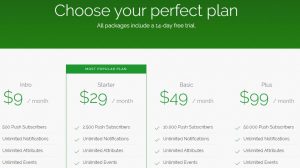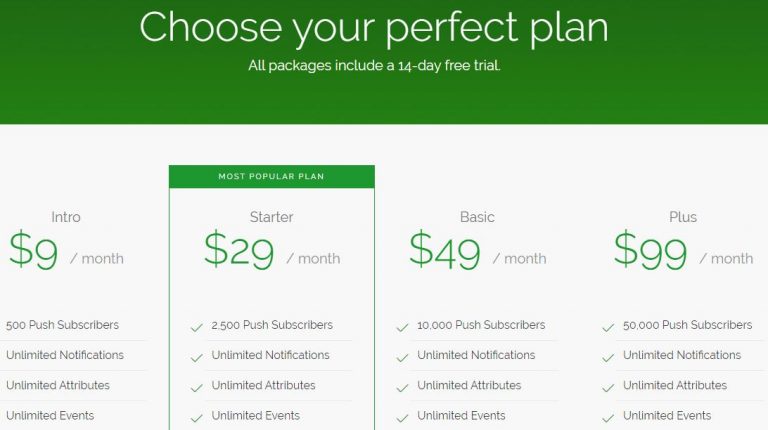 Pushcrew, it is the first push notification we used and must tell you about it. Day by day it is getting more popular then we thought. The best thing that I like about Pushcrew is it's very easy in setting up, clean UI and nicely designed. You just require to edit the default values, paste the given authentication code in the <Head> section, put in your RSS feed and it's ready to go live.


There are some very cool features of the PuchCrew push notification. Here are the some of the cool and unique features we listed:
Schedule your notifications
Send notifications to specific segments
Add images to your notifications
Multi-website, multi-user support
Supports Chrome & Firefox browsers
RSS to Push
The Best part of the Pushcrew is you can customize the plans as per your requirement. The have three plans as Startup, Premium, Business and Enterprise/Agency.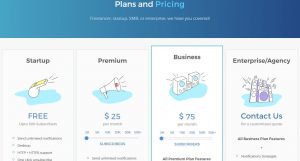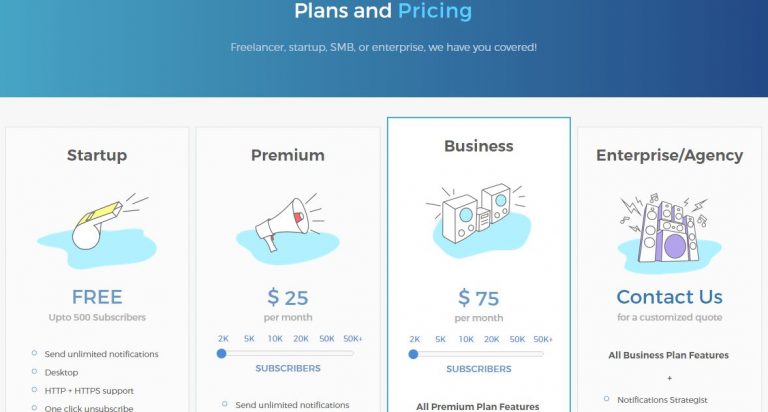 8. Pushassist (WebPush : Chrome, Firefox, Safari)
Apart from the above mentions push notification services, Pushassist is another best service. Puch assist is not much popular push notification service but still offering some additional features which other won't. But now it is getting more popularity because of the cool features.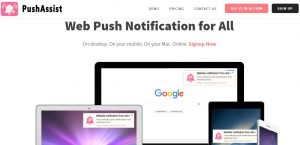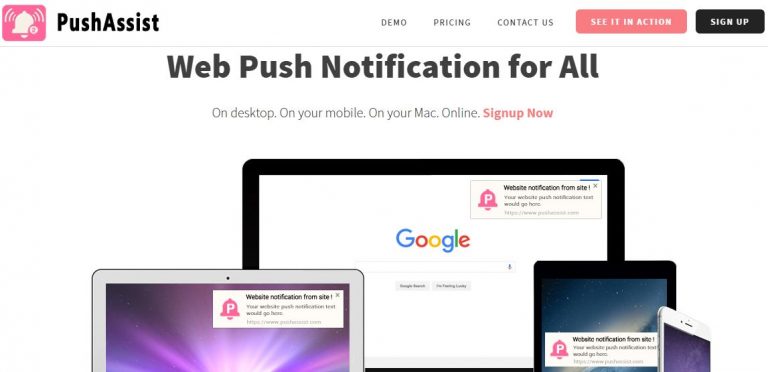 Here are the key features of the Pushassist:
Real-time Usage Metrics
Unlimited Segments
Supports Chrome & Firefox
HTTPS Support
Supports Safari Browser
Create Unlimited Campaigns
REST API
Schedule notifications for future
Mobile Website Notifications
Multi-sites under one account
Multi-Language Support
Welcome Notification
Multi-user Login
Customize Notification Window
Email Support
Pushassist provides in three different categories, Silver, Gold and Premium with cost from $29 to $119.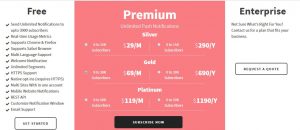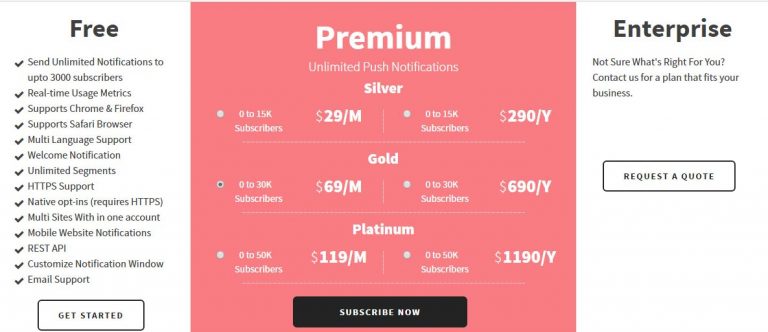 9. Sendpulse (WebPush : Chrome, Firefox, Safari)
Sendpulse is not only a push notification service but also it also offer a lot more services. We must say that all apart from the all of the services it still works well. The services are Email Marketing, Bulk SMS, SMTP server, and API also.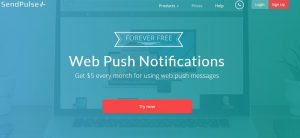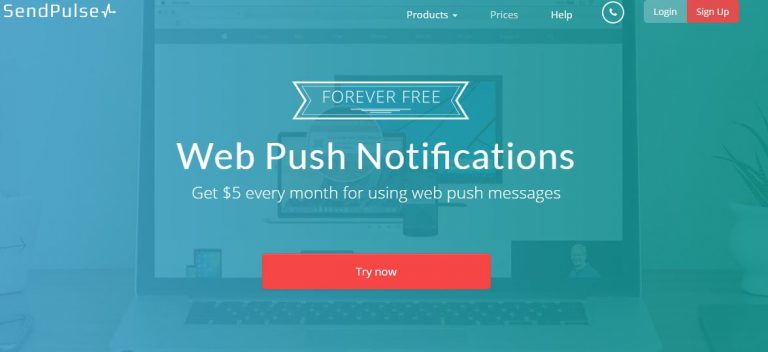 Sendpulse offers a lot of unique features, few of the features that you like are:
High level of subscriptions
Highly Effective Messaging
Offline notifications
Users get Personalized Notifications and can be sent on a segmented basis.
Trigger messages and bulk messages
Developer APIs are provided by default.
Sendpulse offers a great pricing of all services. The push notification service comes in three major plans which are as well: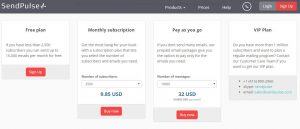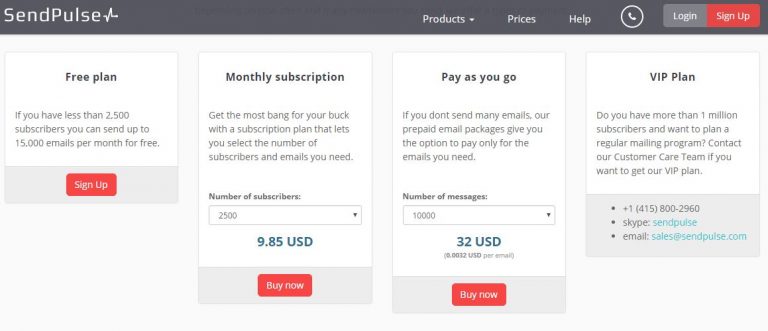 10. LetReach (WebPush : Chrome, Firefox, Safari)
LetReach engages your audience and also increase your website traffic. Still, LetReach new in the push notification industry but still having a good response. Over 1000 websites are using LetReach service.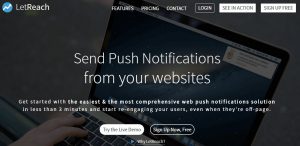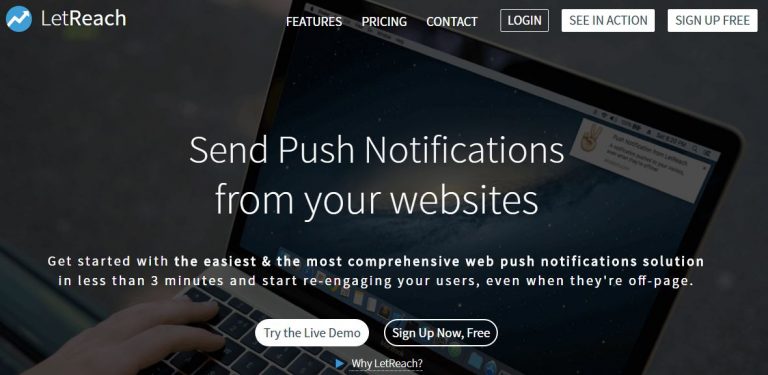 Here are the features of the LetReach:
Quick & Easy Setup within 5 Min.
Notification Management
Notification Scheduling
Adaptive Notifications
Geo Targeting
Real Time Metrics
Multiple Domains Support
LetReach offers a great pricing for their user, here is the pricing list for you: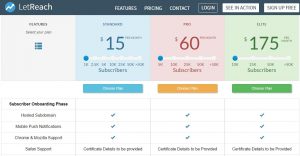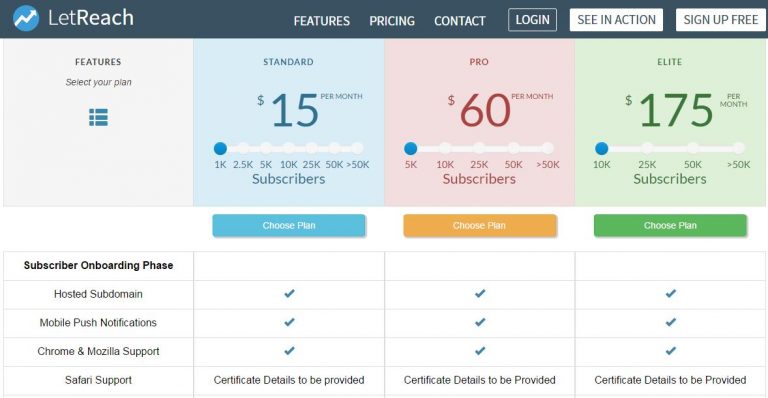 Bonus
Xtreme Push last but not the least, Xtreme Push also offer the Push Notification service along with a variety of more. XtremPush partner with a lot of popular companies like Accenture, Shell, JOBBIO, and TBC Bank much more. XtremPush is the only company who offer the 30 days trial of their any product.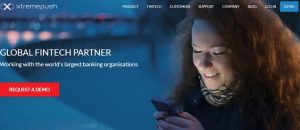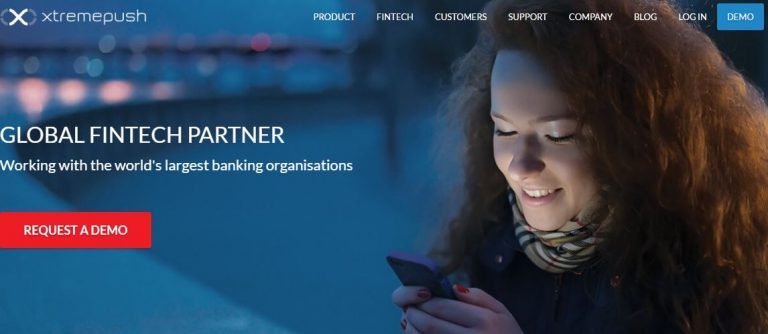 XtremPush is the only company who offer the 30 days trial of their any product. Ounce you satisfy with the service of this company you can continue with that. I like that thing that company giving the importance to their customers.
Let's talk about the features of the XtremePush offers:
Advanced Analytics
Segmentation & Audience Targeting
Location & Language Targeting
Advanced Scheduling
Real Time Targeting
Automated Campaigns
A/B Testing
Unlimited Websites
Multiple Log Ins
Conclusion
We hope that this article made you clear about best push notification services available. The above mention services are the best push notification companies. You can try any of them because almost all of them are offering the free trials. If you have any query then please do share with us through the comment section. If you are using some other Push Notification service which you think it must be on this list then tell us also in the comment.