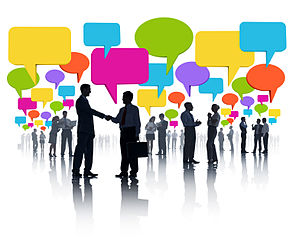 In recent years, group communication has emerged as a critical aspect to ensure vast output of work productivity. Strong team communication can assist in building relationships and can also ensure that the new ideas about a new business prospect or product are innovatively made.
Moreover, if there is communication among the team, there are high chances that there would be less confusion among the team members or the staff in the office. However, in recent years, several team communication applications and Softwares have been developed which have eased the process of exchange in the office.

The Need for Team Communication App

With the help of an office chat application, teams can build cohesiveness which further boosts working in partnership. It also helps in the professional development of the individual and the team as a whole. Moreover, by the use of an office chat, understanding among team members can be increased.
Furthermore, by using the Best Team communication app, the professional development of an individual can be increased. The effective communication of ideas from one team member to another team member would result in the overall evolution of a team which in turn would reap rich dividends for the organization in the future.

Recommended
Softros LAN Chat (Best local messaging software for office)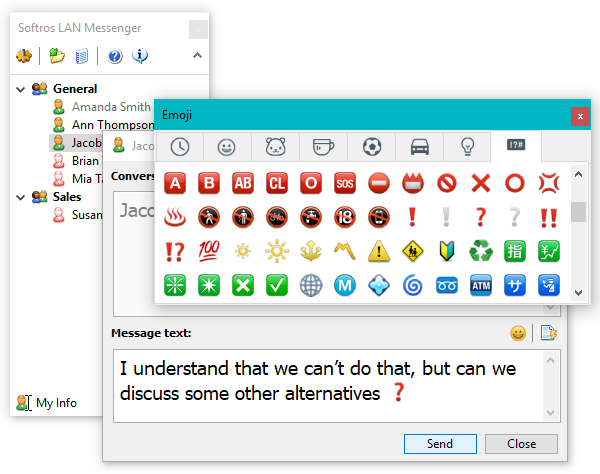 Softros LAN messaging application has become a piece software many companies cannot do without. This messenger allows employees to send messages and files to each other from one computer on the network to another computer on the same network. With the help of the remote access functionality of the messenger, one can get access to another PC on the network. Broadcast messages can easily be sent through this software, which will improve workflow and productivity. With this messenger, you can stop your employees from communicating with friends through Internet messengers. This ensures that the employees make use of their time effectively. Plus, the organization's networks are protected from viruses and online attacks common to public instant messengers.
A dedicated server is not required for this office messenger application to work. It uses P2P technology, which means that your communication does not depend on the stability of your internet connection. This saves the organization the cost of running a dedicated server.
The LAN Messenger is very flexible in its operations and gives an administrator the power to prohibit the use of some features of the application and change its settings. This may be handy in a large organization with disparate infrastructure. Employees can easily start a secure conversation by installing the application on every computer on the network.  For more than ten years, this software has been updated and undergone many improvements and will continue to do so to ensure that the app is of high quality and stable.
Top 10 Team Communication Applications for Office Chat 

It is a widely accepted fact that no one needs to be shouting from one office building to another office building or sending and receiving unnecessary emails. For many members of the team, it is just a mere wastage of time. This is where the functionality and practicality of a group communication chat application emerges.
It eases the communication process thereby enabling a highly natural office environment. Hence, there is a growing need for a team chat app in an office where they are finding it difficult to communicate. This is why the under-mentioned list of top ten communication applications for office chat would help you.

1.Slack (Best Group Communication App)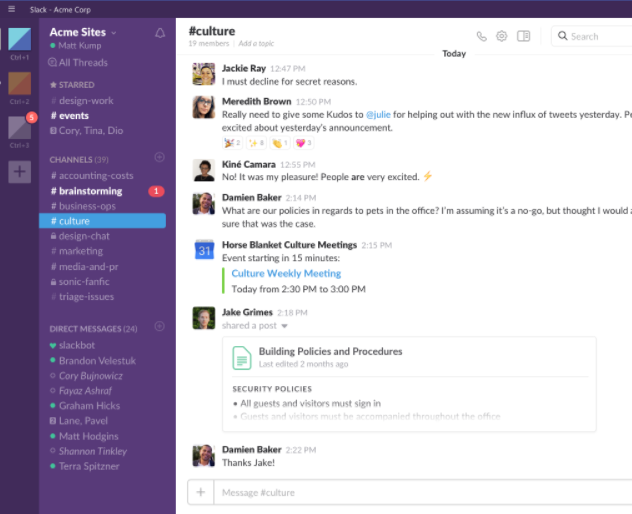 Slack is an instant messaging application that can bring all the communication needs of the team members in just one place. It also comes with the gorgeous feature of real-time messaging, searches and archiving for modern times. Moreover, with the help of this excellent application, one can have all their team communication in one place. This group communication is easily searchable and available anywhere and anytime.
Moreover, with the help of this excellent application, one can have all their team communication in one place. Moreover, this group communication is easily searchable and available anywhere and anytime.
Furthermore, Slack can integrate with dozens of external services. Quite interestingly, this application keeps adding features all the time. Moreover, it also has inbuilt external and internal sharing options to make sure that the team can share and get files with any members of the team. On the other hand, it also has advanced filters; search and sorting that further make it simple to access the proper files.
Pros:
It is an excellent private backchannel application for the team members. Moreover, it is a great use for team discussion and communication. Slack also has a rich collection of tools and options.
Cons:
Slack lacks calendar to prioritize things. Moreover, an active task management feature is missing in this application. It also does not have a dedicated collaboration feature and also requires careful use from the team members to make it useful.

2.Flock ( Best Inter-Office Communication Apps )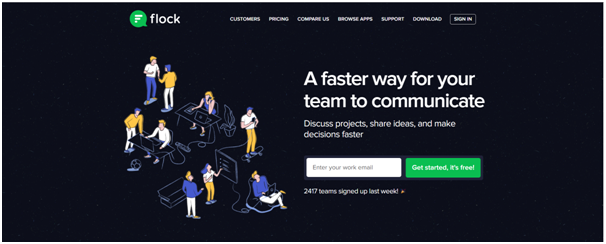 As per many organizations, Flock has increased their team productivity by 40%. It is regarded as one of the convenient and real-time applications that can significantly improve the communication in the team. On the other hand, the founder of this Enterprise messaging application is Bhavin Turakhia.
The app can support various languages that include English, Portuguese, Spanish and Russian. With all the major businesses in the world going online, one of the key requisites in an office is to communicate with the staff members efficiently. Since its launch in the year 2014, the company has witnessed more than 200,000 app downloads in both mobile and web-based platforms
Flock allows most of the used apps at work, and it allows integrating them into a single platform. It is available free of cost and is very easy to set up. Once you log into the work email ID, all your office teammates are auto synced into your contact list. This app can put all real-time notifications and vital information in just one place.
Though it offers a freemium, it also offers a premium plan that works for a user in monthly basis. Interestingly Flock is currently laying stress on international markets, and the Flock team is undertaking efforts to reach out to Developer Communities and PR Forums.

Pros:
Flock provides instant feedback to the team members in an office, and one does not have to go through cumbersome menus. It also supports email support that is high for transmission of ideas for a new project. On the other hand, Flock is a great office chat app to depict live analytics to a group of users.
Quite interestingly 27 new organizations are signing up to install this amazing app every week to make sure that the communication among their team stays intact at all times. One of the key advantages of using Flock lies in the fact that it can be used for real-time conversations.
In Flock app, the users under a single enterprise get added automatically to the work group, whereas in slack, each member must be individually invited.
Cons:
Though Flock is a great app for instant messaging in its position, the chat agent must react in time as it is necessary for providing good feedback and adds to the overall experience.

3.HipChat (Employee Communication App)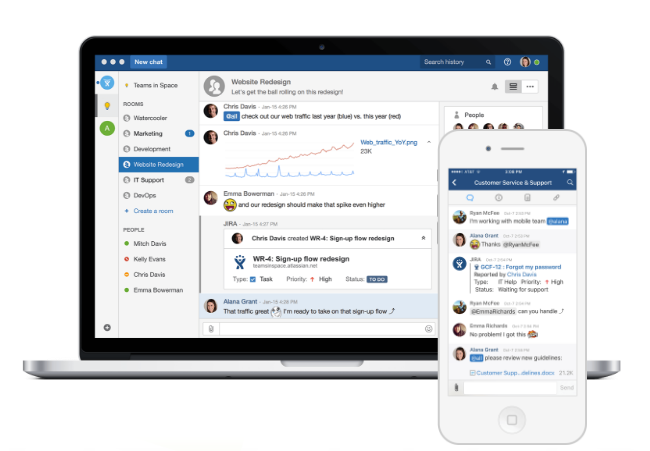 HipChat is regarded as one of the most sought after communications platform available in the market in recent years. It is designed specifically for business team chatting. One main advantage of using this app lays ion the fact that it comes loaded with advanced and basic functionalities that include private chat and group chat in an office environment.
On the other hand, it gives the benefit of file sharing, private chat, video calling and screen sharing. Quite phenomenally, HipChat offers integrations with popular and leading business applications which in turn enable users to use HipChat in other business platforms.

It is a widely accepted fact that companies have different requirements and hence their demand for dynamic software changes with time. Searching for a shared team communication platform? HipChat comes out to be the best choice with its rich features. HipChat also offers a free offer and also a subscription plan that is priced at a meager rate. The first time users who are apprehensive of the features of HipChat may opt for a month of free trial. Moreover, one can install this application on Windows, Mac, iOS, and Android. It can also provide access to guests and has unlimited integrations

Pros:
Hip Chat is known as an excellent communication tool for the team members who are working for a highly competitive product. It has free tiers of service and has excellent value for money. supported by Zapier and possesses open APIs for developers.
The video calling is favored by those who are working on a new product, and a face to face interaction makes this process easy and helps other team members to understand and grab the ideas carefully.
For every new user, HipChat offers 5GB file storage in its cloud for free.
Cons:
The online status of a user in HipChat is not always reliable. Moreover, the admin level accounts are not entirely intuitive.

4.Riot.im (Free Office Chat App)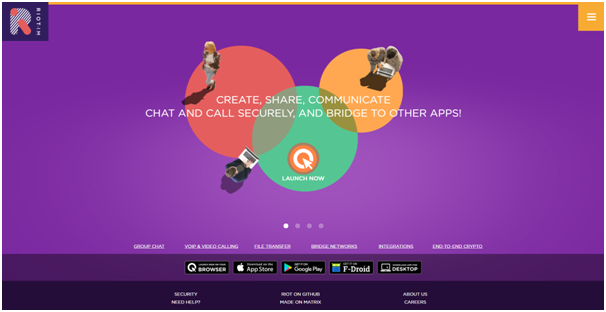 If you are looking for flexibility in an office chat app, then the Riot is the right one to choose. It is so because it is excellent that combines all the critical aspect in your office communication in one place that further boosts cohesion among team members. The riot was formerly known as Vector. It is a new UK-borne app that has the ability not only to provide flexible communication techniques but it also provides the team members with options that can be very useful for office communication. It brings communication and productivity tools together across different platforms of applications.
Riot is built on Matrix which many regards as an open standard for persistent disclosure in office in a decentralized manner. Quite interestingly, Riot lets team in an office to share data on projects that are based on various communication applications. It is worthwhile to note that as it runs on Matrix, it has the end to end encryption by using Megohm of Matrix. Hence, teams in several office environments can jump into any private room or public room that is listed in the directory of the application.

Pros:
It is entirely available for free, and the basic service would also be free in the following features. This app facilitates group discussions among the team.
As it runs on Matrix, it offers hosted integrations to many third party apps.
Cons:
This app has multiple tools that can be confusing to the first time users. On the other hand, a participation of all the team members is an issue in using this app.

5.Glip (App to Do Interoffice Messaging )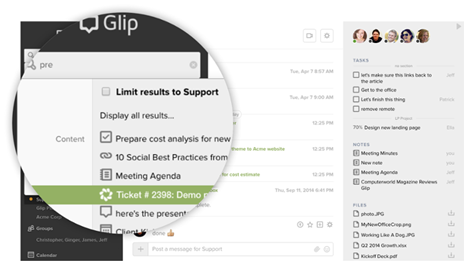 If you are a tech start-up and is growing in stature, then Glip can meet all your requirements in case you are feeling the need to communicate with your team effectively. By using this astounding application, you would be able to keep track of all the information in one place. It is a great app to collaborate on team matters seamlessly.

One of the prominent features of this application lies in the fact that conversations stay organized within teams. On the other hand, the calendars are available with the team members too. It can keep track of all the information in just one place.
Pros:
Real-time voice or video calling.
Instant file sharing can be done using Drag and Drop feature.
Provides unlimited storage for all your business documents using a comprehensive cloud feature.
Cons:
Many users do not like this office app as it has many complex functions not suited for first-time users.


6.Zoho Chat ( Communication App for Fellow Workers)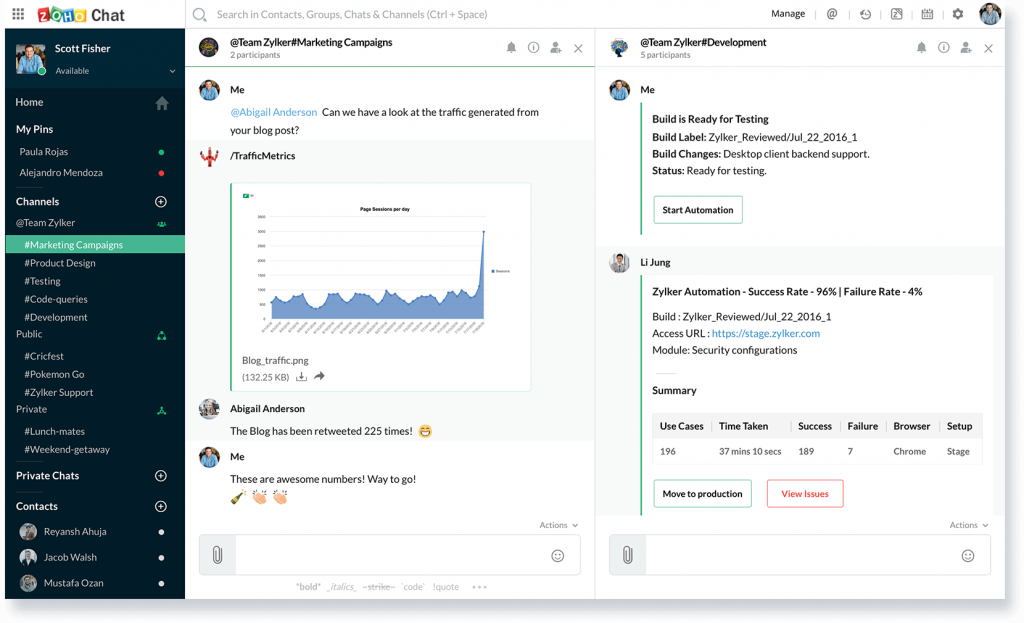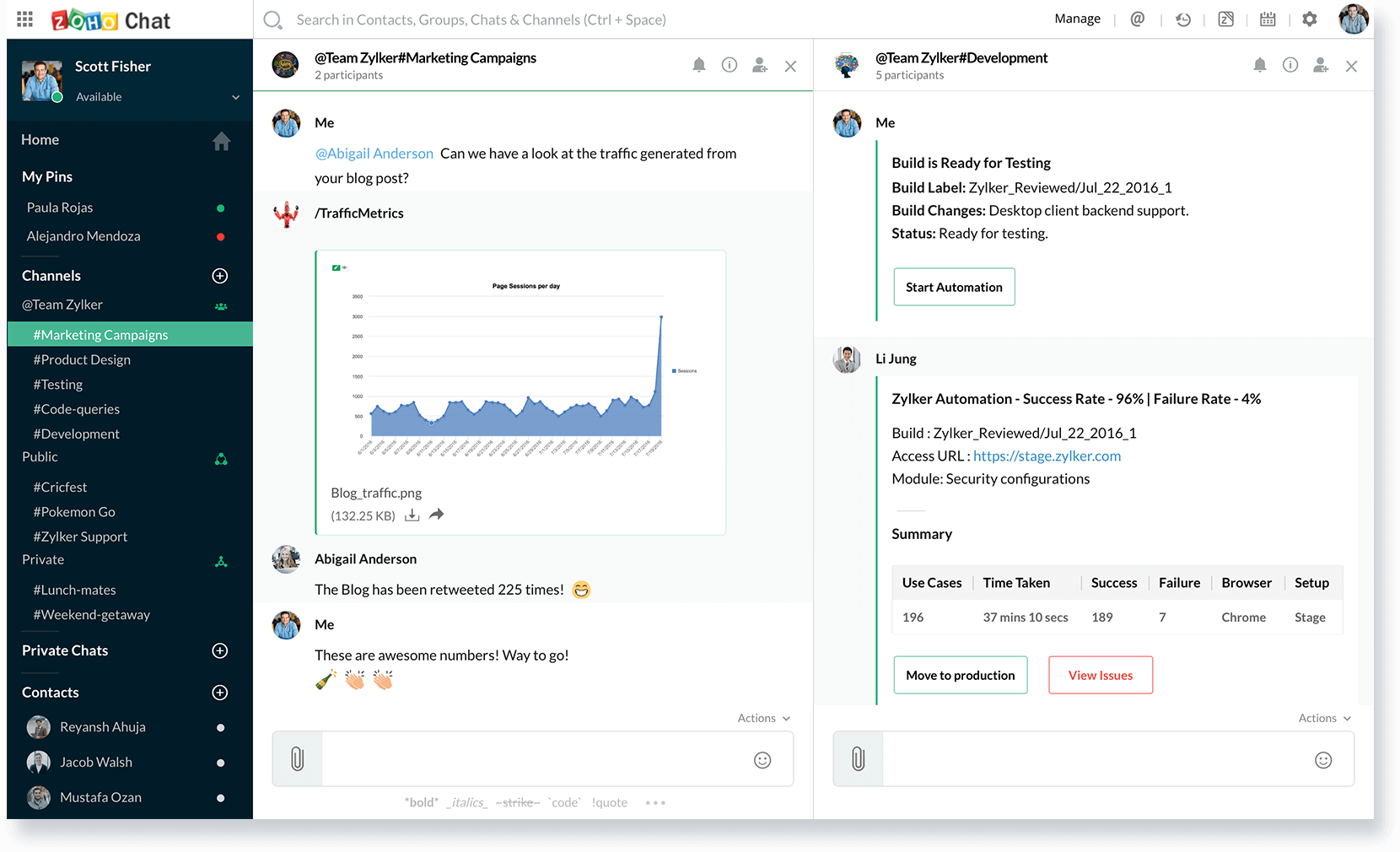 The way employees communicate changed over time. With the introduction of the Zoho Chat application, your employees will be able to communicate with each other and share work related information. Zoho Chat application has been designed in such a way that you will be able to keep in touch with your fellow workers within and even outside the office. It will assist in liberating you from the confines of the boring cubicle. Without transparency, a team will falter. With this unique application, you will not have to worry about the lack of transparency in your office.

When transparency prevails, the work environment and the work culture, both will flourish. Apart from these, Zoho will help in getting a quick response. Say goodbye to the delay in sending and receiving mail. With the app installed on your phone, every detail will be at your fingertips. Unlike other applications, you have the liberty of adding any number of people in the app. With the Zoho Chat application in your phone, there is no need for the conference room anymore. All you need to say or share with the other can be done with the app in a hassle-free manner.

Pros:
Apart from sending and receiving chats, and videos, you will also be able to add emotion to the conversations by using colorful and innovative emojis. Communicating with co-workers was never this fun.
Unlike other applications, you have the liberty of adding any number of people in your work group.
Cons:
The users of the application will have to deal with the issues that are associated with the feature of Date and Time handling. If you want to remove any info, the Report definition will permit the removal of only 50 items at a given time.

7. Azendoo ( Instant Messaging for Business )


If you are looking for a workplace chat application that will assist the authority in monitoring all activities and will also help the workers to be in sync, then there is no better option that the Azendoo chat application.
If you want to escalate the growth of the company, then this is the right application that must be used. Handling the various tasks might be an issue if the communication is not appropriate. The Azendoo app will put a stopper on this problem. If you want to tackle the To Do list with efficiency, then there is no better app than the Azendoo. Be it synchronizing the teamwork or sharing information among the team members; the app will come in handy.

If you use this app, you will not have to worry about the increasing email load. Sharing files and information, videos and chats will be simplified with the inbuilt assistance features of this app. When discussing its features, they are easily understandable. It will assist in the proper organization of the activities via the task board. You will get notifications, and will also be able to search for some information. Delegating the tasks was never this easy.

Pros:
While most similar applications are only meant for the smartphones, the Azendoo application can be installed on the desktop as well as on the phones. The app will work on desktops that operate on Windows and MAC operating systems. The app required Android and iOS to run on smartphones.

Cons:
Though you will get a trial version of the app for free, to acquire the actual application with access to all its features, you will have to purchase it.

8.Jabber (Communication / Calling App for Client and Team)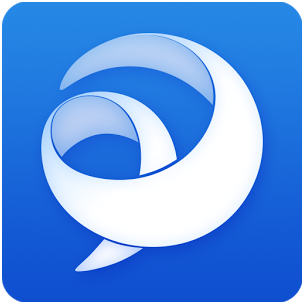 Another revolutionary application that has made the task of communicating and sharing information between the team members of an office is the Jabber app. Let us start with the installation. Downloading the app is as easy as any other app. All you need is a steady and reliable internet connection.
Once the download is complete, it will be saved on your smartphone. Not only will you be able to connect with the various members of the team but you will also be able to keep in touch with the clients. If saving money on dedicated hardware is a must, then this is the ultimate app for you.
An interesting feature of the app is that if someone is calling you and you are unable to receive it, the call will be forwarded automatically. As you will be able to share and save information related to the budget, the app is designed to provide optimum privacy. Apart from this, you will get the feature that will assist in the detection of the voices. Getting the roaming extension is also possible with the app. Apart from receiving and forwarding calls, one will also be able to get time and date features, caller ID and call hold facility.

Pros:
The Jabber app will allow you to send and receive voicemails. The sound-bytes will be direct transformed into the MP3 format. It assists in the transmission of the file.
Cons:
The facility of initiating a search by mentioning the name of a certain field is not available in the application. Getting the search results not only by name but also by the extension name will be more beneficial.

9.Mattermost (Communication App for Team Members )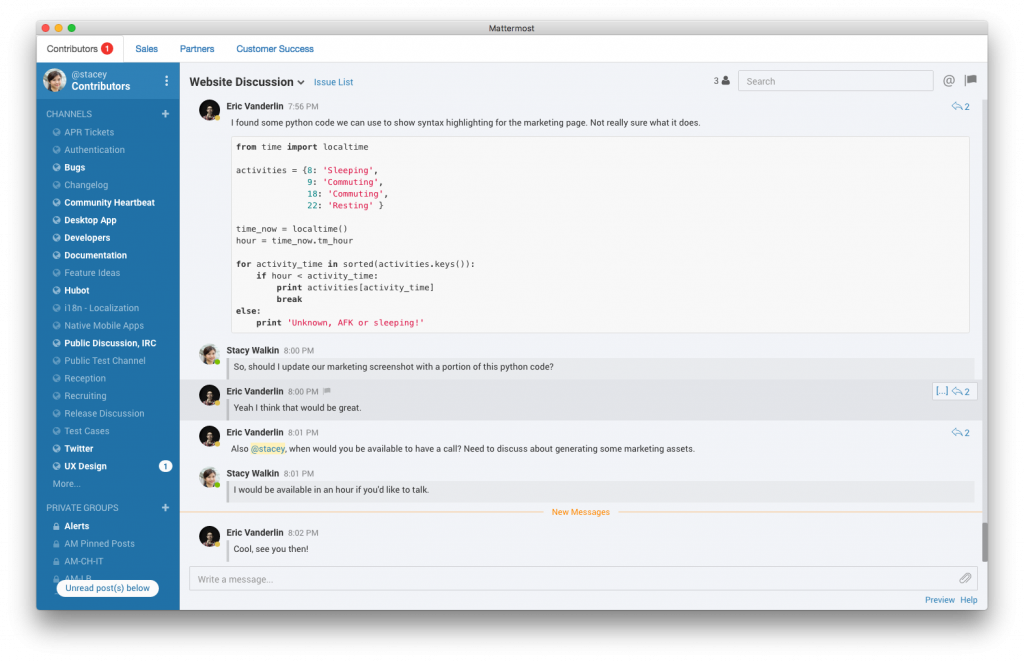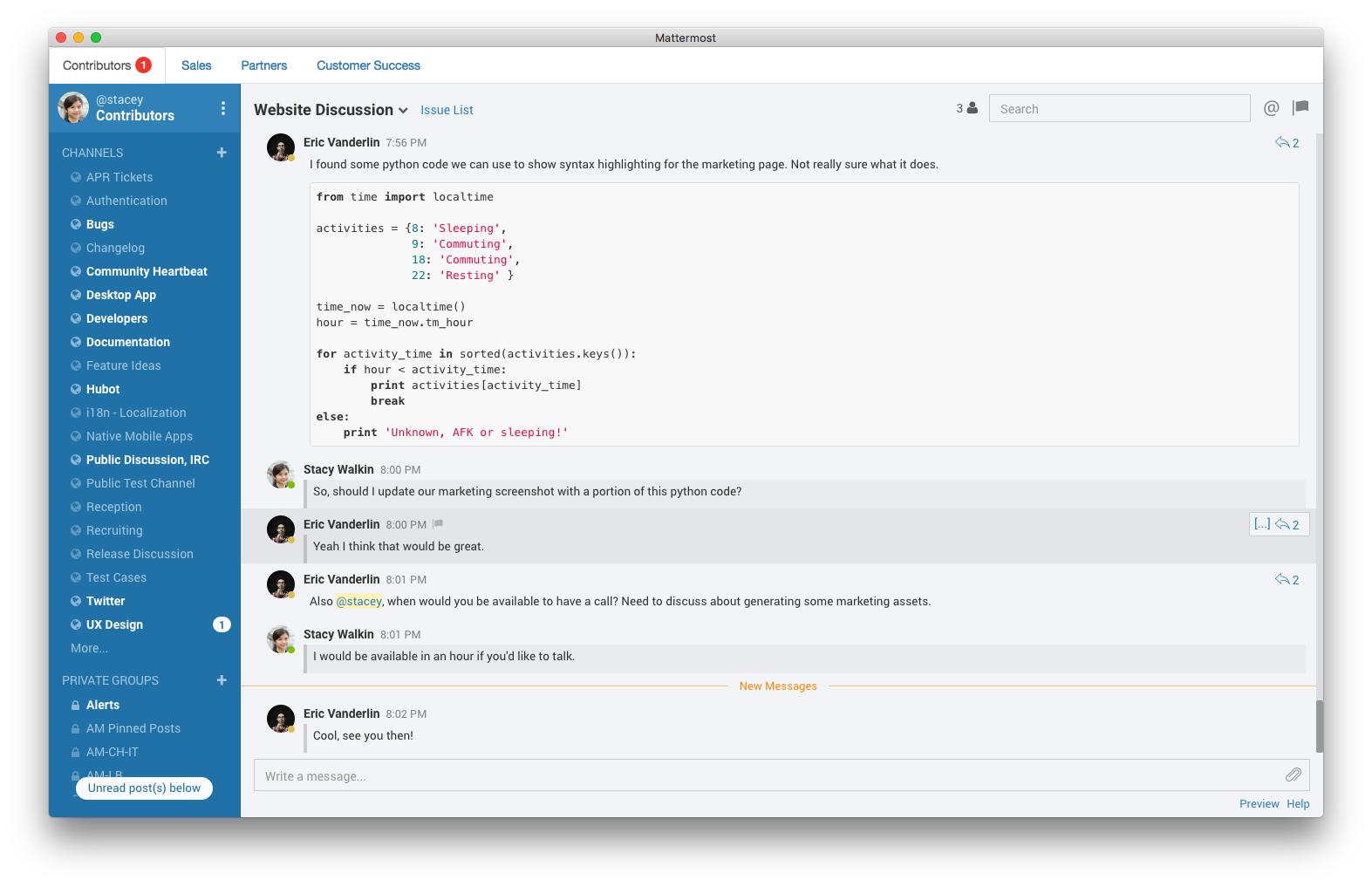 If you are looking for a self-hosted communication app that will assist the members of a team in staying in touch with each other, then Mattermost will help your cause. If we are to describe the app in only a few terms, then it will have to be an "all-purpose application." Only receiving and sending flies are a thing of the past.
To save yourself and the organization from the hands of increasing email volume, you will have to install the application. Installing the application is easy. You just need to click some links and get hooked to a steady internet connection. Once the app is downloaded, create an account, and you will be set to get in touch with the other members of your professional team. The features of the app have been designed to meet the requirements of the professionals.

It will provide you with a 1-1 channel for receiving and sending files. You will be able to share images both externally and internally. The option for getting personalized notifications is also available. If you want to search for a particular comment or info, it can be done easily via Mattermost. It also boasts a special feature that will allow you to get a list of all recent posts that have any mention of your name.

Pros:
What matters most is that the Mattermost application can be installed on both smartphones and desktops. Thus, keeping in touch with the team members outside the cubicle will also be easy.
Cons:
In the absence of the self-hosting feature, the app will not be of much use. Managing high membership communities without self-hosting is very difficult.

10.Kaleo Software (App for Team Communication and Data Share)


If you want to speed up the profit and productivity of the company then investing money in a Predictive Information Sharing application is very important. Introducing Kaleo app. The developers of this application have designed it, keeping in mind the requirements of running a company. A company will only be productive and capable of competing in the market as long as they do not have the appropriate channels to communicate. With Kaleo by your side, it will be easy for the employees to share data among themselves. It will increase productivity and coordination among the employees.
Sending videos and pictures is also possible with the Kaleo app. Along with work you can also send fun stuff to your co-workers. The facility of commenting on the posts and attaching emojis is also possible with this unique application.
Pros:
When it comes to discussing the various features, it must be said that the simplicity is astounding. Anyone will be able to follow the instructions and get started on the app.
Cons:
The application cannot be used by the users of the Windows operating system. It will only work on the Android and iOS.


Conclusion
If you incorporate any one of these services to your business, you will not have to spend thousands of dollars on improving the HR facilities or developing a separate channel for the ease of communication of the employees.