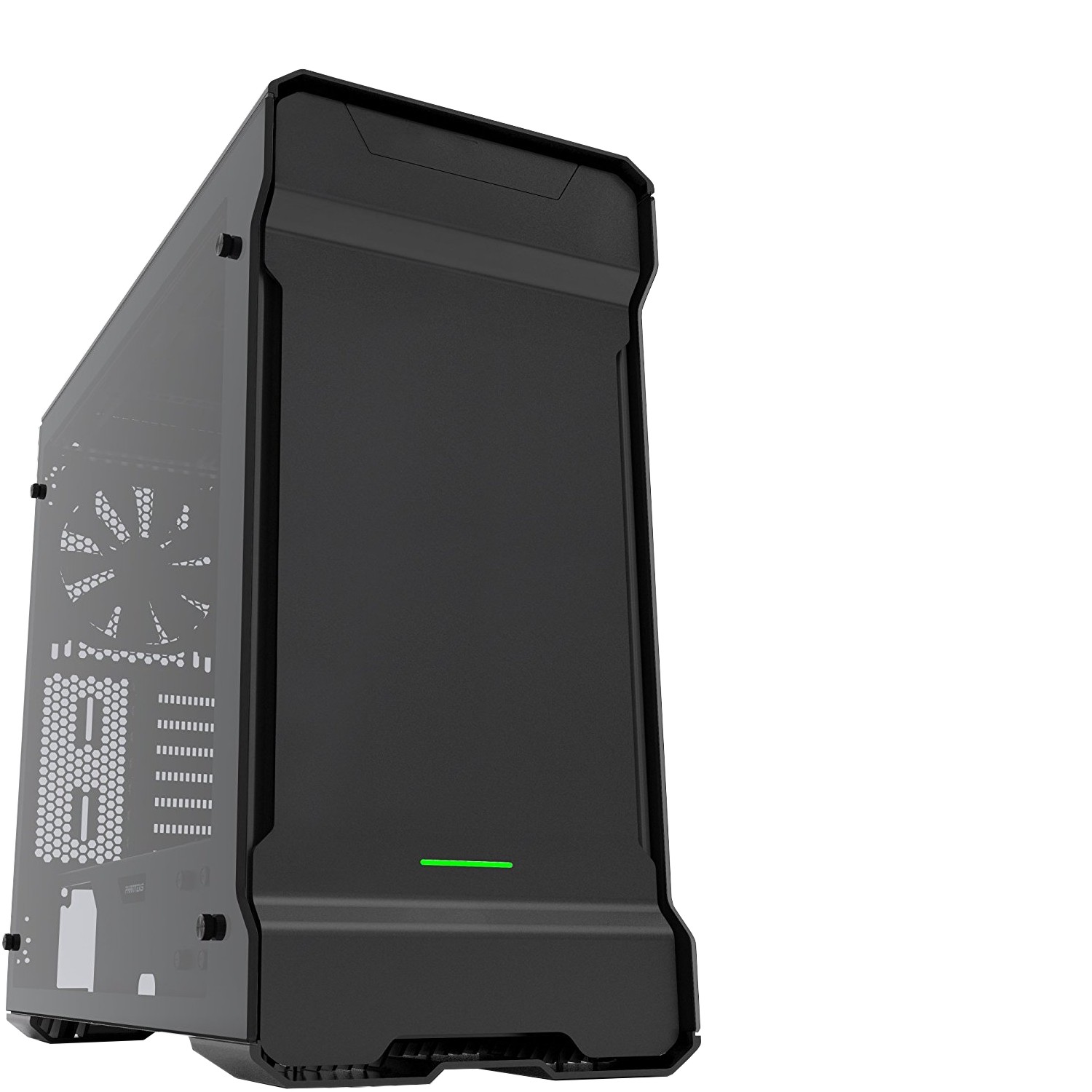 A thing about PC is that if done right, these can exude quite a class and appear artistic to view upon. Moreover, it is something taken note of these days. It is a reason why we see many PC manufacturers come up with exceptional aesthetically designed cases. There's a host of LED bright ones, the curvy sci-fi ones and much more available to view upon at present.
However, we are not settling for something that standard, are we? We went out and looked for something unique and equally classy at the same time for PC cases. Moreover, guess what, we found these tempered glass PC cases that appear appealing enough and packs in enough protection for your PC. We were pretty hooked on by these offerings, and it is something we cannot wait to share with you.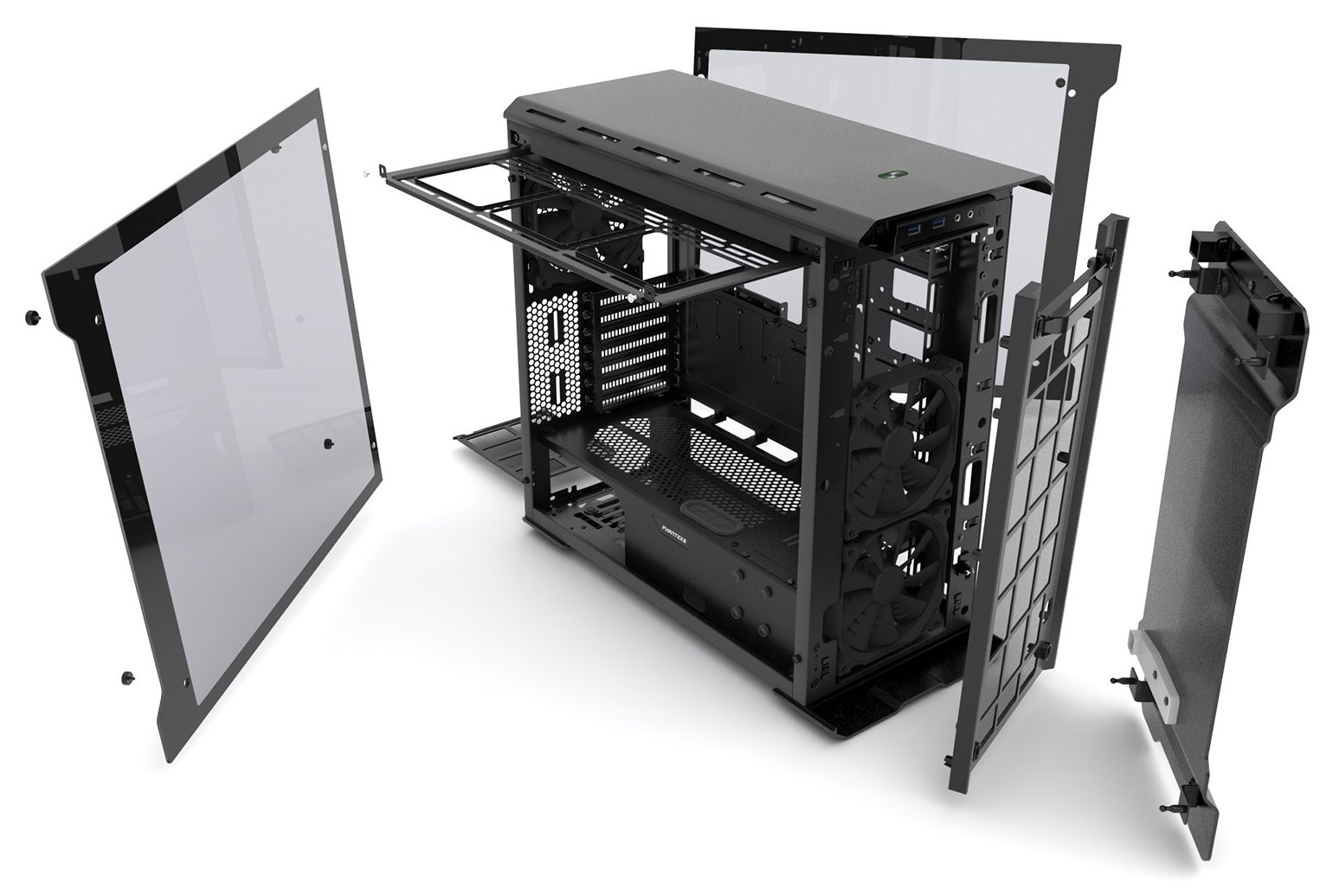 What is the Need for Tempered Glass PC Case?
For years, tempered glass has been used in furniture for their harder impact resistance and classy looks and the same can be expected of here. These also make up for a fine alternative to those of aluminum and plastic ones normally found which is pretty noisy to use for.
Tempered Glass PC Cases are meant to add a perfect amalgamation of looks and protection to your PC. These tend to make the case look pretty lively and slim without adding up any weight whatsoever. Tempered glass pc is a great tool for showcasing the DIY skills. It can result in a great output
The Buying Guide for Tempered Glass PC Cases
Tempered Glass PC Cases are one of those things that are in quite a demand at present. In fact, many PC enthusiasts have already moved onto them for better looks and protection. However, getting one for yourself is not as simple as it seems.
You cannot just walk over and shed a few dollars and get them outright. There needs to be some consideration involved, some parameters that need to be worked out. It is something we feel the need to share it with you. This following buyer's guide will help you along in your search for the best-tempered glass PC case. Go on.
a) Build and Components
A major consideration involved in getting yourself a tempered glass PC case is the build and part of it. A PC case needs to protect your motherboard and components and keep them in place. For this, it needs to have proper assembly hinges and panels inside. It also needs to incorporate the sturdiness in the frame and outer case so that the inner components are not prone to any harm.
b) Compatibility
While building your PC by including a tempered glass PC case, keep in mind the hardware components that you are going to use. Each case has a list of compatible motherboards that can be used in it.
c) Cooling Component
You would not want your PC case to rival your oven when it comes to temperature, would you? A PC case needs to support ample cooling mechanism to get the nod from a buyer's side. Many tempered glass PC cases also come with liquid cooling options and feature good temperature control options.
d) Ports and Access
You are bound to connect your PC to host of other devices. Everyone does so. It is times like these when you require a PC case with ample support for ports and access. A proper PC case needs to have I/O lines, cable tie-ups, USB ports, Headphone Line In, Mic, Reset Button, Shutters and more. A few cases also come with cartridge access to HD and SSD storage too.
e) Budget
Lastly, it is something that's pretty much a common aspect when looking for any product. However long on?e can plot, it always boils down to these finer components in the end. The budget side of things affect most of the decision making, and it is the same here. Tempered Glass PC Cases come in different price bracket and can be bought as depending on the required functionality. There's every chance that you would have to shed quite a few to get the best one. However, there's an equal chance that you may get something of value for money find in these.
Well, we guess that sums up how we should perceive our trajectory while going for a tempered glass PC case. We will follow up the guide with the main entrance of our list, i.e., 7 Best Tempered Glass PC Case down below. Read along.
Best Tempered Glass Computer Cases – Review, Specs, Latest Addition
So join us as we present to you '7 Best Tempered Glass PC Case' as part of our today's excursion. However, before that here's a little snippet about the tempered glass PC Case and its need. Grab a peek at it along the way. You can also check our selected list of Mini ITX case.
1. Phanteks Enthoo Evolv ATX Case
Best Tempered Glass PC Case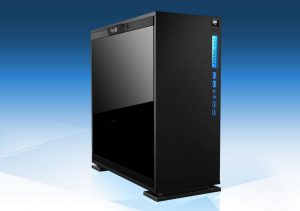 Built on the lineage of Evolv, the Phanteks Enthoo Evolv ATX edition stands as the best-tempered glass PC case at present in the market. This one comes with a combination of tempered glass panels and sandblasted aluminum. It is well equipped with innovative features like RGN illumination and water cooling option.
This case is designed to feature glass edition panels that are scratch resistant and appear beautifully carved. It comes with custom buttons on the front for I/O panel and has the option to change the static colors into ten different ones via the illuminated power button. It also has a pop-up door that enables access to 2 x USB 3.0 ports, RGB LED controller button, Microphone jack, headphone jack.
The inside of the case features 2 x HDD compartments and 2 x SSD compartments along with a retractable radiator bracket. It also has pump bracket and removable dust filter. The cooling is sustained by 3 premium fans allowing optimal air flow.
2. Corsair Crystal Series 570X RGB
Best Alternative Tempered Glass PC Case
The second one in line for our list is the one from Corsair, an illustrated manufacturer of PC cases around. This one of them is a premium build tempered glass PC case and features immaculate designs. The case comes with a tempered glass surface on each of the four sides and is certainly one of the most beautiful ever.
It features RGB LED lighting and has an integrated controller with it. Corsair's Crystal Series fits in quite an ample space and has room for fitting practically everything. The case offers direct airflow path helping it keep cool at all times. It comes with 3 RGB LED fans at present with space to increase it to 6.
The cable routings are aided via Velcro straps for easier management. It also has high-speed USB 3.0 panels on the front side for easy access. Other connectivity options are also aptly provided for. It weighs in at 22.2 pounds out of the box.
3. Rosewill ATX Mid Tower Gaming Case
Best Design and Performance Tempered Glass PC Case
If there's something that you should look forward to in the PC cases, then it's the ones from Rosewill. They have been known for their premium line of PC cases and more in the industry. It's the newest offering, tempered glass PC case is one to rejoice for and makes up for a fine option.
This one marketed as the Cullinan ATX mid-tower gaming case sports aesthetic design and comes with little optimization. It has ample ventilation adhering to that beautiful looking LED fans integrated within. It has 4 of those Blue LED fans fitted around. The outer line of the case is made up of three elegant transparent tempered glass with the right rigidity for enforcement.
As for the port connectivity, there's the inclusion of 4 USB ports along with microphone jack and headphone jack. It also has reset buttons, power buttons and fan controllers on the outer panel. These reset and power buttons are optimized with light rings and anodized aluminum caps.
4. Thermaltake Core P1 Tempered Glass Edition
Best Window-panel Tempered Glass PC Case
One of the best gaming PC cases around, Thermaltake Core P1 is a fine addition to those seeking to try out a beauty which can hold its own performance. This one comes from the distinguished line of Thermaltake offerings and features fine build capacity.
The case has a dual 4mm tempered glass for panels and comes with pretty clear and easy viewing. It also supports liquid cooling for better temperature control of the PC. Add to it the lighting patterns that it offers, and it makes for an enthralling one.
It's connectivity options come in form of interchangeable I/O panels along with USB ports in both 2.0 and 3.0 capacity. There's also the line in and line out options located on each of the sides with this one. It weighs in around 20.9 pounds.
5. NZXT CA-S340W-W2 Elite ATX Mid Tower Case
Best Mid-Tower Tempered Glass PC Case
Next up on our list is the one from NZXT with their S340 lineup. This one of them modeled as S340 Elite comes as a successor to the previous S340 and makes up as a new addition to the family. This tempered glass PC case features VR abilities and sports various additions to facilitate the same.
It is pretty sturdy and compact at the same time making its chassis one of the best around. The crisp looking tempered glass panel affords exceptional clarity and has finely incorporated cable management setup.
It also comes with Kraken series liquid coolers to facilitate the water cooling option. The case features support for SSD's in form of SSD mounts and has extra USB ports, HDMI port and magnetic cable puck for storing audio headsets.
6. In Win 303 Black ATX Mid Tower Case
Best Balanced Tempered Glass PC Case
A pretty mean machine in terms of both the outlook and performance, this one from In Win picks itself at sixth in our entry. It's a mid-tower ATX case and comes with detachable glass side panels. The PSU chamber of the same is well ventilated for and sports high airflow option.
The case features neatly done cable management and has metallic video card holders to let you hold larger cards for gaming. It also has flushed backlit strip and has easy connectivity options like those of USB 2.0, USB 3.0 and audio ports. It packs in 3 fans for cooling that aids in keeping the temperature levels at an optimum.
7. Azza Titan 240 Mid-Tower PC Case
Best Budget Tempered Glass PC Case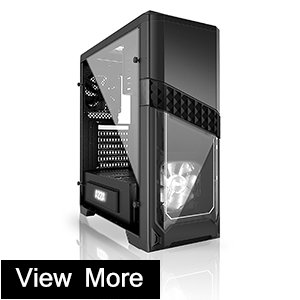 The best budget tempered glass PC case around, Azza Titan 240 is for those looking to invest in a little PC case without having to shed many dollars. They stand at the very entry level of prices and makes up for a value for money sort of addition to your computer.
This one from Azza is made up of high-quality tempered glass and comes with windows panels for clear visuals. It is further supported by cooling water radiator which helps in keeping the things under control. There also exists a couple of LED fans that does the cooling job for the case.
The connectivity options of the case are present on both the front and back and features both USB 3.0 and USB 2.0 options. It also has power supply chamber stationed at the bottom side of the case.
Wrapping it Up
It was quite a fun going through the list of best-tempered glass PC case for us, and we hope it kindled the same spirits in you. Do let us know what you think of it via the comment box down below. We would love to hear your views on this one. Till then, it is our bidding adieu.