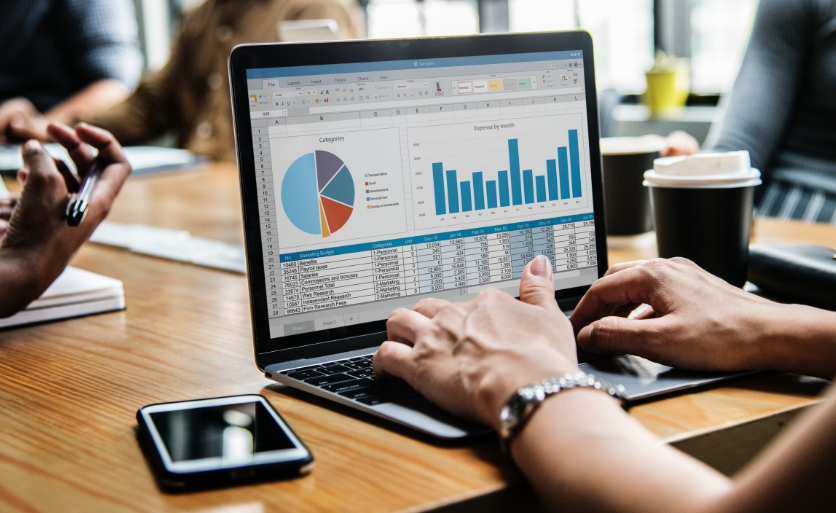 GST, or the Goods and Services Tax, is a new tax that went into effect in India from 2017. If you're an online business with customers in India, you'll need to start accounting for GST in your pricing and marketing strategies. Here are 10 of the best GST billing software options for businesses in India.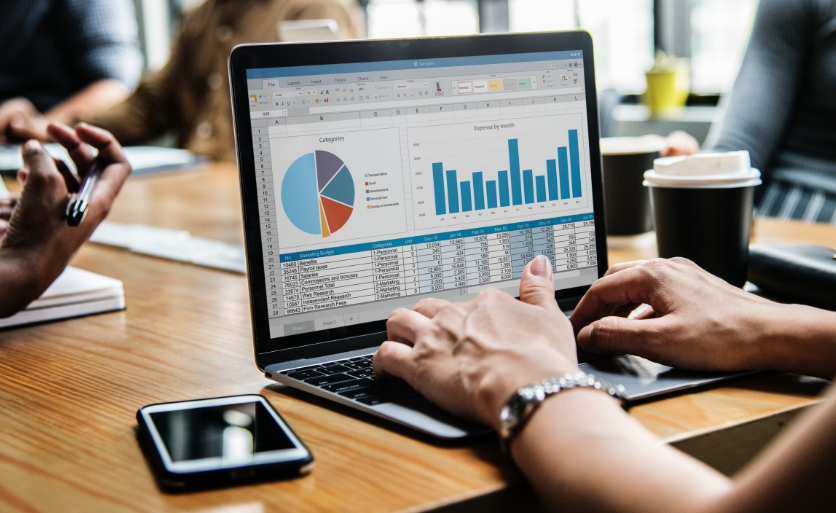 Top Best GST Billing Software List in India
Zoho Invoice

QuickBooks

Tally ERP 9

FreshBooks

Billbooks
1. Zoho Invoice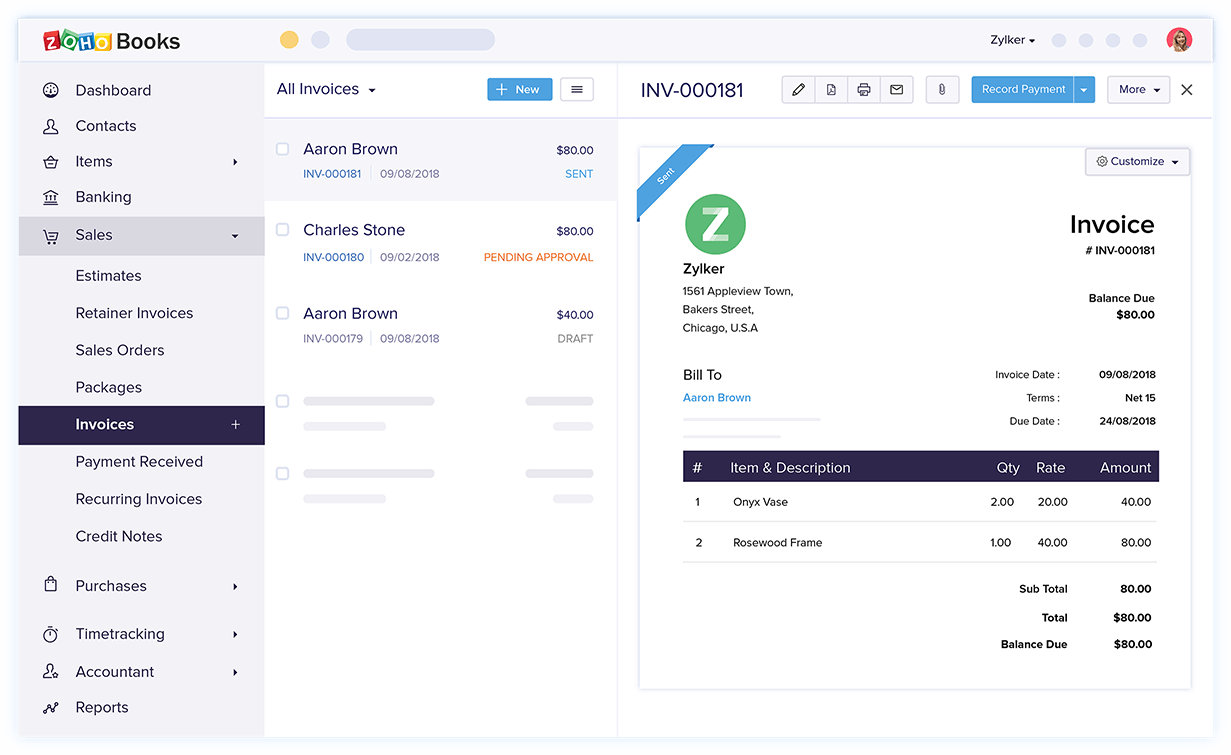 Zoho Invoice is one of the Best GST software that can help businesses to manage their GST related taxes and filings. It has a user-friendly interface and comprehensive features to help businesses with GST compliance.
Here are some key features of Zoho Invoice:
Supports multiple currencies

Ability to create, send and receive invoices

Support for multiple tax rates

Create custom fields and reports

Integrated with Zoho CRM to manage customer data and enhance business processes.
Pros:
It is fast and flexible.

It is easy to use the user interface (UI).

Value for money.

Provides tools for recurring invoices, customizable invoice/email templates, reports and reminders.

Provides a mobile app version, a client portal and the dashboard that shows sales and income at one place.
Cons:
There are some features that could be improved upon.

Some users have reported issues with it.
2. QuickBooks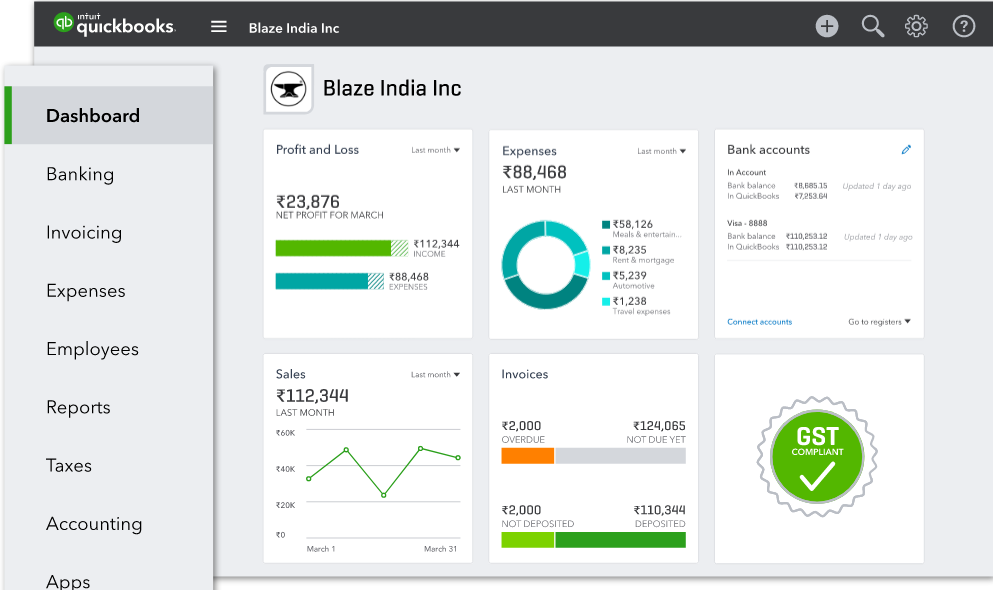 QuickBooks GST software is a comprehensive tax software for businesses. It helps businesses file their GST returns, manage their GST payments and keep track of their GST compliance. In this blog, we will discuss QuickBooks GST features, review and recommend it to businesses.
Features of QuickBooks GST software
QuickBooks GST software has a wide range of features to help businesses with their GST filing and compliance. Some of the features include:
Customizable tax filing schedule: businesses can choose the date range they want to file their GST returns, and QuickBooks will automatically generate the correct tax return forms based on that date range. This makes filling out your GST returns easy and fast.

GST calculator: QuickBooks also includes a helpful GST calculator to help you calculate your taxes correctly. The calculator includes inputs for your sales values, purchase values, gross profit margins, etc.

GST reports: QuickBooks also provides monthly GST reports that show how much tax you have paid, what items have been taxed, etc. These reports are great for tracking your progress towards GST compliance.

GST tracking: In addition to the monthly reports, QuickBooks also allows businesses to track
Pros:
It is easy to use and efficient.

Provides good accounting reports.

It is compatible with 3rd party applications.

It is a value for money.

Users can save time and money by using the QuickBooks GST software.
3. Tally ERP 9 
Tally ERP 9 GST software is a comprehensive accounting solution that helps businesses manage and report their transactions in an efficient, accurate, and timely manner.
The Tally ERP 9 GST software has a number of features that make it an excellent choice for small businesses. These features include:
Track your profits and losses

Manage your inventory and resources

Analyze your financial data

Create and manage reports

Integrate with other business systems
If you are looking for an accounting solution that can help you track your profits and losses, manage your inventory and resources, analyze your financial data, and create reports, the Tally ERP 9 GST software is the perfect option for you.
Pros:
It is easy to set up and efficient in terms of data entries.

It is cost-effective as compared to other competitive software in the market which offer the same features.

It has good GST integration with accurate results.

It is user-friendly.
Cons:
There are some glitches found in the software and these need to be sorted out soon.

It lacks certain features which might be useful for small businesses.
4. FreshBooks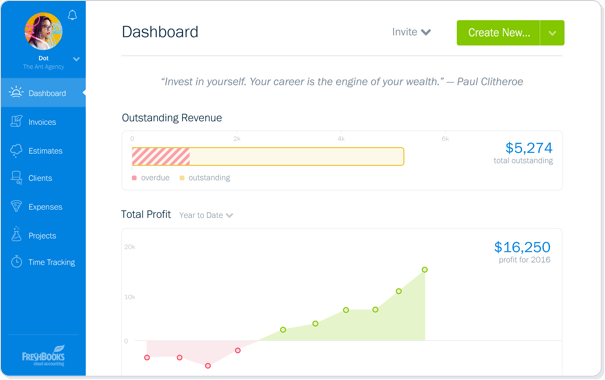 FreshBooks is a cloud-based accounting software that helps businesses manage their finances and operations. The FreshBooks GST software is designed to help businesses with their GST obligations.
The FreshBooks GST software allows businesses to:
Organize and report GST transactions

Create and send GST invoices

Track and manage GST refunds
Pros:
It is user-friendly.

It can easily be integrated with other systems, tools, and software.

Businesses can customize the software to suit their needs.

The software is reliable and efficient.

The GST functionality provides businesses with a valuable tax deduction.
Cons:
The software is not free.

There is a monthly fee for the GST functionality.

The software may not be suitable for all businesses.
5. Billbooks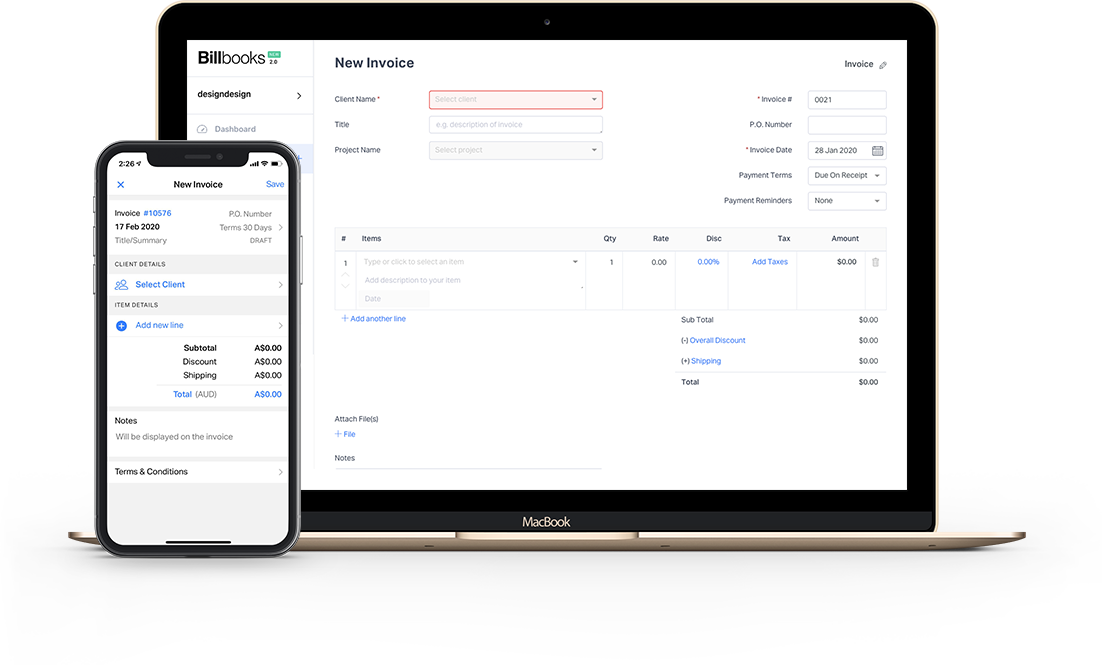 If you're in the business of printing and selling billbooks, you'll want to check out Bill Books GST software. This program offers a variety of features that will help you streamline your operations. Here's a look at some of the features that are available:
Printing profiles allow you to customize how bills are printed, including font, text size, and page layout.

The automatic fill feature can automatically fill in missing values on bills, saving you time and hassle.

The scan to PDF feature can automatically convert scanned documents into PDFs for easy sharing or printing.

And finally, the customizable templates make creating new bills a breeze. Whether you need a basic bill or something more customized, Billbooks GST software has you covered.
Pros:
Provides 24×7 support.

Has the option to customise invoices.

Supports multiple currencies.

Easy to use.

affordable.
Cons:
Limited options for design.

Not compatible with some software programs.
What is GST?
GST, or the Goods and Services Tax is a new tax system that came into effect in India on July 1, 2017. It replaces all of the previous taxes, including the income tax, custom duties, and service tax.
The goal of GST is to make it easier for businesses to collect and report their sales and revenues. GST is also designed to reduce the number of double taxation cases that happen in India. Double taxation occurs when one country taxes an entity (such as a business) twice for the same thing.
One of the benefits of using a GST billing software is that it will help you to track your sales and revenues. The software will also help you to calculate your GST liability and pay your taxes correctly.
Read Also:- Best Free/ Paid GST Accounting Software in India
What is GST
software?
GST software is a computer software that helps businesses to file their GST returns. It provides various features such as the ability to create and manage your business tax records, calculate and pay your taxes, and receive notifications about tax refunds.
There are several different GST software options available in India. Some of the most popular GST software platforms include QuickBooks, Xero, and MYOB. Each of these platforms has its own unique features and benefits. It is important to choose the right platform for your business needs.
If you are interested in learning more about the different options available, or in finding a qualified GST software provider, please contact us at [contact_form_id] . We would be happy to help you choose the best option for your business.
What are the benefits of using GST software?
One of the major benefits of using GST software is that it makes tax filing and tracking much easier. This is because the software can automatically calculate and input all the information related to your taxes. This includes all the necessary details about your products and sales.
Furthermore, GST software can also help you to keep track of your tax liabilities. This is important because it allows you to identify any mistakes or discrepancies quickly. In addition, the software can also provide you with tips on how to reduce your tax liability.
Finally, using GST software can make tax filing much more efficient. This is because it eliminates the need for you to spend hours trying to collect all the relevant information yourself. Instead, the software will take care of everything for you.
There are a number of GST billing software that are available in the market today. Each has its own unique features and benefits. It can be difficult to decide which one is the best for your business.
To help you make an informed decision, we have compiled a list of the top best GST billing software in India. Each of these programs has been reviewed by our experts and has received rave reviews. They are all reliable and easy to use. If you're looking for the best GST billing software in India, our list will definitely help you choose the right option.
Conclusion
When it comes to filing your GST returns, it is important to have the right software in hand. Here are 10 of the best GST billing software in India that can help you with everything from creating and managing your tax records to preparing and sending your returns. Make sure to check them out if you're looking for a reliable and affordable solution for filing your GST returns!