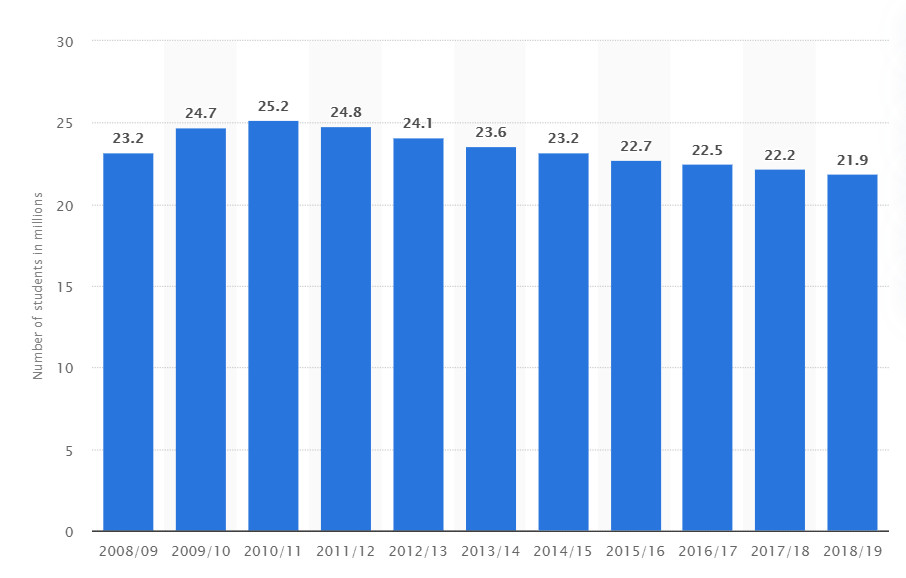 Students have high expectations for higher education. It is quite justified, considering the demands and challenges they have to face. Nevertheless, do these expectations always come true? Let's see what higher education is like for the majority of students based on statistics and interesting facts. 
Student Enrollment: General Rates and Demographics 
Fact #1 – Enrollment rates have a falling tendency.
In 2018-2019, general undergraduate enrollment decreased. In previous years, more than 22 million students joined undergraduate programs in different colleges and universities across the US. Last year the number of them decreased to 21.9 million. As Statista reports, the falling tendency can be noticed starting from 2011-2012.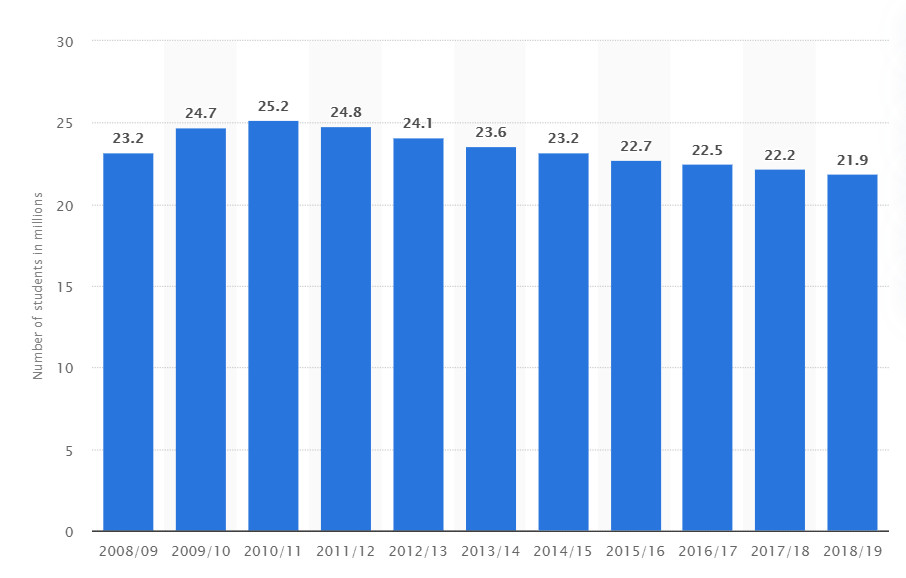 (Source: https://www.statista.com/topics/829/college-and-university/)
Fact #2 – Female students are leading in enrollment rates.
According to NCES, there was a higher percentage of women enrolled in colleges every year from 2000 to 2018. This tendency continues to grow in 2019 and 2020. It is attributed to the increased level of female labor force participation in the USA. Besides, last year women constituted 57% of all students awarded a Bachelor's degree. As for post-baccalaureate enrollment rates, females also are more active. For example, 1,785 million women started their post-graduate studies in 2017, compared to only 1,220 of male students. Female students are also more likely to finish a program than male students. Also, projections for the following years up until the end of this decade support this trend that started in the late 80s.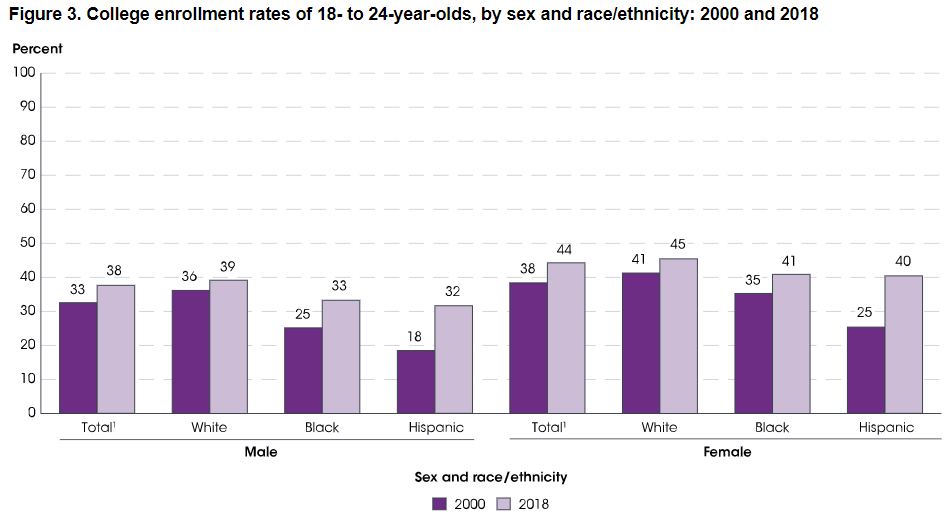 (Source: https://nces.ed.gov/programs/coe/indicator_cpb.asp)
Fact #3 – Enrollment rates significantly increased for Black, Hispanic, and Asian students.
As statistics from the last decades shows, enrollment rates for different ethnic groups continues to grow. NCES reposts that between 2000 and 2018, the highest increase was noticed in Hispanic students: from 25% to 40% among females and from 18% to 32% among males. Black students, especially men, also demonstrated higher participation, 33% in 2018, compared to 25% in 2000.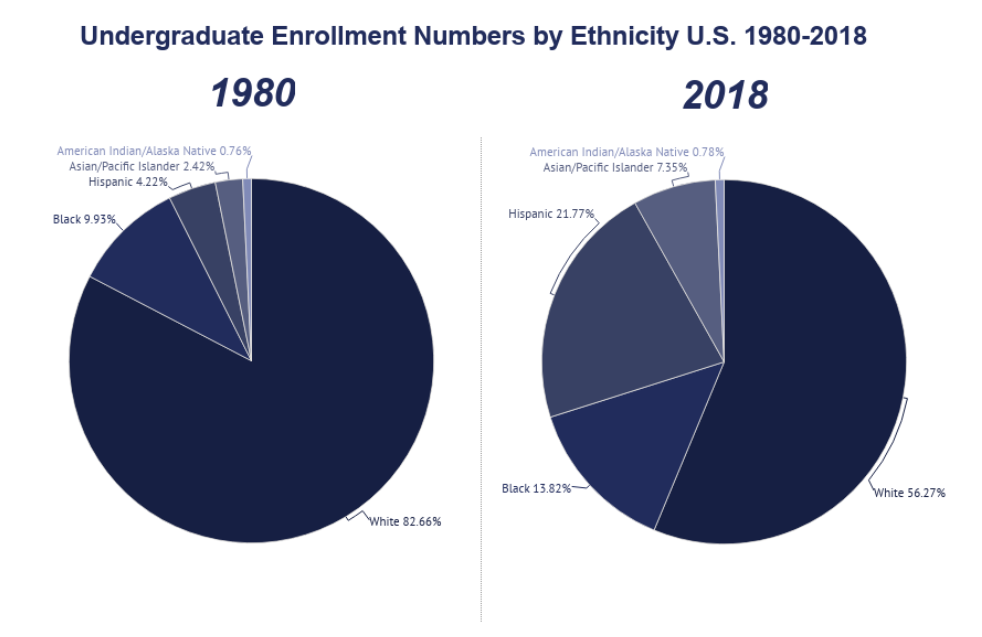 (Source: https://educationdata.org/college-enrollment-statistics/)
Cost of Higher Education 
Fact #4 – The cost of higher education increases continuously.
Higher education is an investment. It is a well-known fact. Tuition costs grow with each year. Yet, the average cost depends on the type of institution and the duration of the desired program. A two-year program in a public institution will cost around 12 thousand dollars when a four-year program will cost you twice the price. Besides, out-of-state education costs much more. 
Higher Education and Employment 
Fact #5 – College and university graduates earn more than non-graduates.
College graduates earn around $45,000 per year when non-graduates make $22,000. These are average financial outcomes, but the tendency is clear. A degree in a certain academic field will help you find a job that pays better. 
Fact #6 – Non-graduates are more likely to be unemployed.
As outlined by NCES, unemployment rates are higher among people who have only a high school diploma. This issue is especially urgent for young high school graduates who have decided to start working instead of continuing their studies. Unfortunately, they have more difficulties entering the job market because of the intense competition.  
Fact #7 – 45% of job offers require post-secondary education.
One more fact that underpins the value of all those efforts you invest in higher education is that almost half of all vacancies require a degree. To get a more rewarding job, a person needs higher education in most instances. It makes you qualified for senior positions and increases your chances of promotion.
What Are the Trends? 
Fact #8 – Business and Management is the most popular major. 
According to NCES, out of 1,956,000 Bachelor's degrees awarded in 2016-2017, the largest proportion refers to the business sphere (381,000 degrees). Other popular majors include nursing, social sciences, psychology, and engineering.  
Fact #9 – Competency-based programs are getting more common.
Such programs already function in 82% of the US post-secondary educational institutions. Competency-based programs allow students to stick to individual schedules. Learning at one's own pace is beneficial for mastering certain skills.
Student Social Life Stats
Fact #10 – Students party 63 times during an academic year.
Yes, students enjoy parties a lot. Being able to dedicate so many evenings to entertainment is not some kind of superpower. There are plenty of platforms that offer educational material and research help, including write my paper services. All you need to do is to have some time management skills and know where to find help in case you are overwhelmed with academic assignments.
Fact #11 – More than a million students attend Spring Break each year.
It has become a tradition that students from colleges and universities around the US take a break from their studies to visit Spring Break destinations. The most popular places are Panama City, South Padre Island, and Cancun in Mexico. They travel more than 900 miles on average to have fun. It was calculated that they spend about a billion dollars on it every year. 
Final Thoughts
Higher education remains important for young people in the US. Female students significantly increased their enrollment rates. The same situation concerns students from ethnic minorities. This results in a more diverse population in post-secondary academic institutions, even despite growing education costs. Higher education remains a valuable investment in future career prospects. Besides, as you may have noticed from statistics, students' social life is not dull because of stressful tasks and tight deadlines. They still have time to attend parties and have fun.