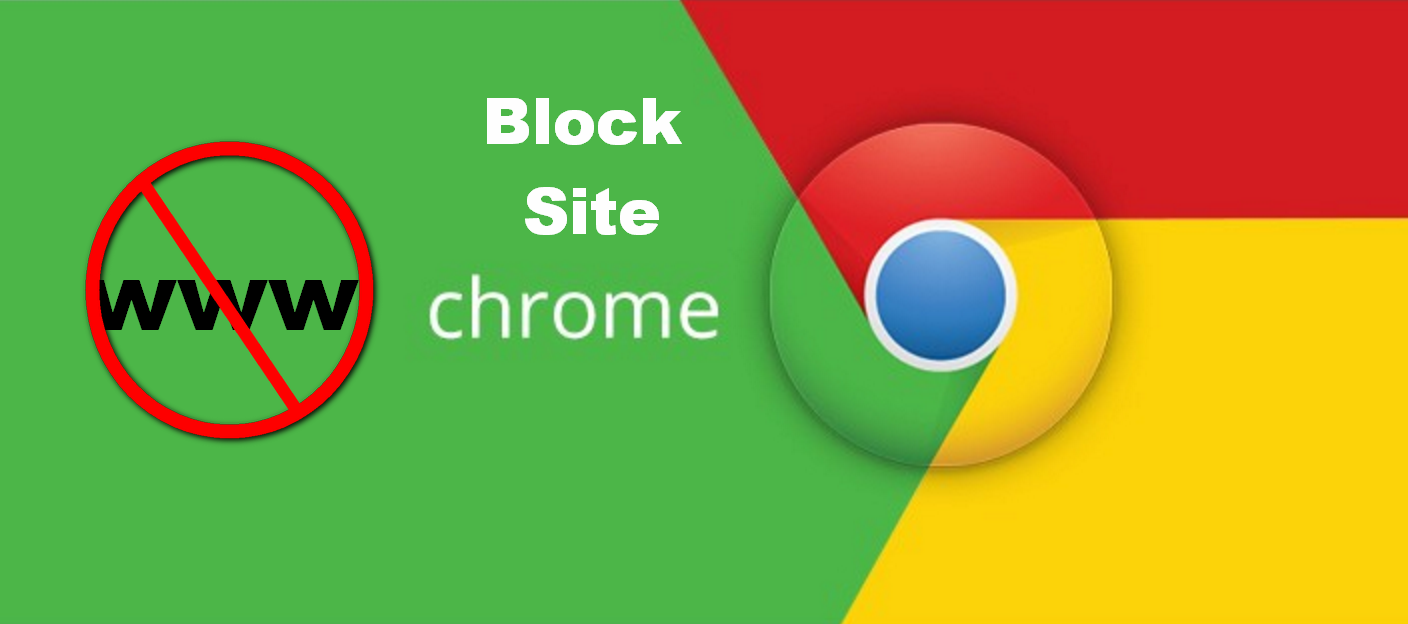 How to Block Websites on Chrome
Being a parent, you don't want your child to visit any inappropriate sites which have some adult content or your child to waste time on social networking or gaming sites like Facebook. Or if you are running any institute, college or cyber cafe then you need to restrict users to surf these sites. Most of us have Chrome as our default browser, so we can restrict them to visit these sites by blocking websites on Chrome browser.
There are some sites that try to steal your information and also force you to install malware virus. Though Goggle Chrome blocks spammy sites automatically if you want to block some particular site, then you need to do it manually.
There are many ways by which you can block sites on Google Chrome. Let's have a look at the means to block websites on chrome.
How to Block Websites on Chrome
As we have already discussed the importance of blocking websites to prevent our privacy and security. If it's about security, then it must be done on all our device. A significant portion of Chrome users is Windows and Android. So we will discuss the ways for both.
Ways to Block Websites on Chrome for Windows PC
1. Block Sites Using Chrome Extension: Block Site
It is one of the best Chrome extension to block sites on Google Chrome browser. It is most trustable and already crossed 1 Million downloads. I will explain all its features. Let's first start with its's installation.

Add Block Site Chrome Extension on your Chrome Browser. Once done you will find an icon of Block Site at the top right corner.
Now to block any website, simply right click on the site page and then Block Site >> Add current site to Block list. And it will be added to your block list, and you can not use it until you delete it from the list or disable the extension.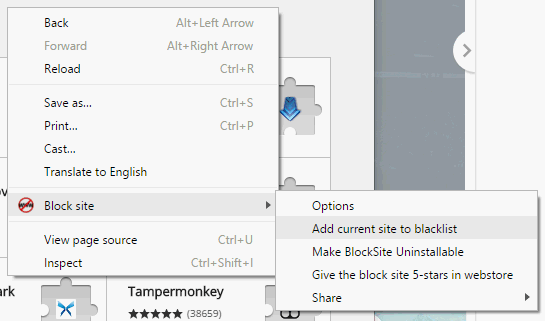 When you try to open the blocked page, it will redirect you to its specially designed block page. You can also set your own custom redirection page URL.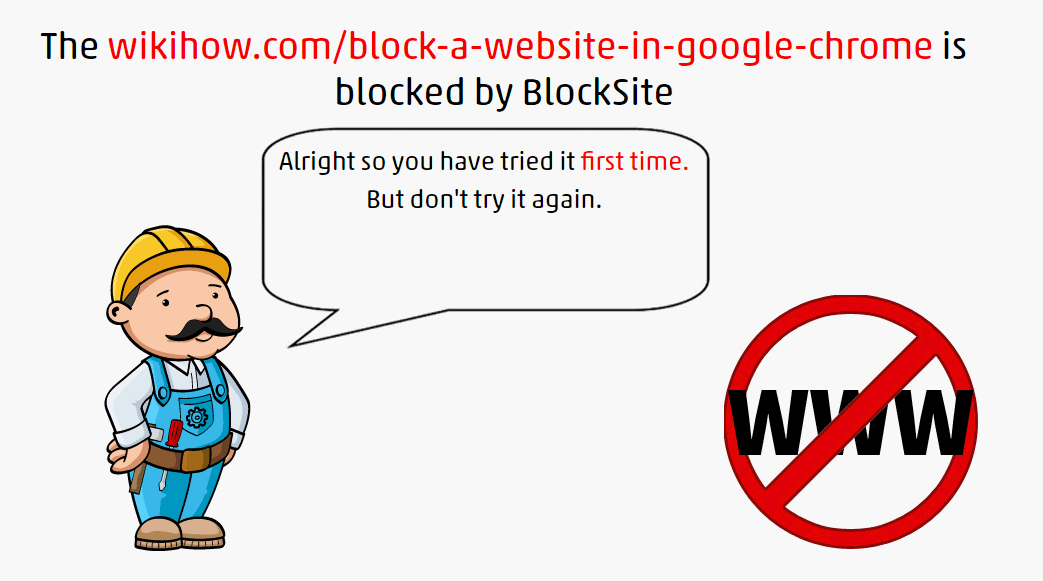 Blocked Words: This will block the URL containing the words you defined. It already has predefined adult keywords in its list. You can use that or create your own list of keywords. To use this feature Go to Block Site options.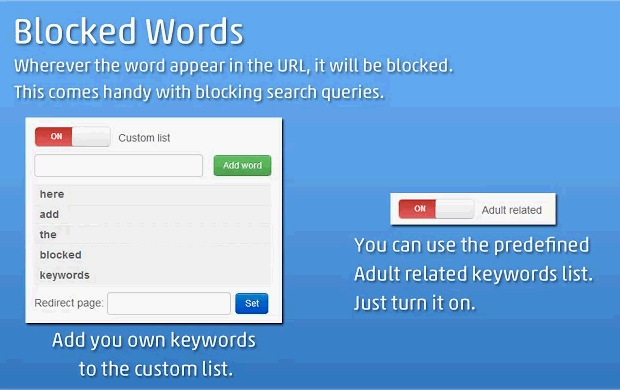 Active Days and Times: You can even set the time of blocking, for which period you want to block. Like if you don't want to use Facebook on weekdays then you can set it, and it will block it for Monday to Friday, and then you can use it on Weekends. You can access this feature in options of Block Site extension.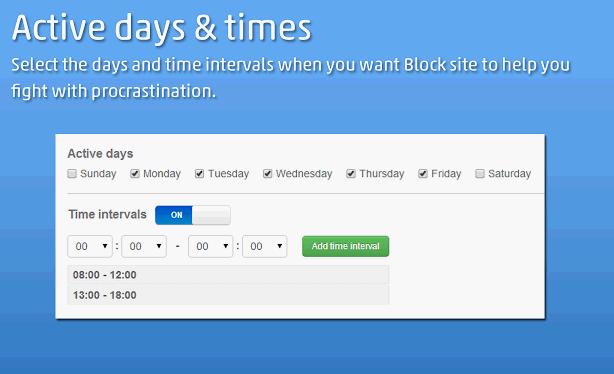 Password Protection: With this feature, you, can set the password on this extension so your child can not change its settings. And also you can turn on Uninstall protection, but, this feature is available on premium version.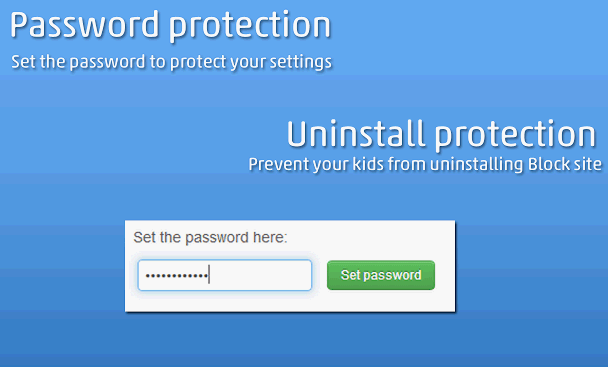 Incognito Mode: With this feature, you, can turn on Block site even on Incognito mode. To do this Go to your Chrome extension list and on the Block site extension, tick the Allow in incognito option.

Import/Export Block List: You can also export your block list so that you can import it to your other devices.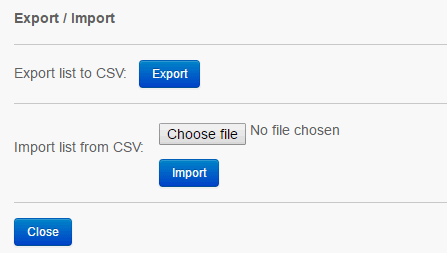 Other Options: There are simple ON/OFF button for all its functions. SO you can quickly change its settings.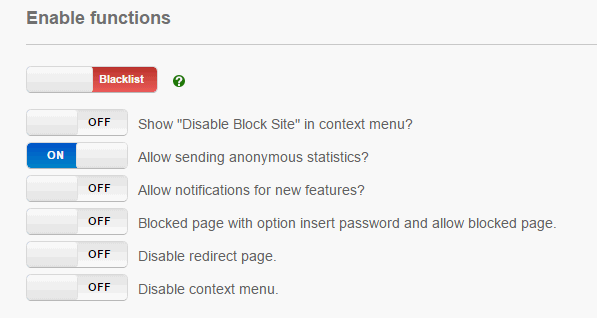 Like You can convert your Blacklist into Whitelist, so you can only visit those sites. Turn of Disable Block Site Context Menu and many other options.
I found it to be the one of the best extension to block sites on Chrome browser. It is easy and has all features that we need. So you must try this extension.
Beside this, there are some other popular extensions that help you to stay focused on your work by blocking distracting sites. You can try them too.
2. Block Websites Using Chrome Options
Yes, you can even block sites without any software or extension from Chrome settings. But this method has lots of disadvantage. Anyone who has some knowledge can easily whitelist the block sites.
Go to your Google Chrome Settings Menu. Scroll Down and move to Advanced Settings.
Now Under the Network Tab, click on the Change Proxy Settings button.

Now under the Security tab. Click on the Restricted Sites icon, then click on the Sites button.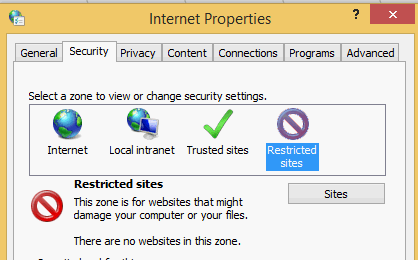 Now you can add the sites that you want to block. And if you need to remove then select the site and click on the Remove button.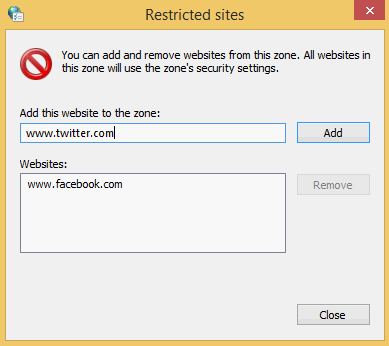 So it's very easy to block sites on chrome using this method. But it is not protected, your child can easily remove the site he/she want to use. And you have to create your list manually. There is no import/export option too. And it will only block the specific page you specified not the whole domain.
3. Block Sites Using Software
Above methods have limitations like your child can use some other browser, or he/she can uninstall Chrome and reinstall. So a secure and full proof way to block site is using some third party software, which can control your whole device and prevent its misuse. There are many software that can track and control your child or employee activities.
One such software is Hide Tool Employee Monitor or Hide Tool Parental Control. Though it's a premium tool, it's free trial is also available.
Once you complete the download and installation process. Run the software.
Now open Website Blocking tab. Now here you can select the category of sites you want to block, and, you can also specify the site URL or keyword. You can see in the below image; it is very simple to add/delete sites from the list.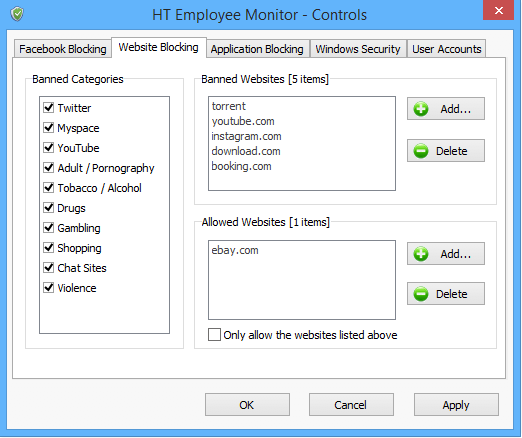 So it's that easy to block sites using this tool. And it is universally blocked on all your browsers and, no one can change the settings until he/she knows the password. There are other security options also that are very helpful. You can even block applications using this tool.
How to Block Website on Android Chrome Browser
We all get Google Chrome browser preinstalled on Android mobile, and it is the default browser for most of the user. And you can easily block sites on Android Chrome browser. There are many sites which make you download some malware or virus. So to be secure, you should block such site. Though you can use some secure browsers for that if you want to be focused, it's important.
There are many mobile security apps and antivirus that you can use to block sites. There is no direct option to block websites in Android Chrome browser. You need to use third party apps for that.
Kaspersky Antivirus & Security
Though this is a complete mobile security solution with lots of features. But here I will discuss it's site blocking feature only. The app is from trusted brand Kaspersky and has millions of downloads.
First Download and Install this app from Play Store.
Once you complete the initial setup process. Go to Web Protection option. You need to purchase the premium to use this function.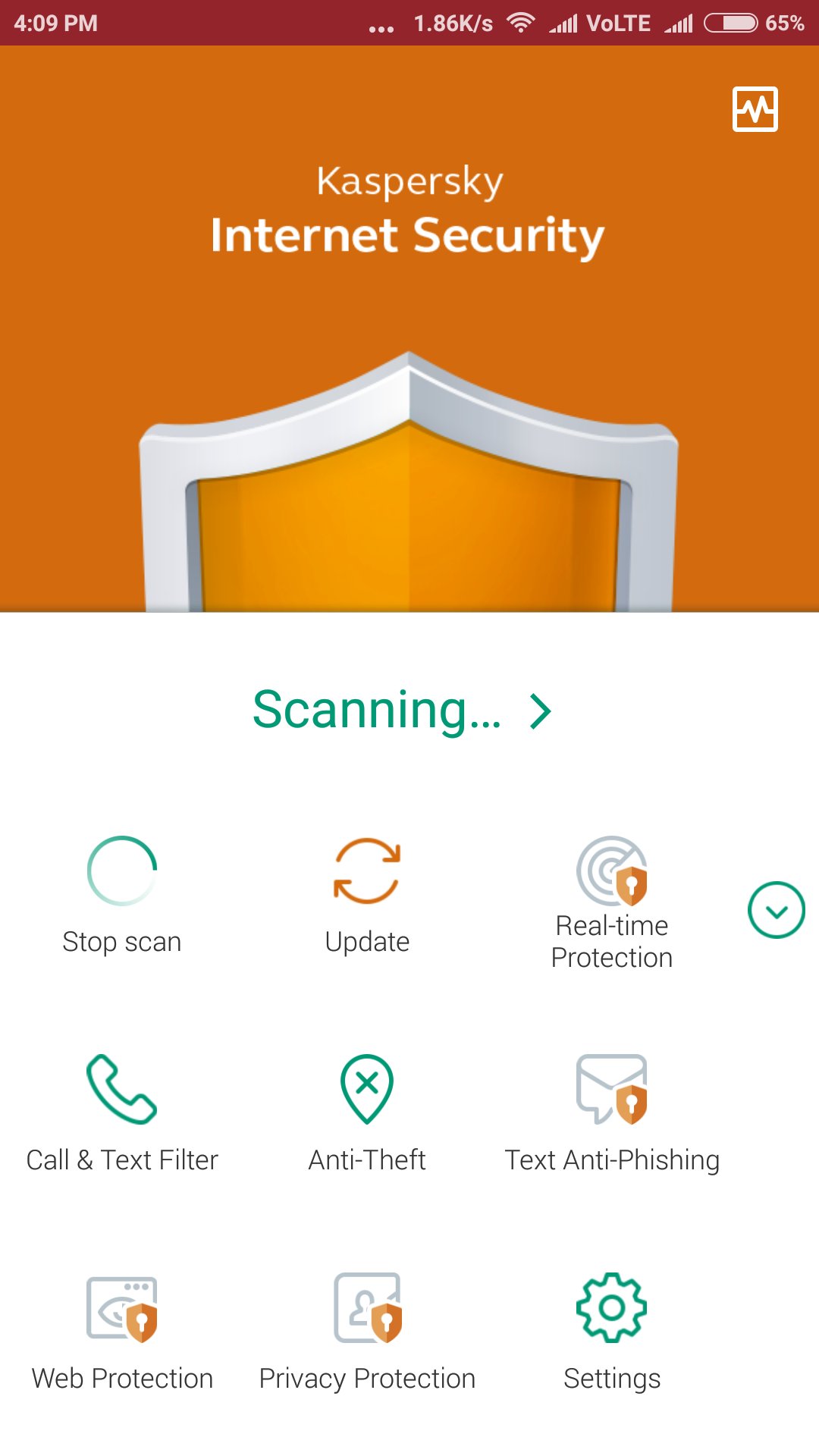 Now this will automatically check all the link you visit and block spammy malicious sites. You can also add your blocklist.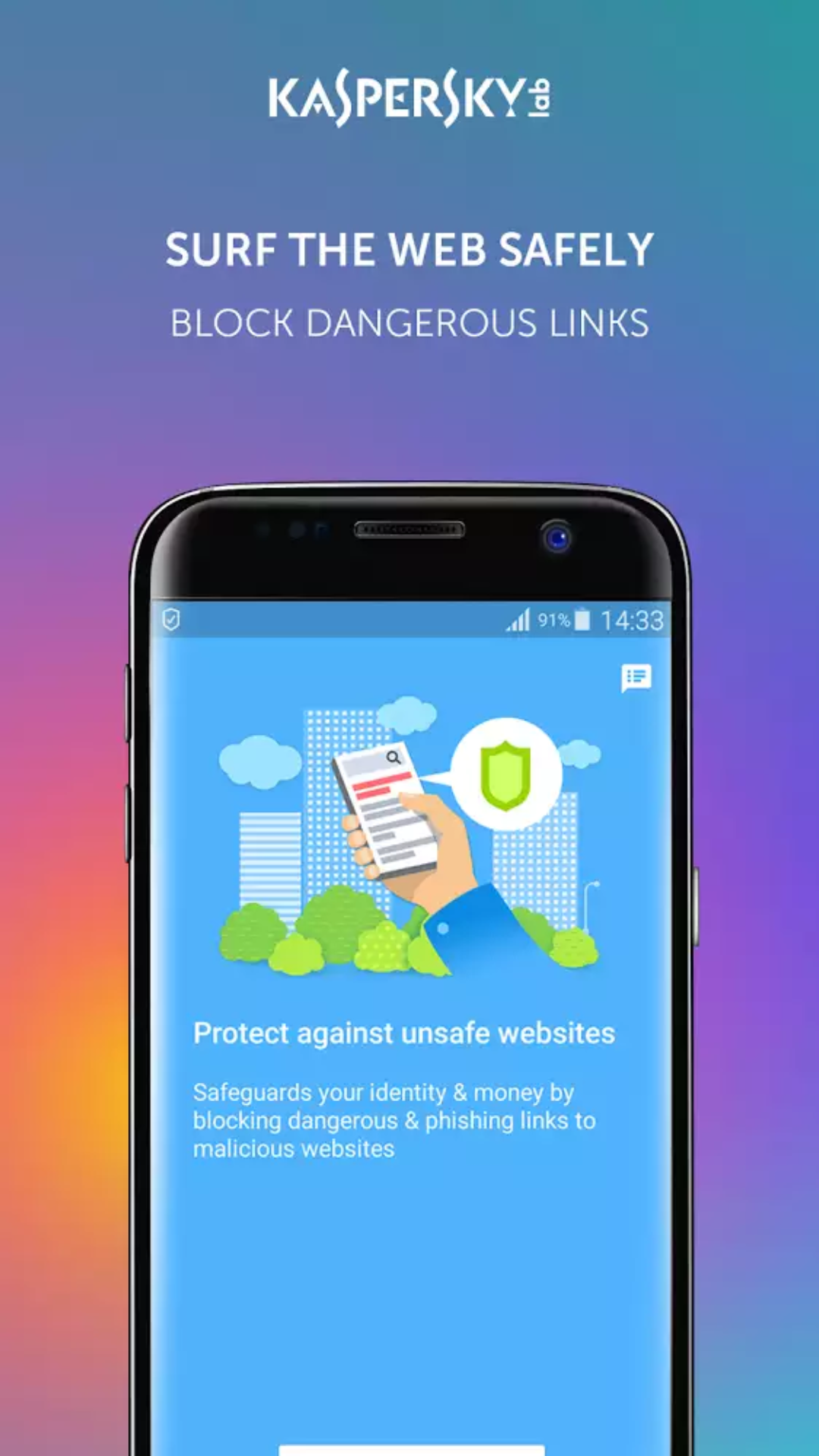 It will block that website on all your browser chrome and others.
It is the easiest way to block sites on Android Chrome browser. Some other apps also allow you to block websites. That I will cover in a separate post.
So now you can easily block sites on chrome on both Android and Windows PC. Just try out the method that I have discusses. All are working, Use them and have a secure browsing. Let me know in the comment which way you find the best to block the website on Google Chrome.