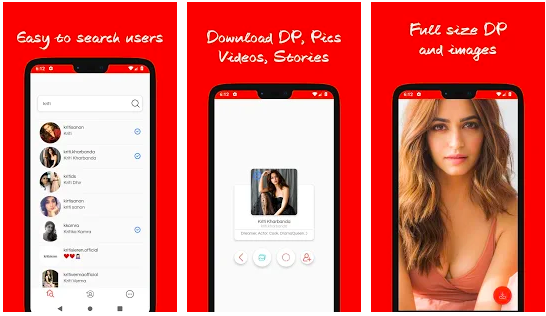 Instagram has become a massive phenomenon in recent years. It is packed with stunning pictures and even better profile pictures that entice people throughout the globe. This social media platform has taken the world by a storm to the extent that children, as well as adults all, use this platform not just to stay connected with the happenings in the lives of friends and family but also to simply know what is happening around the world. Simply by following the right people, you can stay updated.
Many times, people feel the need to download a profile picture that is absolutely gorgeous and too amazing not to have in your collection. You might even wish to save your own Instagram profile picture at times as a backup or for cross-posting. If you wish to do just that, simply try the top 3 apps given below to download and save your Instagram profile picture on your Android phone!
3 Apps to Download Instagram Profile Picture
Profile Picture Download for Instagram
This app has a fantastic rating of 4.7 on the Google Play Store which is a testimony enough of its quality and functionality. This Android app can positively be regarded as the most clutter-free and smooth profile picture saver app for Instagram. The Profile Picture Download for Instagram app also does not require you to download and install the app of Instagram on your Android device. Simply insert your profile name or the profile name whose profile picture you desire in the space on the top part of the screen and click on "Search." Once you see the profile picture you desire on the screen, click on the button that says "Download This Picture" at the bottom of the screen. And that's it! Your picture will be saved to the Gallery of your phone immediately. This app takes up only 3MB of your phone's storage space and is absolutely free of cost!
Download Instant DP (Full HD)
With the Download Instant DP app, you can view as well as download profile photos of Instagram in full size and resolution. The best thing about this app is that if you want to save a profile picture of a profile that has a private account, you can still do it using this app.
All you have to do is copy as well as paste the URL of the profile whose DP you want. If you do not remember the username of the profile, no worries! This app has got you covered and shows all the similar usernames so that you can find the one you want. Using this app, you can easily view as well as download any profile picture of your choice and can even zoom in on the DP to check its quality and then download it in its full size and resolution.
Just by entering the username of the profile whose DP you require, you can find the profile and view the picture in all its glory. This app also allows you to get alerts on changes in profile pictures of your favourite and marked users.
And the last but certainly not the least on this list is the Insta Profile Downloader app. With a pretty good rating on Google Play Store, you can easily download and install this app in your Android device to view as well as save profile pictures of Instagram in full size and resolution.
Some of the features of this app include displaying the DP in a bigger size and a fuller resolution than you can view on the Instagram app and you do not even need an Instagram account to use this app. In order to use this app, simply follow the steps given below:
Download and open the app.

Type the username of Instagram whose DP you wish to save.

Click on the GO icon.

You will be able to view the profile picture or the DP of the username in full HD resolution.

Now, simply click on the download button on the app interface and save it to your device's gallery.
Like It? Then Save It!
Using these 3 easy-to-use and hassle-free apps, you can now easily download and save Instagram profile pictures to your phone's gallery without breaking a sweat! We know how vital Instagram is in the lives of people worldwide today and hence, we aim to simplify the tasks associated with this global phenomenon. Now that you have these 3 apps under your hat, the next time you feel the urge to save your friend's DP or profile picture on Instagram as a part of your memories, feel free to use any of the apps mentioned above.
Do you know of any other apps besides these that work wonders? Let us know!