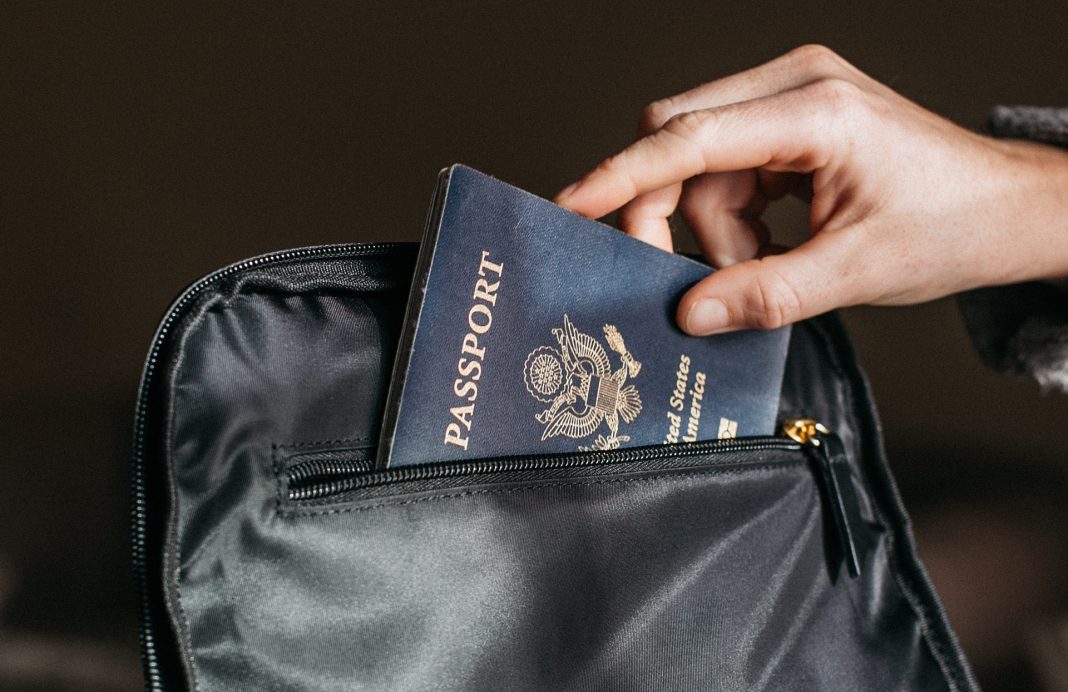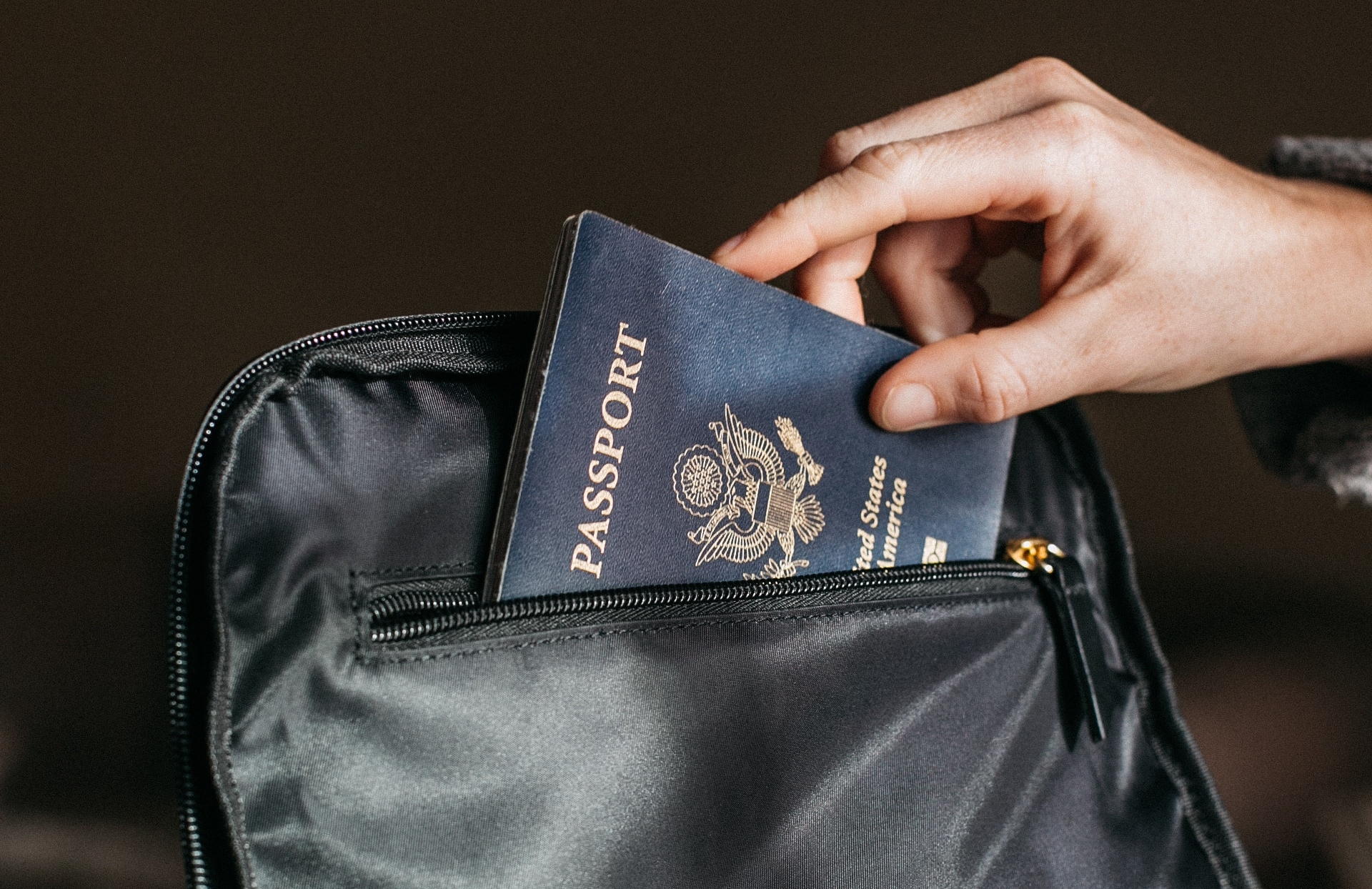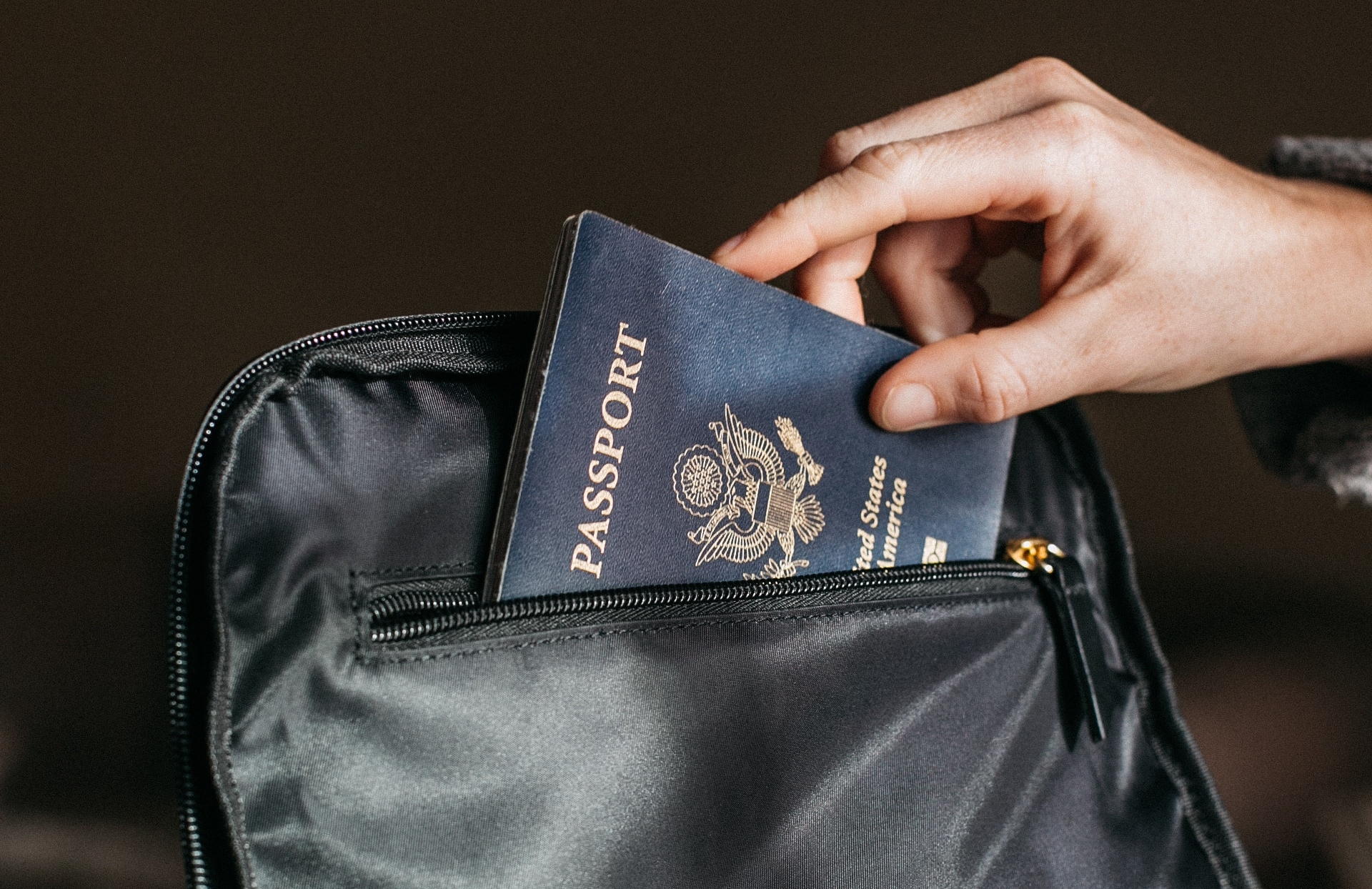 It's not a secret that making it in the photography business is extremely tough. Especially, if you focus on ID photography – you need to be aware of the latest and most up-to-date information about ever-changing photo requirements. However, there is a highly recommended passport photo editor – Passport Photo Maker – that will be a massive help for your small business as well as assist frequent travelers in the preparation of travel documents. 
Along with a huge database with all types of documents one might require, the program has integrated photo editing tools and built-in managerial perks. The software is developed for small photography business owners as well as for private users and contains everything you need to enhance the customer experience and make your busy life easier. It will make your business more productive, cut your expenses, and save you a lot of time, even if you are using it privately.
Best features:
1. Built-in Database of ID Types
If you are afraid to get lost in the stream of strict photo regulations for specific documents from different countries, don't worry, the program will keep you up-to-date. All you need to do is select a country from an extensive list of over 130 countries and pick the right ID type: passport, student's ID, driving license, visa, etc. Once you made your choice, the program will immediately show you a full list of requirements for this specific image. Furthermore, it will automatically recognize the face and crop the photo in accordance with the regulations to create a perfect passport size photo.
2. Photo Editing Tools
The software also contains integrated photo editing tools to enhance the quality and comply with the official requirements. You can improve lighting, shadows and tones as well as change background in one click. Apply Retouching tools to remove red eyes, make the picture sharper and adjust contrast. Finally, you can replace clothes right in the passport photo creator to achieve a more formal look: choose from a variety of suits for men and blouses for women.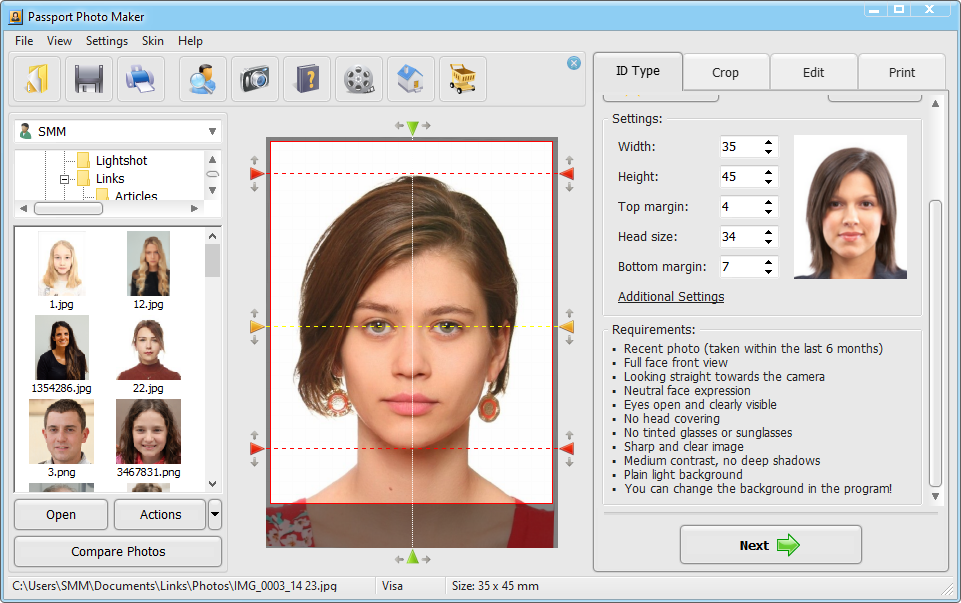 3. Business Features
Another great innovation is an integrated range of business tools to help you manage your sales, orders and activities. This perk will definitely save you a lot of time and allow you to focus your energy on customer experience and creativity. First of all, check out the Order Statistics where you will have a precise overview of your orders, sales and stream of revenue. Besides that, you can overlook your employees' performance by browsing through Activity Log. Additionally, set prices for different ID types and various print layouts in the Price Management tool. Finally, create a client database right in the program and decrease customer wait time.
4. Also For Private Use
Passport Photo Maker is an ideal choice for frequent travelers and families with small children. Save a trip to a photo studio and use the money and time for something better. The intuitive interface helps you master the program in no time and create professional passport photos without leaving your couch.
5. Printing options
If you are trying to be eco-friendly and create an environmentally conscious work atmosphere or simply want to save a buck, discover the amazing printing options. The trick is that you can place various orders of different passport photo templates on one sheet thus saving paper and reducing customer wait time.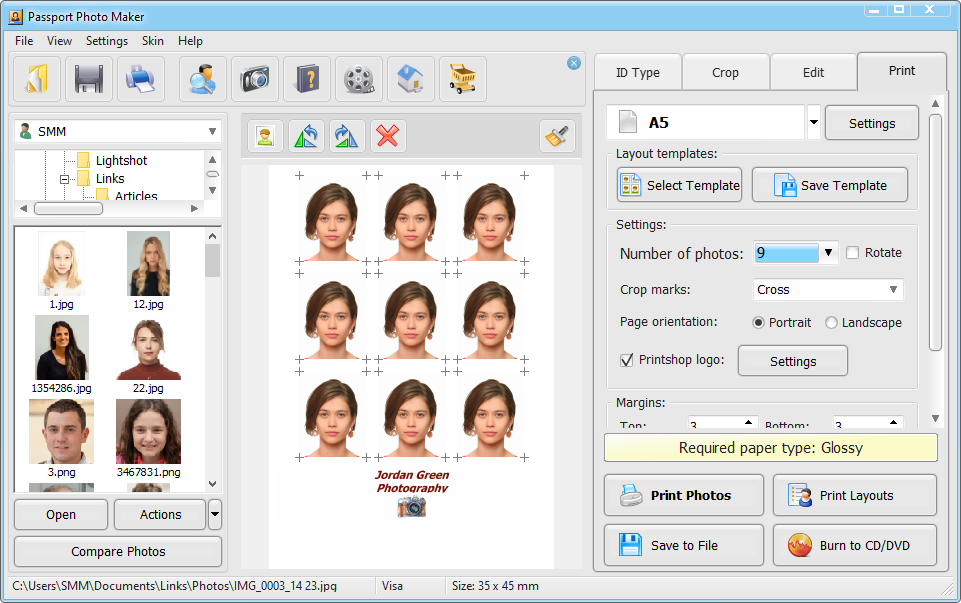 Prices for lifelong licenses:
Standard Version ($39,95): Perfect choice for frequent travelers who constantly require new ID photos for passport and visa; as well as for families with small children who would like to skip a stressful journey to a photo studio. The standard version grants access to ID types, background replacement and photo editing tools.
Studio Version ($99,95): Great solution for small photo studios. The studio version gives you access to managerial tools, auto-crop and face recognition, monitor calibration, and webcam support. All important business features in one package.
Enterprise Version ($247,95): An ideal solution for middle and large businesses. This version contains all the features of the studio version though allows you to use it on 5 work stations. 
Pros and Cons:
Pros:
Extensive database of ID types and 130+ countries

Easy-to-use interface

Auto-crop and face detection

Smart printing

Background change

Clothes replacement

Management tools
Cons:
Not available in a Mac version

Photo editing tools are basic
Conclusion:
With the overall rating of 4.8/5, Passport Photo Maker is a great tool for both professional and personal use. As an owner of a photo studio, you will boost your sales, increase revenue and improve customer experience, as a private user – save money and time and reduce stress regarding document preparation.