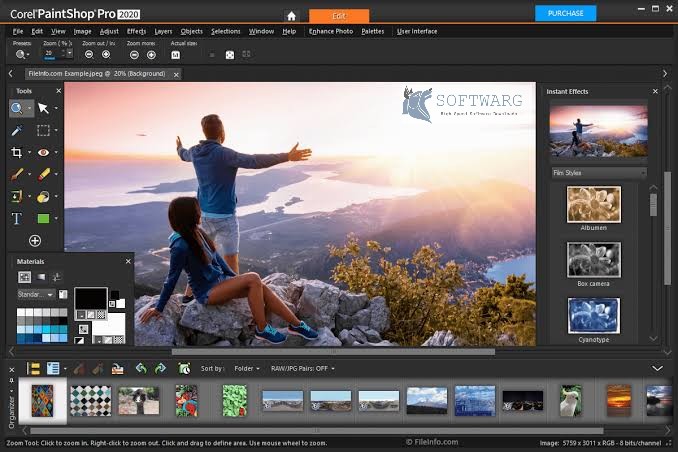 Thinking about transforming your mediocre photo into a breathtaking one? Do you know how to make it possible? If not, then don't worry. All you need to know is some effects, filters, and photo-editing tools. We'll save your time and energy as we have listed below the 10 best options for PC and Mac users. 
Love to shoot or click images with your smartphone or in case you're a professional photographer then you want a software or a tool that can optimize, redesign, and edit your photos or videos. For that, let's see how to choose the best photo editing application? Different photographers or editors have different software requirements. Try to choose one which has a cross-platform license and is compatible with both Mac and Windows. Check for the frequency, speed, and performance of the application. Make sure that it releases updates and has a proper bug fixation facility. The main requirement is that it should have the ability to convert RAW files and comes with good customer support and training. Choose software that has advanced tools and is available for free.
So, these are the requirements that you need to keep in mind while choosing the best photo-editing software for Mac and PC. Let's study the best photo-editors in detail below.
List of 10 Best Photo Editing Softwares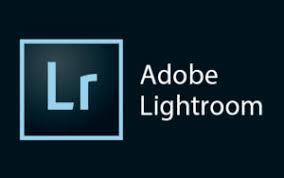 Adobe's Lightroom is indeed the best professional photo editing software. Is Lightroom worth using? Well, let me explain you in detail. This photo editing software comes with two applications: the consumer's favorite Lightroom and Lightroom Classic. With Lightroom Classic, professional photographers get a compelling route to import, design, and shoot. In the latest update, there are custom ISO presets, default preset options, and UI touch-ups. Also, there is a Flat-Field corrector, a Texture slider, and the Enhance Details tool which makes it an excellent choice.
Pros:
Good for photo administration.

Lens and camera correctors.

Proper brush and angle adjustments with coloring. 

Face detection 

Plug-in assistance

Connects with mobile applications.
 Cons:
For beginners, the raw conversion is not easier.

Subscription is required.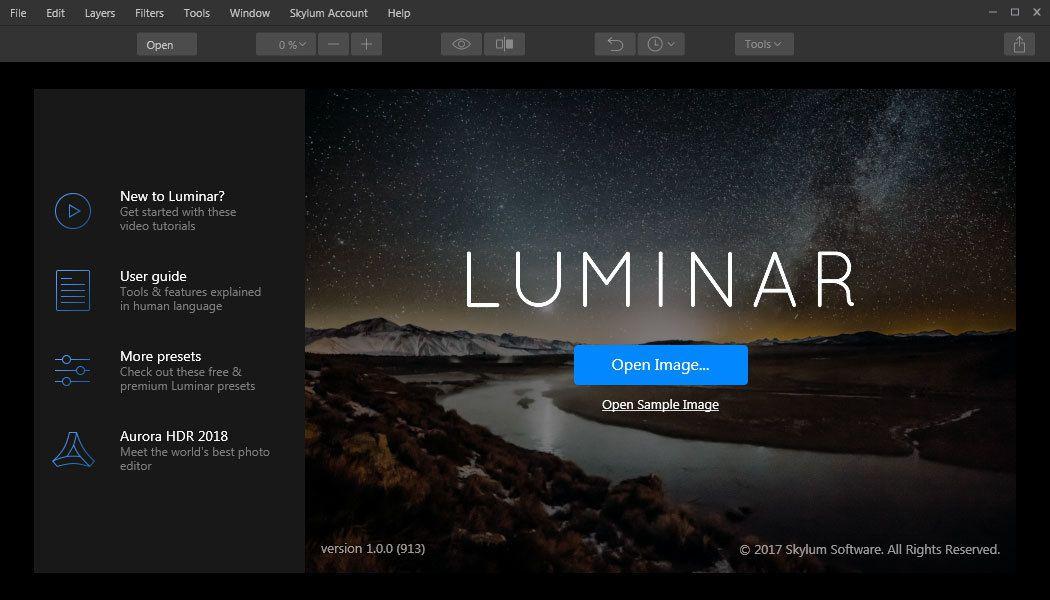 Looking for a perfect professional photo editor for good workflow? Then, check out Skylum Luminar. It is known for its features which include a smooth interface, auto-correcting tools, and some striking filters. The latest version of this application reveals Apple's aesthetic design. The main drawback of using Luminar is that it isn't the speediest editor. Also, it requires some specific library tools like geotagging and face recognition tools. It also comes with AI Structure, AI Sky Replacement, AI Skin Enhancer, and Portrait Enhancer. So, stop wasting time and add Luminar to your system.
Pros:
Gratifying interface

Automatic photo fixation

Numerous filters

Local adjustments with brushes and gradients are possible.

Crescents

Regular updates
 Cons:
A few operations are delayed.

Security issues

No face recognition tool is available.

No depth-of-field, bokeh, or blurring effects are available.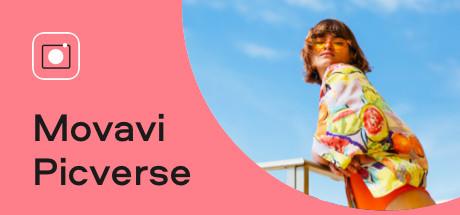 Movavi Picverse is a free photo-editing application available for professional and recreational photographers. It comes with some exciting features like noise abatement, photo manipulation, and compression which help them to save space. Also, it grants us photo restoration tools that assist in digitizing and collecting old images and their hard copies. Editing portraits have become easier as there are plenty of features available that allow fine-grained modifications. 
Pros:
Has a plethora of well-categorized graphics effects

Engaging frames and collages are available. 

Ease of text addition
Cons:
No combinations and integrations.

Non-destructive layers are not present.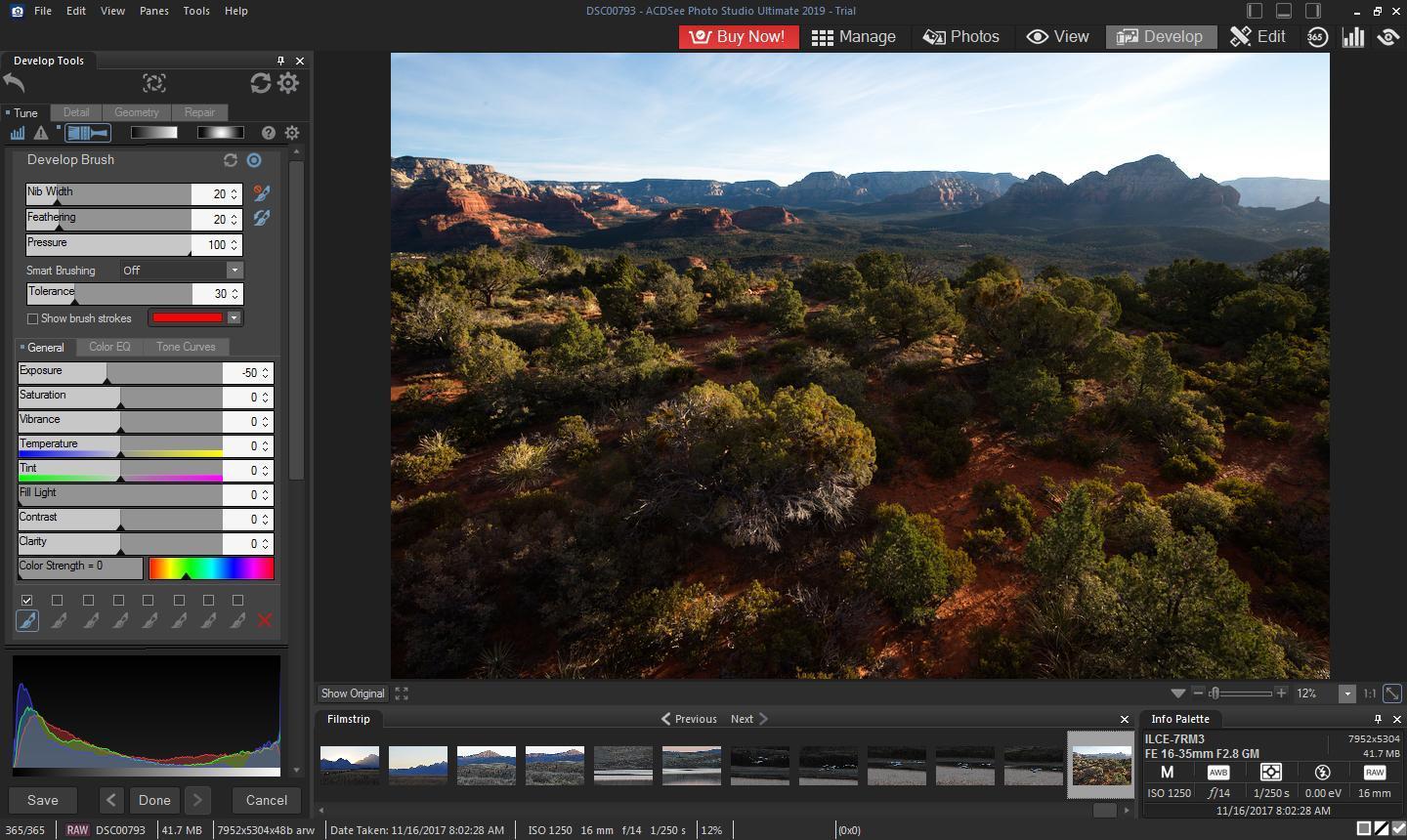 Alike Adobe, ACDSee is also an alternative in the field of digital photography. Though ACDSee, hasn't received recognition, its photo editing feature is quite preferable. ACDSee is known to incorporate Photoshop-like layered editing abilities which makes it a great choice. Its Light EQ adjusters are worth trying. Also, it is one of the fastest photo editing applications available, but it has few competitors in terms of raw camera conversion and interface usability.
Pros:
Ample amount of image editing tools.

Good in terms of execution.

Face recognition is possible.

Geotagging is available.

Proper skin-improvement tools.

Responsive 

Cloud storage integration.
 Cons:
Overpopulated interface.

The face recognition feature doesn't work smoothly.

Image editing tools are less efficient. 

Low noise and chromatic lapse tools.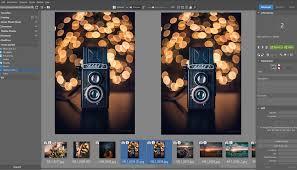 Zoner Photo Studio X is not a popular name as Adobe, but the company has introduced some color tools, photo booking features, and speedups that have made Zoner worth trying. The main drawback of this application is that it is slow in comparison to other photo-editing tools. It boasts a tabbed interface, annotations, photo rating, and satisfactory outputs. With this application, you get online storage subscription plans. Also, you can merge it with Adobe Lightroom and Photoshop layered editing tool in one single application. And it's possible with Zoner Photo Studio X. 
Pros:
Proper corrections and effects are possible.

Low subscription plans.

Suitable interface

Comes with online storage and galleries.

Fast photo-editing

Photoshop layered editing is achievable.
Cons:
Slower interface.

Unexpected shutdowns occur.

Requires updates for new camera models.
6. Affinity Photo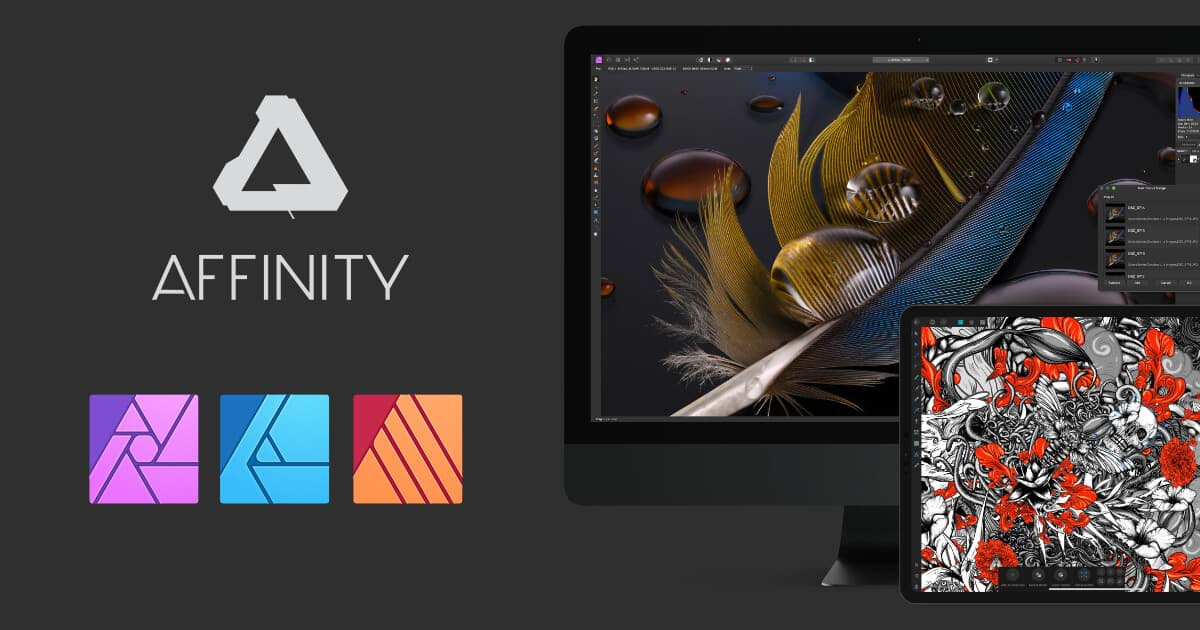 Searching for a powerful editing tool? Then, check out Affinity Photo which is one of the best price editing tools available in the market. With Affinity Photo, we assure you to experience the next level of photography. There are different options, especially for high-level users. Also, the interface is good for beginners. Affinity is unbeatable in terms of tools that are quite engaging. With that, there is a range of modules termed personas. Personas are dedicated to interfaces like RAW developing, tone mapping, and powerful interface that is good for reshaping.
Pros:
Layered editing tool like Photoshop. 

HDR merging, Panorama feature, focus stacking, and macro assistance are available. 

Raw file supporting.

 Easy to handle.
Cons:
Confined lens-profile for corrections. 

Unable to generate custom workspaces. 

Not easy to learn.
7. Adobe Photoshop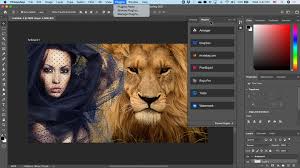 In the field of digital image manipulation, Adobe Photoshop is a popular name. It offers the best value of money with multiple features like u 3D modeling, layered image editing, typography, illustration, and compelling effects. It is the most advanced tool for designers and photographers. Its mind-bobbling AI is backed with sky replacement, live shapes, and neural filters which makes it the best choice. 
Pros:
Advanced photo manipulation and correction tools.

Smooth interface 

Proper mobile application

Vibrant drawing and typography tools

3D designing is available.

Cloud storage
 Cons:
Lack of proper indulgence.

Premium assets are expensive.

The interface is slow.
8. Corel PaintShop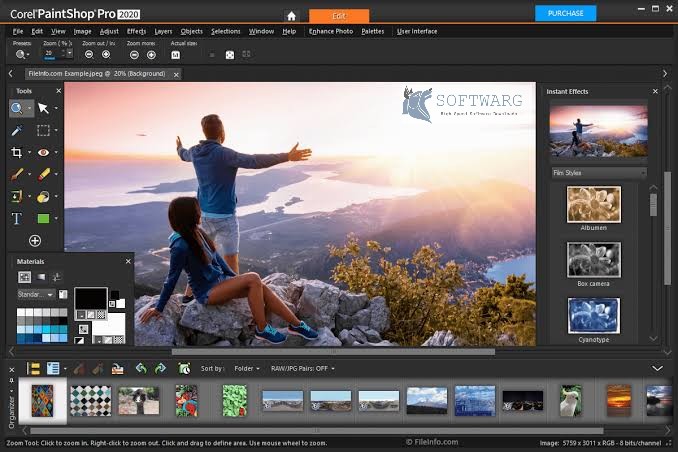 We're aware of the capabilities of Photoshop but users also know about the magnificence of Corel's photo editing tool. PaintShop Pro is available for users for free. It not only upholds layers but also edits vector and raster image setups. Don't miss out on some advanced tools which comprise 3D modeling, automatic subject selection, typography, camera movement reduction, and face flux. In terms of performance, it lags but it comes with a polished interface. In case you're a Windows user, then PaintShop Pro is a low-cost alternative that is worth trying. 
Pros:
Features like Photoshop but at a cheaper rate.

Efficacious editing and compelling effects.

Guidance and tutorials are available.

Vector drawing tools are also available.

An automatic noise removal feature is available.
Cons:
Incompatible interface

Not compatible with macOS.

Operations are slow.
9. DxO PhotoLab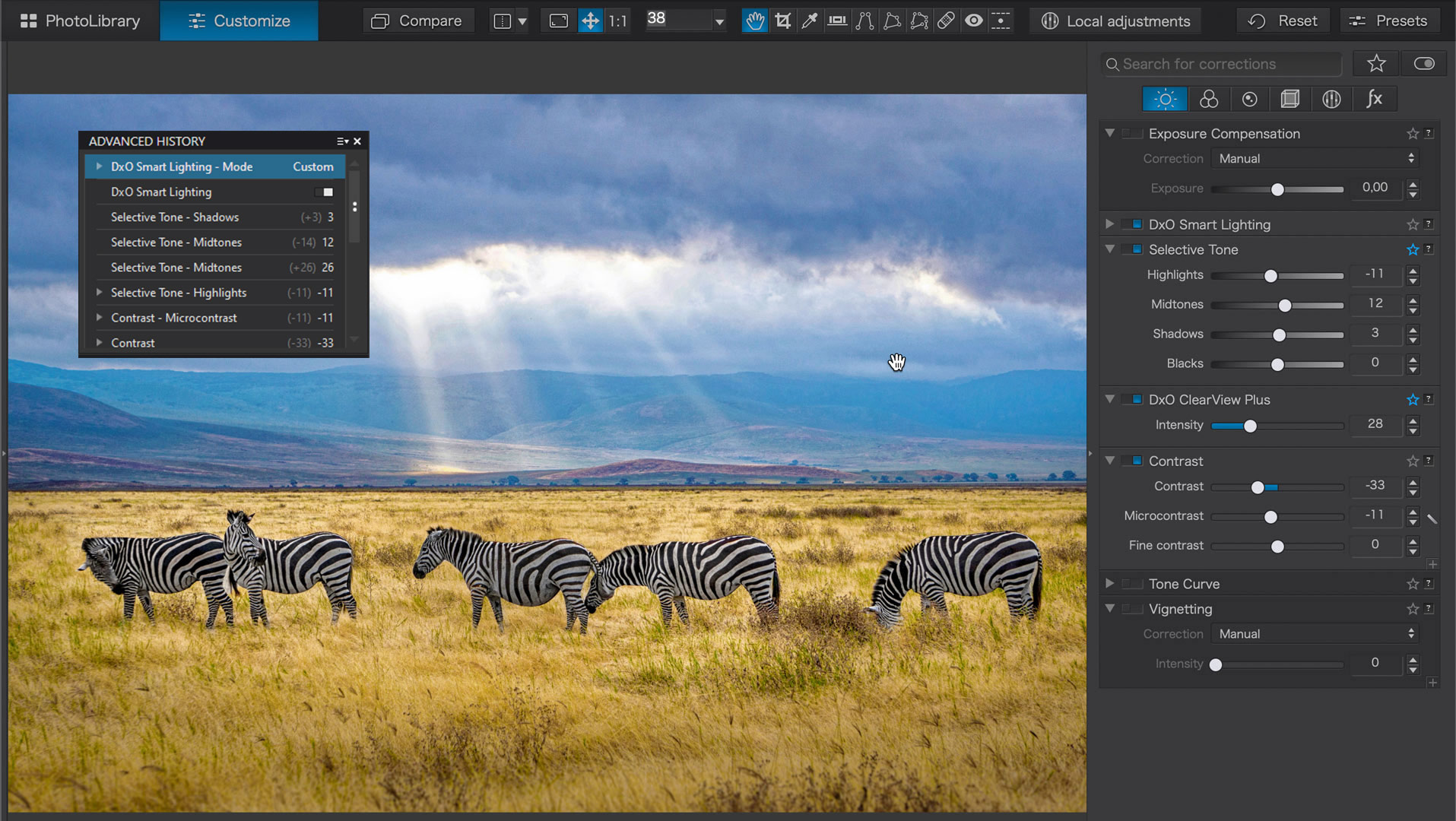 DxO Photo Lab has excellent camera testing equipment, for which it is a popular name in the field of photo editing. DxO comes with an automatic image and lens correction for the camera, noise reduction, and innovative drawing tools. Also, it is backed with some excellent local adjustment tools. Get the latest version of this application and enjoy the watermarking tool, an edit history panel, customized workspace, and file renaming tool. 
Pros:
Open interface

Noise reduction facility

Lens and camera correction 

Haze removal

Geometry improvements

Strong local adjustment tools.
Cons:
Less editing equipment

Noise-reduction is time taking.
10. CyberLink's PhotoDirector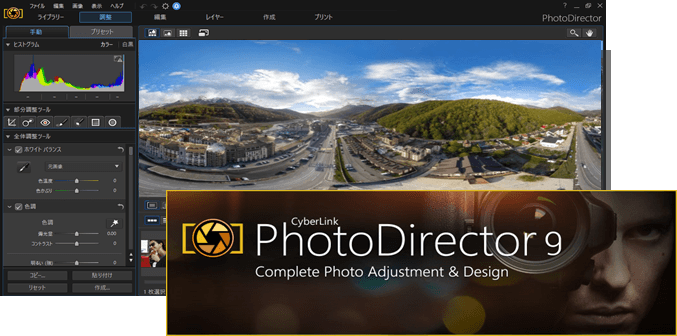 CyberLink's PhotoDirector is the best photo editing alternative to Adobe Lightroom. It has excellent features like Photoshop and Photoshop Elements that is an all-in-one application. It has advanced tools which include adjustment layers, text kerning, AI filters, and supervised edits. Like Photoshop it has sky replacement, GIF animation, and advanced effects. Also, you can get Shutterstock content when you buy the subscription. It is best in terms of usability and the extent of inclinations.
Pros:
Friendly interface

Advanced effects

Powerful editing tools

Layered editing support

Tethered shooting
Cons:
Doesn't support a raw format.

No geotagging.  

Incompatible with Windows standards.

Inadequate image correction tools.

Insufficient lens-profiles
So, these were the 10 best photo editors for beginners or best photo editing software for PC and Mac users. Now, it's your turn to choose the best software and start creating compelling designs. Choose the best software that fits well in your requirement list.