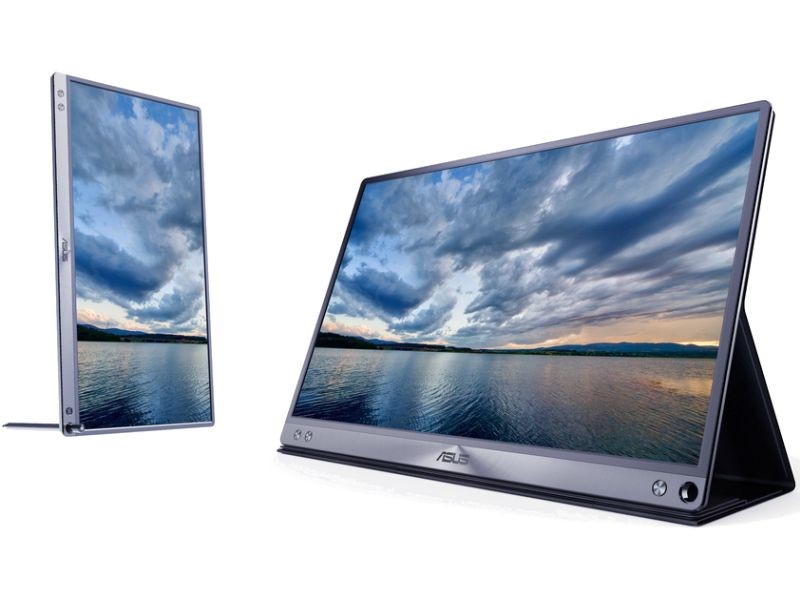 Computers have become an essential part of our work as well as personal life. Most of us are dependent on our laptop as a primary computing device. Its portability allows the user to use it anywhere without much fuss. Talking about portability, some users require a bigger or extended display for better work efficiency. For such users using Portable Monitors are the best way to achieve a better work productivity.
For people who travel often, having a portable monitor with them enables them to keep up with their work while traveling. Features like easy installation, lightweight, compact makes it easy to carry around on the go. The portable monitors can be connected to the primary display with the help of a USB port.
If you are in search of the best portable monitor with top-end features, here are the best options available for you. We bring you the newest and most reliable products that you can buy now.
Portable Monitor for Laptop – Best for Gaming , HDMI and USB Type C port
| | | | |
| --- | --- | --- | --- |
| Sr. No. | Name | Screen Size | Resolution |
| 1. | ASUS MB168B | 15.6-Inch | 1366×768 |
| 2. | GAEMS M155 | 15.5-inch | 1366×768 |
| 3. | AOC e1659Fwu | 16-Inch | 1366×768 |
| 4. | GeChic 1503A | 15.6-inch | 1366 x768 |
| 5. | ASUS MB169C+ | 15.6-inch | 1920×1080 |
| 6. | ASUS ZenScreen MB16AC | 15.6-Inch | 1920×1080 |
1. ASUS MB168B
Best Portable Monitor for Work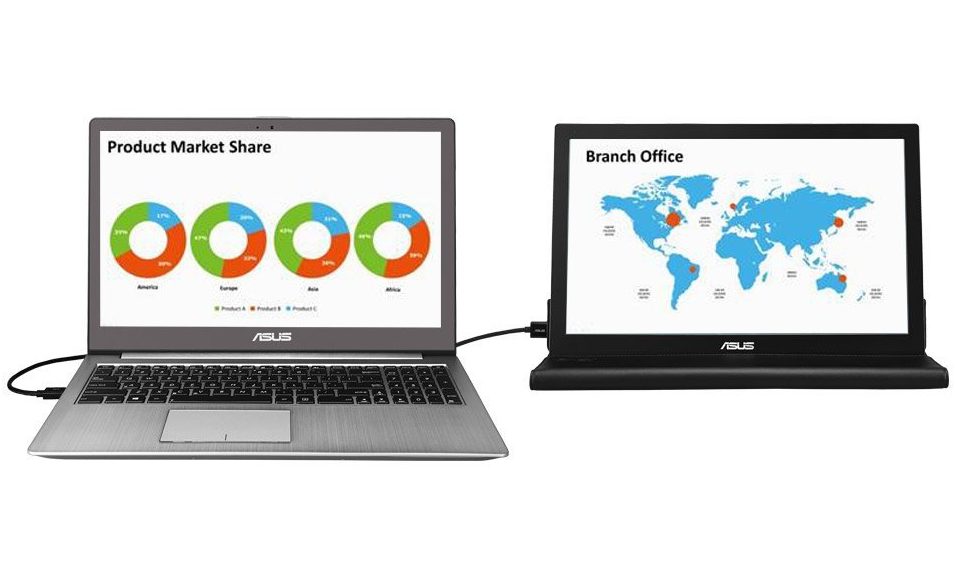 Asus Portable monitor is one of the best options available if you are looking for performance and reliability. The slim and lightweight allow it to easily attach to a primary display. It uses USB port for the power supply so that there is no need for an additional port.
This portable monitor uses USB 3.0 port for power and video signal. This makes the setup easy and fast. The 15.6-inch size with a display resolution of 1366 x 768 pixels produces vibrant colors. Features like auto-screen orientation and lighting sensor is an addition to the usability.
Pros
Slim Built
USB 3.0 Connectivity
Auto rotate screen orientation
2. GAEMS M155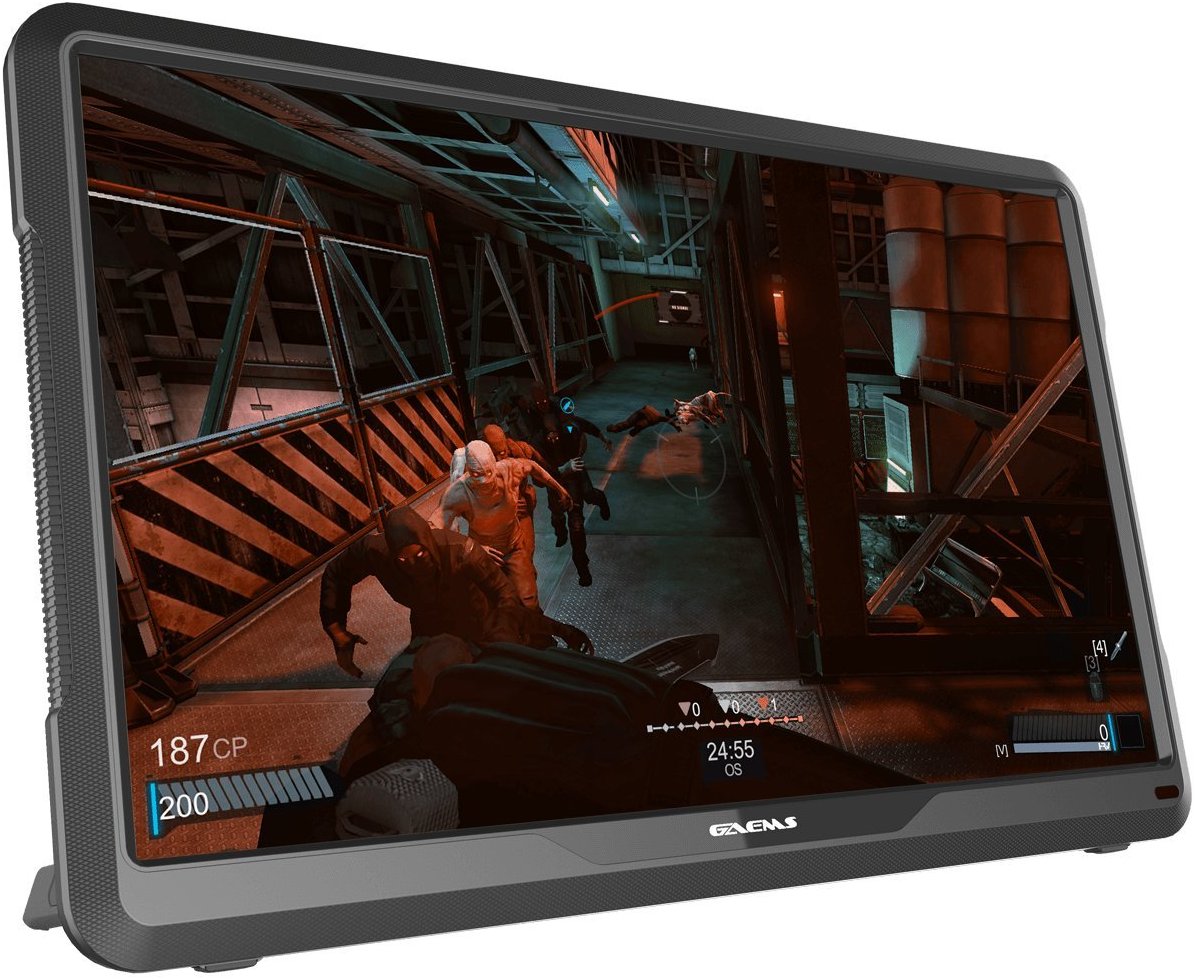 Best Portable Gaming Monitor
When it comes to gaming an extended monitor is always an addition to the gaming experience. The GAEMS M155 is the portable monitor that is designed especially for gaming on the go. It can be connected with the help of an HDMI port. You can use it with your gaming consoles like PlayStation or Xbox.
Not only for gamers but this product is also great for people looking a second screen for their laptop. It also has a 3.5mm headphone jack for audio output. The 15.5-inch HD display is able to produce sharp video quality.
Pros
HDMI Connectivity
Good Screen Refresh Rate
3.5mm audio jack
Cons
Not accurate color reproduction
3. AOC e1659Fwu
Compact and Reliable
The AOC portable monitor is another good option. Its sleek built and light weight is ideal for home usage. It uses USB 3.0 port for power and video output. The 15.6″ widescreen display is ideal for connecting to a laptop. At a resolution of 1366 x 768 pixels, the monitor produces sharp images and video colors are also great.
The monitor also supports multiple USB display connections. The built is durable making it a good choice for frequent travelers. Its design allows you to mount it on a wall too. It supports Windows and Mac.
Pros
HD Display
USB 3.0
Easy installation and handling
Cons
Lack of brightness
Limited viewing angles
4. ASUS MB169C+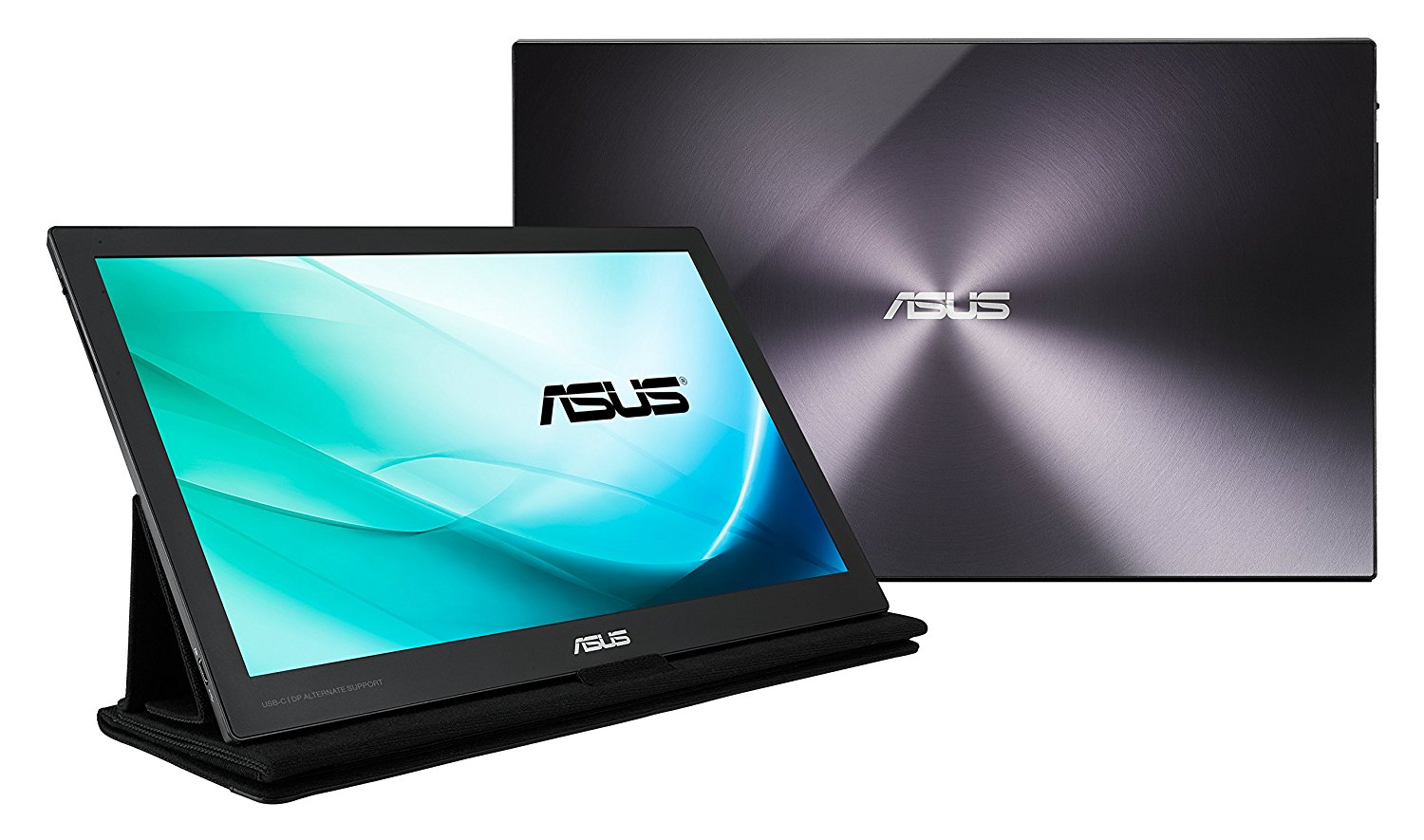 Best USB Type-C Portable Monitor
Talking about portable monitors the ASUS MB169C+ is one of the most advanced features pack product. As we see more products with USC Type C port, which make it more compatible. The newer type-C port contains more power and faster data transfer rate making it suitable for a wide range of devices.
Coming to the design part, the sleek and modern look feels premium. The 15.6-inch IPS display with a resolution of 1920×1080 pixels produces best quality images.
Pros
Light and slim Body
IPS Full HD display
USB Type C port
Cons
Not backward compatible with USB Type A and B
Slightly low brightness
5. GeChic 1503AH
Best HDMI Portable Monitor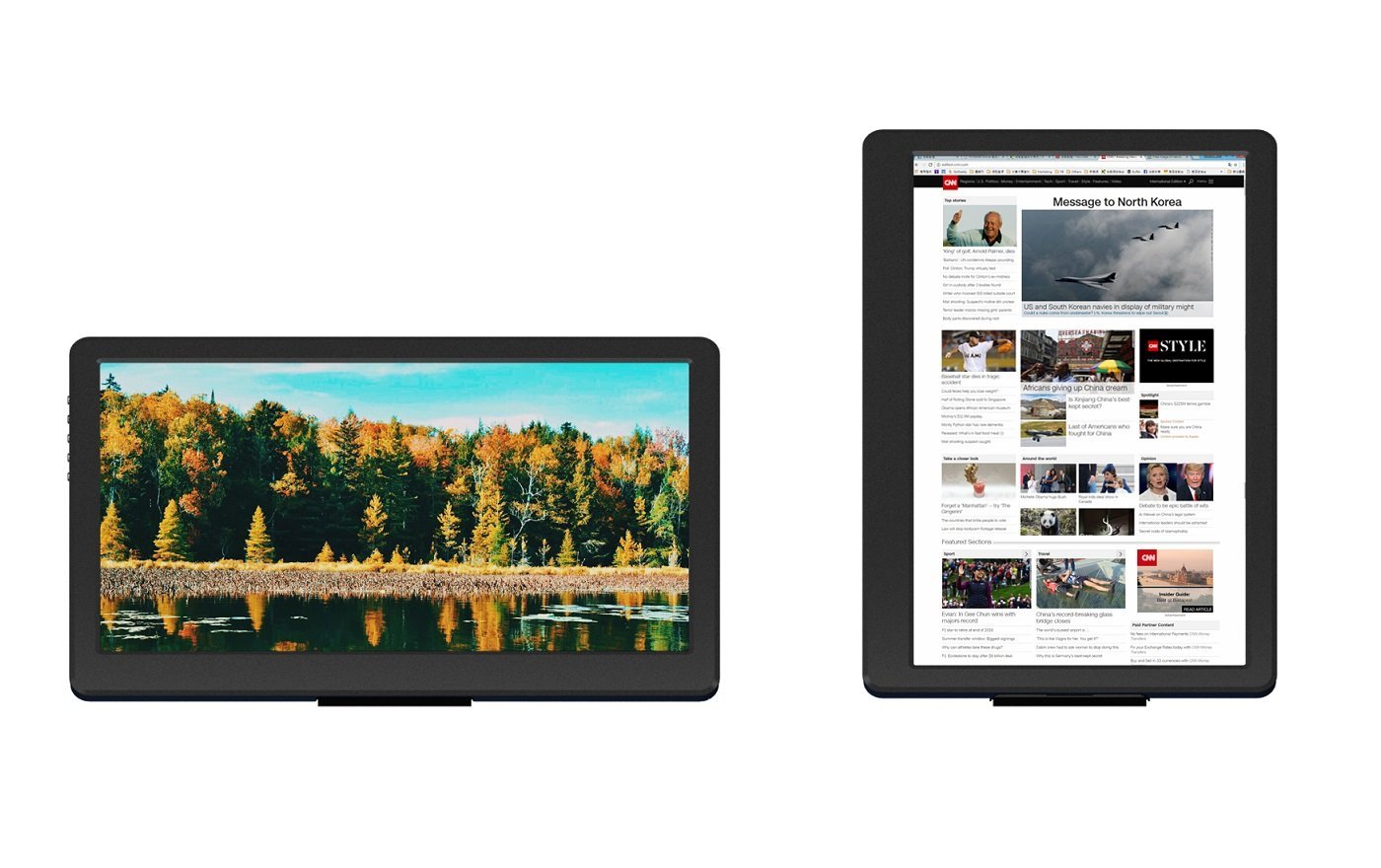 For people who need to have an extra display portable monitor provides an easy and compatible solution. This 15.6-inch monitor is slim and lightweight. Its anti-glare display makes it ideal for outdoor usage. It provides HDMI and VGA connectivity for a better video quality. Also, like ASUS MB169C it also has USB-Type C port for better compatibility.
This monitor has full HD display so that the video and image quality is great. Use it with your as an extention to your main monitor with the laptop or as a primary display anywhere.
Pros
HDMI and VGA Connectivity
USB Type C port
Built-in speakers
Full HD display
6. ASUS ZenScreen
Best Design Portable Monitor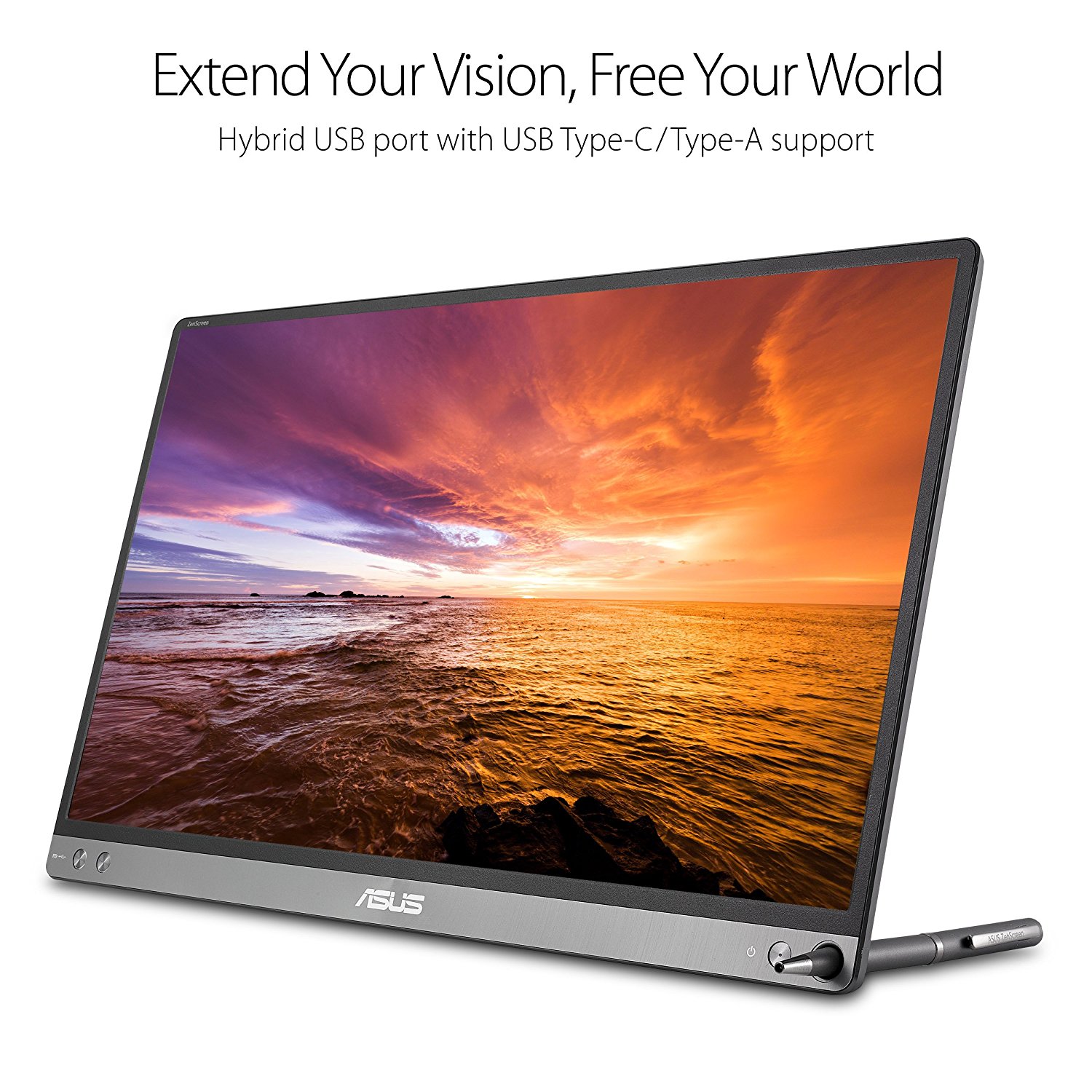 The portable monitors are a necessity for many working people. It gives them flexibility and increases the work efficiency. The Asus ZenScreen is the updated product with top features. The Asus Zenscreen offers you a perfect combination of modern design and performance.
The monitor has a neat and elegant design. With a premium build quality, it feels premium in hand. The 15.6-inch display offers a display resolution of 1920×1080 pixels. Also, it has the USB Type-C connectivity so that you can use it with all modern devices.
Pros
Sleek Built
USB Type C port
Full HD display
Final Verdict
Above is the list of best portable monitors. You can choose any one among them depending on your requirements. Among the above top 6 list, you will find best gaming portable monitor, USB Type C etc. The list is not exhaustive and there are other options available. But as per the features and reliability above are the best you can buy right now.