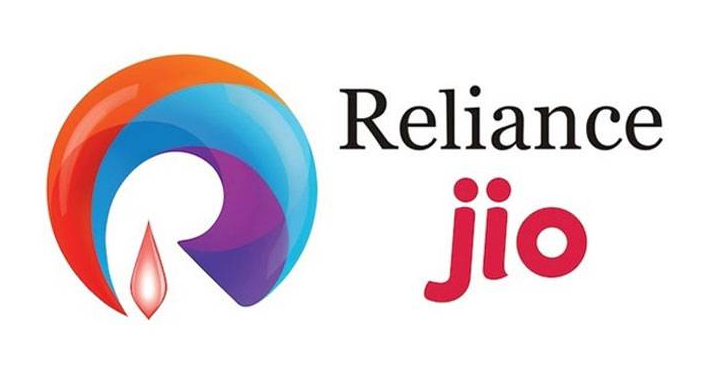 Reliance Jio 4G is trending these days due to its cheap plans and unlimited preview offers. There are lots of rumors about the Reliance Jio 4G tariff plans.And finally they reavele the Jio plans today. Reliance Jio data pack are very cheap in compassion with the other companies.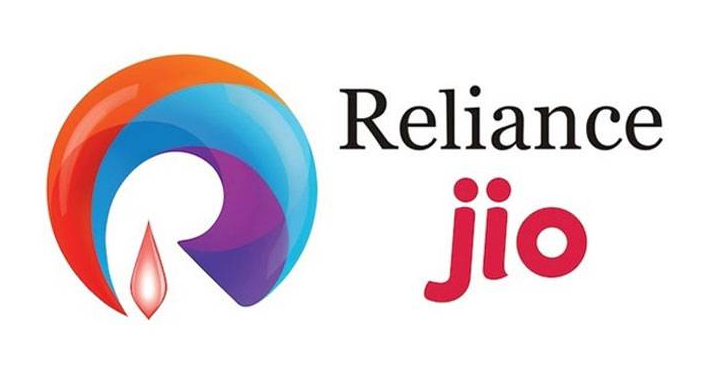 Latest Jio News: Recently there is announcement that the JIO preview Welcome offer will continue till 31st December. So you can enjoy unlimited 4G data and Unlimited calling. And also Reliance Jio plans are also announced. You will get 1GB data @Rs 50 and no charges for calling.

Before Reliance Jio launch, many companies like Airtel, Idea and Vodafone has slashed their prices by 67%. Initially, in its preview offer, it is giving 3 month Unlimited 4G data and Voice calling with LYF phones and some Samsung phones.
With this, we can assume that Now in India, we can get cheap high-speed internet. It is for sure that Reliance Jio 4G tariff pack will be very cheaper. With Jio 4G plans you can compare the Airtel 4G plans also.
Reliance 4G Recharge Plans
So finally Reliance Jio has announced its plans. First a good news to the current user. They have extend the preview offer from 3 months till 31st December 2016. Now you can take benefit of unlimited 4G for this year.
Reliance Jio Plans and Data Pack for Prepaid Customers
And also the plans after this are very cheap. You can check the below Jio plan sheet. They are offering 1GB data @ Rs 50 only. And with all plans you will get free unlimited voice (both local and STD) to any network in India. Beside that they are also giving unlimited night 4G data with all plans expect the one. And with every pack you will have unlimited FREE SMS.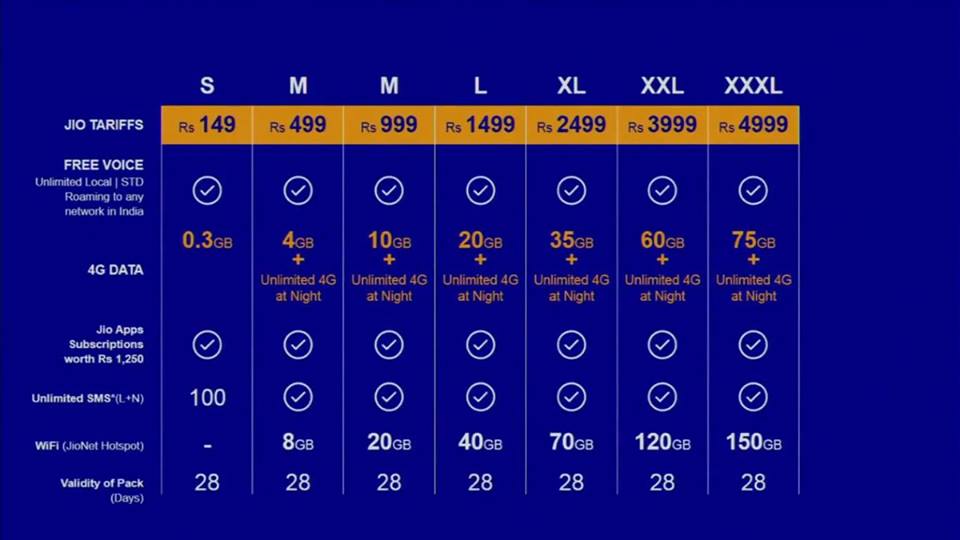 With this you will also get free Jio app subscriptions upto Rs 1250. And beside this you will also get some data which can be used at Jionet hotspot. You can easily find Jionet hotspot with its app, its available at all popular locations.
Reliance Offers 300 Minutes 4G calling at Rs 1 only
Beside all the above Reliance Jio plans, you will also get offer in which you can recharge for Rs 1 and you will get 300 minutes app to app calling. This will be valid for 30 days, so 10 minutes per day. This app calling can be used for apps like Skype, FB calling, Duo and other apps.
Reliance Jio Plans and Data Pack for Postpaid Customers
Yes, Reliance jio will be available for both prepaid and postpaid. You can chose your plan for postpaid also. You can check below list for Reliance Jio postpaid plans.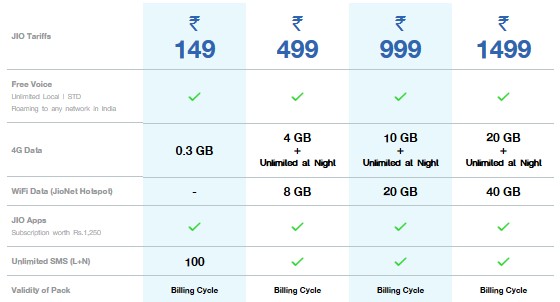 With every postpaid plans you will get free voice call to any network in all India. And there are plans with monthly rental Rs 149, 499, 999, 1499. In which you will get .3, 4GB, 10 GB and 20 GB 4G data. And plans above 499 will have unlimited 4G data at night but the JIo night timing is from 2AM to 5AM. Only 3 hrs.
Reliance 4G Recharge Plan Sheet for Voice and SMS Packs
Don't be confused, this is Reliance 4G not the JIO. Both are different compaies. If you have upgraded your Reliance CDMA to Reliance 4G. Then these plans is for you.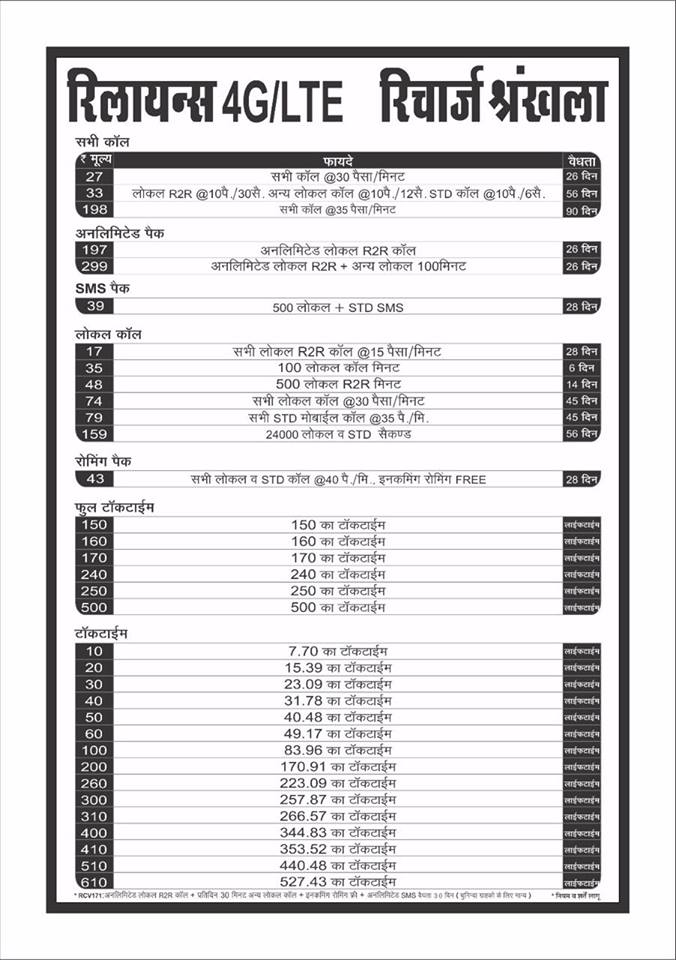 Reliance 4G Data Recharge Plans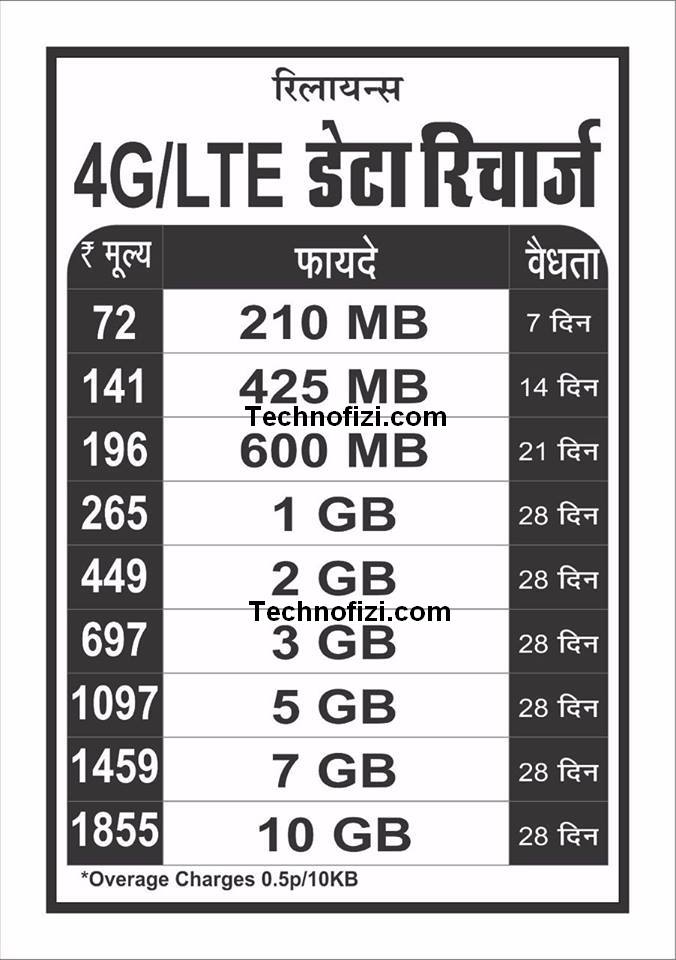 Reliance Jio 4G Tariff Plan and Data Pack
If you are looking for high-speed cheap internet then you must look these Reliance 4G plans. I am personally using Reliance Jio, getting speed up to 30 MBPS. You can easily download a movie in 1-2 minutes. Its very fast getting download speed of 2-3 Mbps.
If you are a Reliance CDMA customer, you can upgrade it to Reliance 4G. For this, you can visit your nearest Reliance store to get the free Reliance 4G SIM. With this SIM you will get 100 minutes talk time, 1GB 3G data and 10 GB 4G data with one-month validity.
As Reliance has already acquired the MTS and it will soon upgrade it to 4G like Reliance CDMA.
Lets now look for Reliance 4G tariff plans and offers.You can also compare it with Airtel 4G data plans.
Reliance Jio 4G Data Plans
As I already told that Jio has not revealed any data plan till now. Right now they are just rolling out the preview offers for LYF phones and some Samsung phones. And in that, they are giving unlimited 4G data and voice for 3 months.
Beside this, there are some rumours about the data plans of Reliance Jio. It is expected that Reliance Jio data pack will be in the range of Rs 700-900 for 10 GB data. So it is approximately Rs 70-90 for 1 GB . So it's very cheap, you will not get such high speed at this price.
Reliance Jio Tariff Plan for Prepaid Customer
Reliance Jio has revealed some tariff plans for prepaid users. But as only preview offer is rolling. So this will not applicable. As there is no recharge option available for Jio 4G Sims.
Calling Rates for Reliance Jio
Call (Local + National ) : 2P/ sec
Data Rates for Reliance Jio
Data : 0.5 p / 10 KB
Video Call : 5p / sec
SMS Rates for Reliance Jio
Local + National SMS : Rs 1 / SMS
International SMS : Rs 5 / SMS
Roaming Rates for Reliance Jio
Incoming Call : 45 p / min
Outgoing Local : 80 p / min
Outgoing National : Rs 1.15 / min
Local SMS : 25 p/ sms
National SMS : 38 p / sms
International : Rs 5 / SMS
This is the Reliance jio rate chart, you can check all the rates. Though some rate cutters and plans will definitely come when it launch. So its just the tentative rates.
Reliance Jio Customer Care Toll Free Number
If you have any issue with your Relaince Jio phone or SIM. Then you can file a complain to Reliance jio customer care.
Reliance Jio Consumer Care Number : 198
Reliance Jio General Information Number : 199
From Other Network : 1800-88-9999
 Reliance Jio Email Id : [email protected]
We will update you with the Reliance Jio 4G data plans and tariffs, when it is officialy launch its services. Till then , if you have Reliance Jio Preview sim, then enjoy it with unlimited data and voice.