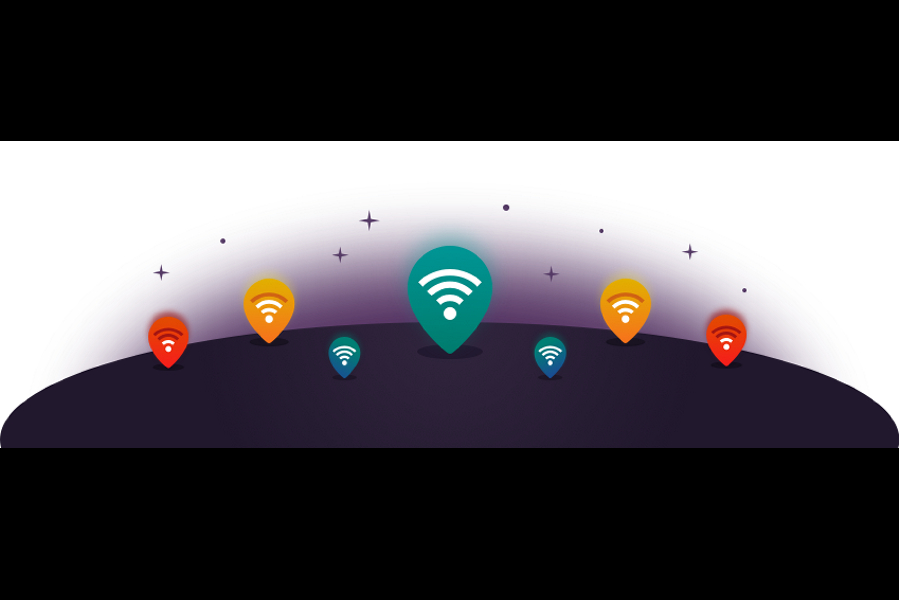 A few steps in a wrong direction can lead to significant loss, and same goes with the WiFi signals. You might have noticed how WiFi signals tend to behave strangely. The signal indicator on your Smartphone or Laptop can change from Full to Empty.

Although many people deal with this problem including us, instead of analyzing the weak spots, we land on to a nearer place to the WiFi Router to gain the full signal strengths and downloading speed. However, we have a better option to know the accurate signal map of your home or office.
However, some people also carry a mental wifi signal map to avoid weak spots. Some move to the couch or an exact place to enjoy fast download and uploading speed. However, what if we tell you, you can avoid this kind of madness with the help of a WiFi Signal Scanner App for Windows? So to avoid the extra effort from you, we are here with the list of best WiFi Analyzer App to improve your Internet experience on WiFi.
Why Do I Need a WiFi Channel Scanner?
With improvements and innovations in technology, we are also getting dependant on it. WiFi is one of the most common and useful media to connect to the Internet and browse. Also, with the tech advancements, it is no longer our devices connect to the Internet. Now, even our home appliances require an Internet connection to get the latest updates remotely and get the latest and more advanced features.
So as the WiFi users are increasing, it becomes difficult to gain a constant decent downloading and uploading speeds. The reason this happens is that of the inherently limited WiFi frequency range which causes adjacent channels overlap and interfere with each other. Thus to avoid the interference and gain a decent speed, it is recommended to leave a couple of channels clear between used channels.
As most of the users are aware of this because they do not have a reliable WiFi channel scanner to use and get aware of the busiest and most reliable WiFi channels out there.
What Can a Windows WiFi Channel Scanner Do?
A WiFi Channel Scanner app will analyze and detect all the available WiFi networks around you. Moreover, it also provides detailed information about each one available channels. It also tells you the signal strength, how strong they are, and more details as the encryption techniques they have used.
Furthermore, some of the WiFi analyzer apps lets you create an accurate heat map of WiFi signal strength. These heat maps indicate areas of weak WiFi signal strengths, which helps you determine the best place for installing your WiFi router for constant speeds.
What is the best WiFi Channel Scanner for Windows ?
We recommend using a WiFi channel scanner app, as it is straightforward to use and come to a conclusion. All of these WiFi Analyzer App comes with advanced features you would need to optimize your WiFi performance and get the best results.
So before we head to the list of best WiFi Analyzer, look up to the minimum system requirements to run these applications and get the best results.
Minimum System Requirements:
Operating System: Microsoft® Windows Vista, 7, 8, 10
.NET Framework: 4.5
Screen Resolution: 800×600 (1366×768 or better recommended)
RAM: 2GB
WiFi Adapter: Internal or USB WiFi Adapter (802.11n/ac recommended)
NOTE: An Internet connection is required for product registration
Let us begin…
1. NetStumbler
First WiFi analyzer app is NetStumbler, it is a classic utility tool for scanning and detecting 802.11 a/b/g WiFi Networks around you. The app is very straightforward to use and lets you configure and identify poor signals.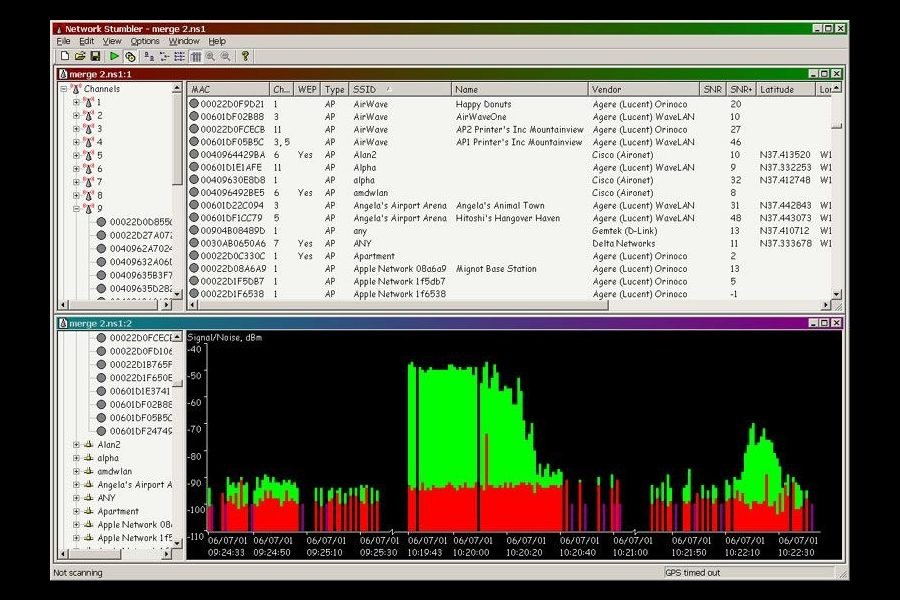 Although the app does not have the advanced features but does its job very well. Moreover, it comes for free to use and find the signal strengths and take actions.
Features:
Verify that your network is set up at the perfect spot.
Find poor coverage location in your WLAN.
Find out the interfering Networks causing the weak signal.
Detect unauthorized AP in your workplace.
Use it for WarDriving
Help aim directional antennas for distant WiFi links
Pros
Easy to Use
Easily display the signal strengths
Details on a network
Can be used for WarDriving
Cons
No Support
Missing Advanced Features
2. NetSpot
NetSpot is of the most popular WiFi Channel Scanners for managing networks and troubleshooting. First developed for macOS is now also available for Windows Platform with WiFi 802.11 a/b/g/n/ac support. It mainly used to monitor the signal strengths but can also let you track all the SSIDs connected to your network and manage them.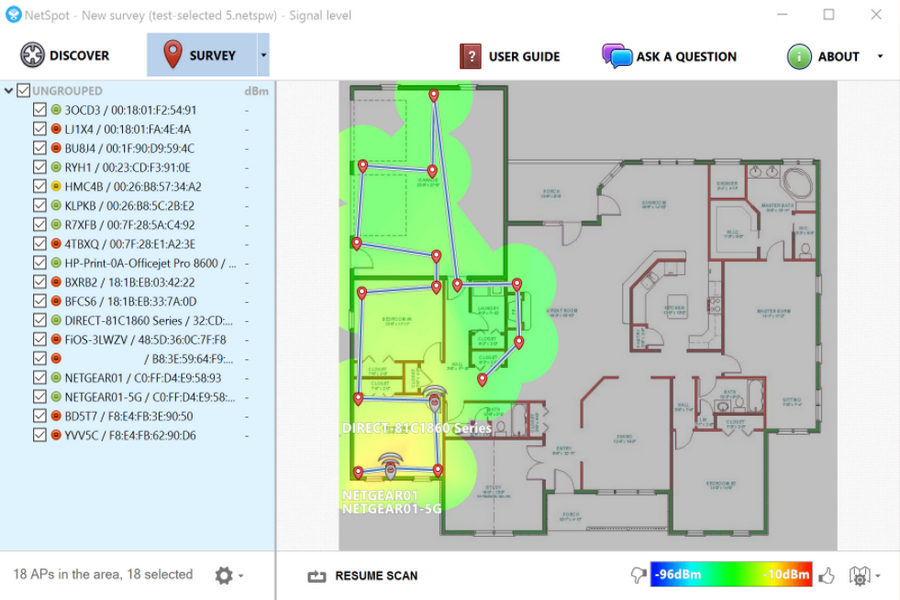 Moreover, it also shows the operating channels connected with SSIDs and the ones interacting with each other. All in all, this is an enterprise level wifi analyzer tool and has lots of features.
Features:
Generate Heat Maps and save it as PNG.
Builds enterprise-level report.
Export Survey Data to CSV
Export Active Visualization into PDF.
Automatic multi-floor AP positioning
Multi-dimensional and custom SSID/BSSID grouping
Report 2.4 and 5GHz separately, AP by AP coverage
Customizable Access Point indicators with certain level of detailing
Non-broadcasting SSIDs supported
Shareable Preferences for easier management of multiple copies of NetSpot
Pros
Numerous number of features
Professional Level Report
Affordable Pricing
WiFi Signal Heat Maps
Easy to use
Cons
Not useful at home
Best for Professionals
3. Acrylic WiFi Scanner
Acrylic is another popular WLAN management tool, comes in both free and premium versions. You can use this WiFi scanner supports different modes including Monitor and Promiscuous to monitor network traffic. Using this WiFi analyzer you can also check the password strength using its force password cracking functions to avoid network breaching.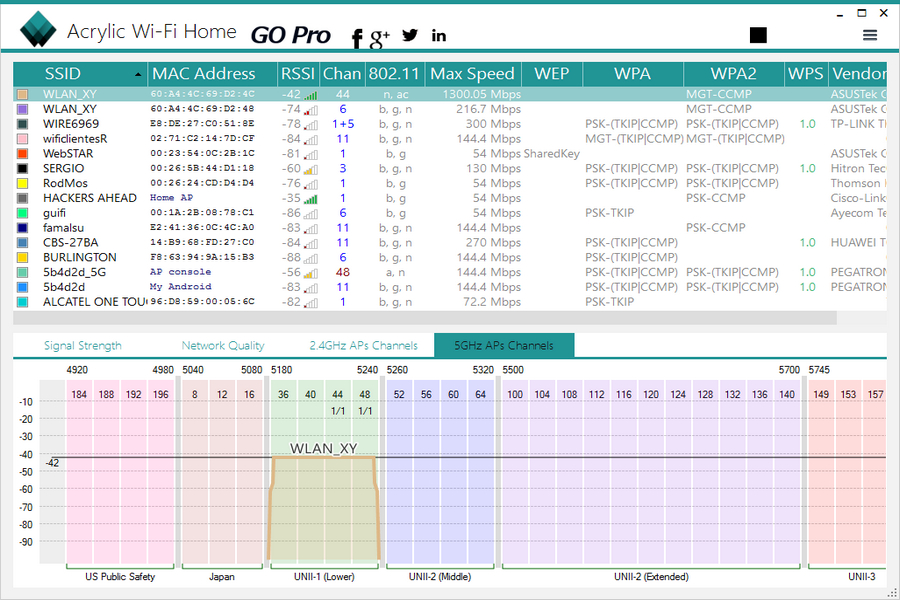 You can quickly check the list of SSIDs and all its relevant details at the top. It even shows the security mechanism uses and the WiFi access points using plugins on 802.11/a/b/g/n/ac networks.
Features:
Shows SSID/BSSID and Users information on WiFi Networks.
Check signal quality charts for devices and WiFi signals
Give an inventory name to known WiFi Devices
Force Password Checking Tool to determine password strength
Scan WiFi channels and networks on both 2.4 GHz and 5 GHz.
Authneticate Network and Security details for WEP, WPA, WPA2 and Enterprise (802.1X) WiFi networks.
Pros
Easy to use and allows to export heat maps
Works with 802.11n and ac at 2.4 and 5GHz
Accurate Area Analysis
Cons
Only available for Windows
4. Wireshark
Wireshark is another free WiFi analyzer tool to scan, torubleshoot, analyze multiple communication protocols inclusing WiFi. It is well known and ppopulat tool because of its open source program with huge community of users and thus delivers rapid updates. Wireshark is mainly known for Ethernet Analysis but now also supports WiFi 802.11/a/b/g/n/ac networks.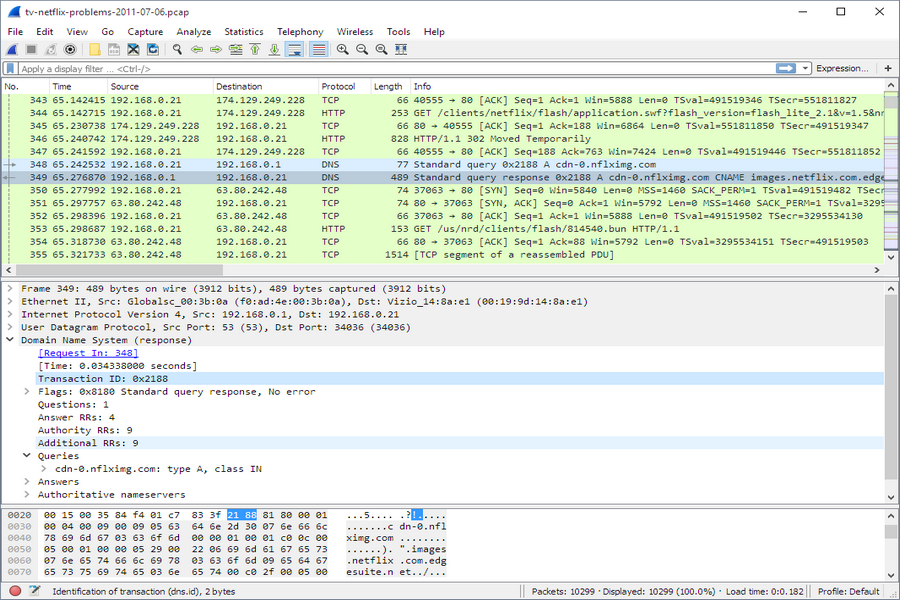 However, it is only useful if either you are an IT Expert or an enterprise owner. So don't expert expect to use it for WiFi analysis right out of the box. They even run training courses to help users learn to use Wireshark.
Features:
Deep inspection of hundreds of protocols, with more being added all the time
Live capture and offline analysis
Standard three-pane packet browser
Capture files compressed with gzip can be decompressed on the fly
Live data can be read from Ethernet, IEEE 802.11, PPP/HDLC, ATM, Bluetooth, USB, Token Ring, Frame Relay, FDDI, and others
Decryption support for many protocols, including IPsec, ISAKMP, Kerberos, SNMPv3, SSL/TLS, WEP, and WPA/WPA2
The most powerful display filters in the industry
Rich VoIP analysis
Coloring rules can be applied to the packet list for quick, intuitive analysis
Output can be exported to XML, PostScript®, CSV, or plain text
Multi-platform: Runs on Windows, Linux, macOS, Solaris, FreeBSD, NetBSD, and many others
Pros
Plugins support
Thriving, open source community
Number of Professional Features
5. WiFi Analyzer
WiFi Analyzer is yet another free tool to Analyze WiFi networks around you. On the main screen you will see three tabs stated Connected, Analysis and Networks. The Connected displays the information abou the current connected WiFi network in a graphical map. The graphical output shows the connection quality depending on the link speed and signal level in negative dBm at the top window.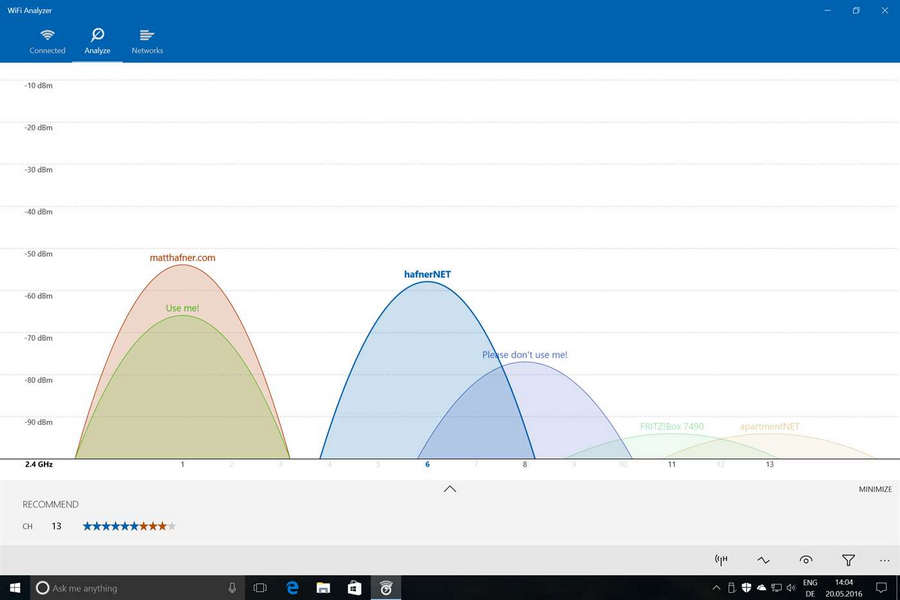 You also see icons to determine lousy link speeds, poor connection, weak signals, no internet connection and unsecured connections. It also shows the channel ratings, and you can also switch channels and can toggle between frequency bands. It also uses multiple filters to determine SSIDs with details and signal information.
Features:
Check all the networks around you which could interfere with your connection.
Find out detailed information about a router/access-point (e.g., manufacturer, security, type).
Find the best channel via star rating (incl. a recommendation).
Find the ideal place for your router/access-point through signal strength (dBm).
Check your Wi-Fi's link-speed & health with a glance at the dashboard.
Refine found network results by filters. [PRO]
Connect quickly to a new network without leaving the app. [PRO]
Use a beeper to hear the signal strength. [PRO]
Live-Tile support [PRO]
Each network always has the same color, so you know how it looks.
Support of dark & light theme and accent colors.
Pros
Best for Beginners
Free
Available on Windows Store
Cons
Limited Features
Not for professionals
Conclusion
We have listed the best avaialble WiFi scanners in the market. Some of them come for free and some with a pricing a plan to follow. Some are great for Beginner and others for professionals. You can choose any from the list and configure and detect WiFi signals to set up router on the correct spots.
However, if you have any suggestions or feedback, do write it in the comments section below. We would love to hear from you. Thanks for Reading. Adios.