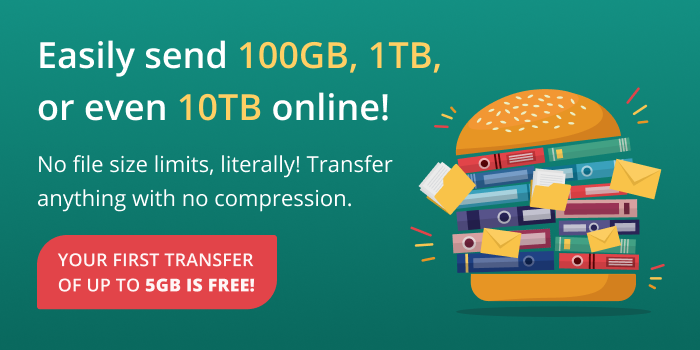 If something happens to your smartphone or your computer's hard drive and you lose all your precious data, how exactly will you feel? Yes, we know, it'll be a complete disaster! 
Imagine you want to show large project files to a friend or client because you want to hear their feedback but you can't because they're far away. You then decide to check for file transfer services that can help you send them, only to realize that they all require you to pay a monthly subscription fee.
Even if you find an affordable cloud-based transfer service, the low transfer speed it offers can be disheartening. Imagine enduring a 24-hour wait just to transfer a 10GB folder. Then there's the issue of size limits: most file transfer platforms give you a limit on how much data you can share. This won't do, especially if you handle files as large as 150 GB and need to transfer them in the shortest possible time.
Whether you're a media expert who deals with large media files or an employee in a different industry, everyone has data they do not want to lose – ever! Students also have files they want to keep safe or share with their peers and teachers. Engineers have large files they want to share with their collaborators for editing and feedback. Losing these files without warning or having to endure slow transfer speeds can be a nightmare. 
It doesn't matter whether your files are for personal or professional use; for instance, losing memories gathered during a family trip is something none of us want to experience. However, it can happen!
A file deletion may suddenly occur while you're surfing the net, downloading files, or transferring data. This error can be due to a network disconnection, data corruption, or accidental drive formatting. A virus infecting your drive can also cause unintended file deletions.
You can lose your data for many reasons, and you might never be able to recover it. This is why it's essential to have backups of any important data you never want to lose. To achieve this, you need a file transfer service that is secure, has high transfer speeds, and works even when your internet connection is poor. 
FileWhopper is an efficient file transfer service that you can use to back up your data and share it with whomever you want, no matter their location. FileWhopper is a cloud-based platform. It has a user-friendly interface and allows you to transfer files and folders of any size at high speeds.
Features of FileWhopper
FileWhopper has many unique features that make it one of the best backup and data transfer platforms for large files. These features are as follows:
High Upload and Download Speeds
With FileWhopper, you can transfer huge amounts of data at high speeds. The tool allows you to back up and share any file type without wasting too much of your time. As long as you have a good internet connection, the upload process won't take long. You also get to enjoy high download speeds.
No Upload or Download Limits
You can upload or share any file size. FileWhopper allows you to back up and download ANY amount of data that you want. There are absolutely no size limits!
Simultaneous Uploads and Downloads 
If you want to share files with a colleague or client, he/she can start downloading the files while you are still uploading them. This is great, especially if you are both on a deadline where every minute counts.
No Monthly Subscription Fees
Unlike other cloud-based platforms with complicated billing structures requiring you to pay monthly subscriptions, FileWhopper allows you to pay a one-time fee for the file size you wish to transfer. Simply choose the file or folder that you want to send, and you'll get a one-time price quote. There are no monthly subscriptions and no complicated pricing system.
Guaranteed File Integrity 
This feature protects the integrity of your data – no matter what happens. Imagine your internet connection goes off or your battery runs out when the file upload progress is 95%. You don't have to start all over again because FileWhopper will continue exactly from where it stopped when your internet connection is reestablished or when your system is back on. This saves you both time and money.
FileWhopper protects your data from being intercepted by hackers during transfer. It automatically encrypts any file or folder you want to upload and prevents any third party from accessing it without your permission. Also, it gives you a secure password. Without this password, nobody can download your file or folder. You can share this password with your client or co-worker to provide them with access to your file or folder. This will allow them to view and download the data from wherever they are.
This feature allows you to upload your files exactly as they are without compressing them. We all know that compressing a file reduces its quality. This is why FileWhopper was designed to allow you to upload your files without compressing them, no matter the size of the data they contain.
How to Use FileWhopper to Transfer and Back Up Files and Folders of Any Size
You need to visit the official FileWhopper website to choose the file or folder you want to upload and transfer it in a fast and secure way:
First, you need to check the price quote for the file or folder you want to upload. On the welcome page, go to the slide feature and drag it until you reach the file size that you intend to transfer. This will show you the one-time price quote for the file/folder.

If you want to upload a single file, click on the Choose file option. However, if you want to upload a folder containing several files, click on the Choose folder option. This will take you to a new page.

On the new page, you'll be shown the size of the file or folder that you want to upload. You'll also see the payment options. Ensure you choose the correct file/folder and click on CONFIRM & PAY. This will redirect you to the payment page.

After you've made your payment, the website will take you to a new page from where you can initiate the data transfer. Click on START TRANSFER. This will download a small-sized app on your system. This tiny, lightweight app takes little-to-no storage space on your computer. It'll automatically delete itself once your upload is complete. The app helps to encrypt your data during transfer. It also ensures that the integrity of your files is maintained during the entire upload process.

After the app has been installed, run it by clicking on it. At this point, click on COPY DOWNLOAD LINK. You can share this link with the person you want to share the data with. They can use the link to start downloading your file or folder while you're still uploading it on your end.

Also, click on COPY PASSWORD to copy the password needed to access the data. The download link and password are necessary to access and download your file or folder. Share them both with your client or co-worker, or you can write them down somewhere safe for future use (if you're uploading the data as a personal backup).

Now that the upload is complete, the tiny app will automatically delete itself.
Conclusion
FileWhopper is a cloud-based transfer platform that allows you to transfer files and folders of any size at high speeds. It also offers encryption and increased security for your files while ensuring that their quality is maintained. 
Go to the website and get a quote for the file or folder you want to transfer. No monthly subscriptions are required.