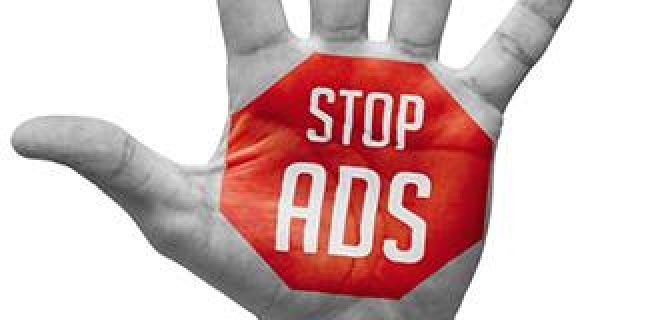 Every day we watch many advertisements as they are everywhere. Whether you read an online magazine/newspaper, play your favourite game or stream audio/video online you encounter them all the time. Some of the advertisements are interesting and provide information that could be useful for many viewers. However, an excess of everything is bad and the same rule applies to net surfing as well. Here goes the solution of Best AdBlocker Apps for Android.
When you surf the web with limited battery or want to download something quickly, these unwanted ads start getting displayed and your whole mood gets spoiled.
We are sure that all viewers are well aware of this fact that these advertisements actually help the hardworking people to earn revenue who bring the free content on their websites regularly for you. Still, if you want to restrict ads on your Android device, you can download an ad blocker which will let you see the web content without the irritating ads.
10 Best Free AdBlocker Apps for Android
Let us also inform our viewers that installing an ad blocker on the Android device can affect the functionality of any website so double check before installing and running them on your phone. So, without further adieu, please have a look at some of the best Android ad blocker apps that you can install and be, ad-worry free.
1. Adblock Browser for Android
Countably this one is the most efficient Ad-Blocker you'll find the list of ad-blocker offered in play store. The app is quite easy to use and it has an easily customizable web browser that gives you whole control over your mobile browsing.
In total, block ads and lets you browse faster than ever without letting you mingle in ads and save quite a lot of battery and data. Quick, safe & private. So you can keep this alternative browser for secure and ad-free browsing.
2. Adblock Plus
For clean secure browsing, you must try Adblocker plus. This is surely especially designed for Samsung models over android 4.0 but can easily help out another android too and that too with efficiency. Not a lot of people are from the technical background to understand what roles ads play and how they impact phone.
So, for all of them here is the simple solution. It decreases the number of mobile web ads as they appear and protect the device from known malware sites.
3. Ad Block Fast
The app lets you block ads without letting your phone gets rooted. At times when you get tired of ads you feel like switching it to another browser but this time you don't need to do so.
It runs quite fast on optimized filtering formulae to speed up the web pages performances with occupying less of space and memory and improves CPU cycles. The unique thing about this app is, it doesn't even allow "acceptable ads" like other ad blockers do and it never ever will accept it.

4. Ad Block for Samsung Internet
It is a complete suite of ad content blocking. You can easily stop seeing ads on the browser which you to tease you and interrupt you in your working. The browser is used by over 50 million across the globe.
Moreover, it saves quite a lot of battery which is literally eaten by enormous ads. Nevertheless, you can enjoy safe and fast browsing and it even lets you save quite a lot of internet data which gets used it difficult advertisements.
5. TrustGo Ad Detector (Not Available on Play Store)
Some of the mobile ad networks collect and use personal data of people through the application they use so each user needs to be cautious about it. The TrustGo Ad Detector provides durable security by eliminating chances of privacy violation through the advertisements that appear on the screen of your Android device.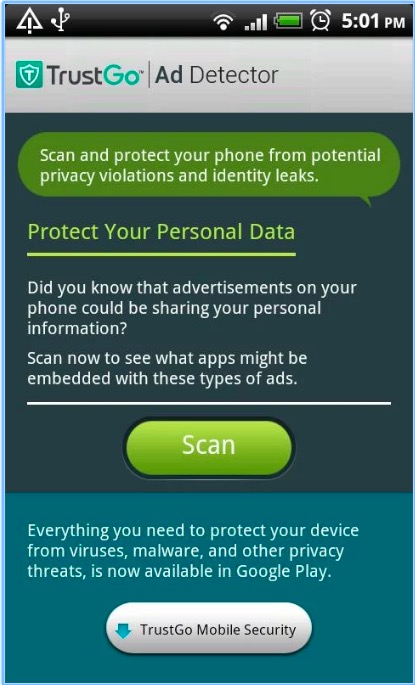 The approach of this ad blocker is quite different from other apps and it has developed a mindset to keep the personal information safe. The app scans your Android device and blocks every ad which could be a possible threat. The app is available in Google Store and is free to download.
6. AppBrain Ad Detector 
The functionality of this app is quite similar to the previous app. The AppBrain Ad Detector can detect over 70 different aspects of apps installed on your phone such as the ad or non-ad Push Notifications, Desktop icons with spam ads etc. The app also informs the users that which ad networks are integrated into the app and also indicates which one is pushing ads.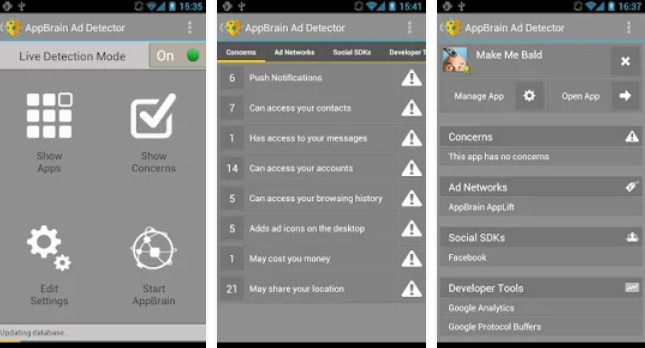 Overall the app helps users to get rid of irritating advertisements that not just slow down the device but eat a lot of data unnecessarily. The best part of the app is the feature that lets you know about the which app has access to your account and personal messages so that you can avoid possible identity leak.
7. Ad-Vanish Pro
It is one of the best ad blocker apps for both rooted and on-rooted Android phones. The functionality of this app is quite similar to the NoRoot Ad-Remover since it also has the ability to block ads from offline apps without the phone to be rooted.
The app is really useful to get rid of unwanted annoying advertisements from your favourite apps. There is a Lite version of the app too but unfortunately, that is not available in many countries at the movement.
8. MinMinGuard (Not Available on Play Store)
MinMinGuard is a powerful ad blocker app for Android device which is free to download. The app just not stops the display of unwanted ads on multiple apps but also utilizes the additional space which is specifically reserved for the applications. The also improves the performance of your Android phone and helps it to work faster.
The app doesn't require any virtual private network to function and doesn't drain out your phone's battery quickly. If you don't want to remove ads from all the applications then you can block advertisements for particular apps too. MinMinGuard is an open source application and you can find it on GitHub Repository.
9. Adaway (Not Available on Play Store)
It is another robust ad blocker app for Android which requires the device to be rooted. The Adaway is an open-source application and is free to download. It has a simple interface and its functions are easy to use. The app uses the Host file that contains the list of mapping between hostname and the IP addresses. Eventually, it directs those advertisements that appear on your screen while surfing the net or playing games.
The ad requested by the app goes to  127.0.0.1 which doesn't do anything. In simple words, the app smartly collects all the notable information then blocks all the advertisements. Users can also add websites to black or white lists as per their preference.
10. Adfree Android (Not Available on Play Store)
Adfree Android is a popular android ad-block app which is free to download. However, it has been removed from the Google Store. Plus it is not receiving latest updates, it may not function properly with devices running on latest Android OS. The app is easy to use and makes changes to the host file of the phone to block advertisements.
All you need to do is just install the app. Download the updated host file and flush the DNS by rebooting the phone. The app has the ability to block all kind of ads. Usually appear on the screen while browsing or playing games. Users can also tweak multiple settings and even decide to choose among custom and default IP address.
Bottom Line
The above mentioned Android ad blocker apps are good in terms of working capabilities and remove all kind of ads. Some of them allow users to restrict ads on certain websites only. Google removed many ad blocker apps from the Store surely. Still, they can be download through various options and they are helpful too.
Edited By- Anushka Ranka