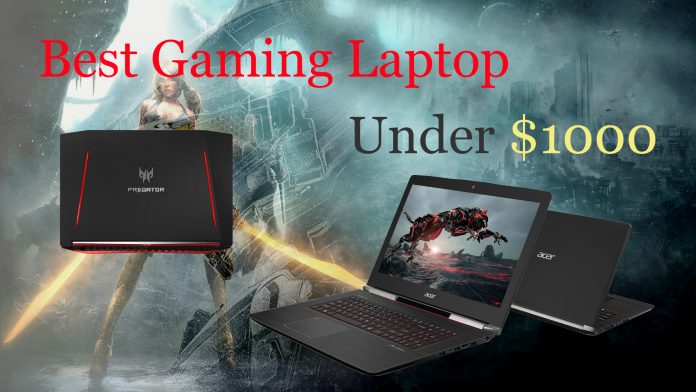 Gaming laptops can seriously cost you a dent in your wallet ranging upto $5,000. Also, playing high graphics quality games require some powerful hardware which however results in increasing the price tag. However, this does not make it a necessity to invest in a costly powerful machine. However, you will have to sacrifice having the latest graphics card, high storage, and 4K display.
To save your money and time, we are here with the list of best gaming laptops under 1000 dollar which can play some high graphical games like Wolfenstein II: The New Colossus and Destiny 2 at robust frame rates. Most of the laptops are hooked with Nvidia's 1050 Ti GPUs to let jump in the world of virtual reality with an Oculus Rift. Even few come with the GTX 1060 Max-Q GPUs to deliver some solid gaming performances at sub-1000 dollar price range.
The parameters based on which these laptops have into the list are:
Processor
Graphical Performance
Storage
Sound Quality
Display
Battery Life does matter too, but maximum gaming laptops deliver average battery backup while gaming and thus we did not include it in parameters for comparing between laptop because anyhow your will charge your laptop every couple of hour.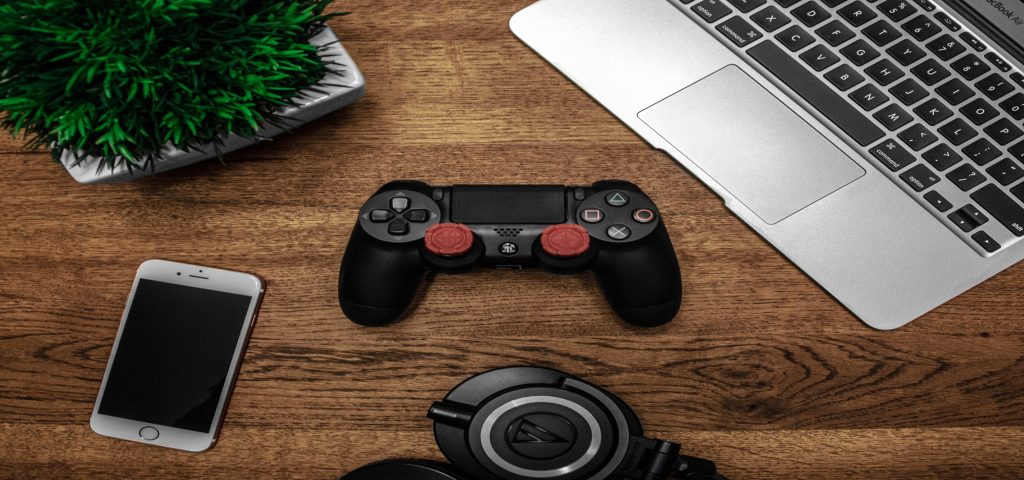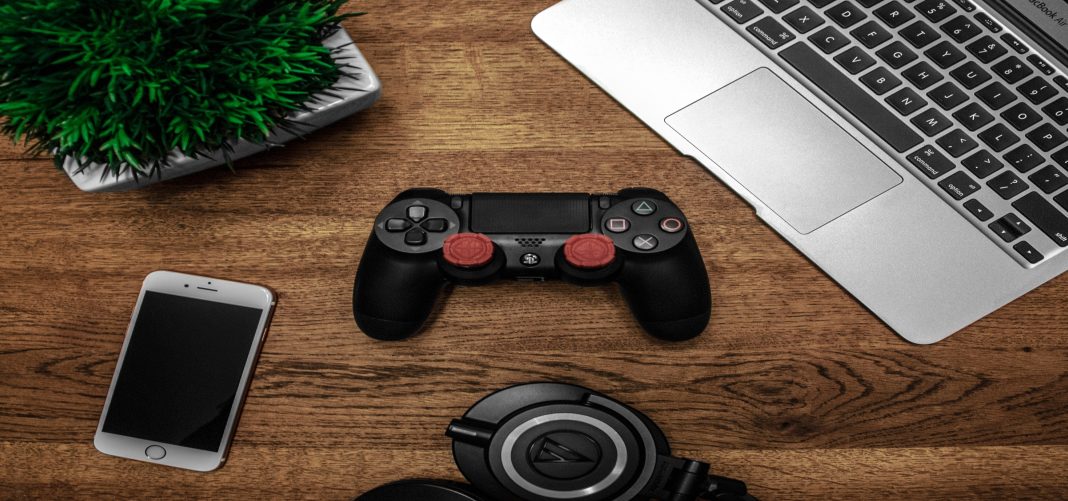 All the listed laptops have excelled in performance and quality in competition with other laptops and don't let you compromise while playing high-quality games at decent frame rates. They will not be as good as in comparison with the 2000+ dollar laptops but will surely unshackle the gamer in you.
Also Read: Latest list of Best Gaming Laptop under 1500 Dollar
So without any further ado, let's begin with the review of the latest laptops.
5 Best Gaming Laptop under 1000 Dollar
Let us celebrate the arrival of The Acer Predator Helios 300 under 1000 dollar segment. The reason behind such delight is that this machine comes with the Nvidia GeForce 1060 GPU, the first one to offer under this segment, a huge deal. Acer is already a well-known company to deliver with its predator series in the gaming world to deliver some high-quality gaming.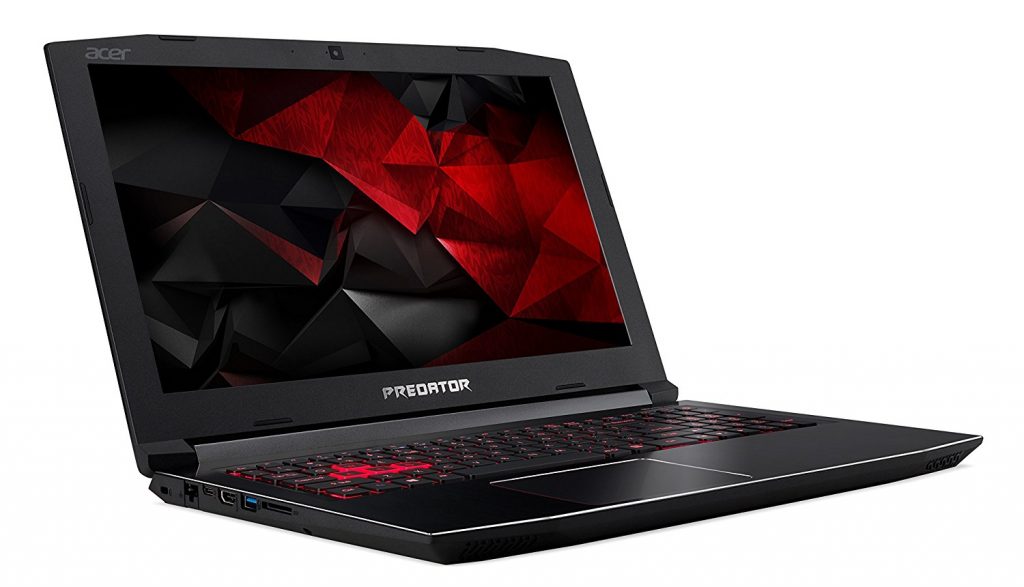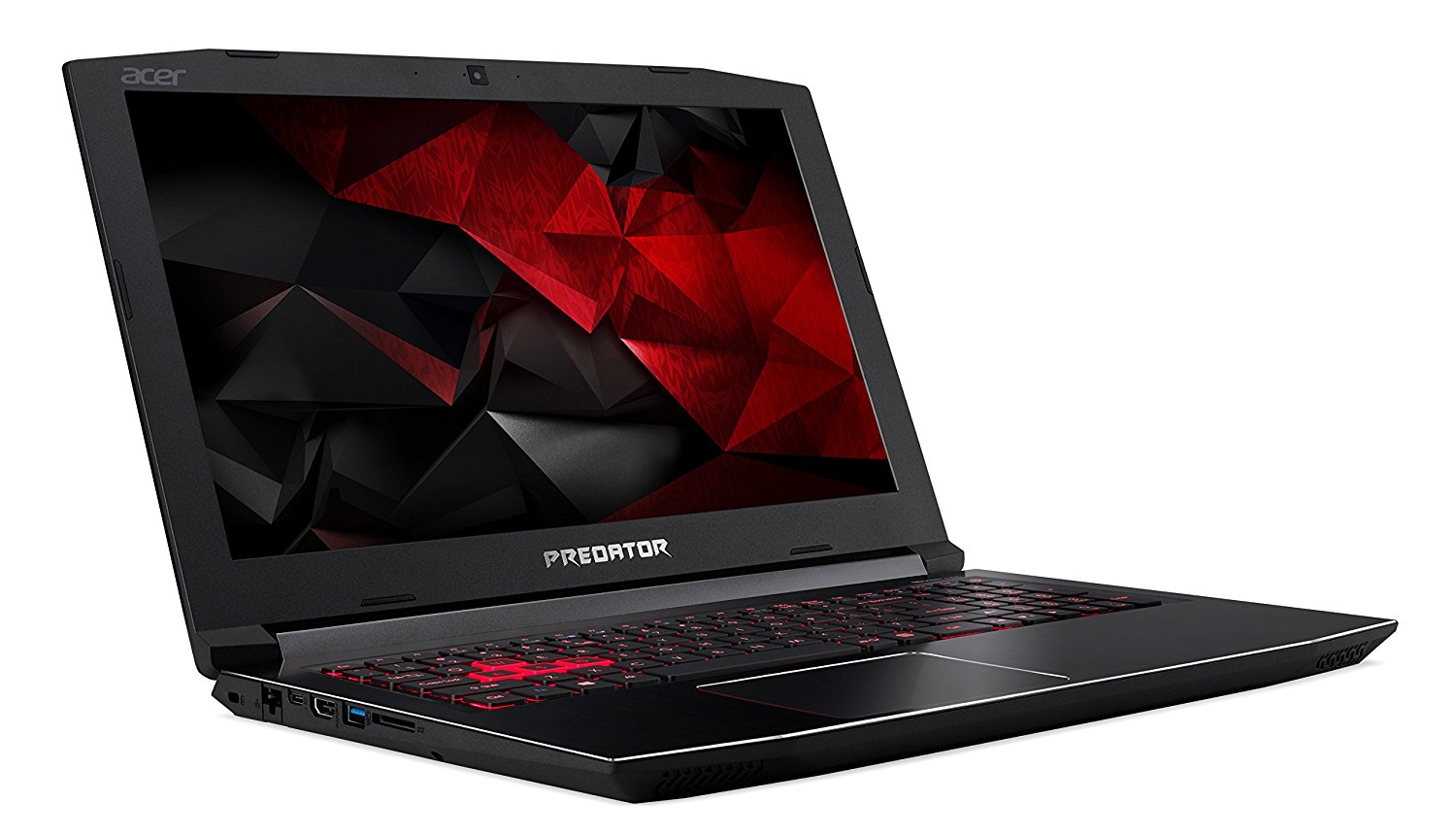 Talking about other hardware, the Helios 300 is powered by a potent CPU, the Intel Core i7 7700HQ scoring a CPUmark over 8900. With the latest generation 16 gigs of DDR4 RAM to deliver you the ultra gaming without any issues or lag, thanks to 6GB of GDDR5 GPU. It also comes with a fast 256GB SSD to deliver the fast boot speed to run your games smoothly, but that is the only storage option it offers but to store extra files, you will need to buy additional storage.
Now let us talk a bit about the design of Acer Predator Helios 300, it carries a sleek pleasing design with the case made out of plastic with aluminum details with a weight of 5.6 pounds (2.5 kg) where most of the gaming laptops carry a bulky ergonomic in comparison. Thus you can use it anywhere for some unstoppable gaming sessions. It comes with all the necessary ports with some new USB 3.1 Type C ports and also the red backlit keyboard with no keyboard clicking noise and has a great feel on hands.
The Acer Predator Helios 300 will be our pick in the list and the best gaming laptop under 1000 dollars. It has lots to offer with a pleasing design, the best graphics card under the segment and nice hardware combinations for a great gaming experience.
Pros
Fast 256GB SSD
Specs under the Amazing Price Range
Lightweight Chasis
Great Red Backlight Keyboard
Cons
Only Storage option
Fans are louder under high load
Gets hotter on performance mode
Also Read: List of Best 17-inch Gaming Laptop in the market at the best price
Acer after bringing the price cut in their gaming series laptops has brought them to deliver some fantastic gaming performance. The Acer Aspire VX 15 is a laptop with everything you need to have in a great gaming laptop. With a Fast Memory and Nvidia Graphics, it also has a quality design.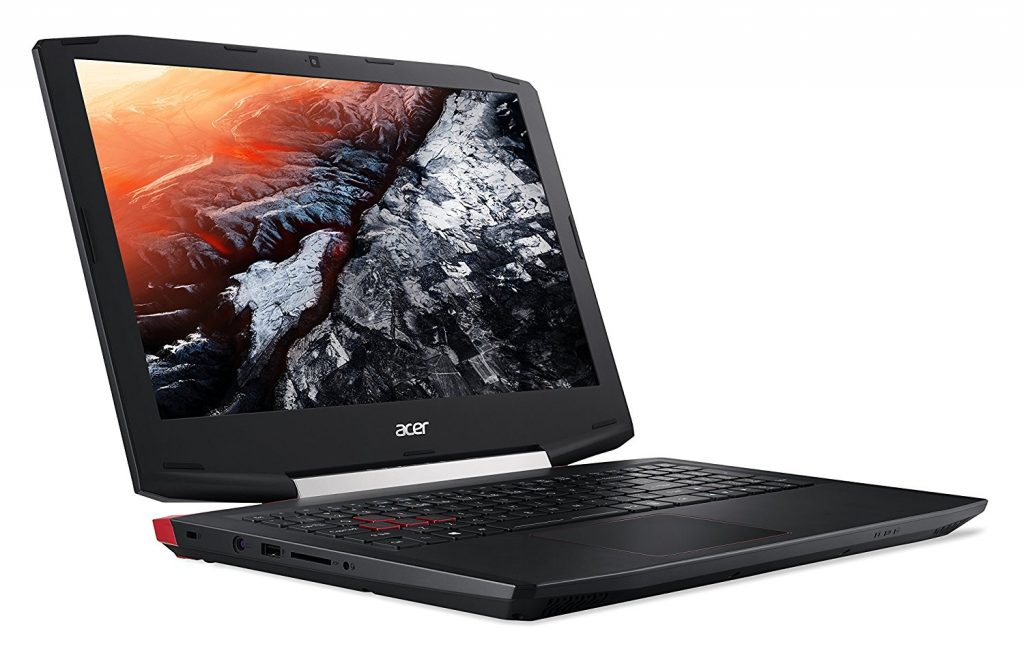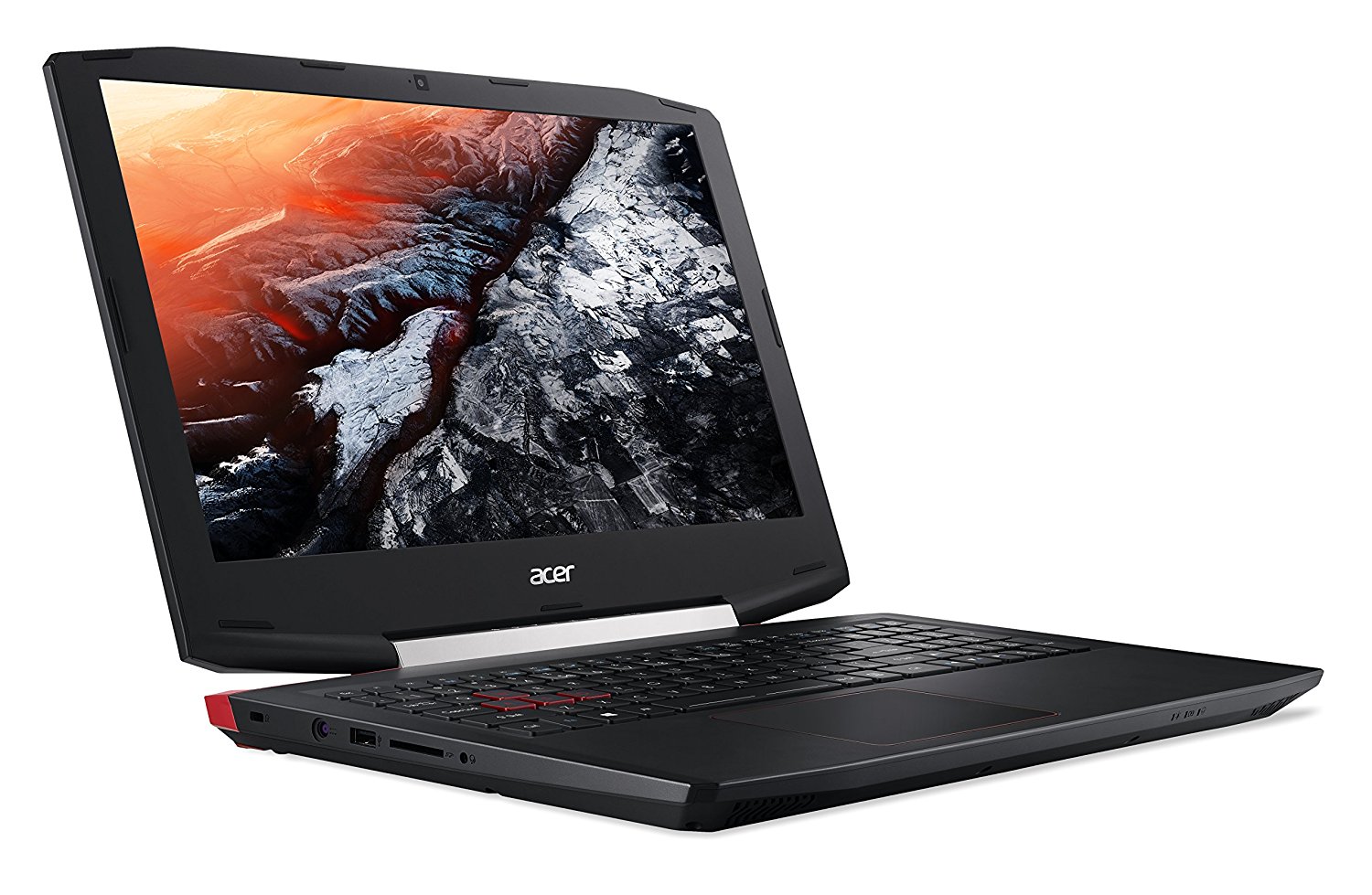 Talking about the design, this machine looks aggressive with those red lines, large fan exhausts and a durable silver plastic hinge on the chassis, a perfectly made for gaming. It also has a red-backlight keyboard, perfectly laid and feels great to use, the whole ergonomic looks solid but is prone to fingerprints easily. It also delivers some decent sound quality and has a substantial high-quality Full-HD screen with accurate colors.
Talking about the configuration, the Acer Aspire VX 15 comes with the latest generation of DDR4 16 GB RAM running at 2133 Mhz and the 7th generation Intel Core i7-7700HQ scoring a CPU mark score of 9000. With these set of hardware, it will run anything you throw at it; this is the best processor on the market right now. It also has an option to upgrade your storage with a hybrid slot for an SSD and HDD combo. However, it comes with a 256 GB SSD to boot and load super quickly.
The Aspire VX 15 is backed by a 4GB Nvidia GTX 1050 Ti GPU to run all the latest games with solid fps at medium or high settings, on point specs by Acer. With that the Aver Aspire VX5-591G is the our runner up form best gaming laptop under 1000 dollars with some amazing gaming benchmarks. This is a laptop for every gamer running on budget but wishes to play every available game in the market. The Aspire VX 15 runs smoothly and has no issues while loading any high graphics game.
Pros
Powerful Performance
Can run all the latest games easily
Fast RAM Memory
Upgradable Storage
Lightweight and weighs only 5.51 Pounds
Cons
Fingerprints prone Chassis
Only 256 GB SSD option
Lenovo, a brand known for making affordable multimedia laptops but with Legion Y520 they came up to compete with some big gaming brands and made into a 1000 dollar gaming laptop list.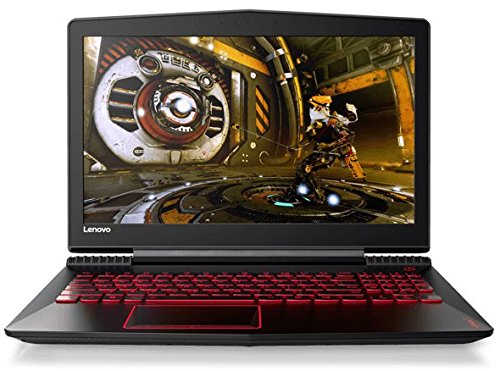 The Lenovo Legion Y520 comes with a uniquely smooth and stylish design. However, its chassis is made of plastic and lacks any aluminum details. Although the machine comes with an excellent built quality, its all-black design is prone to fingerprints. It also offers an extensive red backlit keyboard and has no option of an optical drive like most of the gaming laptops in the market.
Y520's CPU is powered by the Intel Core i5-7300HQ, a mighty processor and only a 4% slower than the mighty i7 processor. For everyday, gaming needs 8GB DDR4 RAM is enough, but 16GB RAM is at least expected in this price range and comes with extra slots if you want to add more reading power to your laptop. For graphics, it has a 4GB Nvidia GTX 1050 Ti graphics card for excellent gaming performance with fantastic frame rates to get in less than $1000.
The laptop only weighs only 5.11 pounds (2.5 kgs) and supports hybrid storage, that is you can use both a Solid State Drive to boot your windows quickly as well as a Hard Disk Drive to save your files. The Lenovo Legion Y520 delivers some excellent gaming performance with a slightly weaker hardware in comparison with other laptops in the list.
Pros
Fast Solid State Drive
Keyboard has a nice feel
Excelling gaming Performance
Lightweight Chassis
Cons
Dull Display
Easily prone to fingerprints
Only a 8GB RAM option
# MSI GL62M-7REX – Best MSI gaming laptop under 1000 dollar
MSI, a well-known brand to deliver the best out for gamers in a laptop and its GL62M-7REX is no different. With a nice sturdy design in this price range and strongest hardware is a solid performer and thus made into our list of best gaming laptop under 1000 dollar.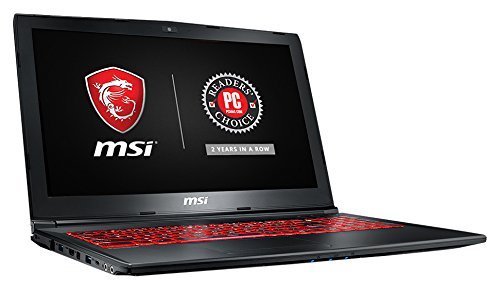 The GL62M-7REX has metal finish design lined with bold red color around the corners and has a Red SteelSeries backlight keyboard to give a nice feel while gaming. Its chassis weighs 5.29 pounds (2.39 kgs) is made out of plastic and minimal use of aluminum. Most of the latest laptops have no option for an optical drive, and MSI GL62M-7REX is no different. It comes with a 15.6-inch Full-HD Display and has accurate colors to make your gaming experience even better.
The laptop has the best graphics under 1000 dollar price, the GTX 1050 Ti. However, this graphics card is not great as the GTX 1060 is still you can play all the latest games even at ultra or high settings with decent frame rates. Talking about the other hardware configuration, it is equipped with a 1TB HDD and a 128GB SSD with HDD to store your files and SSD to boot and load your games and OS quickly. Although it has only an 8GB RAM option of the DDR4 latest generation running at 2400Mhz with 7th generation Intel Core i7-7700HQ to run your games smoothly.
Buying this laptop is a great option at this price range as it is an excellent gaming laptop with powerful set of hardware and sealing a MSI laptop under 1000 dollar is never a bad deal.
Pros
Dual Storage Option with HDD and SSD on board
Smooth frame rates even at ultra settings
Runs all the latest games
Strongest Processor under 1000 dollars
Vivid and Sharp Display
Cons
Only 8GB RAM option
Average Battery Life
Dell is very well known to manufacture daily and business lifestyle laptops apart from their dedicated Alienware gaming series. Dell has been working hard to for making entry-level gaming laptops and thus its Inspiron i7559-5012GRY made it in our list with the only laptop to come up with an Ultra HD display available under 1000 dollar. The display is not as bright as it should be but miles ahead of a Full-HD screen.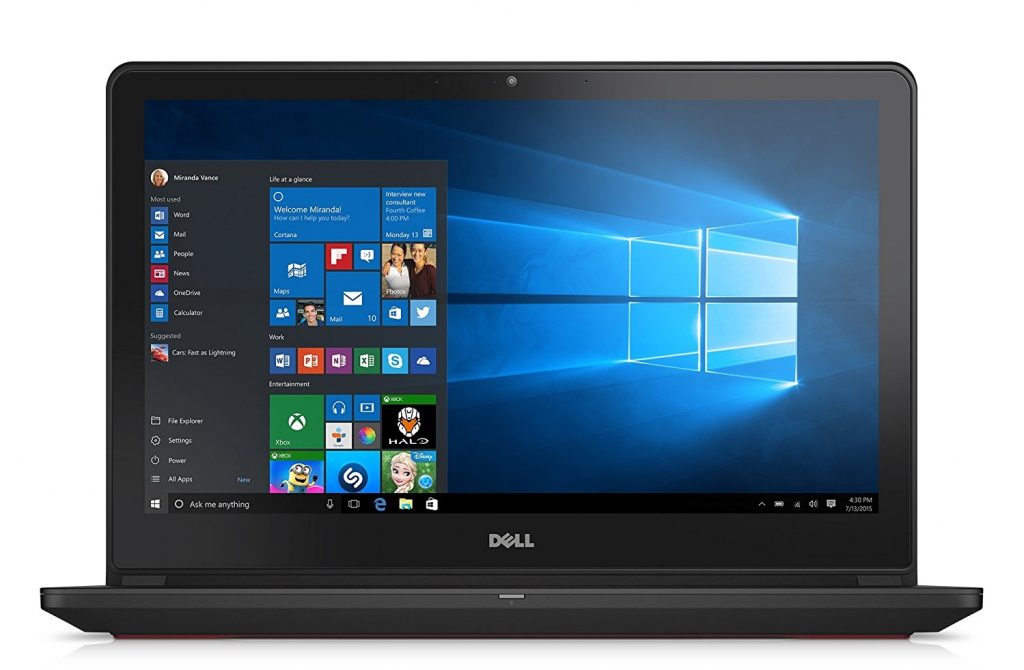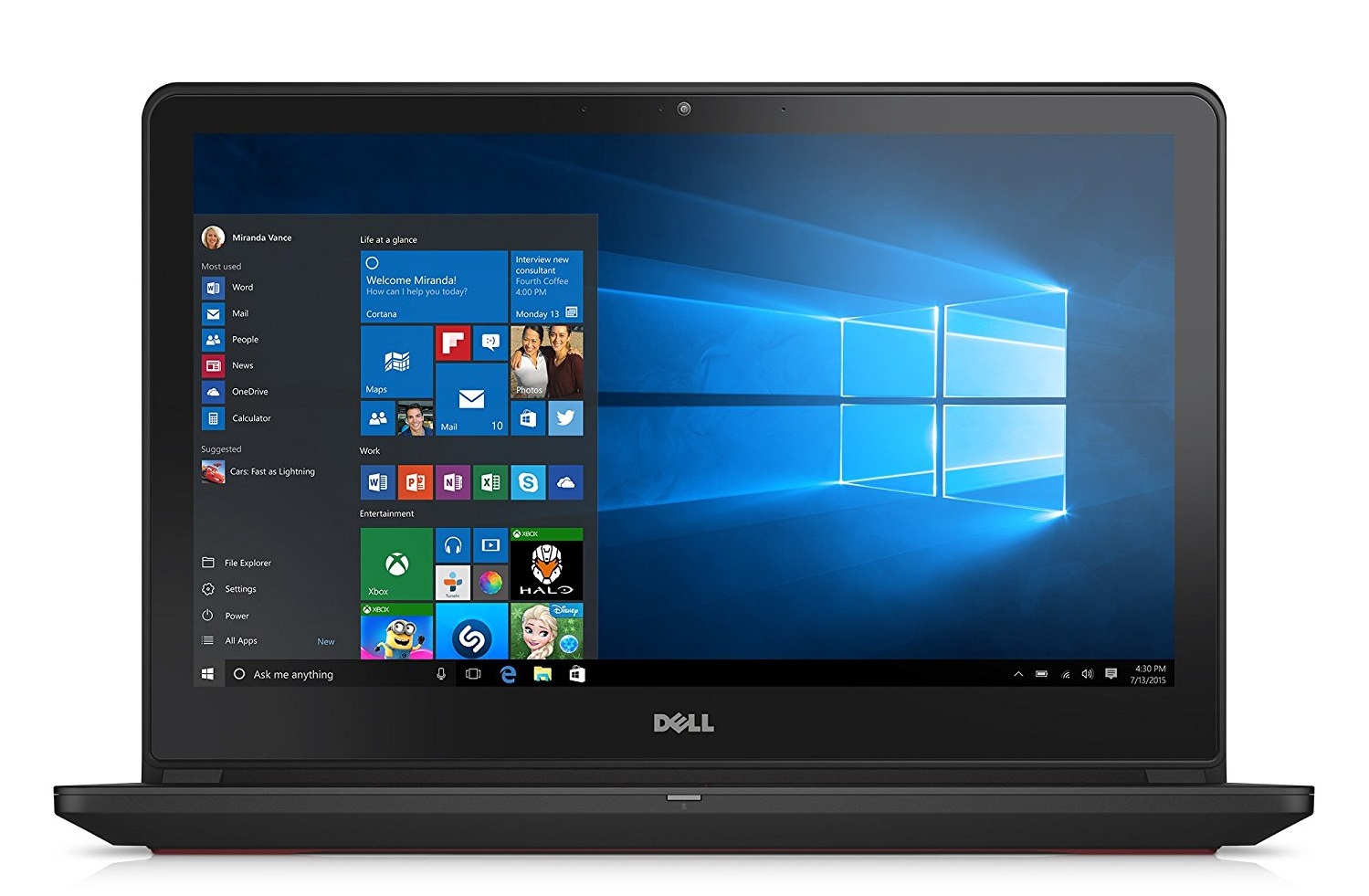 The design of this laptop carries its standard Dell modest and professional look but with a better screen and powerful hardware. Moreover, there is nothing to talk about of its design. The keyboard is standard with white backlight and a bit of keyboard clicking sound while you type or play a game.
Now talking about the hardware, it is equipped with a best in price 4GB GTX 960M Graphics Card for decent gaming. You will not get the high-level gaming performance like other laptops on the list but can play most of the latest games at standard settings. This model is also included with a 128GB SSD and a 1TB HDD to store your games and files and load and boot faster. It also has a support of a blazing fast latest generation 16GB RAM for smooth sessions.
With this Dell Inspiron i7559-3762GRY, you get a 4K display with solid hardware and is great deal under 1000. However, you can't play games with the 4K screen at high settings but at the price you get such configurations is not at all bad. Do Not let this deal GO!
Pros
Ultra-HD Resolution
Powerful Hardware
Price
Sleek Design
Cons
No SSD
No optical drive
display can be a lit brighter
Wrapping it Up
With this list, you won't go wrong no matter which gaming laptop you decide to buy under 1000 dollar price range. With any of the mentioned laptops, you will get a powerful gaming experience equipped with the latest graphics card to run any of the latest games smoothly with high frame rates at best possible graphics settings. Do share this article with your friends and family, if any of the mentioned details benefited you while hunting the best gaming laptop under 1000 dollar.