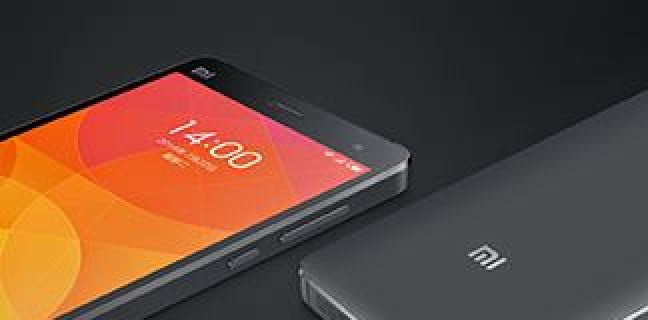 Smartphone have become one of the essential parts of the daily life. We saw over day by day new technology are introduced into the smartphone market. The user wants to buy the latest smartphone with the latest technology. When it come to choosing one phone among thousand of them it kind of tough. After a considerable search, we have listed the best smartphone under 30000. Now the question is how we listed or on what criteria, so we listed on the regards of their performance, hardware, software and more factors.
The most of these handsets are 4G LTE compatible and should work on all the 4G networks. You can also consider this the best 4G phones under 30k. So here are the top mobile phones under 30000 in India.
| Product | OS | Processor | RAM/ROM | Camera (R/F) | Battery | Price |
| --- | --- | --- | --- | --- | --- | --- |
| OnePlus 3T | | 2.35 GHz Quad-core | 6GB/64GB | 16MP/ 8MP | 3,400 mAh | |
| OnePlus 3 | Android 6.0 | 2.2 GHz Quad-core | 6GB/64GB | 16MP/ 8MP | 3,000 mAh | |
| Moto Z Play | Android 6.0 | 2 GHz Octa-core | 3GB/32GB | 16MP/ 5MP | 3510 mAh | |
| Honor 8 | Android 6.0 | 2.3 GHz Quad-core | 4GB/32GB | 12MP/ 8MP | 3000 mAh | |
| Asus Zenfone 3 | Android 6.0 | 2 GHz Octa-core | 4GB/64GB | 16MP/ 8MP | 3000 mAh | |
| Sony Xperia XA Ultra | Android 6.0 | 2 GHz Octa-core | 3GB/16GB | 21.5MP/ 16MP | 2700 mAh | |
| Mi 5 | Android 6.0 | 1.8 GHz Quad-core | 3GB/32GB | 16MP/ 4MP | 3000 mAh | |
| Oppo F1S | Android 6.0 | 1.5 GHz Octa-core | 4GB/64GB | 13MP/ 16MP | 3075 mAh | |
| HTC One A9 | Android 6.0 | 1.5GHz Quad-core | 3GB/32GB | 13MP/ 8MP | 2150 mAh | |
| OPPO F1 Plus | Android 5.1 | 2 GHz Octa-core | 4GB/64GB | 13MP/ 16MP | 2850 mAh | |
Best 4G Smart Phones under 30000 in india
1. OnePlus 3T With DASH Charging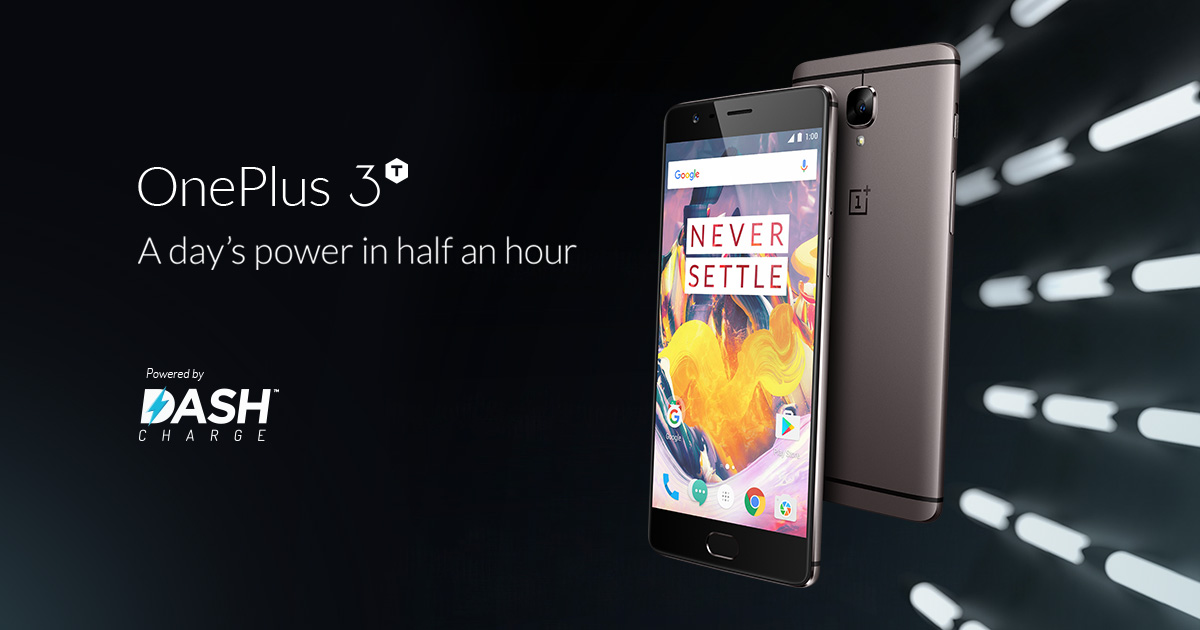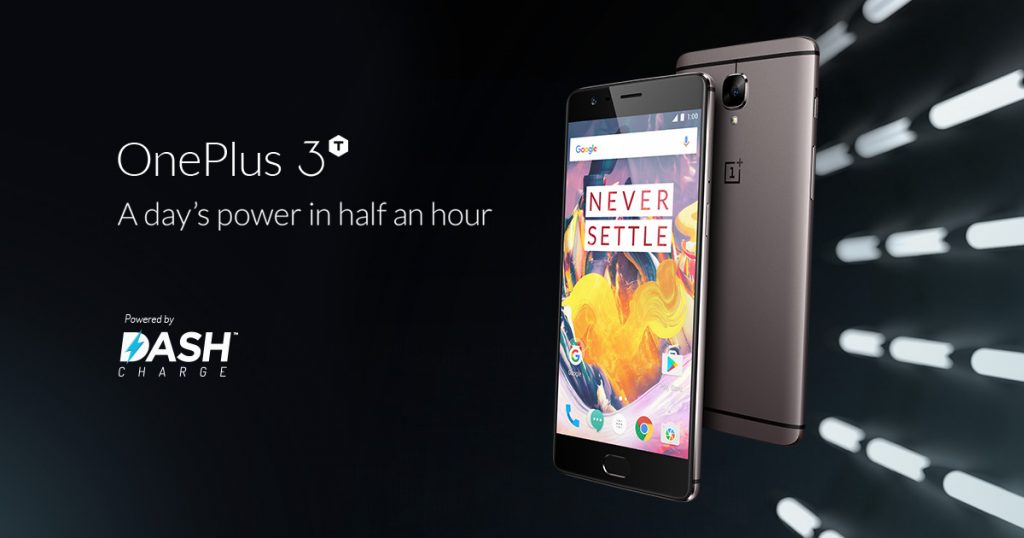 OnePuls is the one of the most reputed mobile manufacturer company of China. Unlike other companies, they do not have much of products, but they have enough to compete the others. Recently OnePlus has launched the OnePlus 3T which is the successor of the OnePlus 3.
The phone had running and had all latest features a smartphone could have. OnePlus gives a very luxurious look unlike other. The OnePlus is Phone who solved all problem of any Android could have like performance, storage, charging. Let's talk about the performance; OnePlus have the 6GB RAM which can run as many apps you want at the same time. The Qualcomm SnapdragonTM 821 MSM8996 Pro, 2.35 GHz quad-core processor; Adreno 530 GPU run high-end games like Mortal Combat, HALO very smoothly.
To capture the amazing moment of your life you go the 16MP primary camera with high-speed autofocus technology, updated Electronic and Optical image stabilization techniques. Now to make you photos and video live you need a good screen size with decent quality, here you also has the 5.5-inch Optic AMOLED Full HD capacitive touchscreen with 1920 x 1080 pixels resolution and 401 PPI pixel density.
Now you must be thinking about the battery after having this kind of performance you need a good battery life. Well, you don't have to think about that Oneplus 3T offers 3,400 mAh. The biggest advantages of OnePlus 3T has the Dash Charging; it can charge up to 50% in less than 15 min. Now what else you need, a phone can charge more than 50% in just 15 min.
PROS

CONS

Figure Print Unlocker
USB 3.0 Universal Charger
Dash Charging

Battery Size little less for this kind of Phone
There is a little heating Problem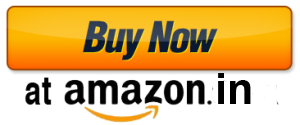 2. OnePlus 3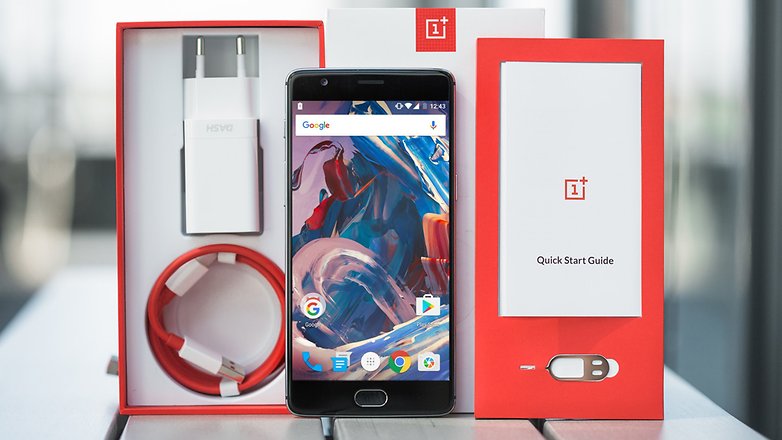 Above we have, mention the successor of the OnePlus 3. There is not much of change into the OnePlus 3T and OnePuls 3. The significant difference is the Processor and battery, rest of the configurations are the same in the both phone. Both the phone looks identical to each other; there is no difference between them.
As we mention that about the processor, both phones have the different processor. OnePlus 3T have Qualcomm SnapdragonTM 821 and OnePlus have the Qualcomm Snapdragon 820.
OnePlus 3T have 3,400 mAh of battery and OnePlus 3 have 3,000 mAh of battery. Now rest of the features are the same into both phones like fingerprint scanner & Dash charging. Dash Charging is first introduced into OnePlus 3; it can also charge up to 50% within 15 min of charging.
PROS

CONS

Excellent Performance regarding High-end Gaming
Enough Memory to Store your Pics & Videos

Battery life is not much
Heating issue during charging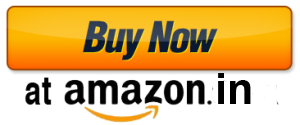 3. Moto Z Play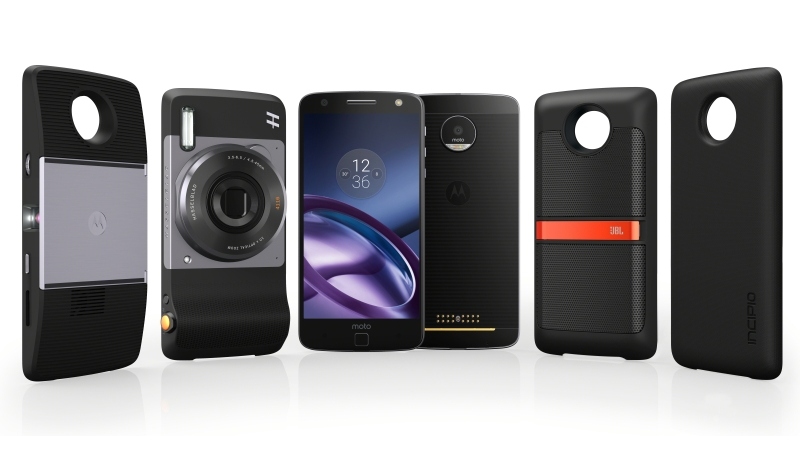 Motorola is the US based company, and now it is owned by the Lenovo. In the past couple of year, Moto had a great comeback into the Indian market. Frist Moto launched the budget phones like Moto G, G2, G3, and people loved them. As we all know, a user always wanted to buy a smartphone who have something different from others.
Regarding different Moto has launched the Moto Z Play which was entirely new phone in the market for everyone. The reason is it has an additional feature of add Moto mod. These Mod are just attached to the back side of the Moto Z Play, and your phone turned into the projector, external speaker, and DSLR Camera.
Concerning performance, the Moto never compromise with that. The phone performance is outstanding even into the gaming or multitasking. Moto Z play can run all the app and games very smoothly with 2 GHz Octa-Core Qualcomm Snapdragon 625 processor, 3GB LPDDR3 RAM, 32GB ROM expandable up to 2TB. Moto Z Play has the 16 MP dual autofocus camera with laser focus & color balancing dual LED flash, you can record 4K video recording at 30 fps, 5 MP front camera also have flash so even in the low light photos will be more clear and sharp.
The 5.5-inch Super AMOLED 1080p full HD Display can make your pictures, and video live. There is fingerprint reader for the security purpose which is water repellent. So, even if your fingers are wet, you will be able to unlock the phone. Now to keep it running, you have the 3,510 mAh battery with TurboPower charging. Like OnePlus 3 and 3T Moto also offering the TurboPower charging, you will get 8 hours of power in 15 min of charging.
PROS

CONS

Transform your phone by magnetically clicking Moto Mods onto your phone. Turn it into a movie projector, boombox, battery powerhouse, and more.
TurboPower charging, 8 hours of power in 15 min of charging.
Water repellent nano-coating Finger Print reader

Moto Mods are too much Expensive

4. Honor 8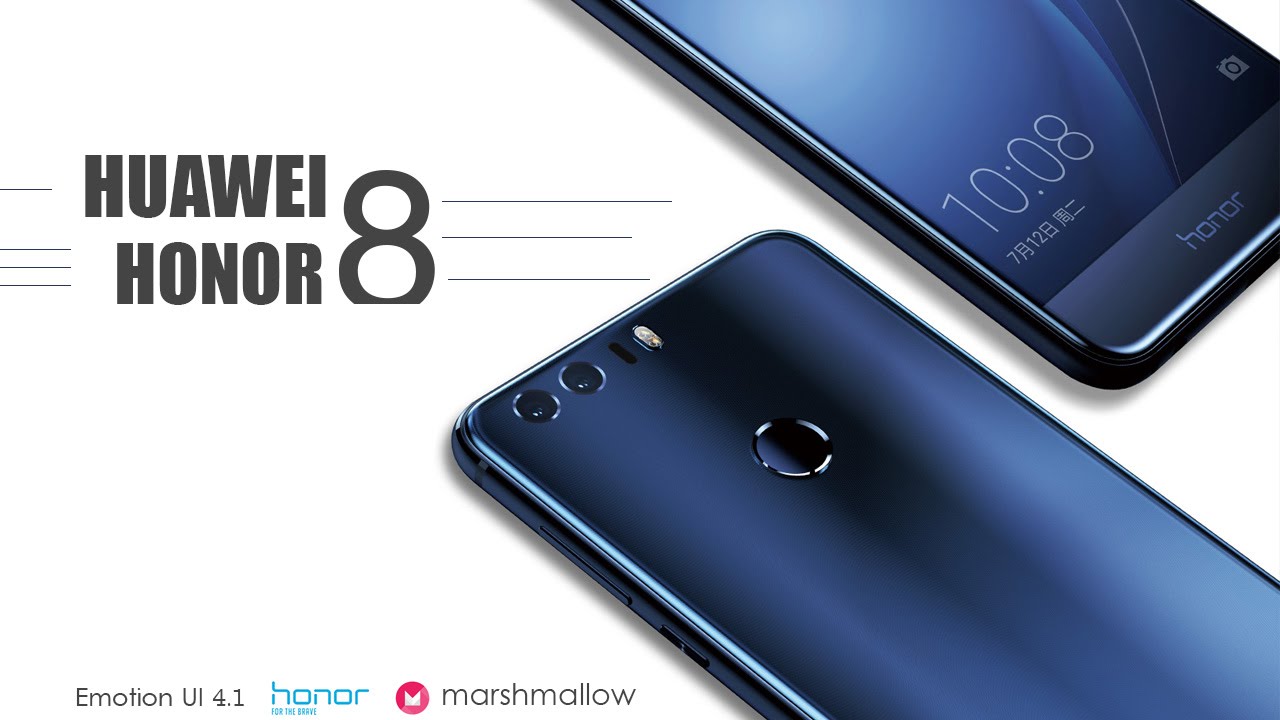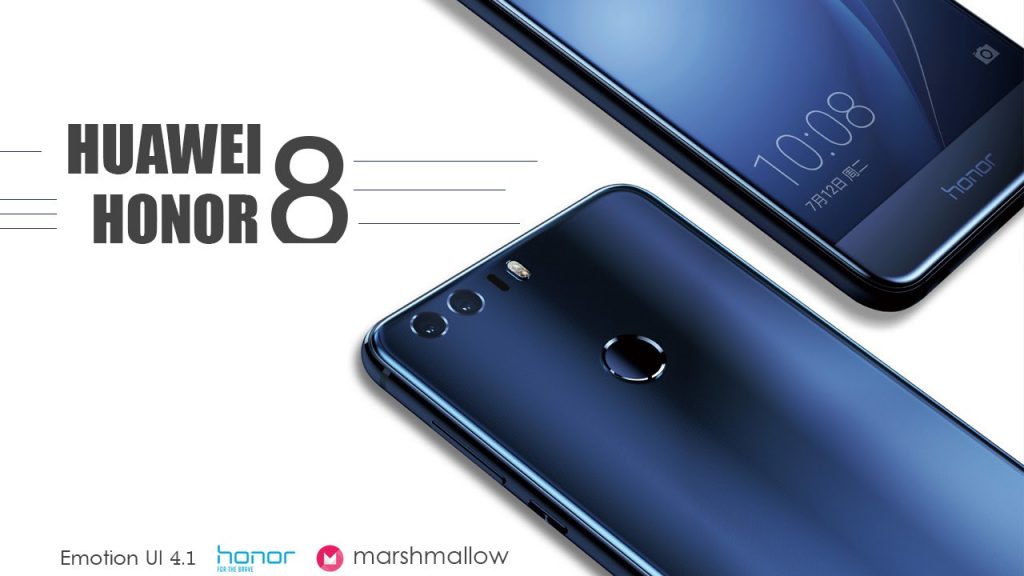 Honor is a sub-brand of the Chinese networking and telecommunications equipment and services company Huawei. The Honor series of mobile computing devices, which are designed, manufactured, and marketed by Huawei, include smartphones, tablet computers, and wearable technology.
After Apple introduced the dual camera in his new iPhone 7 Plus, a lot of smartphone companies also started working on that. So, Honor introduces the iPhone of the Android Honor 8. Honor 8 has the 12MP dual primary camera and 8MP front facing the camera. The Dual 12MP camera increase picture quality, bring bright color and crisper details to your photo and also gives the blurred background effect as DSLR.
On the performance point of view Honor, 8 is running on the Android 6.0 Marshmallow with 2.3GHz Quad-Core, 4GB RAM, a 32GB internal memory which can expandable up to 128GB. So, have the enough space to store the all your pictures, videos, apps, and games.
Honor has the 3000mAh lithium-ion battery which can provide the 21hours talk time on the 2G network, 17.5 hours on 3G networks. Like OnePlus and Moto here you don't have the fast charging option. 
PROS

CONS

12MP dual primary camera
Honor 8 has double antenna which can seamlessly switch to the one with stronger Wi-fi signal

Doesn't support the Fast Charging
The Gorilla Glass does not protect display

5. Asus Zenfone 3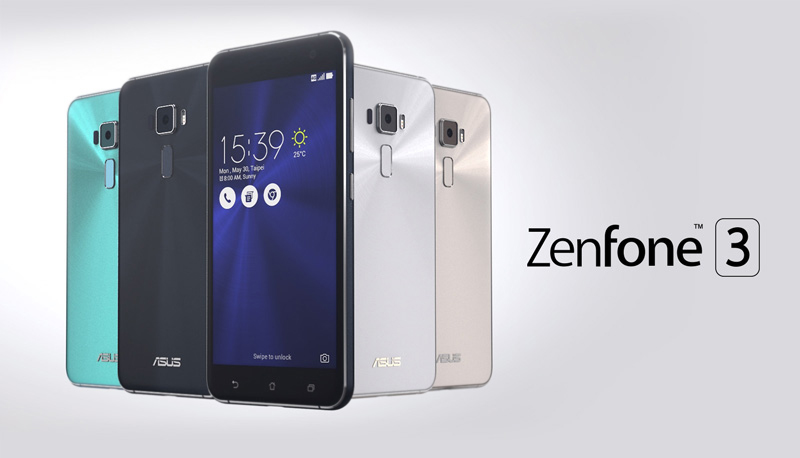 Asus is Japan based computer manufacturing company. In the previous year, the company was entirely focused on the hardware of the computer and later on, the company started, it's own laptop and smartphone products. Asus launched the mid-ranged smartphones which were a great success into the smartphone market. Later on, the company starts launched the high-budget smartphone.
So, in the series of Under 30,000 Asus Zenfone 3 is the best option. People who are looking for stylish and attractive look smartphone, Asus Zenfone 3 is the best choice for them. The Phone has glass on both sides front and back.
Asus Zenfone 3 have all the latest technology and feature of the modern smartphone. Zenfone 3 is running on the latest Android 6.0 with 2GHz Qualcomm 8953 octa-core processor, 3GB RAM + 32GB ROM, which can expandable up to 2TB as per user requirement.
The Zenfone also support the fingerprint scanner which let us unlock the smartphone and click the selfie. You got the 16MP Camera with autofocus, with Sony Sensor and 8MP front facing a camera and you know that Sony Camera performance. The picture you click by the Zenfone 3 is more bright and sharp to color.
ZenFone 3 has something no other smartphone camera has its particular TriTech auto-focus technology. For the first time in the smartphone world, Asus engineers have combined three focusing technologies laser, phase detection, and continuous auto-focus into one harmonious system. Resulting a clear focus in just 0.03 seconds in varying conditions. Photos will appear as realistic as you view them. To shoot into the low light, you also got the laser focus.
PROS

CONS

Glass on both sides back and front gives a luxurious look
Camera has TriTech auto-focus technology

Glass on both sides so have to be careful
Battery is a little bit problem
Doesn't support the fast charging


6. Sony Xperia XA Ultra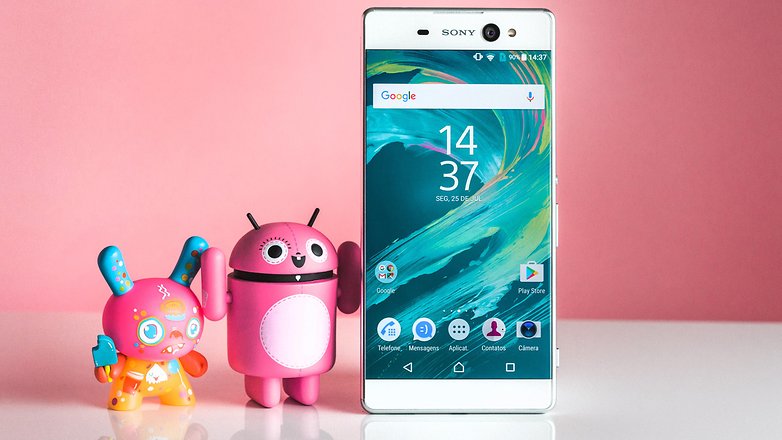 Sony no introduction needed this company. Now a day most of the smartphone company using the Sony hardware into their camera. So, there is no doubt into that that Sony smartphone performance, display, and camera quality. In the series to keep user trust here is Sony Xperia XA Ultra.
This smartphone has all the features which a user needed. 6 inches of Screen with 1080p, makes it more comfortable Hand Fit. It's narrow built makes it an easy phone to hold with a solid grip. The smartphone is running on the Android 6.0 Marshmallow with 2GHz MediaTek MT6755 Cortex-A53 64-bit octa core processor, to increase the gaming performance of this smartphone you have the Mali-T860MP2 GPU. Now regarding memory, Sony Xperia xa ultra got 3GB RAM and 16GB of ROM which can expandable up to 200GB.
Now comes to the camera, today most of the companies are using the Sony hardware to improve their camera qualities. So, there is no doubt into that Sony camera won't disappoint you. Sony Xperia XA Ultra got the 16MP front facing camera with bright selfie flash and Optical Image Stabilizer and 21.5MP primary camera with hybrid autofocus, HDR, 5x clear image zoom, auto scene recognition, low-light photography.
With this kind of configuration, you need a good battery life to keep the Phone running. So, here you have the 2700mAH lithium-ion battery up to 2 days life with stamina mode. Sony is providing the Qnovo Adaptive charging offers up 2x times longer battery lifespan, so you're reassured they have a long lasting battery.
PROS

CONS

Best Phone for Selfie lover
Flash available for front camera

Turbo charger supported
No water protection but water resistance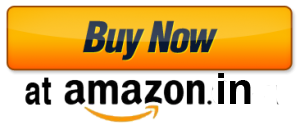 7. Mi 5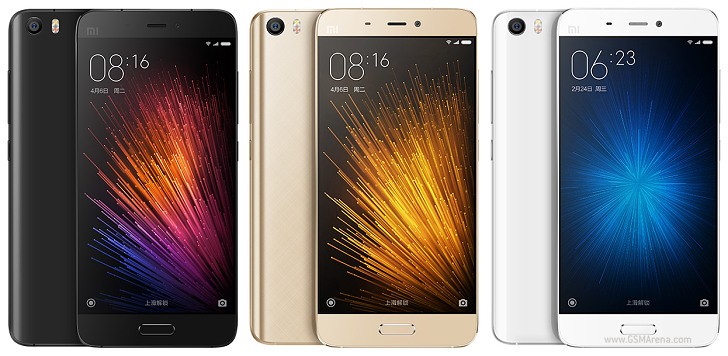 Everyone knows about xiaomi; the company entered into the smartphone with the budget smartphone and after getting a great success. Now company targeting the high price phones. The company has launched the Mi 5. The all new Mi 5 is running with the insanely Fast the latest Qualcomm Snapdragon 820 processor.
Mi 5's GPU, Adreno 530 is 40% quicker than the previous-gen Adreno GPUs, delivering smoother loading, more rapid responses, and more realistic rendering even for the most graphics-intensive games. Mi 5 running on the Android v6.0 Marshmallow with MIUI 8. The software is updated and makes it faster and smoothly delivery.
The Mi 5 has a 5.15 inch IPS capacitive touchscreen with 1920 x 1080 pixels resolution and 428 PPI pixel density. The display and back both are protected with gorilla glass 4 on both sides, Mi5 is crafted with the highest standards and is extremely durable. The Mi 5 camera is filled with technological breakthroughs to capture the perfect shot. It uses a top-end 16MP sensor with deep trench isolation (DTI) technology for cleaner color separation. The front 4MP of front facing camera took the phenomenal selfie. Larger pixels capture more light, resulting in brighter complexions and purer colors, making your selfies more share-worthy than ever before. Mi was also offering the fast charging as compare to pervious-gen. Now your phone get 20% faster charging.
PROS

CONS

Build qualities is very nice
Curved corner and sides makes grip on phone

Mi5 doesn't support the sd card
Not Waterproof and resistance


8. Oppo F1S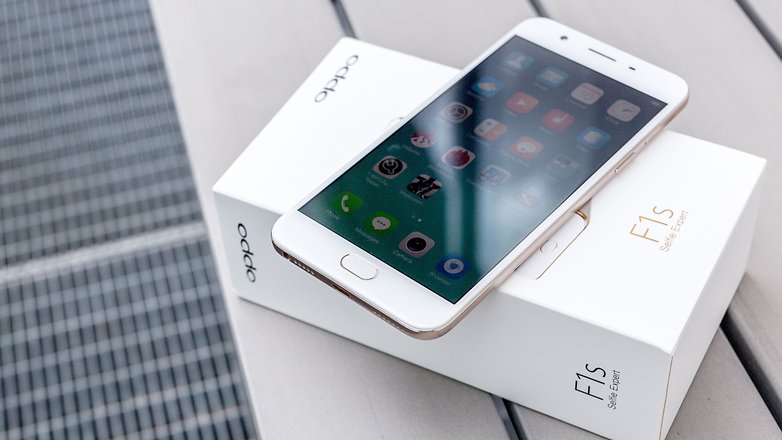 OPPO is a Chinese electronics manufacturing company. Its primary product lines include smartphones, Blu-ray players, and other electronic devices. Oppo has launched its flagship killer smartphone Oppo F1S, the phone is very much popular regarding the Selfie. The reason of this is the front facing camera of this smartphone is very much impressive and capture the decent pictures. The rear camera is 13MP primary camera with latest OIS technology and HDR mode. The 16MP of the front facing camera loaded with selfie panorama, auto screen flash which is very much interesting for the selfie lovers.
To making you picture and video live you need a beautiful picture quality display. The smartphone features a 5.5-inch LCD with a 1280×720 resolution which translates to 267ppi, and it is protected by Gorilla Glass 4. One usually expects a 1080p resolution on such a large screen, but the HD resolution doesn't look bad either. It offers adequate brightness, but under sunlight, it does struggle a bit. Color saturation is the spot, and even the viewing angles are wide as we didn't see any color shift.
The Smartphone is running on the Android v5.1 operating system with 1.5GHz 64-bit octa core processor, 3GB RAM, and 32GB/64GB ROM, expandable up to 128GB. You have enough space to store the as many photos and videos you capture. Due to octa-core processor, the smartphone run very smooth and fast. The app switching is very much fast and response time is quick. The phone support the 3075mAH lithium-ion battery providing talk-time of 28.5 hours and standby time of 281 hours. Overall the Oppo offering an excellent smartphone in under 30,000 budget.
PROS

CONS

Best selfie camera
A decent battery life

 A little bit of heating problem during charging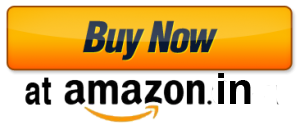 9. HTC One A9
The HTC One A9 is a well-crafted Smartphone that is designed to match your style quotient. It features a sleek design with thin metal frame and elegant finish. Due to its design, it gives a distinctive look. This phone weighs 145 g which makes it lightweight and handy. The phone has a 5-inch full HD 1080 p capacitive touchscreen that offers vivid colors and sharp images. It also gives a better view even in direct sunlight. Due to its metal body, it is little slippery also.
HTC One A9 loaded with 1.5GHz quad-core + 1.2GHz quad-core Qualcomm Snapdragon 617 processor, the phone gives you a lag-free performance. Now, you can open and run various applications & games on this Smartphone simultaneously without any hassles. It runs on Android 6.0 Marshmallow operating system with 3 GB RAM + 32 GB ROM. ROM size can also be expandable up to 2 TB. You can save all your files, games, software and other data without erasing anything.
The One A9 has a 13 MP rear camera which comes with auto-focus, optical image stabilization technology that lets you shoot sharp and clear images. It has multiple modes for photography to unleash a better photographer in you. This phone also has an ultra pixel front-facing camera that captures 300% more light than other phones. You can take beautiful selfies even in low light conditions. The phone is packed with 2150 mAh battery; the phone offers a talk-time period of 16 hours and standby time of around 432 hours on 3G networks. Apart from battery size is small still, has an excellent backup.
PROS

CONS

Full metal body and well-crafted phone
The ultra-pixel technology the selfie is more clear than others

The doesn't support the fast charging
The battery size is small
Due to metal body, it is little slippery

10. Oppo F1 Plus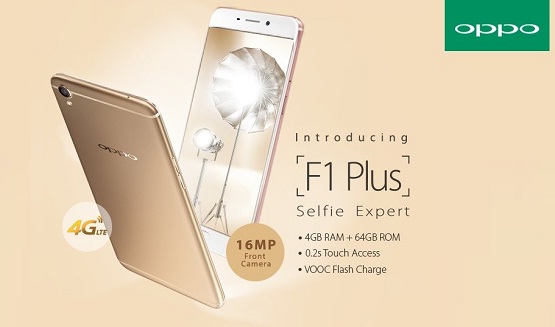 There are quite a few things that impressed you about the Oppo F1 Plus. First up, the Oppo F1 Plus has a great design and is super light-weight. The display quality of the Oppo F1 Plus is very much impressive. It has 5.5 inches Super AMOLED Full HD with 1920 x 1080 pixels. The display is protected by the Gorilla Glass 4. The display performed very decently on different viewing angles. Oppo F1 Plus features a design, quite similar to iPhone 6 series.
F1 Plus is equally good when it comes to performance. Oppo F1 Plus is powered by a 2.0 GHz Octa-core MediaTek Helio P10 (MT6755) with 4 GB RAM and 64 GB storage. This smartphone can handle multi-tasking very smoothly. Playing games like Asphalt, Mortal Combat is a delight because of the good RAM size and vivid display. Regarding performance, the phone performed multi-tasking and gaming without any lags or crashes.
The rear camera is 13MP primary camera with latest OIS technology and HDR mode. The 16MP of the front facing the camera with auto screen flash which is good news for the selfie lovers. The phone is packed with the 2850 mAh battery with VOOC Charging. The VOOC charging is similar to the boost charging. It can charge your phone 0-100% within 50 mins.
PROS

CONS

Oppo F1 Plus comes with a great design
A decent battery
A fantastic selfie camera
Fast Charging Supported

The battery size is small
No water protection
The Sound quality is not so good


Over to You
I hope the above information about smartphone under 30,000 will be helpful for you. As per user response the best phone under 30,000 budget is One Plus 3T, One Plus 3, and Sony. These phones have all the quality which can define the user. If you have any query regarding these phone then feel free to ask through the comment section.