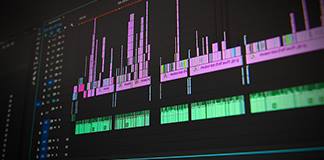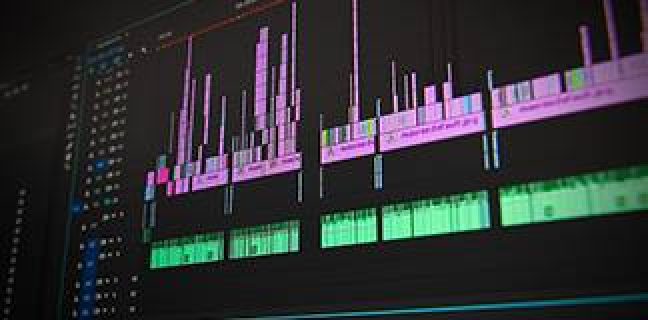 Video compression software is used to reduce the size of any video by using several options that are included in the suit. Most of the software that we have mentioned on our list are free to use and allows users to change codec, bit rate, size, video quality, resolution, etc. and make the video suitable for your device such as smartphones.
Almost every compression software coming nowadays support all popular video formats and some of them let users compress videos in bulk too. Here are few things that a user should also keep in mind that making a video smaller can affect the quality which eventually reflects in playback, so we advise choosing codecs like MP4, H.264, AVC to get better results and freedom to upload video in any media network.
What's the Need of Video Compression Software
When we shoot video from our smartphones or DSLR, we choose the best mode available to get the quality video, like I want HDR in my phone. Obviously, with quality, the size of the video also increased. And many of the channels through which we share those videos to our friends have some size limit. Like in WhatsApp there is a limit of 16MB and in Gmail 25MB. Though there are methods to share file larger than 16 MB on WhatsApp.
And if we talk about uploading video to Youtube, Facebook or Vimeo then large file takes lots of time to upload. The best solution that I suggest you is keeping the high-quality video win your storage and share the compressed video with others.
Or if you do extensive video production then you need to have lots of space to keep your old videos. To save space, you can compress them.
12 Best Video Compressor and Converter Software (Free/Paid)
So, in this article, we have decided to feature some of the best video compression software that will help you to compress your videos in the easiest manner.
1. DVDFab Video Converter (Windows, Mac)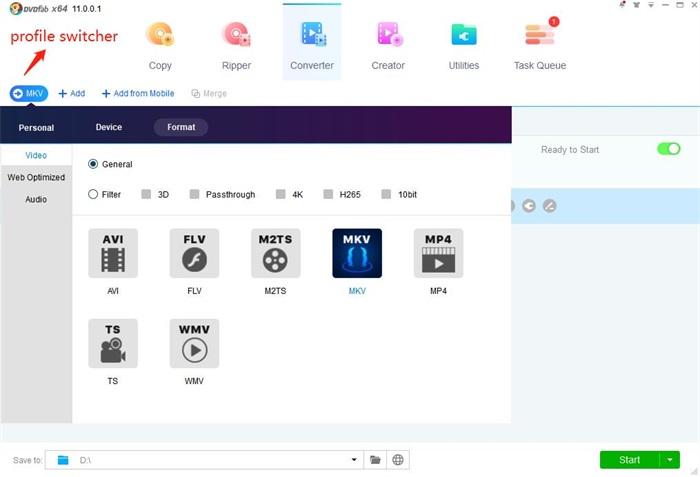 DVDFab Video Converter is a powerful video converter that reads all popular video formats, and convert videos to mainstream video/audio forms (e.g. MKV, MP4, AVI, MP3 and FLAC), to play on various multimedia devices. Meanwhile, the converter automatically fix and transfer the metadata info of sources to corresponding output videos. Moreover, with acceleration tech, it supports batch conversion at a blazing speed beyond your expectations.
Besides, this video converter can compress videos to users' wanted output size considering HDD/mobile storage, or direct upload to YouTube/Facebook/Vimeo. Moreover, its multifunctional built-in video editor allows for customized settings such as background music, watermark, subtitles, cropping, and trimming/merging clips.
30-day Full Trial, Free version, $44.9 for Paid version 
2. Blaze Media Pro (Windows)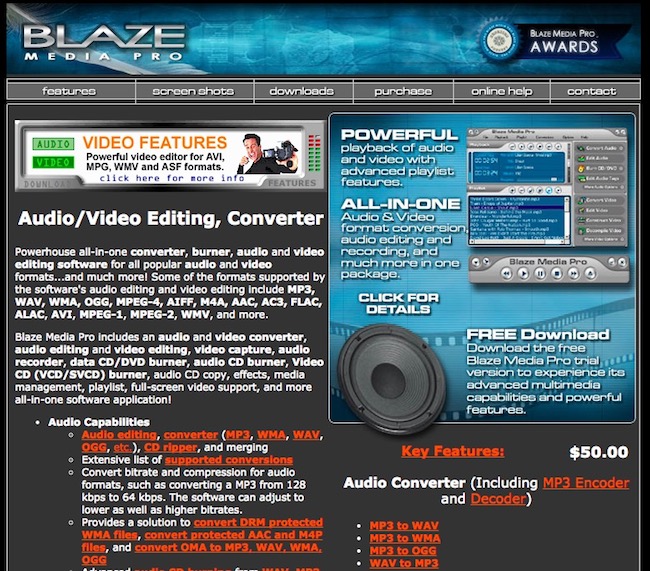 Blaze Media Pro is not just a regular video compressing software, but an all in one solution that includes a powerful audio and video converter, audio and video editing software, data CD/DVD burner, Video CD (VCD/SVCD) burner, audio CD burner, video creator, etc. It can handle a variety of formats for audio and video editing such as MP3, WAV, AIFF, M4A, WMA, AC3, ALAC, AVI, MPEG-1, MPEG-2, WMV, FLAC, OGG, MPEG-4, AAC and more. Blaze Media Pro offers many services like media management, audio CD copy, support to full-screen video, multiple effects, etc.
It's available for 15 Days free Trail and $50 after that. 
3. Format Factory (Windows)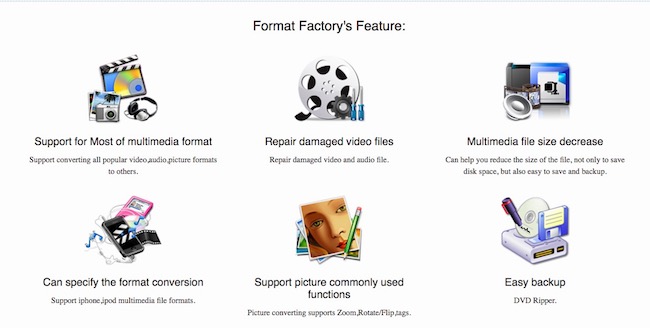 Format Factory is easy to use, open source software which can convert any audio, video and image format. It also lets users compress video files effortlessly and provides multiple options to do so. When you are aware of the technical details to compress any video, you can choose desired display size, codec, FPS, and resolution. Even if you are not conscious of the specification, you can still use the software to compress videos as it provides direct options that are based on device, size, and quality. You can select low or medium quality as per your choice and send video via your mobile quickly.
It's 100% Free for Life time. 
4. HandBrake (Windows, MAC, Ubuntu)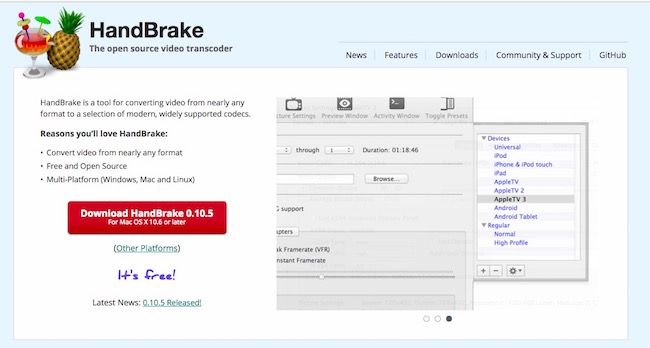 HandBrake is another open source video compressing software which is highly popular due to its advanced functioning. The video compressor support variety of video formats and is compatible with Linux, Windows OS, and Mac. In Output settings, users get multiple options to manage output parameters, apart from that you can change the percentage of video quality, codec, video FPS and more for optimization. The software includes pre-set video compression settings for various types of devices and offers Live preview option too.
5. Total Video Convertor (Windows, MAC)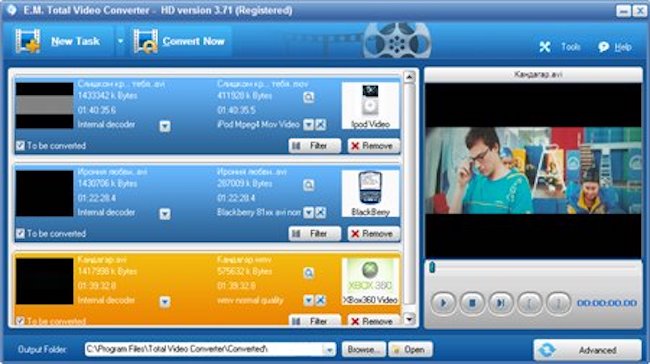 Total Video Convertor is a robust video encoding software which allows users to compress the size of the videos to make them suitable for their devices. You can quickly alter the video quality, format, and bit rate without having technical skills like a professional. The tool is famous for its ability to convert videos and audio files of any formats into others. Across the globe, many people use this software to crop, compress and convert videos.
Free Trial Available with Pro Starting from $29.99.
6. Avidemux (Windows, MAC, Linux)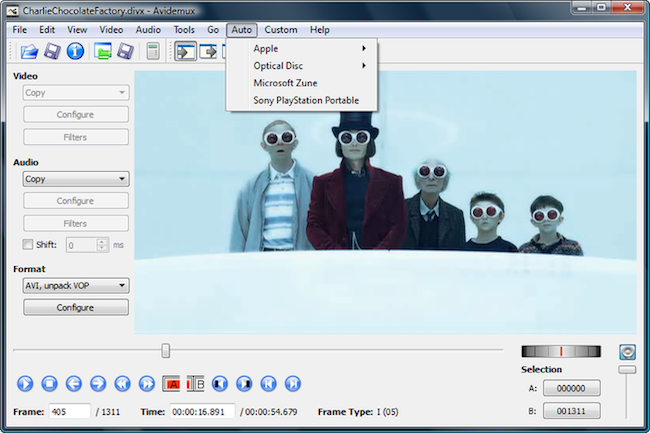 Avidemux is undoubtedly one of the best free video compressing and editing software which is specially designed to handle multiple tasks such as cutting, encoding and filtering effectively. Avidemux video compressor tool provides support for several file types such as AVI, MP4, etc. and features job queues and projects that allow users to automate the video processing tasks. The software is compatible with Microsoft Windows, Max and Linux and includes options to modify bit rate, codec, frame rate and more.
7. Sorenson Squeeze (Windows, MAC)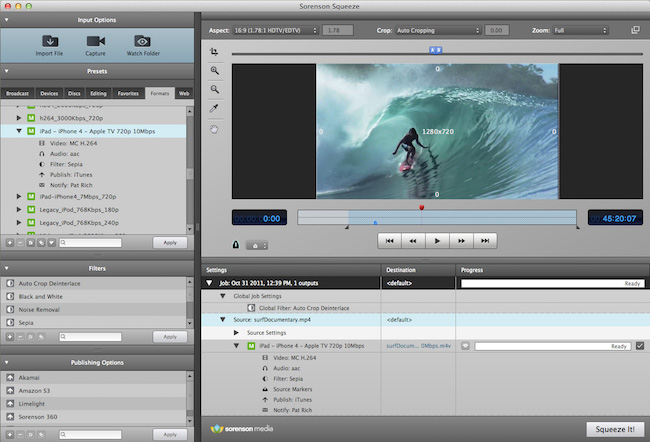 Sorenson Squeeze Compression suit includes several useful features and provides efficient video encoding solutions. The software is highly popular among professionals in many regions. The new version of the compression software packs multiple video codecs like Sorenson Spark Pro, Video Pro,  AVC Pro and MPEG-4 Pro. You can encode video in many compression formats like Windows Media, QuickTime,  Flash Video and more. It lets users choose small and large screen sizes and bitrate to get the best quality.
Free with Price Strating from $99 for Small Business. 
8. Free Video Compressor (Windows)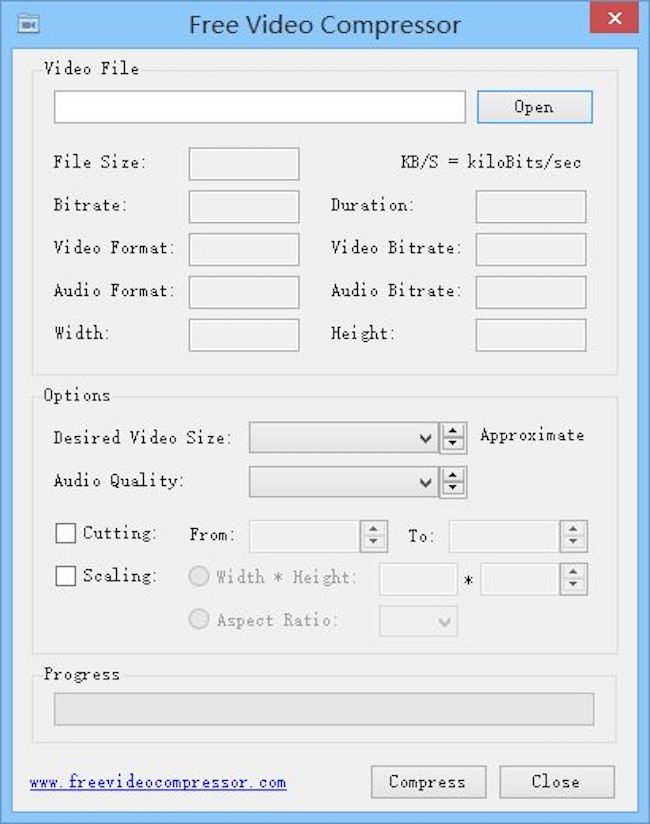 As the name suggests, Free Video Compressor can be downloaded and used for free, but for non-commercial use only. It is a straightforward and light video compressing tool which helps you to reduce the size of your video file quickly and supports almost all kinds of video file formats like AVI, MPEG4, FLV, WMV and more. It has a fresh user interface that displays the properties of the video when you select it. You can choose the video size by using the compression option from 10 to 90 percent and also lets you adjust the audio quality by changing the bit rate. It features Scaling option to set the height and width of the video and allows users to set aspect ratio.
It's a Free Software.
9. Free MP4 Video Converter (Windows)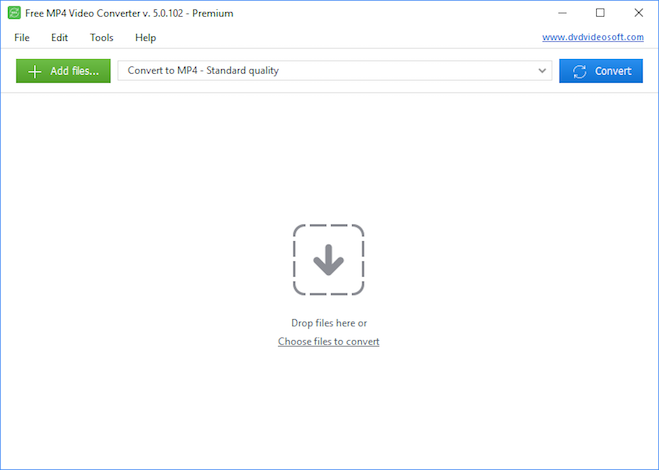 It is an adaptable video compressor that supports various video file formats, and lets users make their videos smaller without any hassle. It provides the facility to choose the output format along with the quality as per the format of the video. The compression options include High Quality, Full HD, 720p, Normal quality, NTSC solutions and more. The software also allows users to compress videos in bulk and you can choose from a variety of input formats such as AVI, MPG, MP4,  3GP, FLV and much more. You can save output files into MP3, MP4, AVI, WMV, FLV, etc. as per your preference.
It's a Free Video Compressor Software. 
10. Miro Video Converter (Windows, MAC, Linux)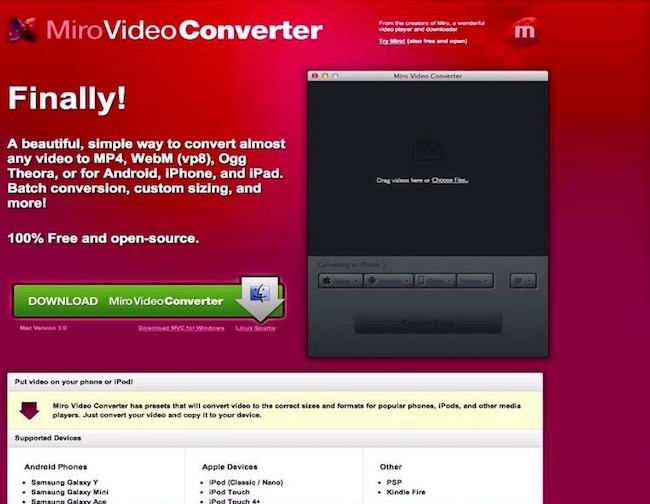 Miro Video Converter is one of the best video compression software and offers simple drag and drop functionality. All you need to do is just open a video in the compressor or drag it over there and choose from the compression options that are given. Choose from a large number of devices or perform custom compression. Alike the previously mentioned software, Miro Video Converter also allows users to compress videos in bulk. The software provides support for several formats like Play Station Portable, Android Phones, Apple devices, Android smartphones, etc. It's a Free video converter software.
11. Any Video Converter (Windows, MAC)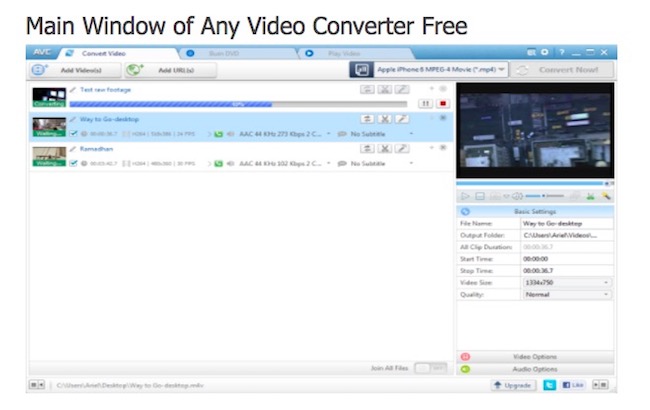 Any Video Converter has a free version which offers easy drag and drops functioning for video compression. The process is simple, and all you need to do is add the video from any URL or CD/DVD, select a format or a device and choose from the parameters given for compression. You can also change those parameters from the Basic Settings which is a tab available at the bottom of the user interface and adjust audio as well as video quality. Its software supports the large amount of input formats such as MP4, WMV, AVI, FLV, TOD, etc. and output formats like HTML5, 3GP, FLV, MP4, WMV and more. It supports devices like iPhone, iPad Mini, iPad Air, Apple TV, Android devices, Xbox 360, etc.
It's a Free Video Compressor Software. 
12. Hamster Free Video Converter (Windows)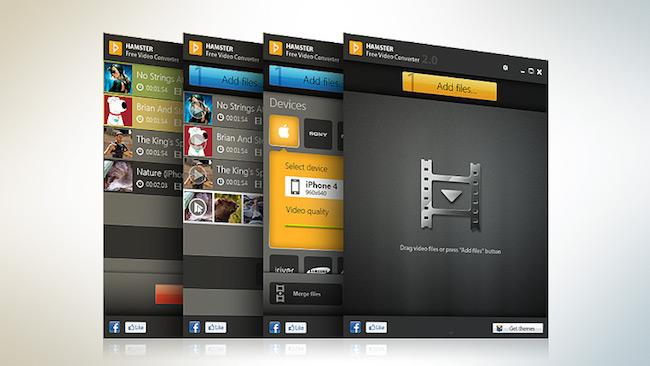 Hamster Free Video Converter is an advanced video compression software which is free to download and offers simple processing. It allows users to select a new format to compress the video and retain the old one and choose from the compression parameters. It also lets users customize the codec, frame size, audio quality, bit rate and adjust the video quality accordingly. It can compress and convert videos for devices such as Samsung, Apple, HTC, Motorola and more. It provides facility to compress single or bulk videos as per the specifications set for the device.
It's a 100% Free Video Compressor Software. 
13. Oxelon Media Converter (Windows)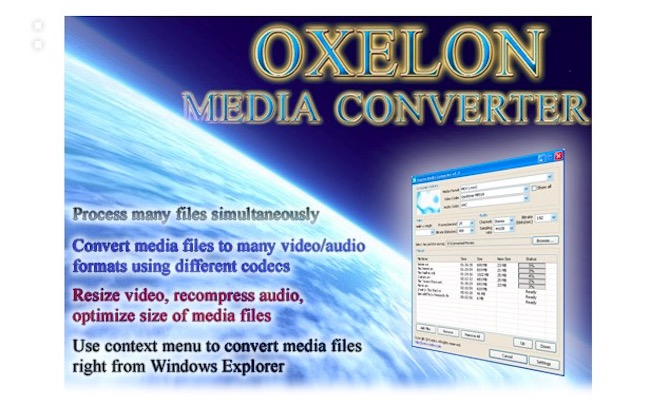 Oxelon Media Converter is a powerful video compressor that is free to use. It offers easy functionality and users need to add the video file and click on the Conversion tab to start the compression process. You can choose the output format, video size, codec for audio and video, bit rate and audio channel for the video that you are going to compress. It supports various video file formats such as MP4, FLV, M4V, M1V, MPEG2, 3GP, etc.
It's a Freeware Video Compressor and Converter Software. 
Some of the above mentioned best video compression software lets you add your favourite videos directly using the URL or from a DVD/CD and compress/ convert them as per your preference. There is no need to be a technical expert to use them as they are capable of doing the hard work for you.