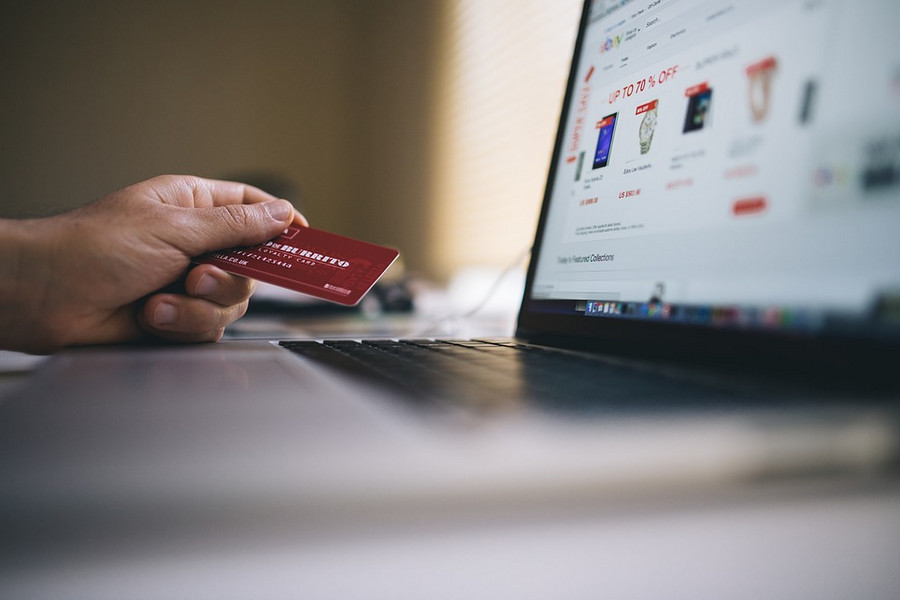 Getting Best Credit Card is everyone's wish these days offering most benefits. In comparison, we have seen massive growth in Credit Cards than earlier as you can easily spend limited money using your Credit Card and pay it later. We want the best Credit Cards, but we forget to learn how to use it.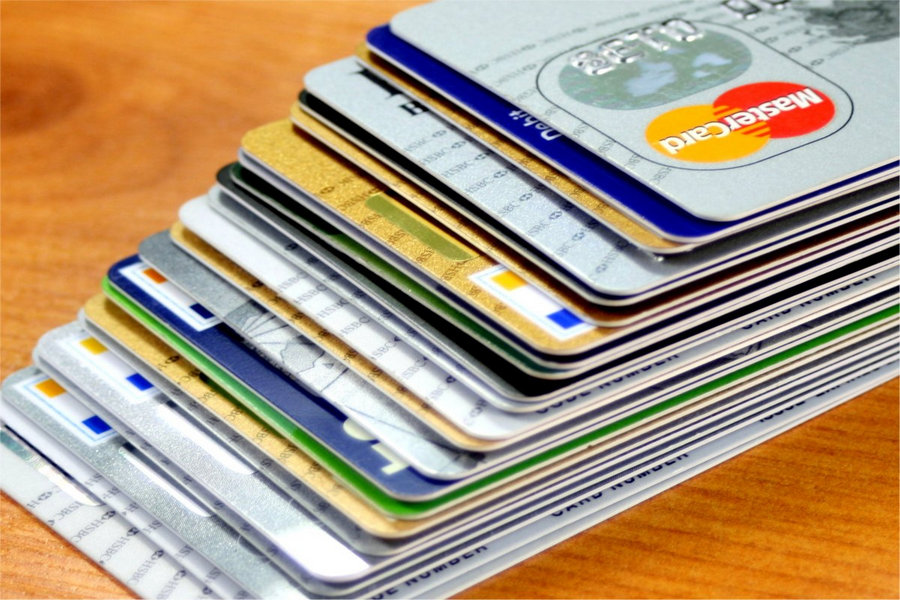 Likely, paying your monthly Credit Card Bills on time is very important and should be done before the due date to avoid late fee penalty. So learning the best way to pay your bills will help you avoid missing the due debt date and inciting penalties. However, the way we used to bank in earlier has come a long way and now has become very easy and convenient to access the online banking services. Still, paying your Credit Card bills can be a hassle if you are not familiar with the process.
Currently, all the banks which offer Credit Cards offer a variety of payment modes for their Customers to make payment using online as well as offline modes. So in this article, we are going to tell you few very convenient and comfortable ways to make payments online and offline. You can use any of the methods to pay your Credit Card Bills. Some common ways are paying through cheques, demand drafts, debit cards or visit your Bank or using ATM. We have also explained each method in a proper way to make as easy as possible for you.
Online Methods for Credit Card Bill Payment
In the generation where everything is going digital, all the banks have also moved towards the more Internet Banking. Internet Banking is similar to a one-stop solution for everything related to Banking and has simplified the way we bank.
Now, making payments on your credit card has become much more accessible. Almost all banks facilitate the Internet Solutions for Banking, the smaller banks are also switching towards Digital Bank to provide the same convenience to their customers.
So if you are looking for the ways to pay your Credit Card Bills Online, following are the payment options:
1. Credit Card Bill Payment by Online/Net Banking
To pay your Credit Card bill using Net Banking, you can follow the given steps:
Visit your Bank's NetBanking Web page.
Login in into your NetBanking Account using IPIN and Customer ID/username.
Now check out your Credit Card Purchases, Statements and Payment due dates and the Outstanding Amount.
Select your credit card and click on "Pay Bill Now."
Choose your Bank Account to be used and complete the payment by entering the Amount.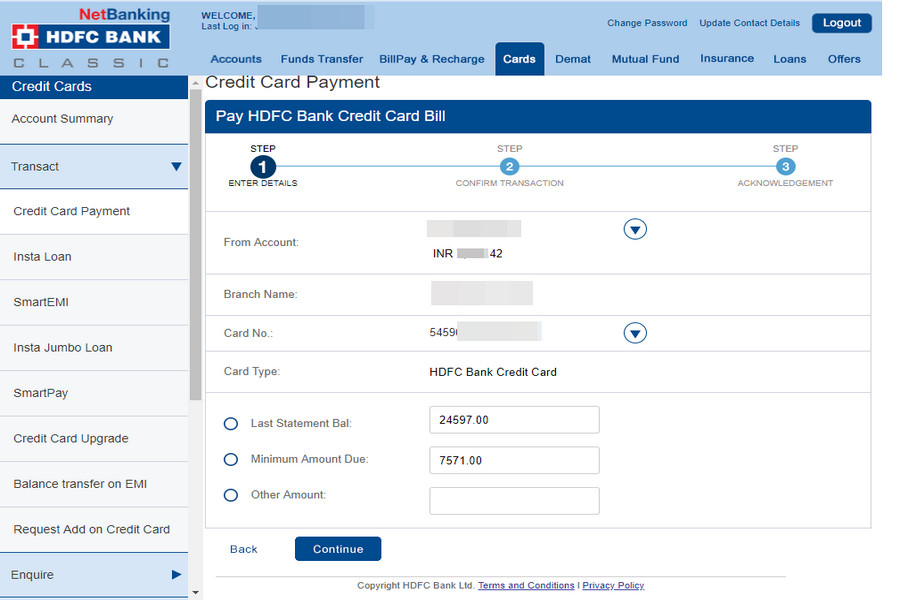 Paying your Bills using Online Banking is the most convenient and fastest way as the maximum chances are that amount reflects on your spend limit the same day or next day. You can use this method to pay without going anywhere.
If you don't have a bank account with your Credit Card's Bank, do not worry, all the big banks have an own portal their Standalone Credit Card Holders.
Note:
 You NEED to have an Activated Net Banking Account to Pay your Credit Cards using Online Banking
2. Credit Card Bill Online Payment by Debit Cards
This is another convenient option to pay your Credit Card bills by simply using any of your Debit Card. However, you may not find this option available on every Bank Portal but found in some banks like ICICI has this option on their Click to Pay Portal.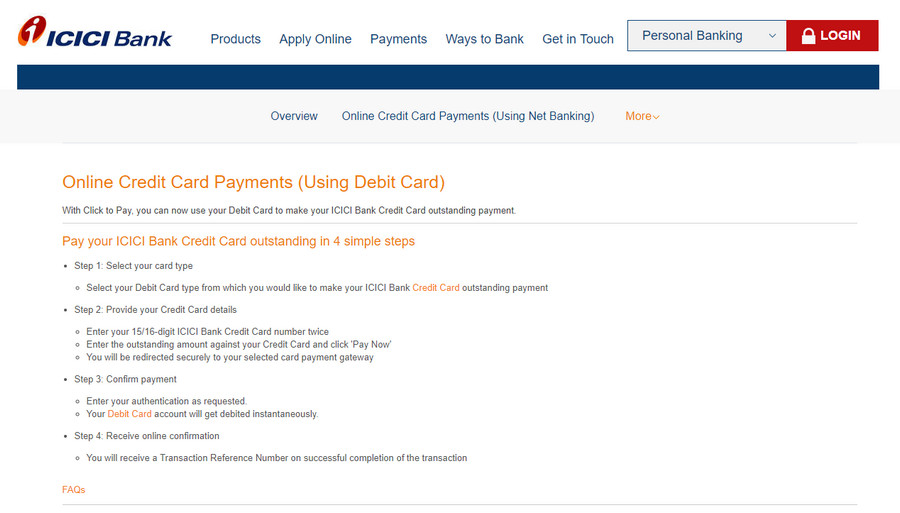 With this feature, enter your Credit Card details and the Amount you need to Pay. This option is available with few banks such as ICICI Bank via its portal Click to Pay. Later, enter your Debit Card Details for a successful Bill Payment. The transaction is processed Instantly.
3. Credit Card Bill Online Payment by NEFT/IMPS
As we see more advanced Payment methods or Money Transfer methods, NEFT (National Electronic Funds Transfer) and IMPS (Immediate Payment Service) can be used to transfer money instantly. You can login to bank's online banking service and transfer money using any of two methods.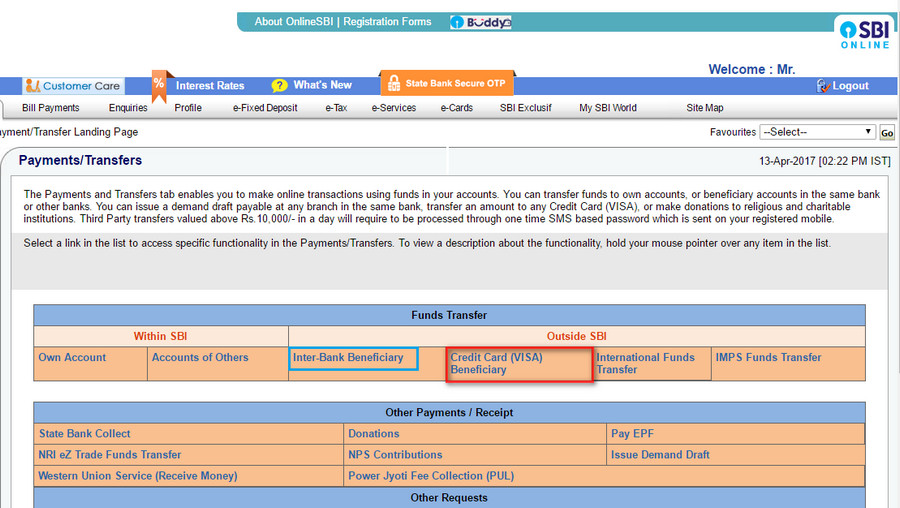 However, you cannot use RTGS (Real Time Gross Settlement) to make a credit card payment. Alternatively, NEFT and IMPS services are accepted all over India and are one of the easiest ways to make a payment.
To make a payment, log in to your Net Banking Account of your Bank.
Choose the NEFT payment method and enter the required information accurately including beneficiary name, Account Number/Credit Card Number, Bank Branch and IFSC code.
Proceed to the Payment Gateway to complete the transaction. After a successful transaction, NEFT can take upto 1 working day to be processed.
For IMPS, choose the service and follow the same instructions and it will be processed instantly.
4. Credit Card Bill Payment by Bank Browser and Mobile apps
As more advanced technologies have evolved we certainly have an online solution for everything and same goes for banks. Now banks have particular applications as well as their mobile banking app which can be used for your Net Banking Services and your Credit Card Bill Payments.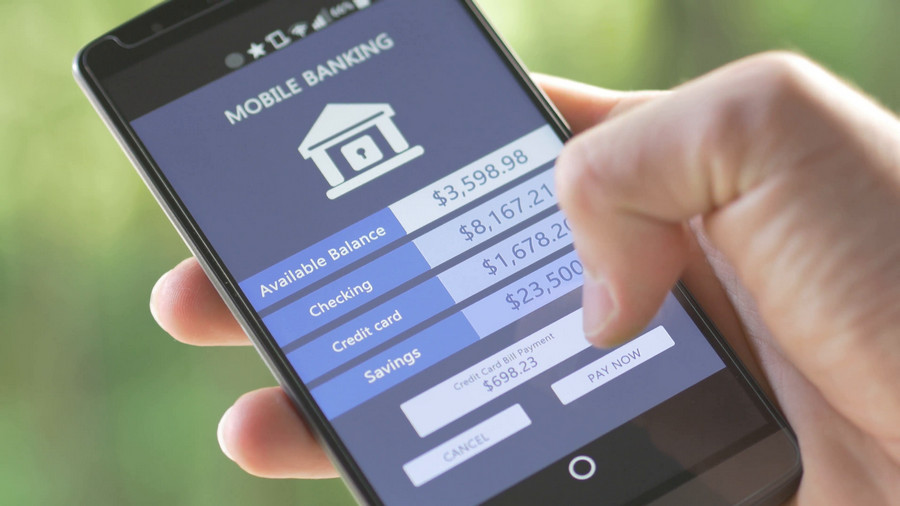 However, using their official Mobile apps are best and convenient way to make payments as they are trusted and can be used just like a standard app on your smartphone anywhere, anytime. Just log in, select Credit Card and make payments.
5. Paying Credit Card Bills by Standing Instructions (AutoPay)
For ease of on-time Credit Card Bill Payments, most of the banks have a feature or facility to debit the outstanding amount from your Savings Account automatically. This is a great way to avoid late fee charges which are very on some banks upto 1000 rupees a month.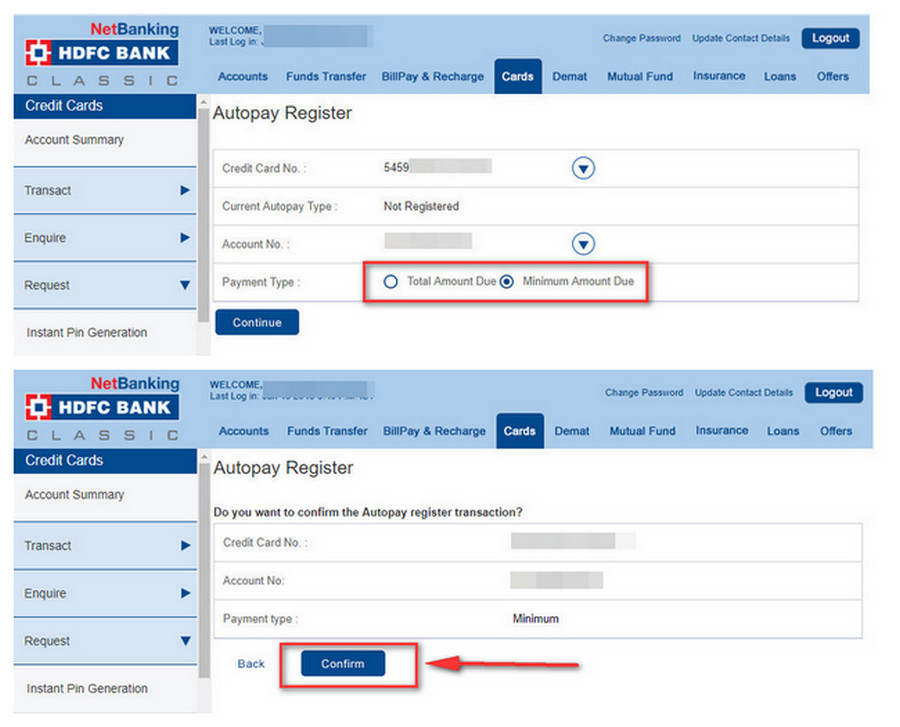 In this AutoPay feature, you also get an option to Pay the full amount or the minimum amount due to debit every month from your Bank Account.
6. Payment of Credit Card Bill by Payment Gateway or 3rd Party Portals
Now as the world is going crazy over accessibility and ease with mobile apps, banks have also tied up with many payment gateways and or 3rd Party Applications for you to pay your Credit Card Bills. Apps like PhonePe, PayTM and other wallet application also provide the facility to pay the bills.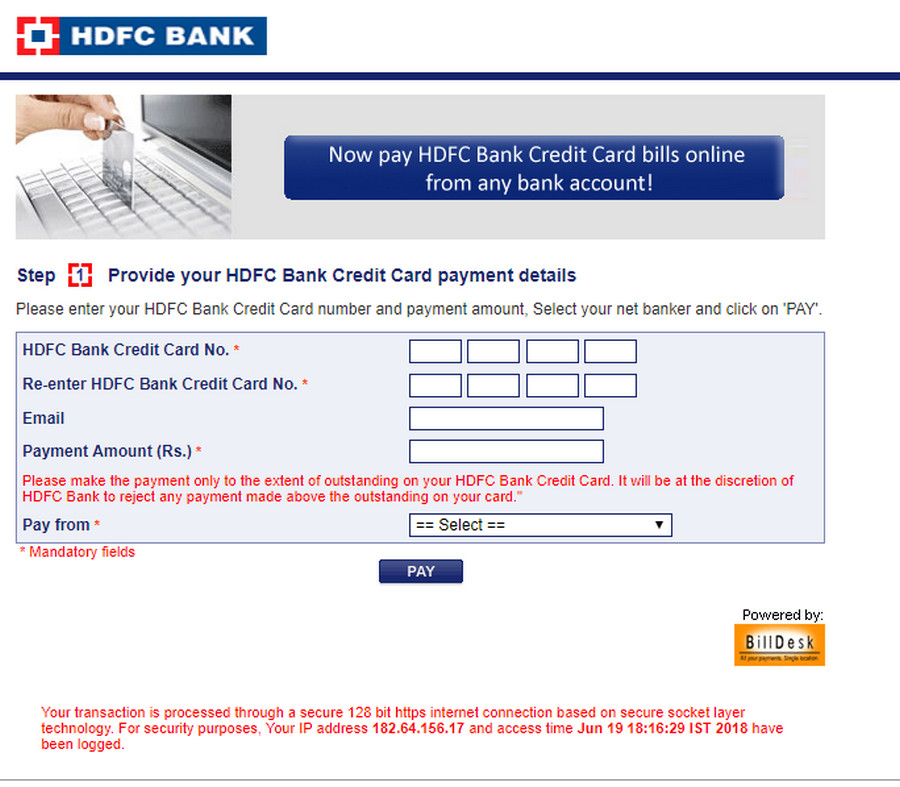 Whereas Visa Money Transfer and Billdesk are one of the popular portals to process your Credit Card payment which usually takes about 2 working days to reflect on your Card.
>> Benefits of Paying Credit Card Bills Online
Paying your Bills online has few benefits which you should know so that you can enjoy the Online Banking Services effortlessly. Have a look at the following benefits using Online Payment Methods:
Paying your credit card bill now hardly takes a while. It also saves a lot of effort from you visiting the Bank or ATM to pay the bills.
Apart from Saving time and effort, these payments can be made from anywhere with an Active Internet Connection. You can pay your Bills right from your Home or Office. You can use your Smartphone or Computer for paying your Monthly Bills from anywhere around the World.
Unlike earlier days, Online Banking has now secured with IPIN and many other ways to authenticate your identity. With the increase of security by RBI and individual banks, they have opted for many features to ensure your privacy and identity are protected. With these advanced features, the risk of losing money or any bank account related information is very least.
When you online banking services, your every activity (money transfer, paying bills, etc.) is recorded instantly and can be reviewed whenever you want. All the information are organized according to the date and time with the Transactions IDs and more required information. All this makes it very convenient to track down your budget and expenditure to file ITR.
You can prefer to pay the minimum due or any amount you wish to pay for your Credit Card Bill online. You also have the choice to pay the full amount, and that's your choice with each bill.
While you pay online, you are also contributing in heading to an eco-friendly environment. Paying online saves papers, cheques, envelopes, receipts, and stamps. You also need not search for statements in the clutter as everything is sorted online.
>> Important points while making online payments:
Review Your Credit Card Statement:
The first thing you should keep in mind before paying your Credit Card bills is to check your monthly bill statement. Check if all the charges to the card are accurate and the exact amount you need to pay before the due date.
Before you pay your bills through any third party services, it is always great to check the payment processing time it would take for your Bills. It is always best to make payments through the bank's Internet Banking Facility as the payment's turnover time is the same day. So we highly recommend you to use this option for making payments on the due date to avoid any penalty.
Other online payment methods can take at least 1 working day which can exceed upto 5 working days. However, you can use IMPS transfers which is available 24 x 7 and are very immediate whereas NEFT facility is only available during specified working hours of the individual banks.
Provide Accurate Information: 
While you pay your Bills, make sure you enter all the card, bank and other details accurately. Do not be in a hurry, take time to double-check all the details you have entered and pay the right amount.
Offline Methods for Credit Card Bill Payment
Alternatively, if you are not very familiar with the Online Methods, you can also choose to pay your Credit Cards Bill offline by using one of the following methods:
1. Using Electronic Clearing Service (ECS)
It is the fastest, safest as well as cheapest service for paying your Credit Card Bills. For payments, you can anchor instructions to your bank or any other bank to process a payment towards your credit card every month. The payment to be made can be chosen from the minimum due amount or the total amount due as per your choice.
2. Using Debit Cards at ATMs
Another most convenient way of paying your Credit Card Bills offline is using your Bank's ATM. You can use your debit card at the nearest Bank's ATM to clear your card dues. However, this facility depends on individual banks but can be found in all significant bank ATMs.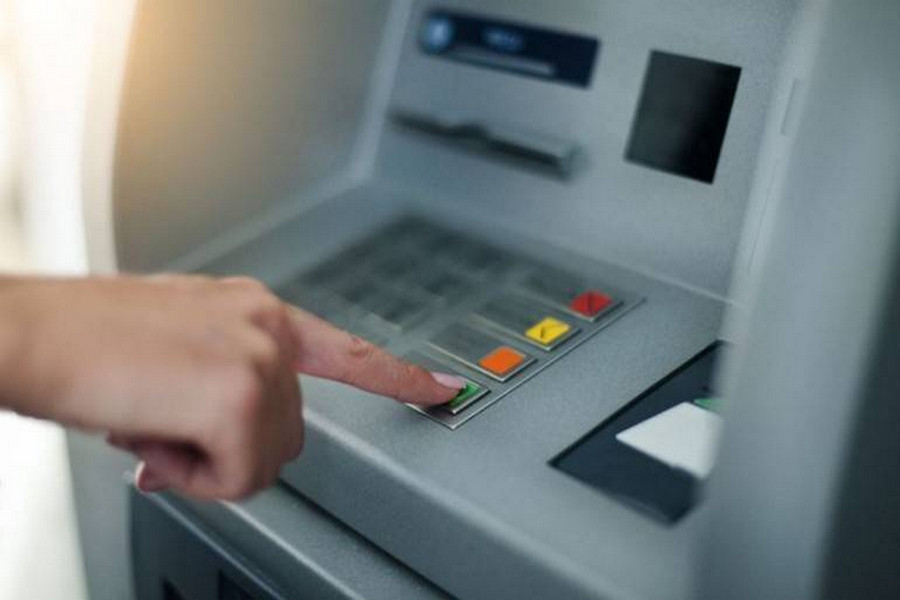 To make a payment, just head to the option of Bill Payment and follow the shown instructions of the ATM. The amount you pay will be debited from your Current or Savings Account.
3. Visiting Bank and Paying on Counter
This is a traditional way of paying your bills by visiting any branch of the Bank and pay in cash at the counter. However, you might be charged with a small fee for availing this service.
4. Using Cheques and Demand Drafts
You can sign out a Cheque or Demand Draft in favor of your Credit Card and deposit it in either a drop-box or cheque payment machine. These boxes are available at every bank's AYM or branches.
5. Paying through SMS
A few big banks like HDFC, CitiBank, and ICICI have the facility to send an SMS to a designated number. You can pay bills by sending an SMS with your Savings or Current Account Number and your Credit Card Number. However, this facility is little confusing, and we do not recommend unless its very urgent or you are out of the Internet.
Conclusion: Paying your Credit Card Bills Online
Paying any bills may that be electricity, water, gas or even your Credit Card is now available online. You can quickly pay your Monthly Bills within few clicks using any of the methods mentioned above. Online payments are fast, secure and can be done whether you are in office or home. However, if you trust the offline mode more, we have also listed few most convenient methods for Offline Bill Payments.
We are sure our research for Credit Card Bill Payments will help you in a significant way, letting you know more about the credit cards. So, if you like our article, do share it with friends and family who own a credit card to let them know the best methods for bill payments.