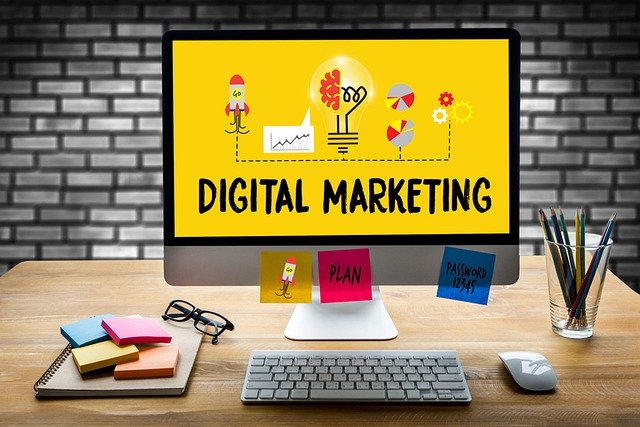 Digital marketing is becoming an increasingly important tool in any business's overall marketing strategy. More and more people are interacting with businesses online – whether that's through their website, social media platforms or simply finding information via a Google search. 
Over the past five years, digital marketing has changed dramatically. New platforms, new developments and rapid growth in the number of people accessing information via their mobile devices have meant that businesses have had to be agile in order to keep up with rapidly changing trends within digital marketing.
As we head in 2022, it's time for businesses to consider the most important digital marketing tactics that are likely to lead to growth in their business and prioritise the tactics that will generate the biggest return on investment (ROI). At the end of the day, ROI is the key metric that all digital marketing tactics should be measured against. 
Here are some of the digital marketing tactics that are likely to deliver the best ROI in 2022 and beyond.
Search Engine Optimisation (SEO)
SEO has been a staple of digital marketing strategies for a number of years now and it is a tactic that continues to drive strong ROI when done well. SEO is the practice of optimising your website and the content on your website for the keywords that people are searching for in order to discover businesses like yours. 
There are a number of elements that contribute to your website ranking well organically. First, there is the technical setup of your website. How fast it is. How easily it can be crawled by search engines like Google and how the content on the website is structured. Secondly, there is the content itself. How well does it match the searcher's intent? How authoritative is it? And is it trustworthy information? Finally, there is the strength of your website and this is impacted by things like the number of external links pointing to your website, as well as the way it has been built. 
Outside of the time taken to optimise your website, SEO is a free digital marketing tactic. You don't have to pay to rank well in the search results pages – you simply need to create engaging content and deliver it in a way that makes it easy for the searcher to find and digest the information on the page. You can, of course, work with a digital marketing agency with expertise in SEO and this will incur a cost, however, this can sometimes deliver a big payoff if they can optimise your content for keywords with high search volume that lead to an increase in sales and revenue from your website.
Social Media Marketing
Like SEO, social media marketing is free except for the time that is needed to set up and manage your accounts. Don't, however, underestimate the amount of time this can take. Monitoring comments and messages, posting regularly across a number of channels and coming up with creative content like images and videos can be extremely time-consuming and if it is done poorly, can lead to a low ROI on the time invested to create the content. 
When done well, social media marketing is a great way to build your audience, provide a channel for them to engage with your brand and to publish and promote your content. Over the past five years, the likes of Facebook and Instagram have made adjustments to their algorithms to make it harder for businesses to appear organically in social media feeds. This forces them to invest in social media advertising and whilst this seems like an unnecessary cost, this can also lead to a strong return on investment when done well.
One of the key benefits of social media advertising is the level of targeting that can be carried out. You can create audiences based on a huge range of factors including location, gender, interests, age and more. This helps to narrow down your advertising and ensures that your content is only seen by the people that are most likely to be interested in your products and services.
Email Marketing
The third digital marketing tactic that businesses should focus on in 2022 and beyond is email marketing. This is another tactic that has stood the test of time, however, there have been changes in the way businesses approach email marketing over the past five years. 
Email marketing focuses heavily on lead generation and lead nurturing and when done well, your email marketing campaigns can take customers on a journey from awareness to purchase. 
According to Web FX, email marketing has the potential to earn $44 for every $1 spent. That is an ROI of 4400%. It's no wonder businesses continue to invest in this tactic.
Again, email marketing presents a potential free opportunity for businesses depending on the size of the database you are reaching out to. For smaller businesses, free packages on platforms like Mailchimp allow them to carry out email marketing campaigns that enable segmentation and targeting based on the information contained in their databases. The better that information, the better the targeting.
Whether you are looking to raise awareness around a new product release or letting people know about your latest sale, email marketing allows you to reach out to your audience, directly into their inboxes. Email marketing campaigns are highly measurable and this helps you to tailor future campaigns, improving your ROI along the way.
Learning from the best
No matter the size of your business, you should never stop learning from the best. The biggest brands in the world are using these three tactics every day to continue to drive visitors to their website, discover new products and ultimately, make a purchase. 
Amazon, Etsy and Macy's are all leading brands that are investing in SEO in order to increase brand awareness and increase sales and revenue. Their tactics are no different to the ones that small businesses should also be looking at. Writing great product descriptions that are unique, writing content on blogs to help to raise brand awareness and adding structured data to tell search engines more about the content on the page are all tactics that can be deployed by businesses of all sizes.
Online casino Betway is committed to content marketing. They have a multi-disciplined team of journalists, designers, video producers and social experts who create compelling content for digital and social platforms. From interviewing professional athletes and providing quality betting insights, to epic video production, they are a great example of a big brand that is maximising the ROI of its content marketing. 
When it comes to social media campaigns, brands including Nike, Lululemon, Spotify, GoPro, Starbucks and National Geographic are all using social media platforms to maximise their reach and engagement, helping to build brand loyalty and, with recent developments to platforms like Instagram, also drive sales.
These are some of the biggest brands in the world and they recognise the value of SEO, social media marketing and email marketing. Learn from the best and invest in the digital platforms that deliver the best ROI for your business.