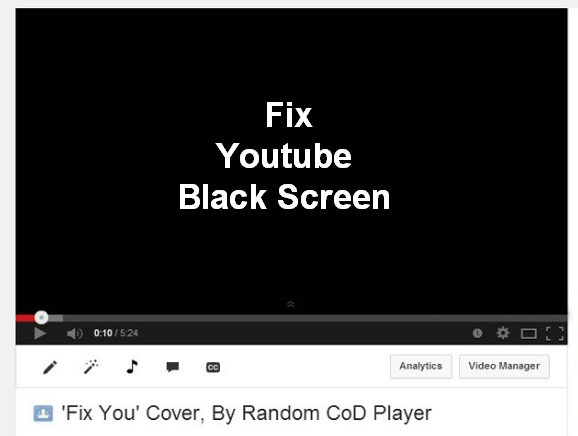 It is since then that changed the world of videos and learning loads of other stuff by visualizing after YouTube came into the world of internet. YouTube, which is headquartered in California's San Bruno is an American video-sharing website and this service was created by three former employees of PayPal in February 2005. It was then purchased by Google in November 2006 and now as one of Google subsidiaries, it is operated.
The site now enables users to view, upload, share, add to favorites, rate, comment and report on videos. It makes use of technology such as H.264/MPEG4 AVC, WebM, and Adobe Flash Video to display a huge variety of corporate-media and user-generated videos.
Contents, including TV show, music videos, video clips, documentary and short films and other contents such as blogging, short educational and original videos are also seen on YouTube.
Now those who frequently access YouTube they might have faced the issue of black screen on YouTube. It is because of the numerous techniques that are operated behind such technical devices and apps. So if you are exasperated by this black screen issue of YouTube, below are solutions how to fix it the black screen problem on YouTube.
YouTube Black Screen Problem and its Solution:
Here are the black screen problems on YouTube with their respective problem fixing methods.
Problem 1
One of the familiar problems that users face with the black screen issue of YouTube is during the loading process the screen abruptly turns black. The video doesn't stream, but the page keeps loading. No sound or pictures appear while this happens only blank screen is visible.
Solution
In some mere cases it is seen that slow internet connection is the reason behind it, so once the user gets their connection checked and upgrades it to higher speed the problems gets solved.
For those who are MAC users and log in to YouTube from Firefox browser, then logging out can help them to fix this problem.
Another way of solving is clearing up "history", "internet files" and "cookies". There is another method which you can follow is; first go to "tools" then "quick preferences" then "site preference" where you need to edit then click the "network tab" and then go to "browser identification" and identify it as Firefox.
Problem 2
Those who use Firefox browsers as their default browsers, they often face this black screen problem.
Solution
It is seen this problem occurs due to some internet bug issues which can be solved by the following ways;
(i) First, go to the "option" menu and disable the Firefox hardware acceleration by selecting the option " use hardware acceleration when available checkbox". After this restart the browser.
(ii)  Open the Firefox tools option, then "privacy settings" then select "custom settings" and delete all the cookies from YouTube cookies. These two methods will help fix the black screen issue.
Problem 3
Chrome users who access YouTube from this browser have faced this problem where the screen appears to be black and also with a buffering logo where the actual video doesn't open after a prolonged wait.
Solution
Users have recommended this "https://chrome.google.com/webstore/detail/disable-youtube-html5-pla/enmofgaijnbjpblfljopnpdogpldapoc/related?hl=en" extension for a convenient result.
Another way of solving is similar like that of the Firefox hardware acceleration disable by going to "system settings" then "systems in the "advanced settings" segment and setting it to "Use hardware acceleration when available".
Problem 4
It is also seen that the YouTube black screen problem still appears even after deleting cookies just after watching a few videos which seem to be very disturbing for the users. It only permits few videos to play when the cookies are blocked, but the black screen issue resumes soon.
Solution
Feedback from users has depicted the fact that new installation of the Firefox browser is creating such problem where a "no script" option after updating is missing in the process is creating this black screen effect. So installing "No Script" can help to get rid of this problem. So in order to do so first open "tools" then you need to access "add-ons" and then enter extensions where you need to find the missing update and install it.
Problem 5
The users of the newest version of chrome came up with the complaints where the screen is black with no video display, but audio plays on without any interruption which is quite surprising. Some Firefox browser users have reported the same problem.
Solution
It is regarded that use of multiple browsers at the same time or an interrupted service of internet connection causes such problem. In some cases, it is assumed that problem may also occur due to Flash player. Thus, usage of a single browser while playing videos on YouTube and re-installing the Flash player will help solve the problem of black screen on YouTube.
Problem 6
The YouTube black screen problem has also appeared on browsers other than Chrome and Firefox.
Solution
If you find this issue on other browsers apart from Firefox and Chrome then you can fix it by HTML5 player. By clicking on this given link from, the browser you are using "www.youtube.com/html5", request to play HTML5 player on your YouTube you can easily fix the problem.
Some other solutions for the YouTube black screen problem are:
Various usage of anti-virus and adds block apps cause the black screen problem on YouTube and this mainly seen with Firefox users. Disabling the add block apps or updating to the latest version can help to solve this problem.
You can either refresh or reload the page or you can also restart the browser itself that you are accessing by opening up safe mode can help fix the issue.
While playing and watching the video do not open more than 5-6 videos at a time. Since the browser memory gets filled with a lot of cache object the black screen problem appears. Clearing the browser data in such cases and re-opening the browser helps fix the problem.
Adobe flash player is another reason behind a YouTube black screen functioning. So uninstalling the current flash player and installing the latest version on your PC can solve the problem and make sure your browser has Javascript is on.
All these are the possible solution methods to get rid of the black screen on the YouTube and help you to enjoy uninterrupted service on YouTube.
If you still facing the problem of YouTube black screen on your desktop or laptop, do let us know. Also, if you are not able to follow any of the solutions we have listed below and know some other solution, contact us and we will include in our article