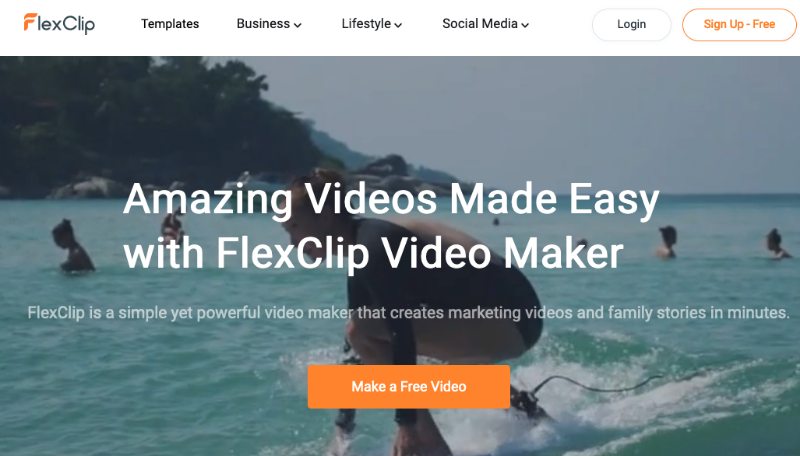 What I bring you today is a tool that really surprised me for good. I tell you what it is, because of my blog and my social media channels, many companies that have products related to digital marketing contact me to offer me a free trial of their tools, in fact, I only write about tools that I consider myself would use and for hence, I would recommend to my audience.
That's where FlexClip appears, for those who have never heard of this tool, it is a video creator that accepts the different formats of digital marketing and social networks.
Video creation is often time-consuming, as processes get a little cumbersome, search, edit, trim, add music, add subtitles. The same thing happened to me when I had to generate some type of video for social networks.
Last week, the people of FlexClip contacted me to give me a demonstration of how the tool works, and I always think that everything that glitters is not gold, but as they showed me the features, more and more I felt which was the tool I needed.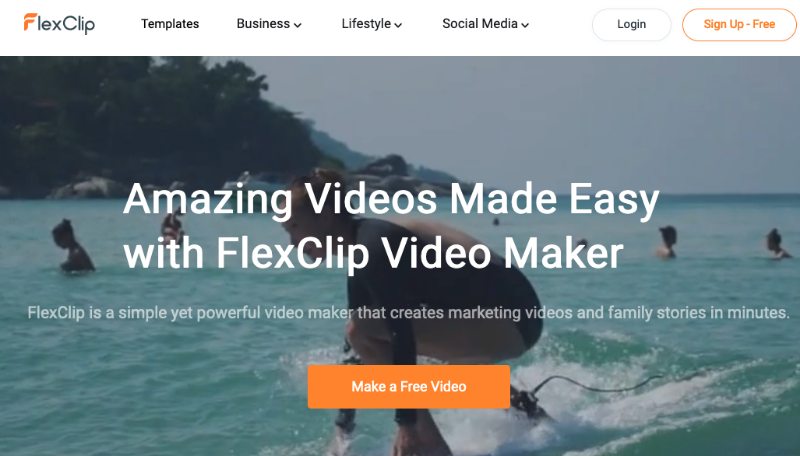 What is FlexClip?
Explaining a little more in-depth what it is, FlexClip is a tool to create videos for different purposes without having to master the video editing skills and knowledge. It is:
 A bank of pre-designed video templates
 A bank of royalty-free video clips
 A professional image bank
 An advanced video editor
 A royalty-free music bank
Pre-made Templates
I do not know if you have tried to make videos for YouTube, Instagram, or Facebook, but one of the issues that often becomes a bit problematic is adapting the video to the format, especially if you work with a complicated video editor. In this case, FlexClip has pre-designed templates adapted to the size of each social network.
Another interesting aspect in relation to pre-designed videos is the possibility of choosing the category based on the type of video you want to create. FlexClip has a large number of categories segmented by market type or format.
Once you have selected the format and category you can edit the template and add your content, this is where the editor comes in with which you can:
 Modify fonts
 Add music
 Add images
 Delete a part of the video
 Add your own logo
 Add stickers
 Add transitions
 Add audio by recording via microphone
Actually, the video editor is very versatile, and with many functions, if I start explaining this article one by one, it would be endless. In the end, you just have to export the project, and in a few minutes, you can use the video to upload it to your social networks or create your advertising campaign.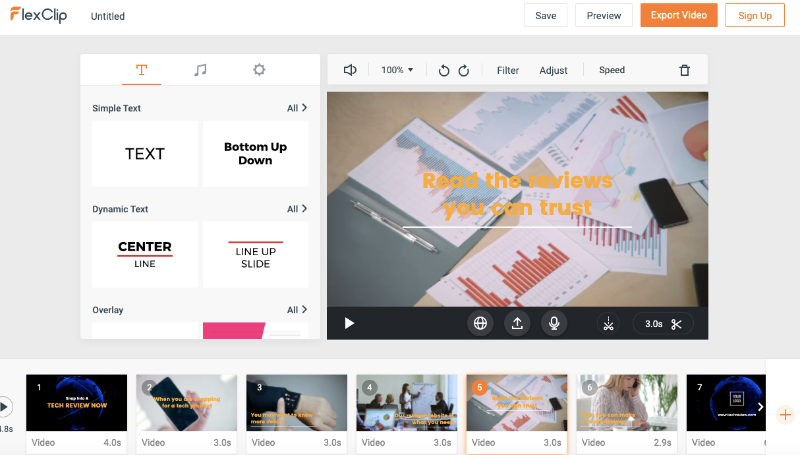 Start from zero
The second option is to create a video without the use of pre-designed templates. In other words, if, for example, you are the one who has created the video and you only want to add animations, subtitles, or music, what you can do is use this option and create your own video from scratch. The first thing that will ask you is to select the type of format that you need to use.
The editor used in this way is exactly the same as the one used in the pre-made templates so that you can use the same functions.
The good news about all of this is that FlexClip has a free version that you can use to get familiar with the tool. The other good news is that the professional version is relatively inexpensive. The cost would be $4.99 per month for the Basic plan and $7.99 per month for the Plus plan. I generally use Camtasia to create my videos, and the license is not cheap, imagine if I have to buy stock videos, stock images, and stock music.
Conclusion
For me, FlexClip is a solution to a recurring problem when creating professional videos, a complete suite of resources that will help me from now on, not having to spend so much time and money creating my videos. Have you ever used FlexClip to create and edit videos? Leave your comments below if you have already tried it.