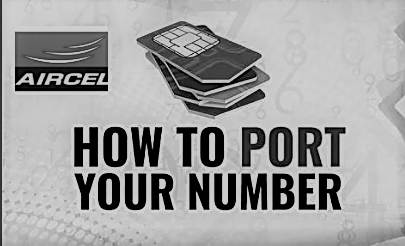 Aircel recently filed for bankruptcy, due to that telecom Regulatory Body ordered the company to generate a Unique Port Code. The company has already shut down its services in various states and further the users are facing lots of problems. Sooner it will end across the whole country. The best option is to port Aircel number.
The generation of Unique Port Code (UPC) will facilitate the Mobile Number Portability and hence you will not lose your number. TRAI has ordered the company to work for the request of porting-out by UPC. The UPC generated is valid until 15th of April 2018.
How to Port Aircel Number to Jio, BSNL, Airtel or Vodafone
Let's check What is porting and how users can Port their prepaid or postpaid Aircel Number?
How to Get Unique Port Code and Port Aircel Number?
MNP- Basically, MNP (Mobile Number Portability) means transferring of your current mobile number network to some other mobile network. In this process, your number will remain same, only your mobile network or company will change.
UPC- The Unique Port Code is currently getting generated in Aircel Network as the company is facing bankruptcy. TRAI has ordered Aircel to generate a UPC for all the Aircel Prepaid and Postpaid Customers.
Steps to get UPC for your Aircel Number
Type a message consisting PORT which will be followed up with space and your Aircel Number and send it to 1900. For example "PORT<SPACE>Mobile Number" OR "PORT<SPACE>9xxxxxxxx0"
You will further receive a text from their end, stating that they have received your request.
After this, You'll receive a UPC.
Save this code, and use it before the valid date
Go to the nearest store of the network(Jio, Airtel, Vodafone, Idea or Docomo) you want to port in.
Take the necessary documents. Documents include ID Proof (Aadhar Card) to the store.
The process can take up to 7 days but once your Aircel network will get deactivated, your other network will activate.
How to get Aircel UPC, when SMS is not working or No Aircel Network
Since a lot of users are planning to port their number, Aircel is missing out on quite a lot people and lacking back in giving UPC. In this scenario, all you can do is to visit the nearest Aircel store to get your UPC. Or if you couldn't find any nearby store, simply call customer care at 121 or 198 from your Aircel Number or 9782012345  from other mobile Network.
Aircel Customer Care For Other Network : 9782012345
If in case you don't have Aircel network in your area, you can try calling Aircel customer care number given above from any other operator. Provide them your details and receive your UPC and get it ported.
Note: Before getting it ported, make sure that your number has completed at least 90 days in the same network from which you're trying to get ported.
Bottom Line
That's all about porting Aircel number to any other network. Do let us know in comment section if you find any issue in porting your Aircel number or if you have other methods to port your Aircel SIM.