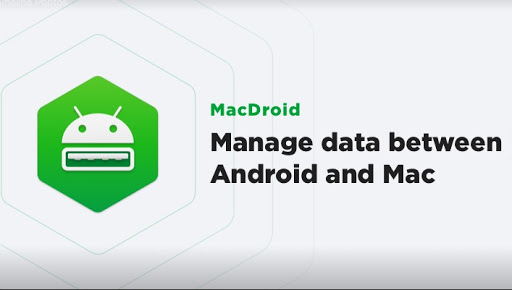 Have you ever tried to transfer files from android to mac using a USB cable? If yes, you might already be knowing how difficult it is to do the same.
But what if I say that there is an easy and a much more efficient way to do the same. Let us discuss it. 
In this article, we will be providing you with every information you might want to know about MacDroid, the tool to manage data between Android and Mac. 
What is MacDroid?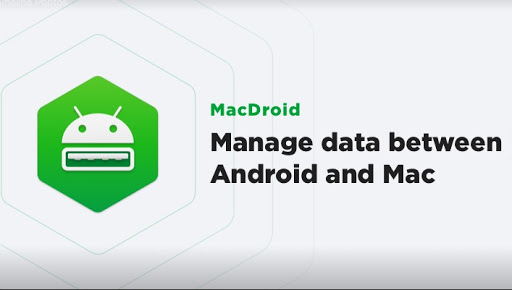 MacDroid is a software which has been developed with the aim of transferring files such as music, videos, images and folders between Android Devices and Mac computers using a USB Cable easily. 
Benefits of using MacDroid:
It is a Cost-Efficient Option: MacDroid will cost you just 1.67 US dollars per month and you can share unlimited files easily. All you need is a USB cable and the MacDroid software. 
Move your Entire Folders: With MacDroid, you can move an entire folder and the files stored in them between your devices which would make it easier for you to access them. 
Edit files directly on your Android Device: MacDroid would make it possible for you to edit your Android files without having the need to save them on your Mac computer. All you need to do is connect your phone, make the required changes and save them. It is really that simple. 
Entertainment on-the-go: If you are taking a long flight and you have the episodes of your favourite TV show or your favourite movie stored on your computer, MacDroid will allow you to transfer them directly on your Android device almost instantly. 
Support for MTP devices: If you have a device which can connect only in the MTP mode, MacDroid has support for that as well. 
How to Use MacDroid?
Even if you have never used any Mac to Android file transfer tool before, you would not find it difficult to work with MacDroid. All you need to do is follow these simple steps: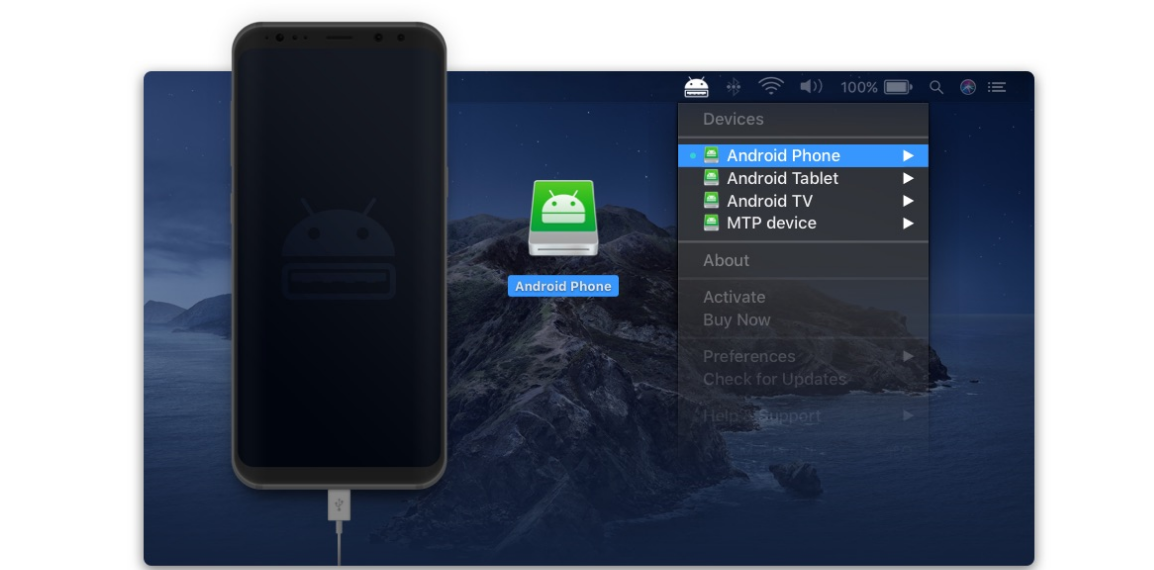 Step 1: Download MacDroid from here. Once the download has been completed, install it on your device.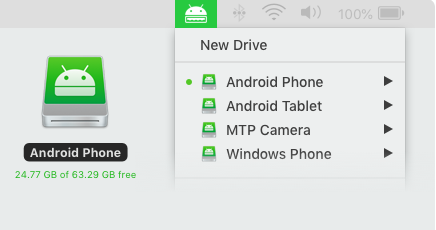 Step 2: Connect your Android Device to your Mac computer using a Data Transfer or USB cable. After the installation is complete, click on "Devices" option in MacDroid and connect your Android device. 
Step 3: Allow your Mac computer to access the files stored on your Android device. In order to do so, select ADB or MTP connection mode and follow the steps mentioned. After this, your computer would be able to access the Android files. 
Step 4: Your devices are now connected with each other and you can transfer files between them easily now. 
Different Modes of Macdroid:
MacDroid can be operated in two different modes namely: Multi Operation Mode or ADB and Single-Operation Mode or MTP. Let us discuss them one by one.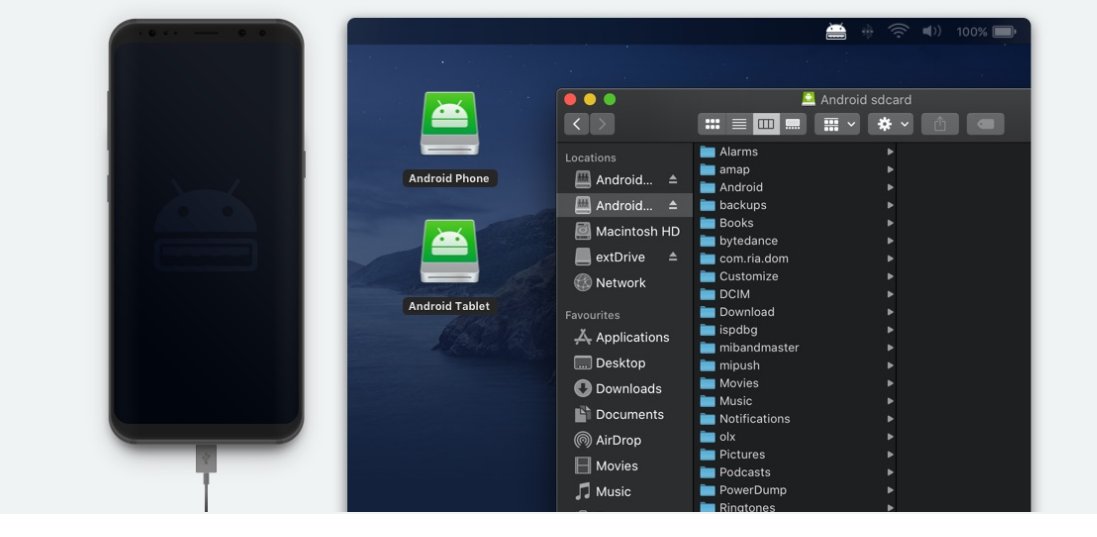 Multi Operation Mode or ADB: ADB stands for Android Debug Bridge. It is known to be a versatile command-line tool which allows you to communicate with your device using some commands. It is useful if you want to install or debug certain applications on your mobile phones. 
Single-Operation Mode or MTP: MTP stands for Media Transfer Protocol and it is an extension to PTP or Picture Transfer Protocol. It is a communication protocol which allows media files to be transferred between supported devices. 
MacDroid Pricing:
You have the option of selecting from two different packages if you want to use MacDroid.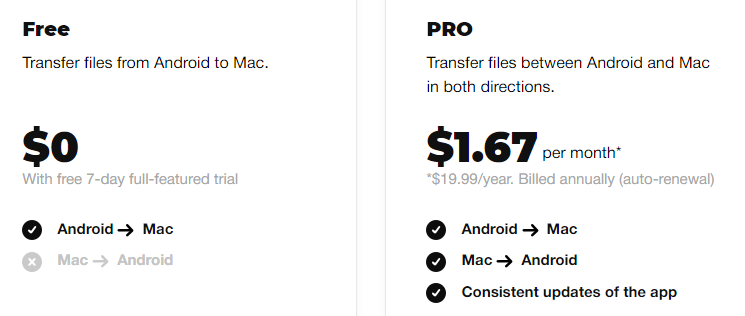 Free Version:
As the name suggests, this version of MacDroid is free for all and it allows you to transfer files from your Android to your Mac devices. You also get a 7 day trial period for the premium version of the application. 
However, the downside of using this version is that you can only use it to transfer files from your Android to your Mac devices but not vice versa. This might not be beneficial for everyone because it only gets half the job done. 
Pro Version:
With the Pro Version, you get the option of transferring files from your Android devices to your Mac and it works the other way around as well. You will also get frequent updates of the app if you decide to proceed with the Pro Version which is definitely a great thing. 
The Pro version would cost you about 19.99 US dollars annually which comes down to mere 1.67 dollars per month. The billing would be renewed automatically but the users have the option of cancelling their subscription any time they want. 
How to Run Macdroid on Multiple Devices?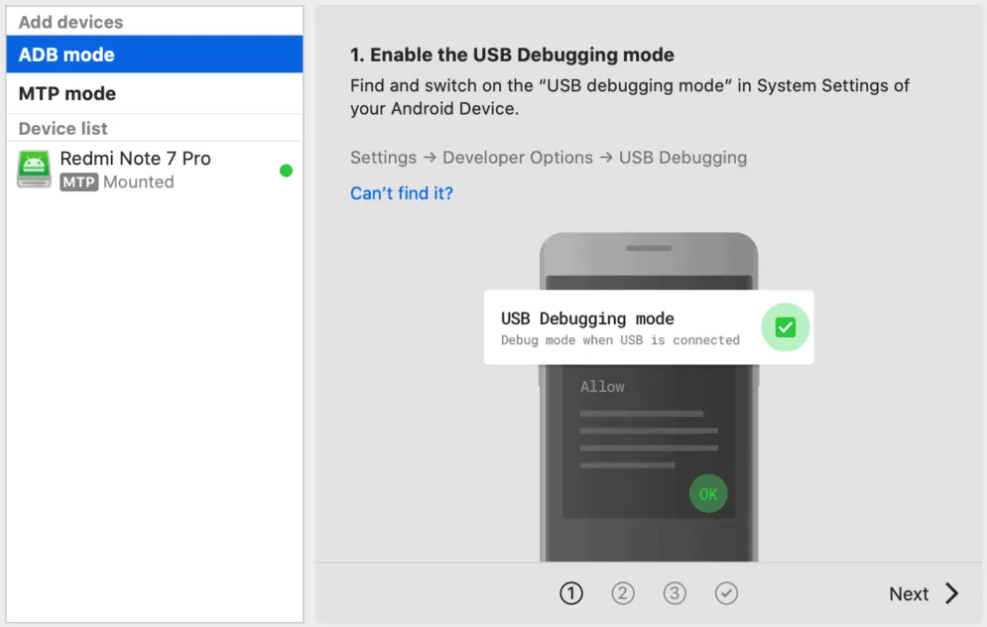 You can install the MacDroid software on up to 5 different Mac devices which are owned by you and you would not be charged any extra fees for doing the same. 
However, there is no limit on the number of Android devices you want to use.
MacDroid Free Trial
Once you have downloaded the free version of MacDroid, you would be asked to activate the Pro version by the software. You will have to enter your payment details to proceed with the trial version. 
However, you will not be charged anything as of now. Once you have entered all the required information, your 7-day trial period would begin and you will be able to use all the features which are offered in the Pro version. 
MacDroid offers you a 7-day trial period so that you can test the product completely and make up your mind whether you want to buy the Pro version or not. If you think MacDroid is not suitable for you, you can cancel your subscription anytime and you would not be charged anything post the trial period. 
MacDroid Download App Link: https://play.google.com/store/apps
How to Cancel your Subscription?
If you do not want to proceed with your macDroid subscription and you want to cancel it, you just need to get in touch with the MacDroid support team using the following link: [email protected]. 
Compatibility:
The latest version of MacDroid i.e 1.3.110 was released on 26th November 2020 and in order to use it, your Mac computer must be running on macOS version 10.10 or newer. You can use any Android device as long as it supports MTP extension. 
Final Thoughts:
Transferring files between Android and Mac devices has never been an easy task because both these devices run on different operating systems. However, MacDroid really makes this task very simple and it is undoubtedly one of the best softwares for transferring files between your Android and Mac devices.