Popcorn Time is an Online streaming service for TV shows and movies for free of any charge. Moreover, if you want to know how this service works? The service uses torrents seed and peers to stream content online by downloading the particular file from the torrent.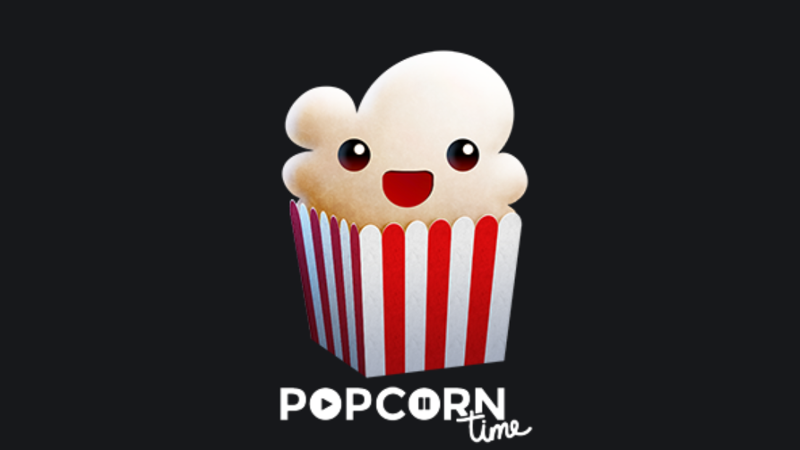 Popcorn Time has been going through some challenging issues, thankfully the service is now back and running to stream user's favorite content online. Popcorn Time used to be a stand-alone application but now Popcorn Time is now available as a website and there are lots of alternatives to Popcorn Time are also available.
Also, one of the best ways to enjoy your favorite shows or movies by merely streaming it over a Big Screen using Google's Chromecast. Moreover, what if I say "You can watch any show and movies available on Popcorn Time" right on your TV using a Chromecast.
> Popcorn Time on Chromecast
Chromecast is a neat streaming device allowing to cast anything from your Chrome browser or Mobile to your TV. Just insert it into an HDMI port of your TV and connect to the casting capable devices on the same network. For casting using your browser, tap on the casting icon and its done.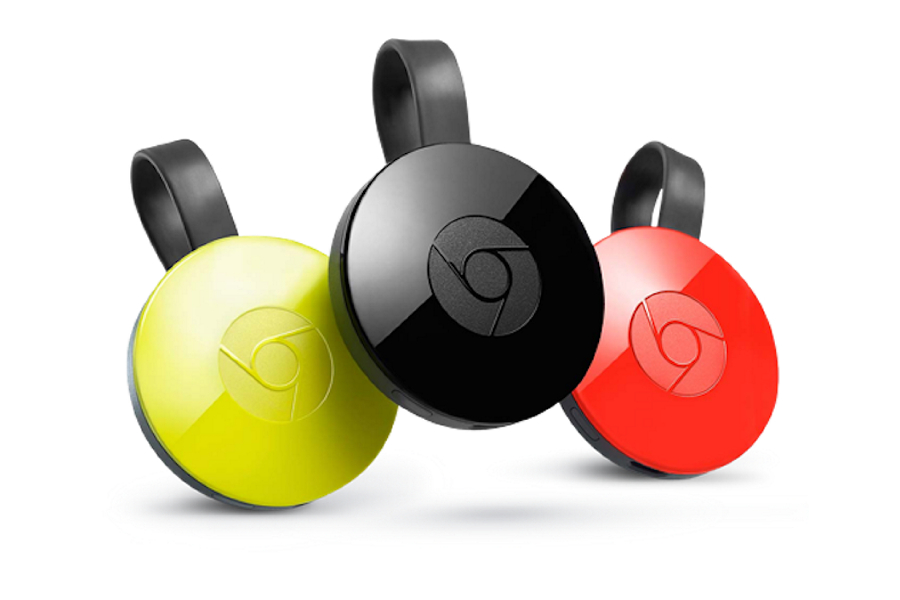 In this article, I will show the easiest way to connect Chromecast with Popcorn Time and enjoy your favorites along with a Popcorn.
> Always use a VPN and Stay Safe
Before we proceed to the steps, it is always to stay safe by using a VPN network and protect your IP and the browsing content from getting observed by your ISP or your country's government.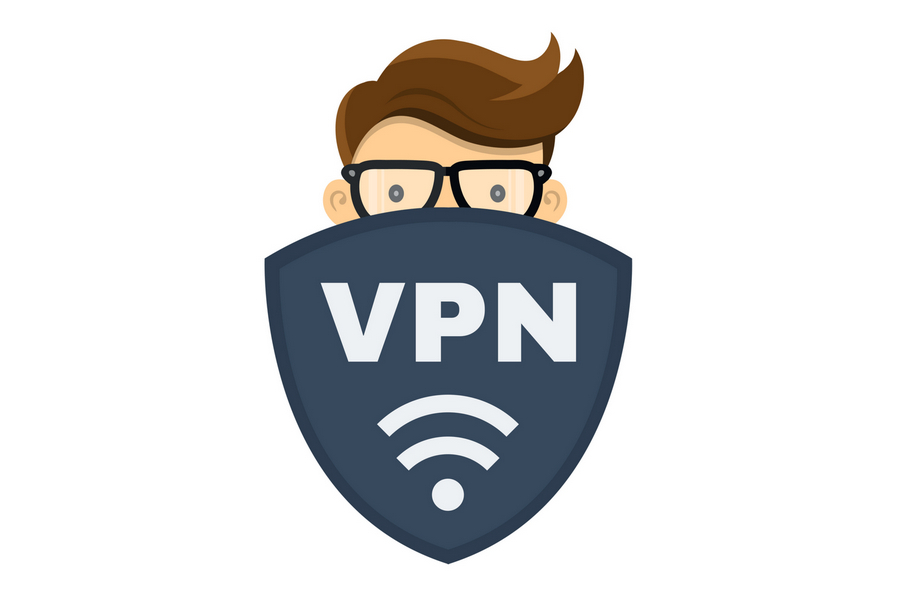 As we know, you can access extensive and latest content on Popcorn Time for free and thus Popcorn Time is not legal. Due to which, this service has faced many legal challenges for the content available over its platform, and thus we recommend you to use use a VPN. Earlier when the service was taken down for a while, few Popcorn Alternatives emerged on the market. However, the service got resumed later and is now alive.
Furthermore, the reason for suggesting you use a VPN service is because the content available on the site (Popcorn Time) are mostly pirated or illegal in your residing country. Therefore, browsing an illegal content can land into some serious trouble.
So many Pochoclín around ? This Infographic can help you ! You have more questions ? https://t.co/AQm0zX00K9 pic.twitter.com/j0OX80ntyN

— Popcorn Time (@popcorntimetv) May 9, 2016
Why is it safe to use a VPN? A VPN encrypts your data traffic and sends it through a server based on a selected country. This helps in protecting your identity by cloaking your IP address and makes your traffic unrecognizable by your ISP or the government.
A VPN also helps in unblocking the respective sites and content like Popcorn Time in the countries where it is banned. Since your identity and IP address is unrecognizable, you can go past the screen and access the free content available over the net.
However, if you can easily access the Popcorn Time in your country, it is still suggested to browse and access the content using a VPN for your safety and concern.
Using Popcorn Time on Chromecast
The best and easiest way to watch Popcorn Time is by browsing over to the website using your Chrome browser on your laptop or Computer. Alternatively, you can directly download its official app on your Android or iOS device. However, if you choose to access the Popcorn Time Website on your Android or iOS smartphone, you will be asked to download the app to continue.
However, while enjoying your favorite content either on your phone or PC, you may find the screen to be a bit small to do the thing for you. You cannot enjoy it to the fullest, and thus you wish to watch it on a big screen like your TV and enjoy the show. Moreover, this is where connecting to Chromecast comes in.
Streaming the content on your Chromecast is by far the easiest way to watch your stream on TV and can be done by the press of a button. Here is how to get Popcorn Time up and stream on your Chromecast.
> Popcorn Time on Desktop
To watch movies and TV shows and movies on Popcorn Time. Just navigate to its official website on your Computer using Google Chrome Browser.
On the website, you can choose any of the available TV Show or a movie to watch. You can also filter them according to their genres and categories from the left-side menu.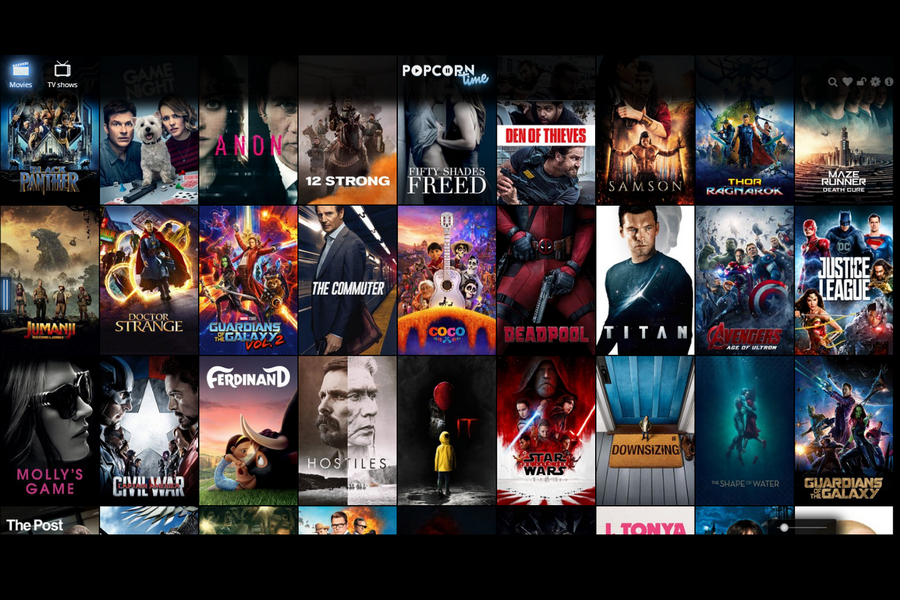 Once you have selected a title to watch, you will be redirected to a new page where you can read a short intro of the movie or choose to watch its trailer. You can also set the video streaming quality from 720p or 1080p.
For fast downloading, choose torrent with a small size. On the menu, you can also view the number of peers available Choosing a smaller torrent size makes sure you get the fastest download. The fastest downloading torrent site will show a "green battery" sign. If the selected movie is available in different languages, you can also choose different languages to watch your favorite shows.
Watching TV show or Movie on Popcorn Time Desktop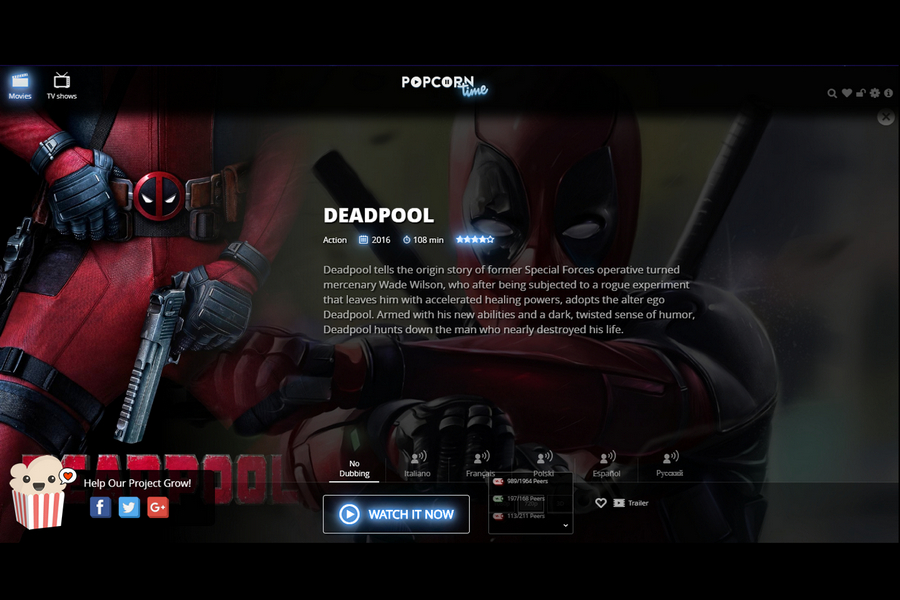 Step 1: Select the movie or TV show you want to watch and click to "Watch it now." 
(If you are here for the first time, soon you will see a prompt to install the Torrents Time Browser plugin. Its a small size and will hardly take a minute to install.)
Step 2: If you have not already turned on VPN, it is suggested to turn on to do so, be safe and avoid any legal actions against you. Do turn it on even if the website is accessible in your country.
As now you have turned on your VPN, you can quickly and safely watch your movie/TV show you like.
Step 3: Now pause the movie and click on the three dots on the top right corner. Search for cast button in the menu on your Chrome Browser.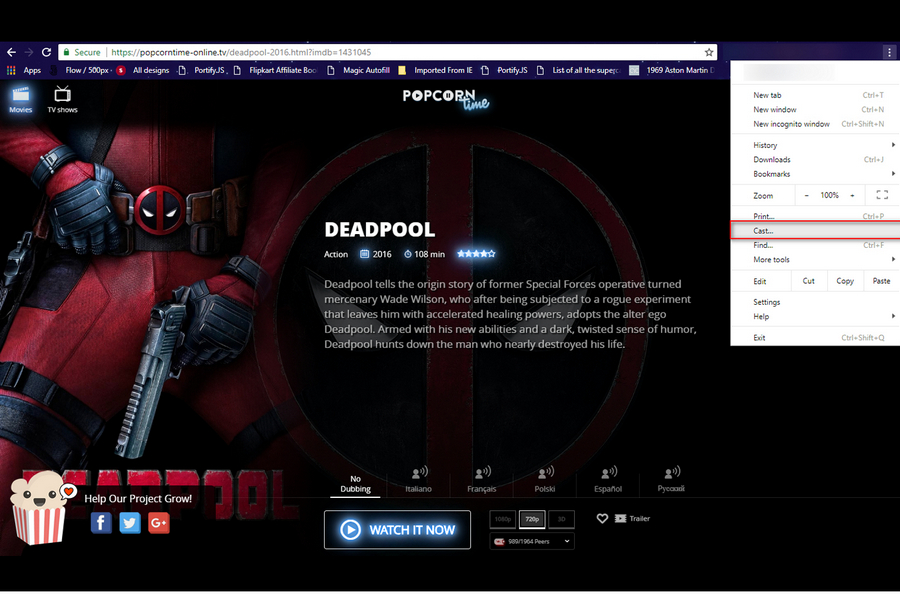 Step 4: Click on the button and choose your Google Chromecast to cast your computer screen on your TV. The content you play on the desktop will now directly stream to your TV.
If you are setting up your Chromecast for the first time. Navigate to https://www.google.co.in/chromecast/setup/ and follow the instructions. Later, continue from the Step 3.
> Popcorn Time on Mobile
Using the mobile version of Popcorn Time is as easy as mirroring your screen on TV. All you need to do is the download its official app from the website.
Step 1: Once you have downloaded the app, install and open it.
Step 2: Now, select any movie or TV show you would like to watch from the number of options available to watch.
Step 3: It also shows up a brief description of the selected movie or TV show with the IMDB rating for the selected media.
Step 4: Now you can click on play for it to start loading the show. After a moment, once it has collected all the possible seeders, it will start and automatically flips your phone's screen to landscape mode.
Step 5: Now you will see a cast icon on the top right side corner. Click on that icon and select your Chromecast Device.
Now on a successful connection, it will start streaming. Enjoy your time with Popcorn.
Wrapping It Up
As popcorn time is back and nailing it, we showed a few ways to enjoy your favorites on a bigger and better screen. You can enjoy the daily dose of entertainment right on your TV using Chromecast. It is easy to connect and stream the content you throw at it. We hope, you can easily the follow the given steps and have a good time. However, if you face any issues regarding the same, do write us and we will surely help you out in the best possible way.