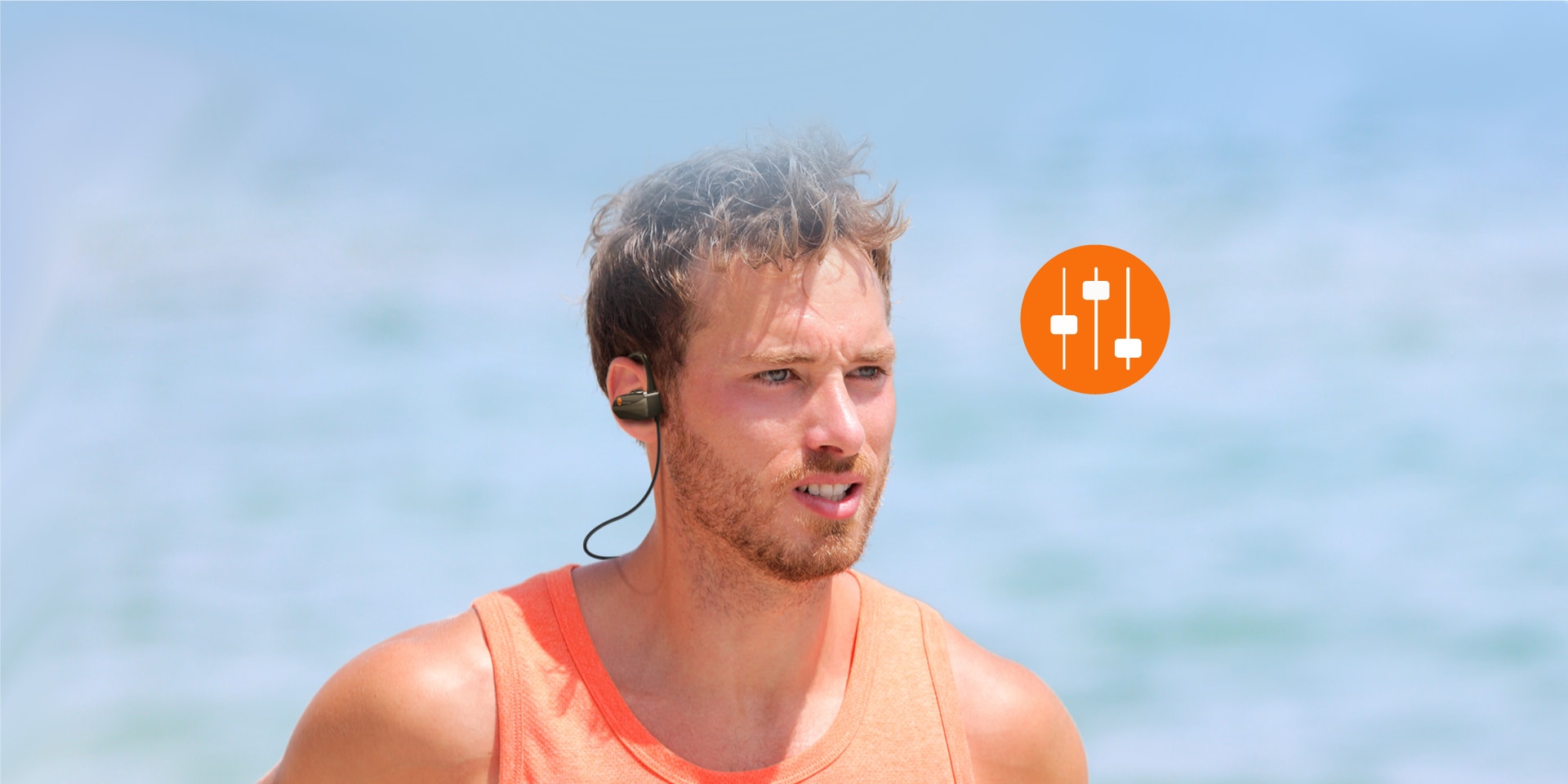 TaoTronics, a leading electronic consumer brand specialized in small budget-friendly electronic and accessories since 2008. Their primary approach is to deliver products with latest innovations and find products that can connect with our(customer's) daily life to make routine tasks easier with the technologies to enhance activities.
TaoTronics has recently announced their new TT-BH06, TT-BH07, and TT-BH10 sports in-ear headphones. If you are a gamer, you must also look these top Wireless gaming headphones.
The BH06, BH07, and BH10 inherit features like aptX sound technology and CVC noise cancellation v6.0 and connects to devices via Bluetooth 4.1 and also includes a built-in mic for taking phone calls or triggering any voice assistant with a multi-OS supported inline function to control your music or call is super easy and snappy.
So, we obtained them to get our hands on, to see what they are proficient off. Today we are going to be going over their distinguishing features and decide whether they are a worthwhile investment for those who may be interested in choosing them.
All of these TT-BH06 and TT-BH07 models are now available in different colors for purchase at top e-commerce stores including Amazon and Myntra whereas TT-BH10 will soon be available for purchase in India at the mentioned stores.
To save your time, we have also added the quick set of specifications below.
Specifications:
Model No.
TT-BH06
TT-BH07
TT-BH10
Type of Headphones
In-ear Type
In-ear Type
Over-ear Hook Type
Bluetooth Range
30 feet(10m)

in-line

30 feet(10m)

in-line

33 feet(10m)

in-line

Bluetooth Version
Bluetooth v4.1
Bluetooth v4.1
Bluetooth v4.1
Weight
0.51 oz(14 g)
0.53 oz(15 g)
0.6 oz(17 g)
Charging Time
1.5 hours
2 hours
2 hours
Working Time
Approx. 5 hours
Approx. 5 hours
Approx. 7 hours
Compatibility
iOS/Android/

Mac/Windows

iOS/Android/

Mac/Windows

iOS/Android/

Mac/Windows
1. Design
In all perspectives, these TaoTronics in-ear Headphones have been designed to match well with anyone who desires a good, pocket-friendly pair that's developed specifically for working out as they are certified sweat-proof.
They weight super lightweight and are ultra-compact in their design. They have been given a minimalistic feel with the two individual earbuds with a flat cable made of high-quality rubber between the two that perfectly fits around your neck(missing cable management system though).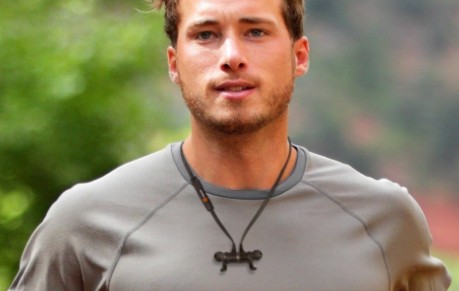 Each of their earbuds is solid to touch and made out of a unique metal alloy/decent quality plastic construction, giving it a high-end look and feel that you do not get to see in most of the headphones within the same price-point. Each of them has inbuilt LED indicator to provide the information about the different modes, status and battery notifications.
To each earbud is a hook that places them within/over your ear in a comfortable manner, so they do not fall out or come loose over an interval. One of the essential aspects of any workout headphones is to stay tight and firmly within your ears without creating any discomfort.
The most significant thing about TaoTronics is that they also provide you with 3 different sized ear-tips/ear-hooks that can be easily changed over time/use thus giving you the exact fit.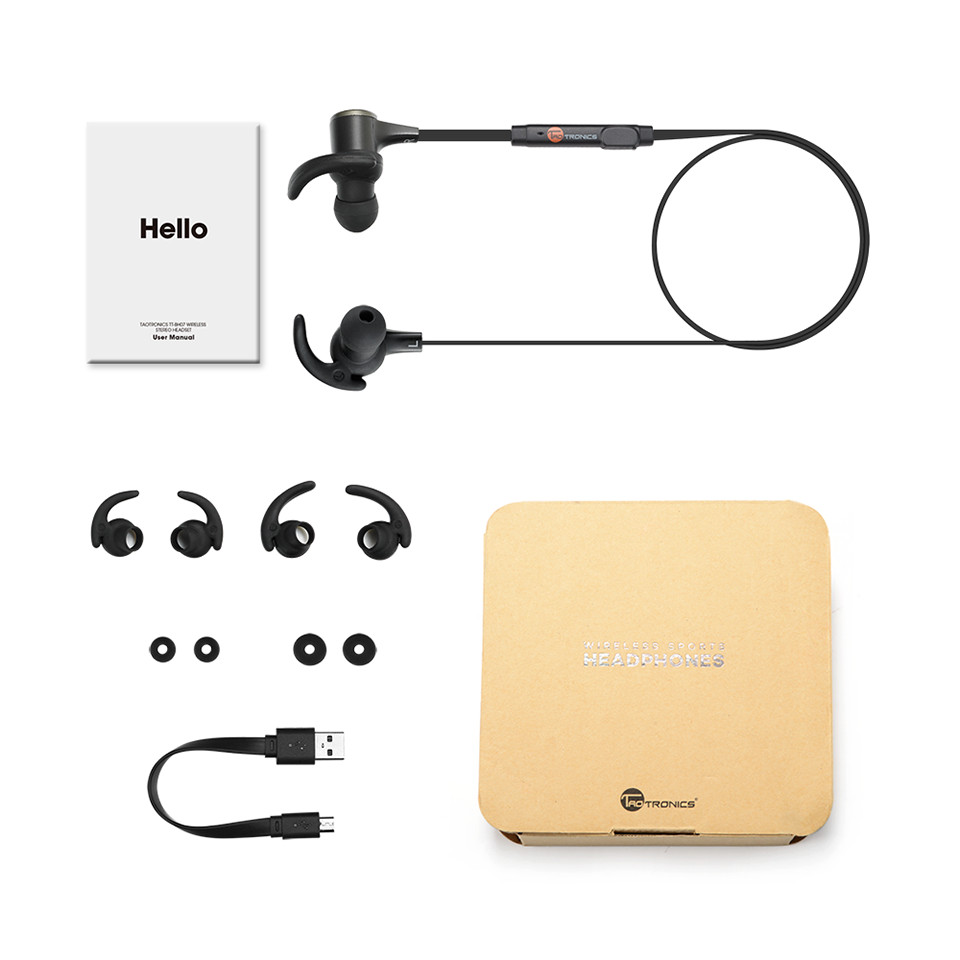 We personally tested each of them during different workout sessions & daily use and were desired to get an opinion on how adequately they stay secure and in their position in/on ears. Throughout the use of an hour, we came to a conclusion that they did not move from their place at all. Interrupting your workout and making adjustments to your headphones is frustrating which won't happen once you wear these; all TaoTronics wants is you forget whether you are wearing them or not.
We also tested them while cycling, over the lapse of daily use and other sport. Undoubtedly, they excelled our expectations and kept secure during each activity but needs improvement in the quality of ear tips as it sweats your ears and causes unusual pain in your ear canals.
In TT-BH07, trio-casing is made of anodized metal with magnets at its back lets you attach the two ear buds together when not using, and you can also wear them around your neck, a good way to carry it around without losing/misplacing them(looks stylish around your neck).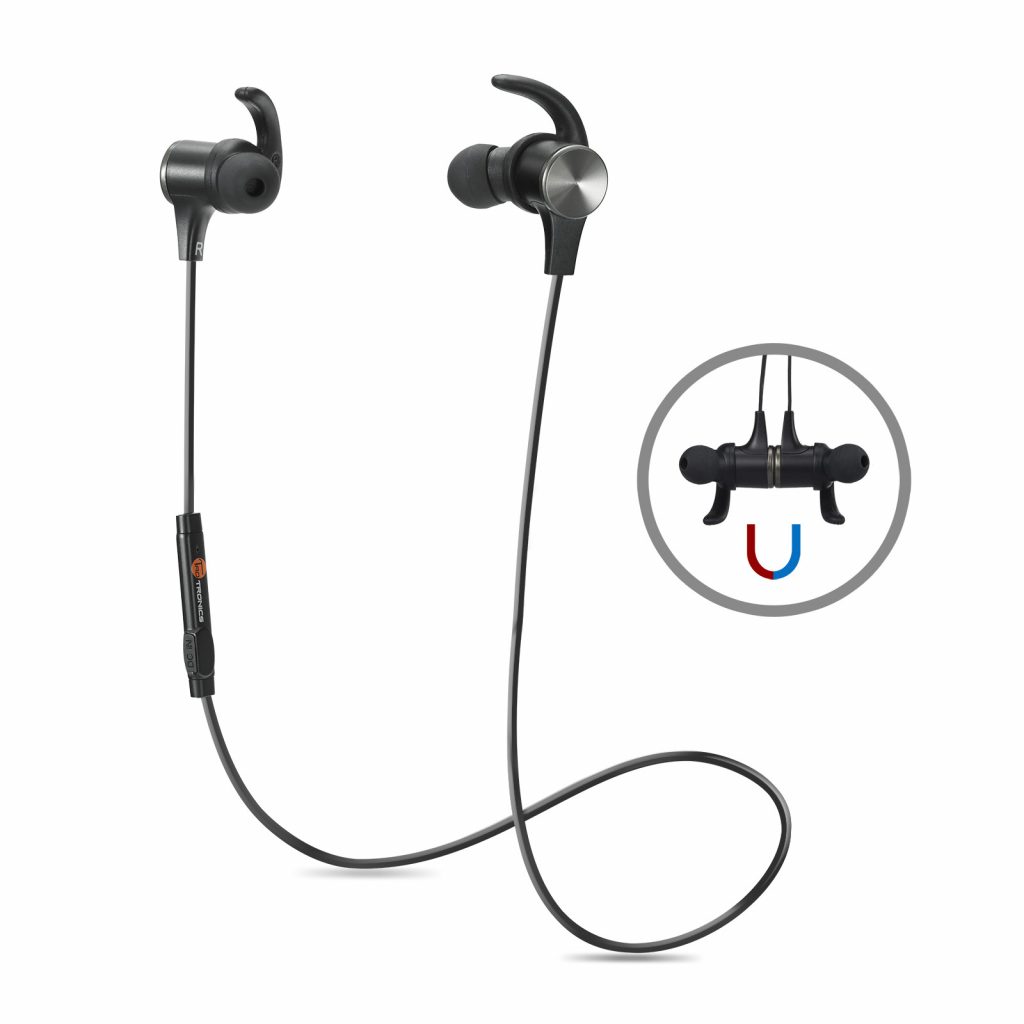 2. Wireless Connectivity
Acquiring Bluetooth 4.1 technology, these Headphones possess an entirely wireless connection that gives true, untethered freedom from your device. Once Bluetooth is enabled no matter which OS your device is running on whether an iPad, iPhone, Android or tablet, you will not have any issue in pairing them.
The pairing process is straightforward, all you need to do is press and hold the PLAY(multi-function) button hardly for 5 seconds, and you would see the LED blink between BLUE and RED, then, go into your device's settings and select the particular TaoTronics connection. Connectivity is fast and automatically connects to the phone while Bluetooth is on after pairing for the first time.
The wireless range was around 25-35 feet in line of sight restrictions was quite satisfactory for the price you pay which most of the Bluetooth Headphones fail to deliver in this price range while you might feel some disturbances in range when you either move behind a wall or out of the room but is acceptable to most norms.
3. Battery Life
With the Li-Po rechargeable battery, you can juice up your headphones using USB to Micro-USB cable provided in-the-box. Total charging time varies along these models but on average, needs at least of 90 minutes of charge for 4-7 hours of music play; varies along models and offers 175 hours of standby on a full charge which is quite decent for the bucks you paid.
On an iOS device, you see the battery meter at the notification bar, but while using these on an Android device, sudden battery shutdown can spoil your mood as it gives critical battery warning just before the time of 3 minutes. USB to micro USB cable can also be used for firmware updates.
4. Sound Quality
Sound quality is the most important factor while buying a good pair of headphones. Since we know these headphones are very budget friendly and are priced much lower than its competitors and we were surprised at how great the sound output is. They outdid well with all sort of genres of music and did well with most of the songs; low-end gives good punch along with mids being loud and bright and energetic, totally isolates the other background sounds/noise completely and the bass is adequate.
The audio profile is a bit dull, delivers an excessive amount of treble which can damage your ear drums on full volume at high frequency, high tones. Avoid listening on full volume thus we recommend you to listen on medium volume.
5. Hands-free Calling
The inline controller located below/on the right side earbud has a small microphone built into it which justifies its ergonomics; works great around an open/crowded environment, as they are implemented with CVC 6.0 noise cancellation technology.
CVC 6.0 noise cancellation technology filters out enclosing noise and gives your voice a clear and bright natural sound that isn't easily interruptible by gray noise or everyday distractions. It makes for clearer phone calls and less unwanted distractions in the process.
You might not notice the microphone at first, but that small pinhole lets you make phone calls without unpairing the earbuds and manually answer/reject a call while training or other tasks with just a push of a little button and while you receive a call, music is automatically paused. While this may not be a valuable or important feature for everyone, it can surely come handy if someone enjoys hands-free calling on the move.
With those provide inline controls you can control your music and calls without taking out your phone from the pocket.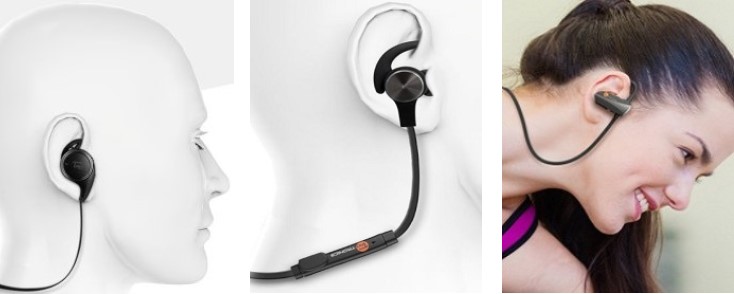 6. Final Conclusion
You might spend ten times as much for a high-quality set of headphones, but most of us do not need or wish to invest in such a pair. We ultimately feel that these in-ear headphones are priced extremely well and deliver everything as promised for the price you are paying.
These TaoTronics Bluetooth Headphones are comfortable and manufactured with quality in mind, for instance, you might not consider them for their moderate price. However, we recommend you to not to set off by their inexpensive retail price which doesn't indeed prove that they are low-quality or not upright for investment. They would not be as popular and widely praised about as they currently are if that were the case.
These made us extremely happy with the overall feel. The magnetic/over the ear hook design is unique and adds up another advantage.
We really couldn't ask for anything more; especially considering their budget-friendly retail price as far as sound quality goes. The bass is great and adds up well with excellent noise cancellation and is never an annoyance. Even when the volume is fired up, there isn't even a hint of distortion, but you might feel a bit of excessive treble if you prefer more bass; for which you need to get a proper fit of ear-buds first.
Overall, we are overwhelmed with these models TaoTronics in-ear Headphones and wouldn't shelve to suggest them to someone searching for a budget-friendly headphones, a top-quality set of wireless earbuds that won't deceive.