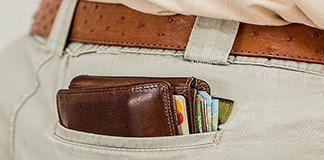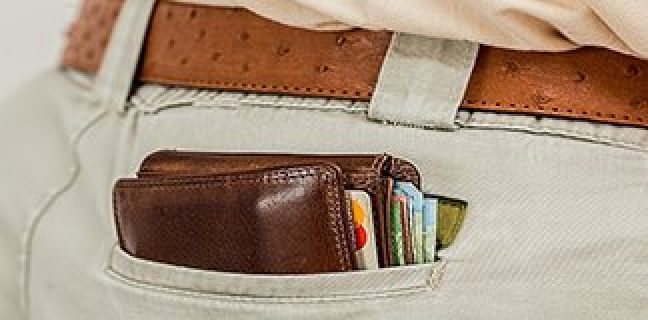 Payment Gateways help users to accept electronic payments through various methods like debit cards, credit cards, online banking, e-wallets and more. These payment Gateways take the money from the buyer on your behalf and transfers then into your linked bank account after deducting the transaction fee.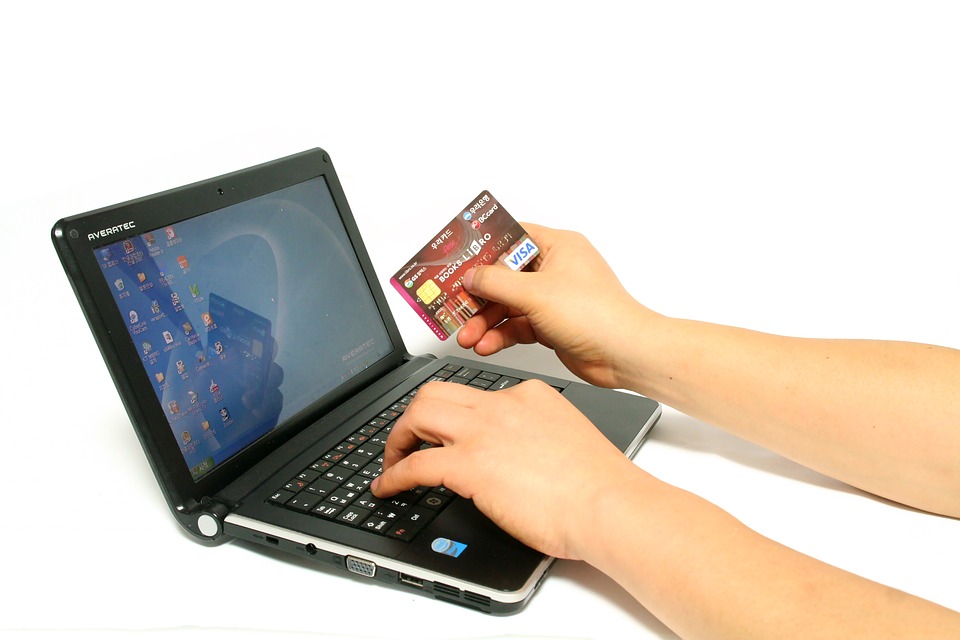 Many merchants, small business owners, and online entrepreneurs use such services to generate revenue from various parts of the country and rest of the world. In Simple words, you can say that a Payment Gateway is a middleman that bridges the gap between buyer and service provider. When customers enter their card details, your website sends the encrypted information to the Payment Gateway who confirmed the details with the bank account of the customer and processes the payment accordingly.
Being a Merchant, you will also like to check these best POS and card Swiping machines, it will help you get money at your retail stores.
10+ Best Payment Gateways in India with Charges and Plans
Here in this article, we have listed some of the best Payment Gateways in India that offer fast and secure service at reasonable prices.
1. InstaMojo (No Setup Cost, )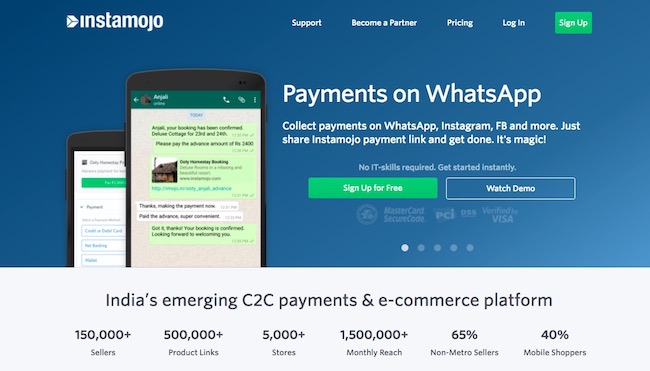 InstaMojo is recommended for those who sell their digital products online for example music, eBooks or videos. InstaMojo is an India based company that offers convenient payment collection option at decent rates. InstaMojo lets users showcase the Buy Now option on the website, and the customer can purchase your digital content without leaving your website.
Instamojo Charges and Plans
For every successful transaction, InstaMojo charges 1.9%, and if you wish to host your content on InstaMojo website, then you will be charged 5% for each transaction.

The payment gateway accepts the payment on the user's behalf and sends it to his/her bank account (which is linked to the service) within three working days after deducting the transaction fee and service tax. For Instance, if a person receives $100 for any digital product sold, then $97.83 will be credited to the user's bank account after taking $1.9 (charge) + $0.27 (service tax) from the total amount. There is no setup fee required for InstaMojo, but it doesn't support multiple currencies so you cannot use it to receive an international payment.
2. PAYKUN (NO SETUP FEES, FLAT 1.75 % TDR)
PayKun is the Best Payment Gateway in India. It is opted by any type of businesses for a smooth acceptance of payment like small startups, large enterprises, freelancers, bloggers, YouTubers, with a website, with an application or even without a website. So, if the users have a website or mobile application they can integrate the checkout easily with its available SDKs and ready Plugins for all the major platforms. If there is no website then too they can provide a checkout to their customers with the help of payment links and master links. They can even offer an embedded 'Pay Now' button on the website. 
So, any individual or businesses can register and activate the Merchant Account on PayKun easily in a few hours and start offering 120+ payment options to their customers with its checkout including Debit/Credit cards, Master Card, Visa, AMEX, Diners Club, RuPay, 80+ Net Banking, Wallets, UPI/BHIM and QR Code. PayKun App is available for Android and iOS so one can manage and track their transactions from their smartphones too. They have a dedicated support team to resolve the clients' issues as soon as possible through chat, email and call.
PayKun Charges
PayKun provides free integration services in-house and also there is no setup fee charged to any kind of registered merchant account. Further, there are no maintenance fees too. There is only one fee and that is per transaction rate of just flat 1.75% plus applicable GST on that. Rest assured there will not be any hidden charge ever levied upon any merchant.
3. CCAvenue (No Setup Cost, 2% TDR)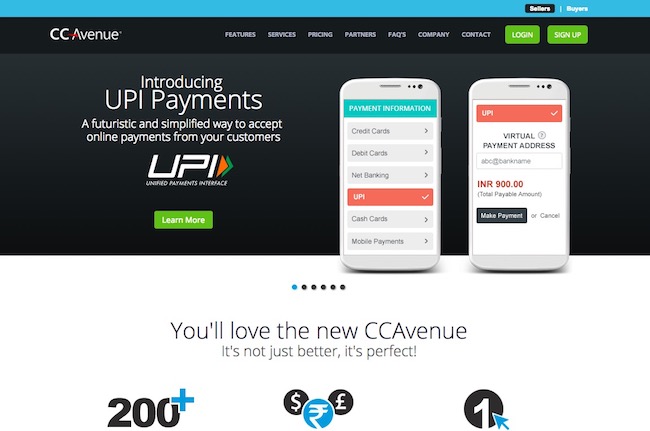 CCAvenue is one of the most popular payment gateways in India that offers plenty of payment collection options for the users. It provides support for international credit cards and the payment gateway option supports around 27 currencies such as UAE Dirham, USD, Pound Sterling, Saudi Riyal, Canadian Dollar, etc. So you can sell your products from the online store in multiple regions without any problem. The payment options include credit cards such as Visa, MasterCard, American Express, JCB, Diners Club, Discover, and Amex eZeClick.
It also accepts payment from over 100 debit cards including all Visa, MasterCard, RuPay or Maestro, 53+ Net Banking, Cash cards like ICash, ITZCash, PayCash, etc., mobile wallets such as Paytm and mobikwik, Immediate Payment Service from more than 40 banks and more. They provide 24 x 7 x 365 days support via Chat, Phone call, and email, but the Chat team is not available on weekends. The mobile app works fine with iOS, Android and Windows phones. There is no setup cost included, and the payment gateway supports multiple eCommerce CMS like Drupal, Joomla, Cubecart and much more.
4. PayUbiz (Integration Fee Starts from Rs 4900)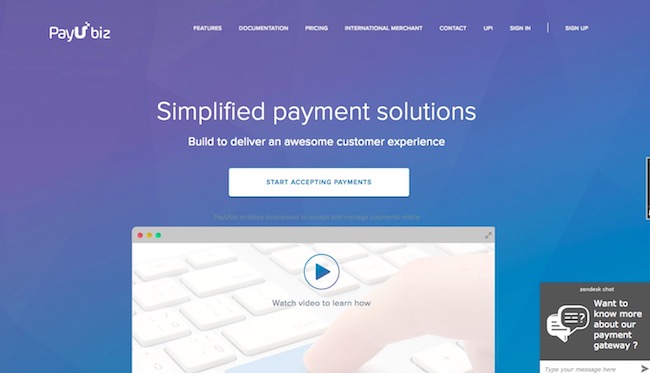 It is a subsidiary of PayU which is a global firm and has the presence in various countries such as Poland,  South Africa, Russia, and Hungary. PayU India accepts payment from Visa, Diners Club and MasterCard credit cards and processes debit card payment for more than 50 banks like HDFC, Axis Bank, SBI, etc. They also accept payment modes such as 45+ net banking, six mobile wallets, 8+ bank EMIs, provides support for international cards and more.
The company's website claims that it can enhance the conversion rate by 12% due to advance features like quick retry, single click checkout, dynamic switching, mobile browser, etc. They offer a secure payment gateway and have PCI DSS compliant system. The portal provides CVV less transaction, so you have no need to enter CVV again and again.
PayUbiz Charges and Plans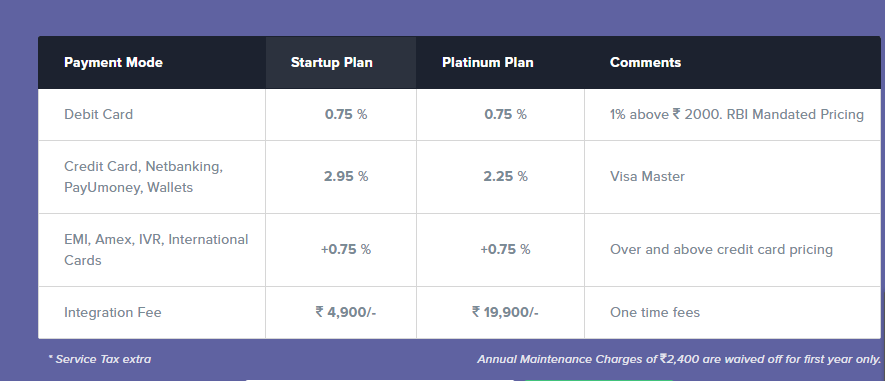 For debit card transactions below INR 2,000, they charge 0.75% and more than 2,000 1% commission. The commission rate varies for the credit card, cash cards, multi-bank EMI and online transactions as per the amount.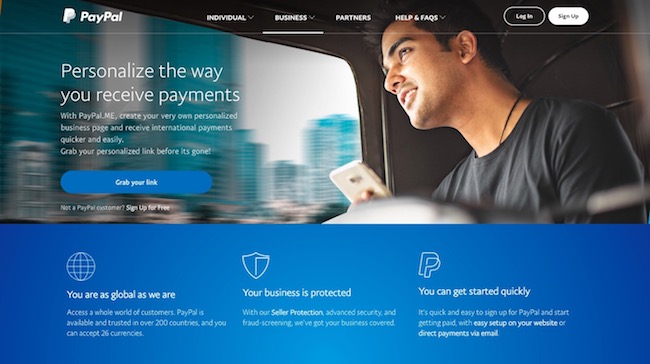 PayPal is the most popular and one the biggest global payment platform that provides service in more than 200 countries and is being used by millions of users across the globe. The company doesn't charge users for Annual Maintenance and offers a high level of security for each transaction.
Paypal Charges
If you sell your products through eBay, then PayPal charges you 3.9% of the amount + $0.03 USD per transaction, and if you sell any service or product online from any other website then it takes 4.4% of the amount + $0.30 USD for that as its commission.
The documentation to start a service is quite simple, and users need to confirm their identity, verify the PAN, add your bank account and fit out an appropriate purpose code. PayPal doesn't charge any Withdrawal Fee, but users need to obtain a Foreign Inward Remittance Certificate which acts as a testimonial for each Remittance coming to India. PayPal provides multi-currency support (100+ currencies), and merchants get the facility to keep the amount in around 57 currencies.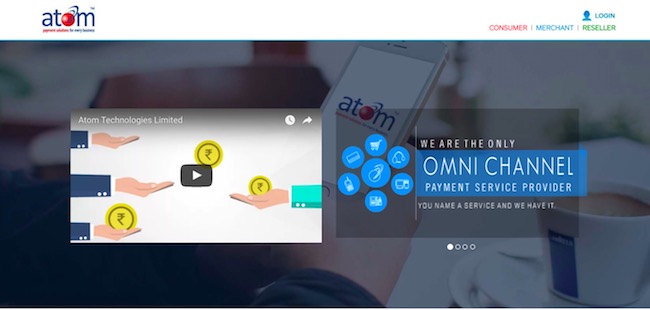 Atom Paynetz is an advance Payment Service Provider that offers over  100 payment options. Usually for the first year, the Annual Maintenance Charge gets waived off from the company. However, the standard charge of INR 2,400 will be applied from the next year. Alike the previously mentioned payment gateway, Atom Payne's also takes a commission of 0.75% below INR 2,000 transaction and 1% for above INR 2,000 via debit cards.
They charge 2.1% transaction fee for each credit card transaction. It doesn't support international cards or foreign currency, but you can use it for domestic transactions via multiple credit cards such as Visa, MasterCard, JCB, AMEX, Discover, and Diners. It also provides support for various CMS systems like WooCommerce, Magento, and Prestashop.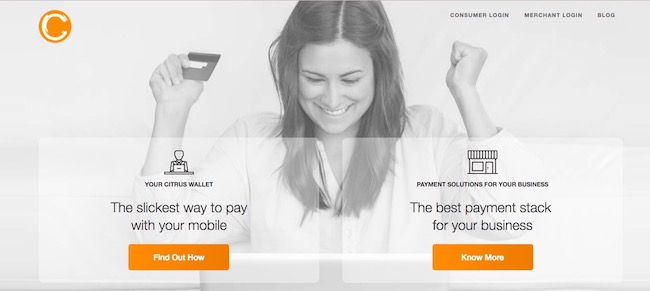 Citrus Pay offers world class security and provides various services like Citrus Cash (wallet for sending and receiving money), Citrus Cube (App for bill payments) and Citrus for Merchants (online payment gateway for e-commerce websites and online stores). They charge flat 1.99% + INR 3 per transaction via domestic debit cards and credit cards such as MasterCard, Visa, and Maestro.
They charge 3% fee for international payments and transaction through American Express card. They support USD as multi-currency, accept international payments as well as credit cards and do not charge withdrawal Fee. Interested users need to prepare for extensive documentation before starting a transaction with Citrus Pay payment service provider, and you get 14 days to submit the documents after the two-step signup. They also charge the AMC of Rs 1200.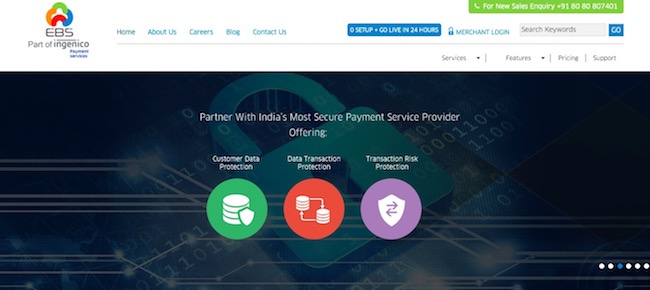 EBS gives you complete peace of mind as it provides a high level of data safety and keeps your transaction secure. It is the first Indian payment gateway that is PCI DSS 3.0 compliant and ISO 27001- 2013 certified. The Annual Maintenance Charge is flat INR 2,400 per year for all and users need to pay one time set up fee as well, which varies from package to package, apart from that transaction fee is also applicable which differs as per the plan you select while signing up for the service.
EBS can prove to be a great solution to enhance your success rate as it offers 100+ payment options and accepts payment from international credit cards like Visa, Master Card, AMEX, Diners, and JCB. It also supports several currencies such as USD, GBP, AED, Euro, CAD, HKD and more.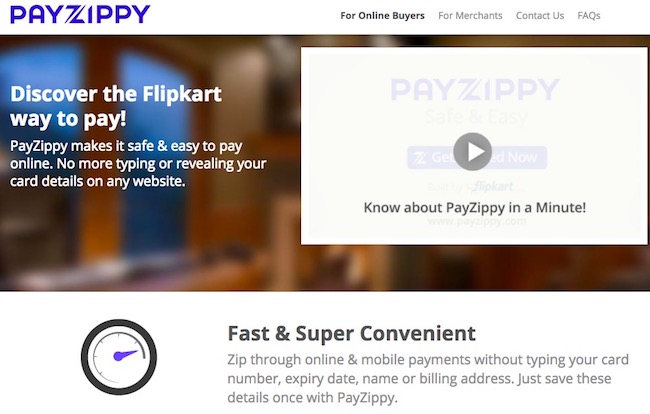 PayZippy makes mobile and online payments fast as well as convenient as users have no need to type the details like the name, card number, expiry date, billing address for each transaction, you can simply save them with the service provider once. PayZippy is backed by Flipkart which is one of the most trusted eCommerce company is India. They keep your data safe, transactions secure and provide 24 x 7 support for any issue.
PayZippy charges 0.75% commission for an amount below INR 2,000 and 1% for above INR 2,000 transactions via debit cards like Visa, Maestro, and MasterCard. They accept payments from international credit cards and charge domestic fee + 1.50% above that amount. For any transaction made by AMEX cards, the commission fee is flat 3.50%, and if anyone processes payment via Net-Banking or credit cards like Visa and MasterCard, then it will differ as per the amount.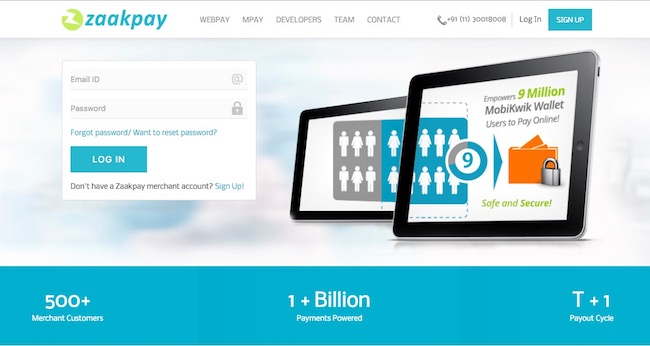 Zaakpay is another great payment gateway service that accepts payments from over 52 net-banking and all domestic as well as international Visa, MasterCard, Discover and Diner's cards. The service provides multi-currency support and receives payments in 13 different currencies. They have an annual maintenance charge which is negotiable and provide support for multiple eCommerce CMS Systems like CScart, XCart, Cubecart, OsCommerce, etc. They do not charge any withdrawal fee, and the transaction fee is customizable. The mobile app is compatible with almost all iOS, Android and Windows phones.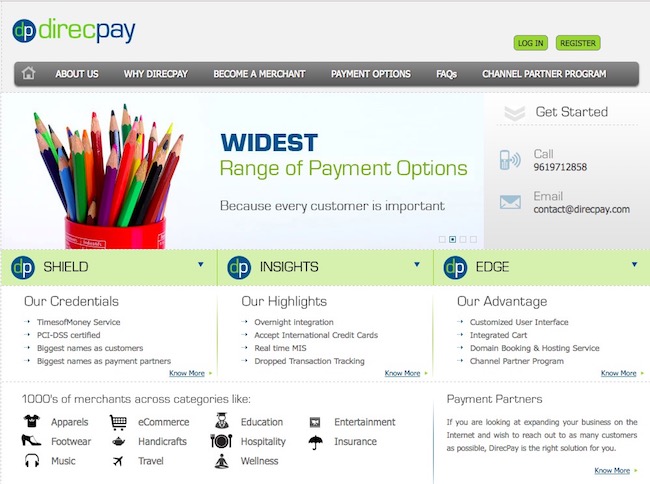 DirecPay is another popular payment gateway service in India that doesn't charge any Annual maintenance fee. The service provides accepts international payments/credit card transactions, but users need to International Payment Gateway first and deposit INR 30,000 which is refundable. Payment Settlement usually takes two working days from the date of the transaction. It supports multiple eCommerce CMS Systems such as OpenCart, Prestashop, nopCommerce, OsCommerce, WordPress, Joomla, Cubecart and more.
Their customer support is available on weekdays, but won't be available on weekends. Users have no need to pay any withdrawal fee and the charges per transaction are also very similar to other payment gateways. It provides multi-currency support after the activation of International Payment Gateway only.
So, these are some of the best payment gateways in India that you can check and apply for the account.
If you run an online store and sell your products through your website to global customers, then you require a medium to process that payment. As per the norms of RBI any local bank account cannot accept the cross-border payment from any foreigner directly without a proper channel.