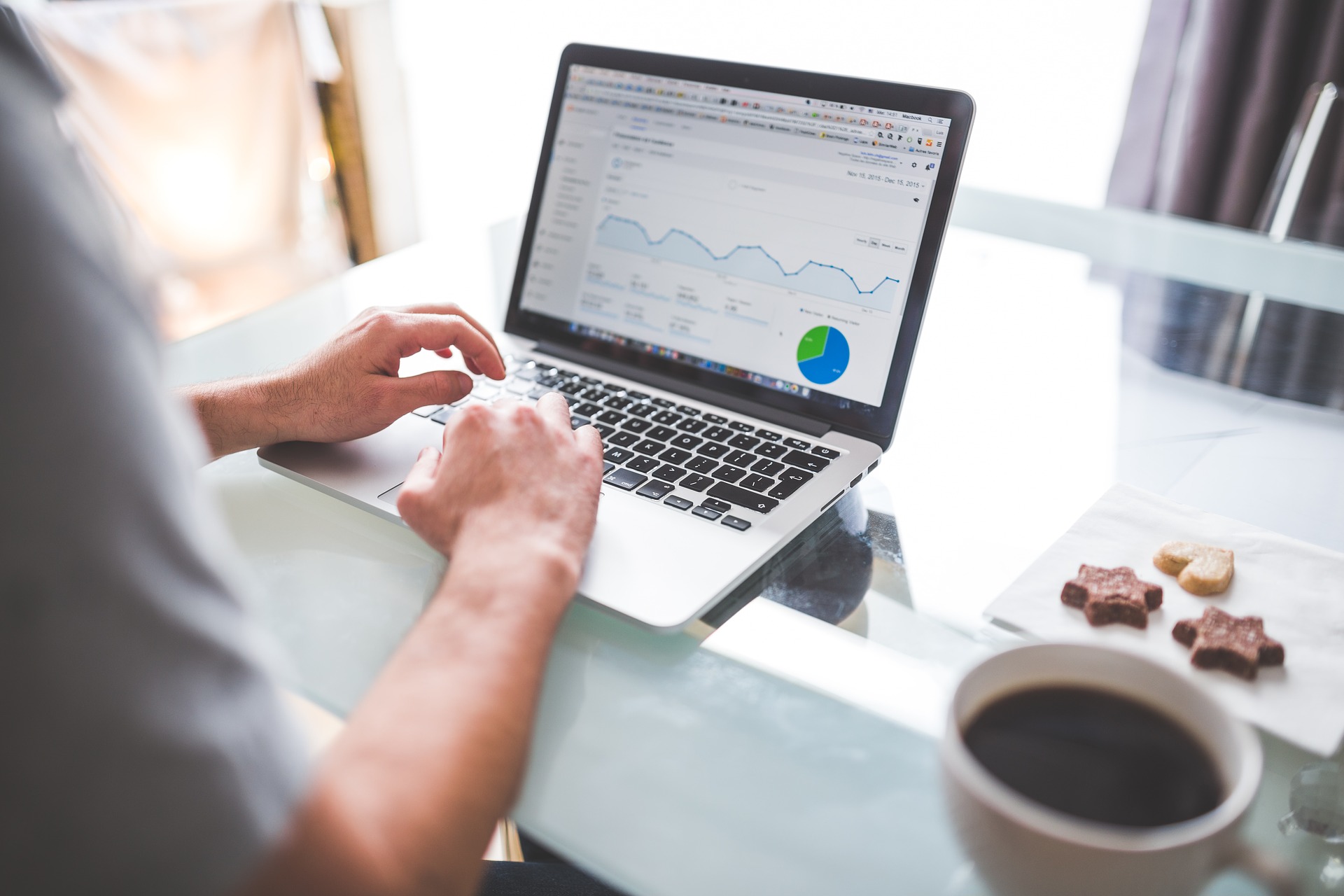 Today, reaching your customers, clients or your readers primarily relies on a considerable amount of the all-presence of social media sites no matter what business you are in. While most of the companies spend huge money for creating killer content for all the major social websites like Facebook, Twitter, Instagram, LinkedIn and more, tracking and reporting social media analytics plays a vital role in gearing up your business.
However, if the market is filled with different analytics tools, choosing the best one for becomes tricky. Also, with the recent shutdown of Topsy, most of the companies are searching for a better or suitable alternative to complete their needs. So to make ease in exploring one we have created a list of the best social media analytics tools for our readers, customers. However, before you start, it would be beneficial to know what is social media analytics.
What is Social Media Analytics?
Analytics, as we know, is a process to gather data from multiple social platforms and help you and your business grow with better marketing strategy. So Social Media Analytics consists of tools to analyze your data and present to you a guide for better marketing.
The Social Media Analytics follow different processes:
It begins with prioritizing your business goals, like if your business goal is to double the number of unique visitors to your webpage.
Also, the second step includes determining Key Performance Indicators a.k.a. KPIs. In this process, this shows results based on engagement stats generated from your chief social media KPI. KPI is based on:
Likes and Shares received on your posts
Comments and replies
moreover, the most importantly clicks on your links and the content earn.
By checking out the collected data, you can accurately figure out how it is resulting in meeting your business goals. With this, you can change or modify your marketing approach or keep going in the direction you have set.
Best Social Media Analytics Tools
Now if the definition is precise, here is our list of the best social media analytics tools to help you grow with their own unique set of features.
Let us begin…
SproutSocial is a great social media analytics tools with which you can measure your business performance across Social Media Platforms like Facebook, Twitter, Instagram and LinkedIn. As each brand should have a resolute social media management tool, analyzing each of them can be done on a single platform using it. Which makes it easier to track and compare to examine your efforts in business growth on multiple platforms with multiple profiles.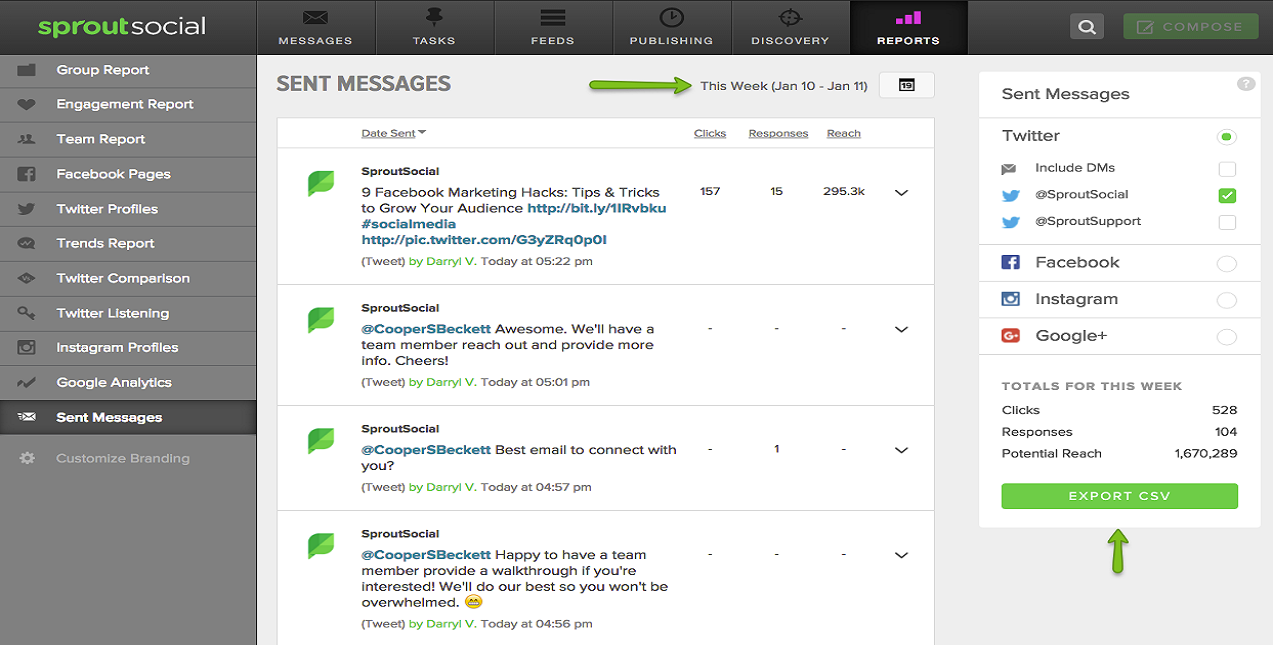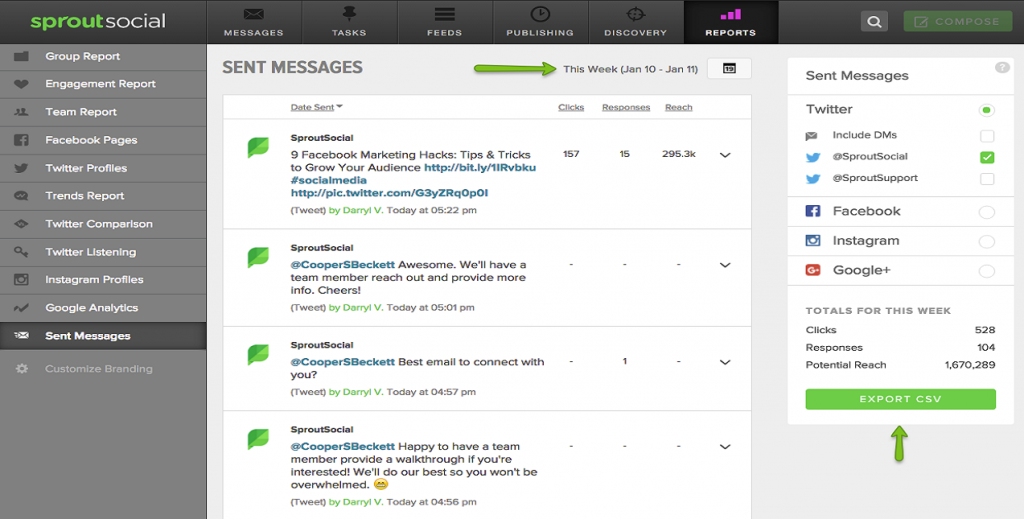 SproutSocial is recommended for brands with numerous social profiles on various social networks.
Networks Support: Facebook, Twitter, Instagram, LinkedIn, and Google+.
Price: Offers 30-days free trial before you invest in it with starting price of $59 per month.
Simply Measured is a tremendous comprehensive solution for a social media analytics tool and covers extensive social media platforms similar to Social Sprout except for YouTube instead of Google+. It offers four unique products related to social media incusing listening, social analytics, share tracking and conversion rate tracking. However, a user can also opt for its full solution pack to access all of those functions. All these functions by Simply Measured help you optimize your content timing and its reach to the community you are trying to hit.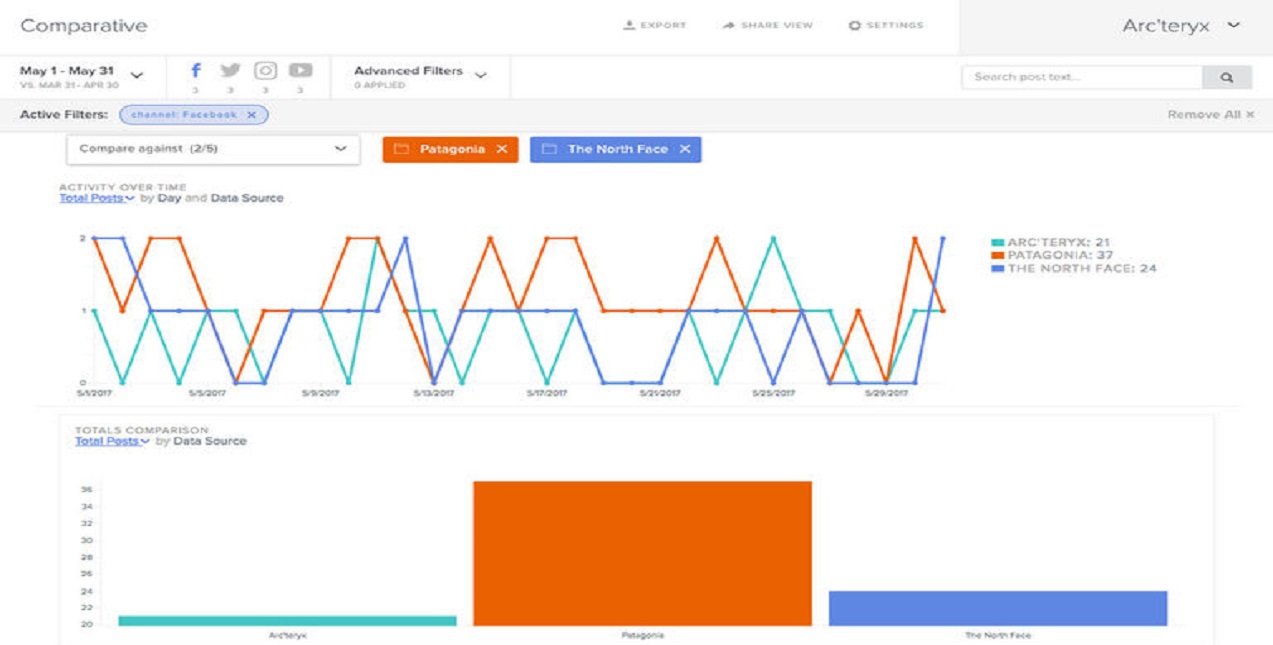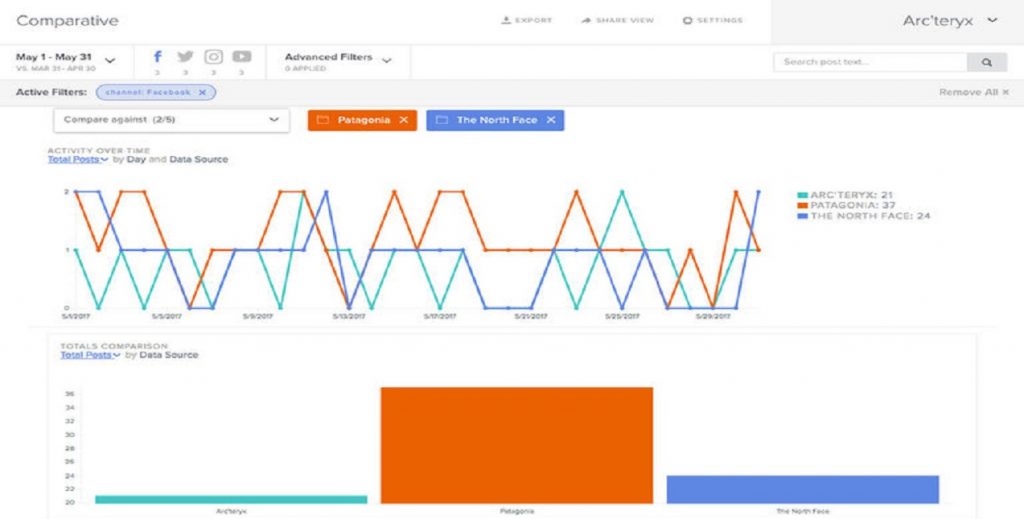 Now talking about its cons, this tool does not integrate with Pinterest and thus provide a little inconvenience to the companies having their human appearance on Pinterest too. Also, it is hidden price structure makes it tough to observe the cost-effect on your business. Thus the best option is to request a demo and opt for the best plan for your business.
Networks Support: Facebook, LinkedIn, Twitter, Instagram, YouTube
Price: Need to get a quote on Simply Measured; Not shared publicly
Klout is the Social Media Tool to measure your posts interaction with the users and create a chart with your influence and social impact rating across multiple websites. This then generates a data with individual Klout score between 1 to 100, and as your activity's interaction or engagement grows, the Klout score grows up too. However, if your score is 20? Then your posts are not drawing engagement or communications with the right followers. Its Graphical chart shows all the rating changed over time.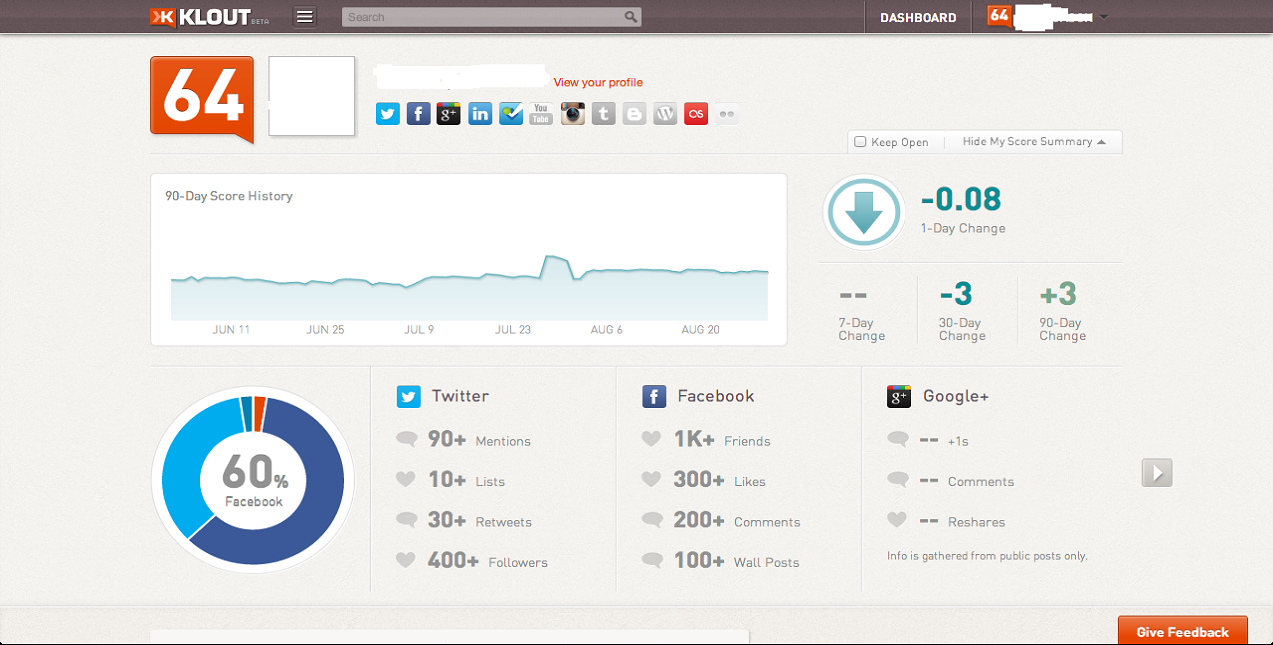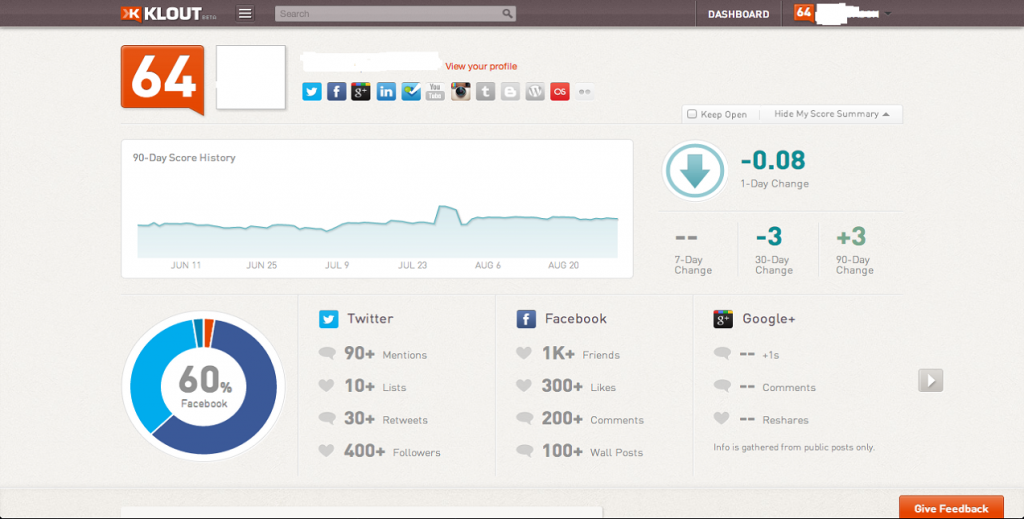 To help you boost your ranking, others users can recommend your service with a +K. Klout uses Bing, Facebook, Foursquare, Google+, Instagram, LinkedIn, Twitter, YouTube, and Wikipedia to collect the user data.
Networks Support: All websites with Social Media Platforms
Price: Free
Brandwatch, an internationally renowned social listening tool we have included into this list. This analytics tool covers everything necessary information for your company from every corner of the web like Facebook, Twitter, Blogs, forums, news and more. It also shows the data collected from the profiles you have connected with and also the trending and new emerging themes from the internet to maintain the balance in the company's favor.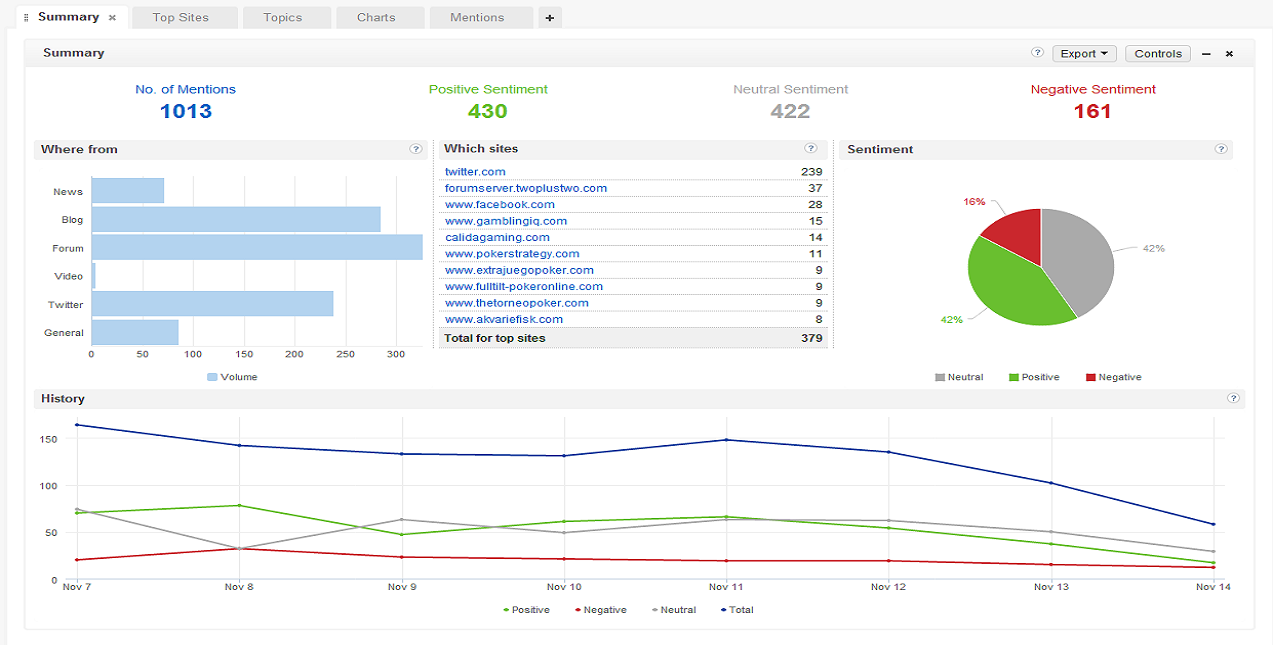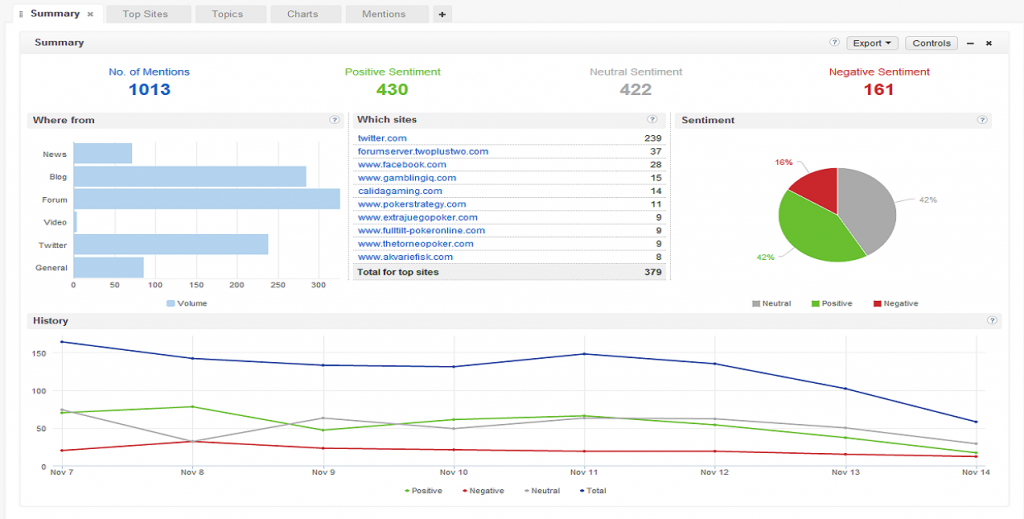 With Brandwatch's leads in the premium enterprise plan, you also get support from a dedicated account manager to give pieces of advice and help your business grow.
Networks Support: All the major social media platforms
Price: You need to contact to discuss plans according to your business
Buffer, similar to Sprout Social, it is also an all-round performer who lets you post on your platform and analyze the results. Moreover, it is straightforward and easy to use but gives you flexibility in use. It also provides real-time analytics which shows the direct impact of your content.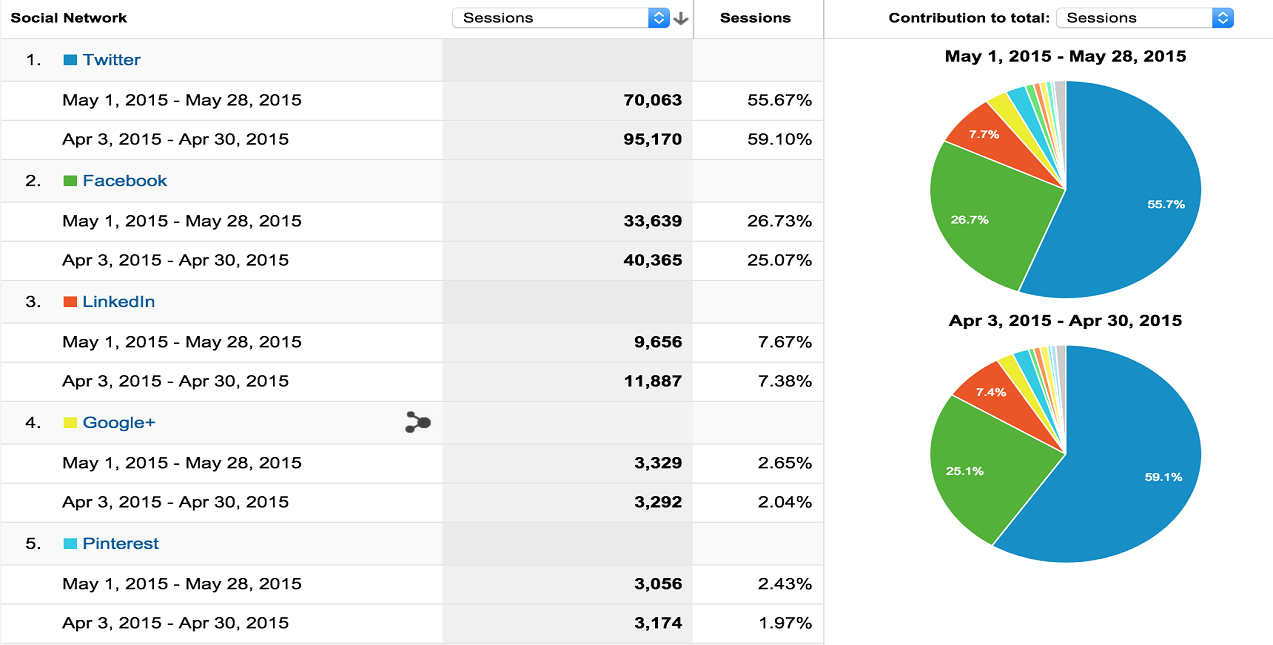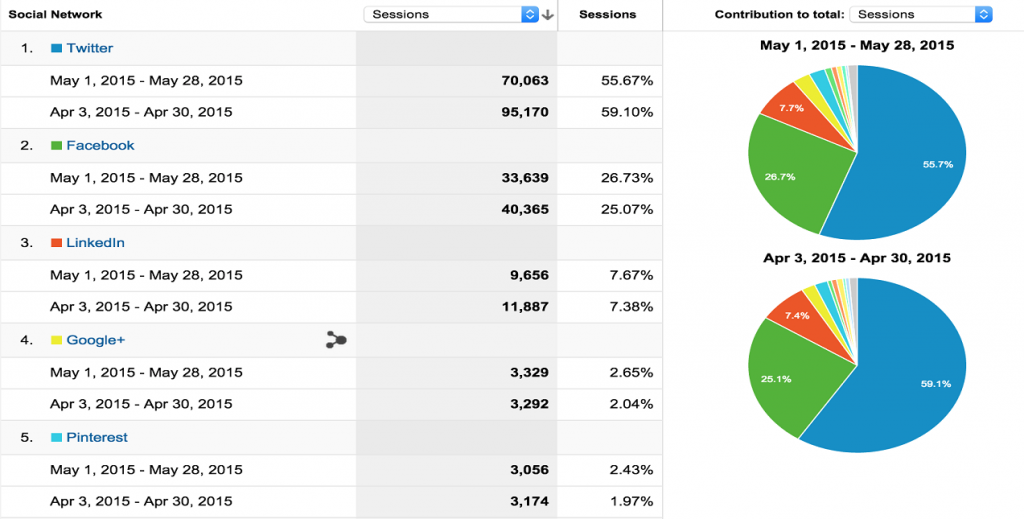 Using its "Top Post," you can compare different types of content to present you the best one for each network. Also, the integration of Google Analytics helps you analyze the marketing campaigns you are running.
Networks Support: Facebook, Instagram, Twitter, LinkedIn, Google+, Pinterest
Price: Free but advanced plans vary
Platform-Specific Social Media Analytics Tools
Iconosqaure is a platform specific tool to manage and analyze using Instagram Analytics suite. Its dashboard consists of all data from engagement stats to suggestions for better results like the best time to post and which tags and filters to use.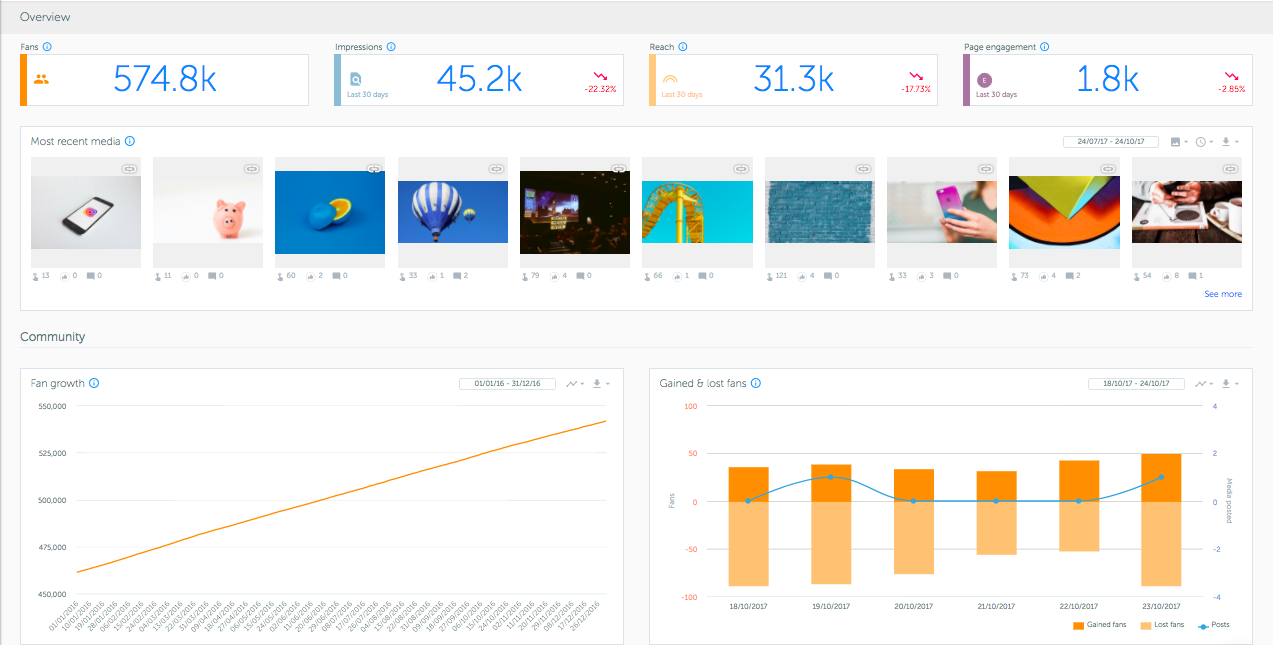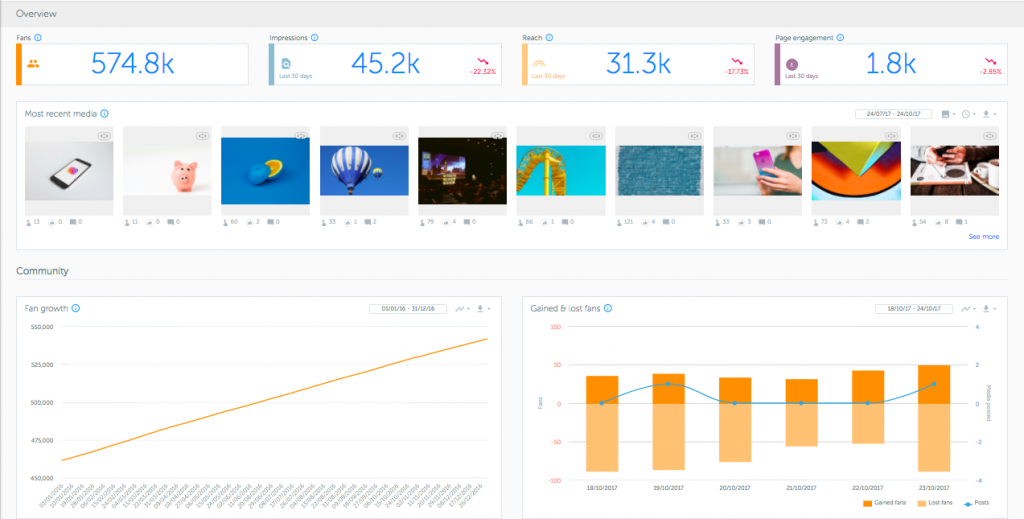 With Iconosquare you can also opt to receive emails to summarize your main metrics and thus you can look into your business growth and can implement to modify your set goals or continue with it.
Networks Support: Instagram and Facebook
Price: 14-day Free Trial; Advanced Plans Vary
Tailwind, a social media analytics tool specially designed to optimize your strategies on your Pinterest account. However, Tailwind has also started its campaigning for Instagram included in the free trails. So that you can try it before investing in its plans. Using Tailwind, you can track engagement metrics and your post's performance based on keywords, hashtags, boards and their categories.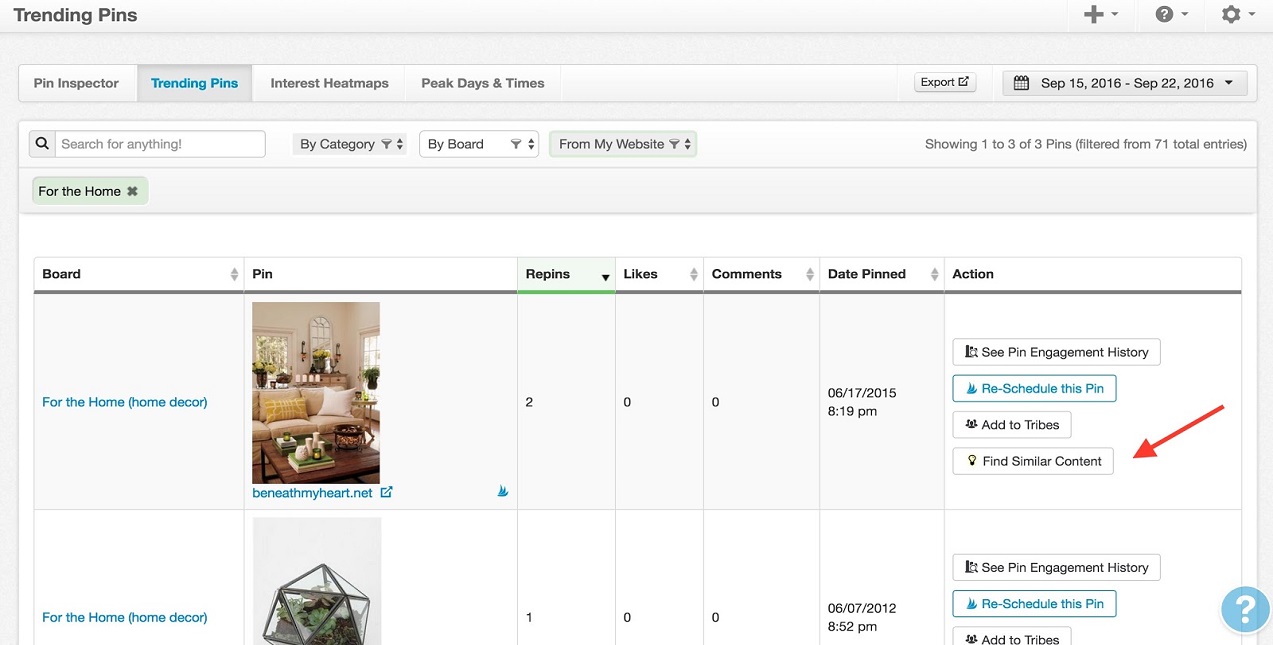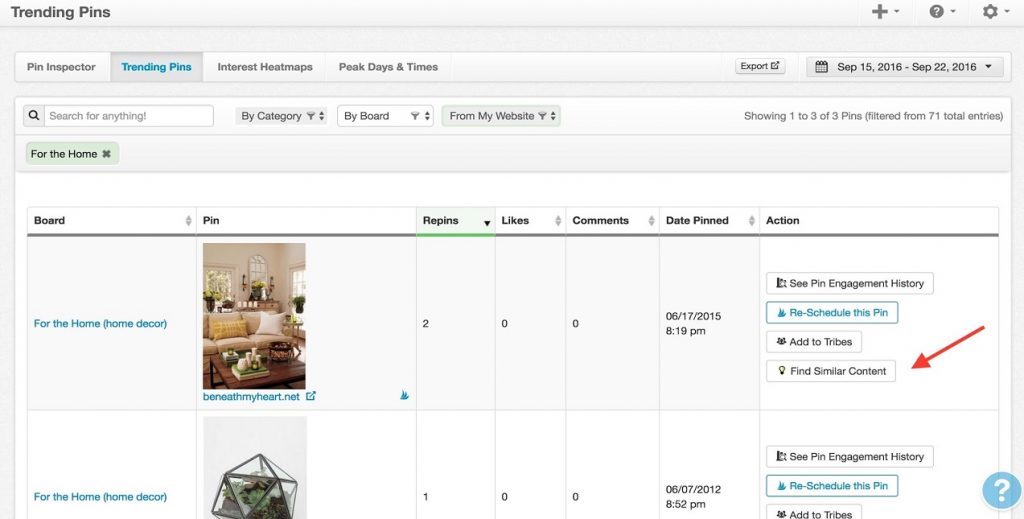 Moreover, with the integration of Google Analytics, Tailwind will find and recommend the best content for you to share and you can analyze website traffic and converted revenue from Pinterest.
Networks Support: Pinterest and Instagram
Price: Starts at $9.99 per month; Advanced Plans Vary
TweetReach, an analytics tool managed owned by Twitter itself with the best Twitter experience and showed your timelines to view your multiple accounts in a single view. With real-time tracking, organizing and audience engagement, TwitterDeck is the most potent yet convenient tool for Twitter.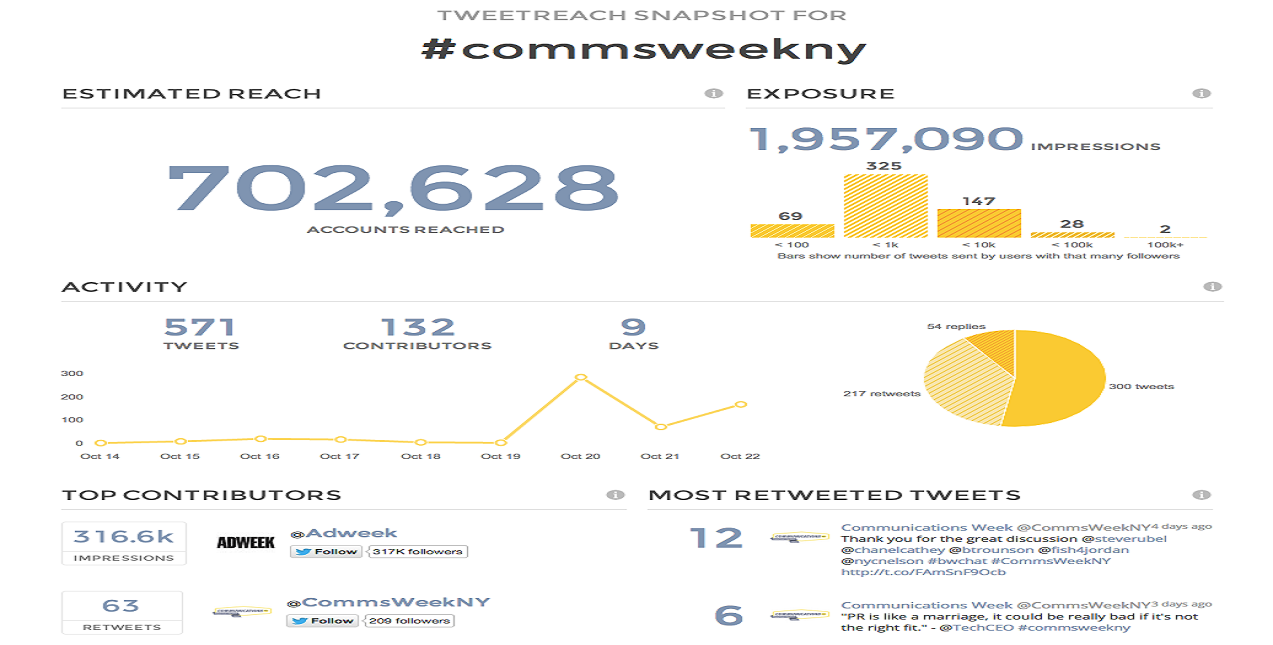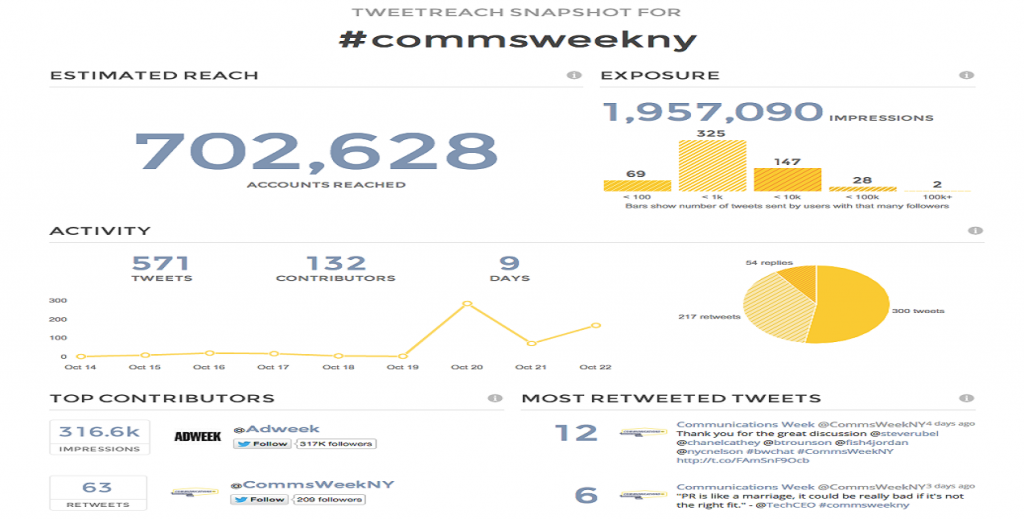 You can have a look at all the analytics by just typing a keyword, username or hashtag behind your head. You can also check trends with reach and impressions with its engagement data.
Networks Support: Twitter, Facebook, and Instagram
Price: Free; Pro Version starts at $29 per month
Wrapping it Up
As we did mention, there are lots of social media analytics tools available in the market out there. Our list just does the work to find the best one according to your business. However, do tell us your favorite social media analytics tools that can make reporting and analyze your website data easier? Also, if you have like dour efforts to bring out the list, do share it with your friend and family to make their business meet their goals. Thanks for Reading. Adios.