Today, we could easily spend 1000$ for a gadget with good sound quality. Thus Studio Monitors are regardlessly an essential device for achieving great sound. On one hand where studios are willing to spend amount over $10,000 but are difficult for an individual or a small studio which is unrealistic for a home studio. Spending that huge amount to get a good pair of speakers is not always necessary.
Top choices depend on budget, personal preferences over sonic characteristics and, to some extent, the type of music you are making (although it is a fair assumption that producers of most varieties of dancefloor-focused electronic music have roughly similar requirements regarding transparency and full-range frequency response).
To prove that we are here with the list of some amazing sound quality of speakers you can buy when either you are on a budget or have been saving a chunk of money.
An entirely subjective guide to our favorites, from budget models right up to money-no-object dream speakers:
As we believe spending more money is not necessarily a guarantee that you will find a better pair of monitors for your requirements.
Aspects of which we chose these 10 out of hundreds of monitors available in the market:
Price
Size (Tweeter or Woofer)
Compatibility
Sound Quality
Total Harmonic Distortion (THD)
If you are one of them who record songs or music on your PC/Laptop, you might like Best Audio Recording Softwares for excellent Audio Quality. You can also check our list of Best Recording Microphones and Best DJ Softwares or Best Music Making Softwares for a better quality of Recording and Music Mixing/Making.
BEST Studio Monitors & Speakers For All Budget Range
The first thing you notice while browsing some studio monitors is the look, and these extinct yellow dots is what you see. These speakers are on the list because you will not get any better set of monitors at "entry-level" price which is also more reviewed, more popular and is more recommended than these.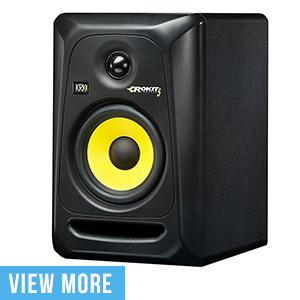 The reason behind saying that is you can spend days reading reviews without finding a single bad review about the KRK's and that is why will be highly recommended for beginner's studio.
Price: $135.50
Connectivity: XLR, TRS, RCA
Design: 2-way ported
Woofer: 5-inch Aramid Glass Composite
Tweeter: 1-inch soft dome
Frequency response: 45Hz – 35kHz
Eris E4.5 falls just under my radar for their very affordable and solid equipment. With 4.5-inch woofer is a bit smaller than many monitors in the list but is made quite nicely. The amp is only about 50-Watts so it is around half of the bigger competitors out there, but this is also half the price without sacrificing much in power. Not that these will not play loud (they are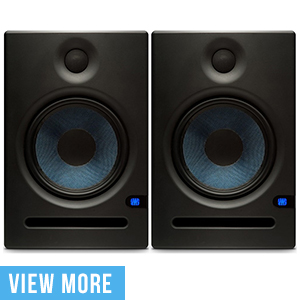 more than enough for a small home studio), so don't let that turn you off.
These hold no cheap plastic and knobs are quite nicely made- solid built quality altogether. Also, these set of monitors has got much praise for its near-field listening accuracy.
Price (pair): $159.99
Connectivity: TRS, RCA, XLR
Design: 2-way ported
Woofer: 4.5-inch Kevlar cone
Tweeter: 1-inch silk dome
Frequency response: 70 Hz – 20 kHz
Mackie, a company known for their quality mixers and is no failure when it comes to Studio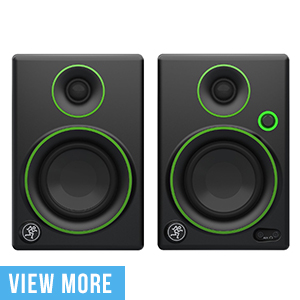 Monitors either. Moreover, CR5BT is one of their latest and popular monitor models mainly because of the deep lows and crisp highs.
Mackie CR5BT Studio Monitors with Bluetooth are designed for multimedia, with Bluetooth streaming that delivers ultimate flexibility for media creators and music lovers. Featuring 50 watts of power and premium transducers, CR5BT provides a rich sound with deep bass response perfect for producers and musicians.
Choose which side of your desk gets the volume knob with CR's speaker placement switch and take advantage of convenient front-panel features like a dedicated headphone output with level control. With Mackie Creative Reference monitors, you get professional sound quality and features in smart designs perfect for work.
Price (pair): $219.99
Connectivity: Bluetooth, TRS, RCA
Design: 2-way ported
Woofer: 5-inch Polypropylene-coated
Tweeter: 0.75-inch silk dome
Frequency response: 60 Hz – 20 kHz
Edifier R1280T – Best CHEAP Studio Monitors
Edifier has proven time to time that they are the masters of design without compromising the sound quality and R1280T is best system one can get at this price and stands well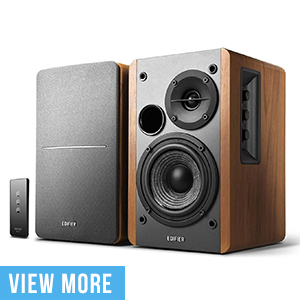 against all other competitors which cost twice as much of it.
With 4-inch woofer and a half-inch tweeter, R1280T is a pretty good deal to go for as it does not comprise with its performance. The system also includes front-dials for adjusting bass and treble. It is surely at the top of the game in its price range with the rich and punchy Bass, the highs and lows are clear, and it pumps out more than enough crystal clear sound to rock out.
These set of monitors is highly recommended for the low budget or home studios.
Price (pair): $100
Connectivity: RCA, AUX
Design: 2-way ported
Woofer: 4-inch cone
Tweeter: 0.5-inch Silk dome
Frequency response: 75 Hz – 18 kHz
Adam Audio A7X – MOST UNIQUE MONITOR (Our Pick)
ADAM Audio is one of the recent company among the list which was founded back in 1999 at Germany which is mainly popular for their mid-range AX series and A7X being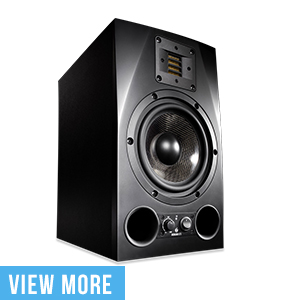 the most famous set of monitors among all of them is no surprise.
Known especially for its unique X-ART Tweeter, the A7X's pretension what may be the most hi-tech tweeters on this entire list with those impressive specs and the most highlighted one to reproduce frequency upto 50 kHz, which is beyond human hearing. What they mean is they provide an extremely flat frequency response, within our hearing range. It also carries a special feature of front bass harbors which enables to place them more near to wall when kept in small rooms. They might not be the gorgeous looking, but you are not here for looks when sound is what you care about, and I highly recommend them.
Price: $749.99
Connectivity: XLR, RCA
Design: 2-way ported
Woofer: 7-inch Carbon/RohacellGlass Fibre cone
Tweeter: 2-inch X-ART Ribbon
Frequency response: 42 Hz – 50 kHz
Genelec M040 – BEST Studio Monitors under 1000 $
Genelec is popularly known for high-end studio monitors. However, most of their monitors are highly expensive for this list. However, with their M-series, they have found a way to appear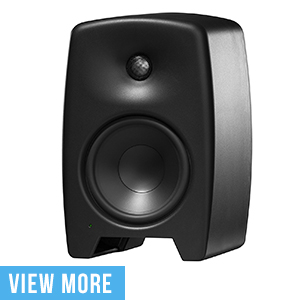 in this list with somewhat affordable M040 studio monitor.
M040 holds a unique ergonomic of placing downward facing bass port for use in smaller rooms and energy-friendly class D amplifiers which add up to its efficiency, and it is intelligent signal sensing which automatically powers off the device when not in use for a longer time.
Price: $795
Connectivity: XLR, TRS, RCA
Design: 2-way ported
Woofer: 6.5-inch Kevlar cone
Tweeter: 1-inch Metal dome
Frequency response: 48 Hz – 20 kHz
M-Audio being more popular in reviews for its dependability regarding long-lasting stability and accuracy of sound and AV42 does no less. You just can't beat the quality for the price you are paying for when you are strict on a budget. This is not necessarily the most feature-packed monitors with massive woofers but is surely recommended for beginners.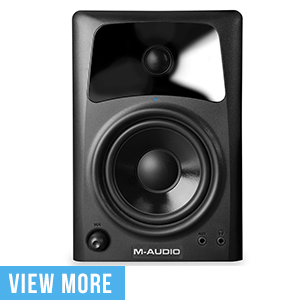 It's 4-inch woofers, and 1-inch tweeters do give nice feel regarding low and high frequencies. What I most liked about them is additive RF interference protection, not to mention the temperature help, transient and subsonic filters. The only thing I will suggest is to switch off the device when not in use to increase it is lifespan.
Price (pair): $139
Connectivity: RCA
Design: 2-way ported
Woofer: 4-inch Polypropylene cone
Tweeter: 1-inch Silk dome
Frequency response: 75 Hz – 20 kHz
LSR305 is JBL's best sounding speaker for music till date in my opinion as they provide clean and accurate sound. It also has excellent performance for the price they will cost you and also provides much lower frequency than many of the monitors available in the market.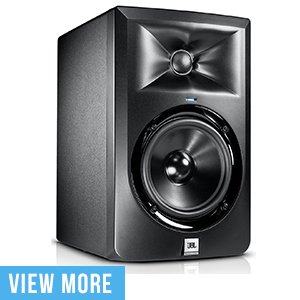 With the above average size of woofers and regular size of tweeters gives you a little high end over other low budget speakers and surely a good investment. As a pair, these are a bit costly but is recommended for studios if you can invest a little more money. They are not as loud as other monitors, but that is not the key when looking for a high-quality studio monitor which is also very reliable.
Price: $148.99
Connectivity: XLR and TRS
Design: 2-way ported
Woofer: 5-inch cone
Tweeter: 1-inch Composite Neodymium dome
Frequency response: 43 Hz – 24 kHz
Yamaha HS8 – BEST Studio MONITOR Under 500 Range
Yamaha has always been a popular name among music industry since 1970 after the release of their NS-10, and here HS8 combines the same classic sound with some latest technology tweaks. It has always been my favorite in the market with the appealing Design, and Professional Audio Quality.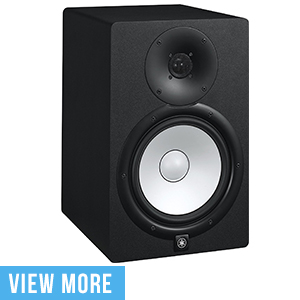 This HS8 is no less with their signature white coned woofer. Yamaha also provides its unique mounting system which eliminates the vibration and is intact with huge magnets for a smoother response over a wider range of frequency. Delivers professional performance at a right cost and is recommended for professional use.
Price: $349.99
Connectivity: XLR and TRS
Design: 2-way ported
Woofer: 8-inch Kevlar cone
Tweeter: 1-inch Silk dome
Frequency response: 38 Hz – 30 kHz
Alesis Elevate 6 -BEST Studio MONITOR Under 100 Dollar Range
Alesis has always been known for creating strong, long-lasting products for us. Moreover, Elevate 6 is the latest gear from them which is an upgrade of
their Elevate 5 which received lots of positive feedback from users since it is release.
Alesis gives you two options (Active or Passive) to buy, but you need an amplifier for the passive ones, which we reviewed were Active Monitors which features a waveguide.  That is elliptical as opposed to a straight or even curved, which has been applied in engineering frequently and is slated to give a more smooth frequency range.
These are not sure the window cracking speakers but is feasible for mostly budget-friendly studios. The frequency response is very flat, so you are getting a nice, accurate sound to be confident with in your mixes. These are relatively standard but quite low regarding price with something of this woofer size and overall clarity.
Price: $89.99
Connectivity: XLR, TRS, RCA
Design: 2-way ported
Woofer: 6.5-inch Kevlar cone
Tweeter: 1-inch silk dome
Frequency response: 55 Hz – 30 kHz
Final Verdict
I hope with this list of best studio monitors you will be able to invest your money in a right place no matter whether you are on a strict budget or want to buy mid-range studio monitors, we have everything covered.
Do share this with your friends and family and encourage us to write more like these to help you buy the best gear for the right money.
Thank You for reading. Shop Well.