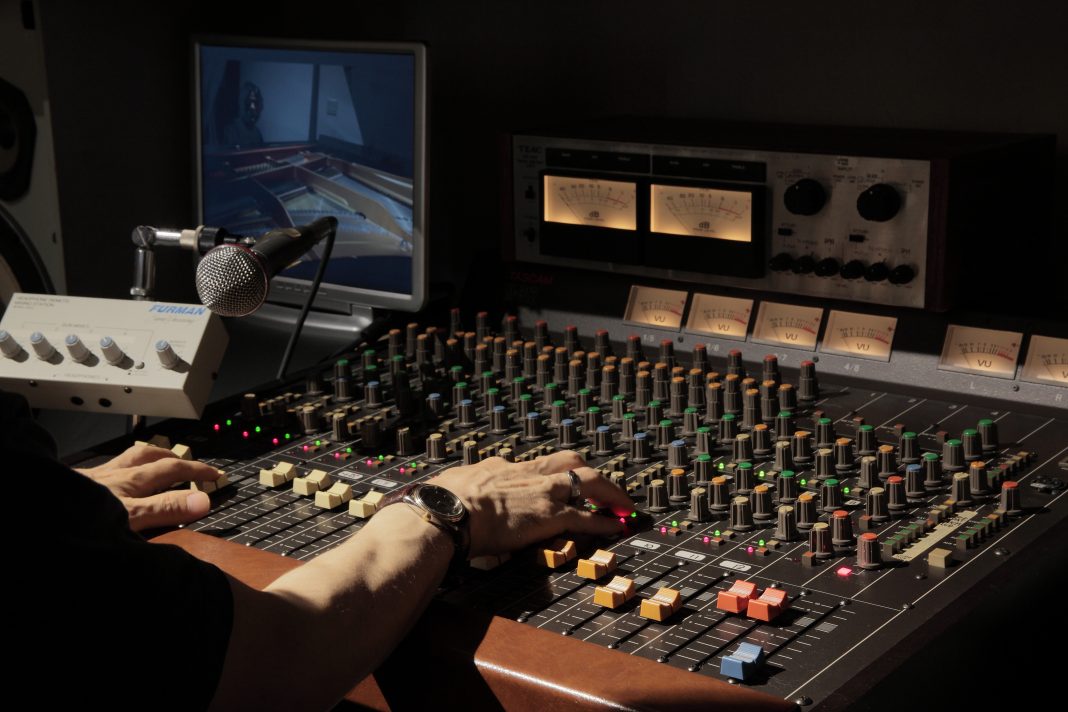 Unlike years ago, things have changed today in regards to how music is created. It is no longer about live session musicians coming together with drums, guitars, and keyboards, but rather it all about software. The coming of the digital era has greatly simplified how music is being made.
Be it a newbie or an experienced singer or just a fun guy who likes sing, tinkering with software can produce the best of results. The software that is being used are called Digital Audio Workstations or abbreviated as DAW.
If you are new to music production, an aspiring producer, or you are recording artist, take a dive in this review of the best Music Production Softwares, and you may find the perfect software to help your career. You will also like to see our list of best beat making software's and audio editing software. Android and iOS user may try these beat maker apps.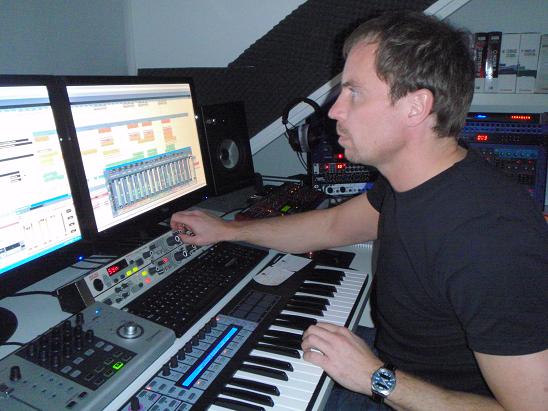 What is Music Production Software?

It is a Digital Audio Workstation that an artist or a music producer uses to record compose, mix, edit, arrange, and refine his audio tracks. They assist the artist in creating music without the need for any live instruments. There are many production software's in the market out there; some are free while others are sold at a price. Some have been there for some quite some time while others have come out just recently. The choice is a broad one; you can choose a product depending on what you want to achieve with the tracks that you are creating.
Like anything that one would want to buy there would be certain things, you would like to consider when you are buying or using a particular device or software.
Listed below are some of the considerations that you would like to consider when before you decide to buy a DAW.
1. Budget and Future Upgrades

Out there they are free software's and software's that one can buy. If you are new to this business and you are limited in finances, it would be advisable that you use the free softwares.
You must consider how much you are prepared to spend now and in the future even as your skills continue to grow. Do you want to start small with free software and progress high-end software? Or do you want to buy expensive software that will not cost you to upgrade in future?
Major DAWs have:
Introductory version
Intermediate, mid-range version
Premium, flagship version
Researching on the particular features of a DAW and checking the price range helps one to make a considered opinion of what one is comfortable in paying and the features one will get from the DAW bought.
2. Support

What is the support level that is being offered by the software company that you have chosen? Are there any active online groups, message boards or forums that can provide help in case you have doubts on the respective products. You may want to consider the size of its online forums they can be used to gather knowledge, ask for advice and also trade ideas. A good DAW will have a large online community that will have a number of online tutorials.
3. Style of music and preferred workflow

What do you want to focus your making your music with? Do you want to work with milked instruments or vocals or other recorded material?
You have to select the DAW that based on what you will plan to produce. Though most of them have the same features, there are others that have particular strengths in particular area, for example, Ableton live is good in live performances while Pro Tools is used in mixing large numbers of audio tracks recorded in various instances. The major deciding factor comes out to be the price point.
4. Experience

Are you a newbie or an experienced guru in the art of music production as explained earlier if you are new to this industry it would be better to use the free software that is in the market. But if you have years of hands on experience it would be better that you go for the more complex software that has more features.
5. System requirements

Which operating systems are you running? How powerful is your computer? What is the amount of memory and the processor speed? Some DAWs can only run on a particular operating system such as Windows, Linux or Mac, for example, FL Studio only runs on Windows while Logic Pro runs on Mac OS.
You also have to consider how powerful your computer is; every DAW has got its system requirements. Any powerful computer allows you to run any DAW. Of importance here is to check the amount of RAM of the computer that you will be using.
6. Effects interconnectivity and Outboard synths

What outside the box production will you be doing?
They may come a time that you may want to incorporate external synths or drum machines. You may also want to use external stompboxes and processors, which can be used in recording in computers in a return loop. If this appeals to you, have to look and try and strike a balance in outside the box work that you may be involved. If this is the case, then these can determine what kind of DAW you will be purchasing as some DAW are designed for external connectivity than others. So here you have to consider the amount of outside production you will be involved in and the suitability of the DAW you will purchase as some are easier to setup than others.
7. Work environment

What environment will be using the DAW? Will it be at the studio, recording, and mixing or will it be at live events?
These are some of the options you have to consider before getting a music production software; there are some music production softwares that can be used for both live and studio uses.
8. Bundled plugins effects, instruments, and library sound content.

A majority of the inbuilt DAWs in computer operating systems come with custom plugins effects and tools. However, they might not be as good third-party versions. Here you have to choose whether to buy an expensive DAW with bundled instruments or buy a mid-range DAW that has good quality effects and one can be able to add plugins from the internet.
Major workstations will have nearly the same functionalities as the rest of its competitors. More often than not a mid-level DAW system you choose will serve your needs competitively.
But different software companies emphasize on some features more than the others and here come the differences.
Coming up with this list, we have tried to check the following:
• The software popularity.
Cost at which it is available on the market.
• The audio capabilities,
• Live performance compatibility
• Versions available
• Compatibility on various Operating Systems
List of Best Music Production or Making Softwares
Here then are the 12 most used music production softwares today.
1. ABLETON LIVE 9 (Best Music Making Software)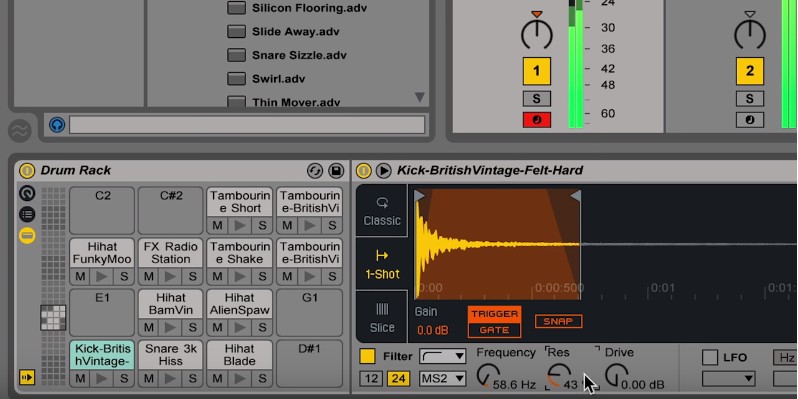 Launched on 2001 Ableton live is by far the most popular among the best music making software. Currently, on its 9th edition, it is being used by a lot of people in music production. It is said that it is easy to follow as it has "arrange" and "session" features which are the main views and are linked well, making them easy for composing and editing. It is designed in a way that it is easily usable for professionals as well as amateurs. It enjoys a huge following that is why we have put it as the first DAW system.
What we liked
It has a controller which comes with 64 buttons knobs and controllers which make Push 2 a producers dream. This makes it one of the best hardware in the market.
With its live instruments, you can get up to a maximum of nine instruments and 41 plugins.
It is compatible with Windows and Mac
2. BITWIG STUDIO 2.0 (Best Music Production Software for Beginners )



It is a new music production software in the market it was released in 2014. It has rapidly become a favourite among music production enthusiasts.
It was made by former employees who developed Ableton live.
It improves on the Ableton Live in a couple of ways. The BITWIG STUDIO 2 comes with 25 new modulators to help you in your editing. Also, the new 2.1 update is out with a lot of bug fixes and performance upgrades.
It has a central display that has editing panels that enable smooth workflow while switching between arranging, editing and mixing tasks. With every new update, the software has become well optimized for the OS it works on.
It easy and simple to learn and use appeals to professional and amateurs alike.
What we liked
You can run popular plugins side by side with no issues relating to latency as each VST runs independently.
It has a "sandboxing" feature that ensures that your project does not lag behind and no plugin will interrupt your project. This feature helps your computer not to freeze when running a plugin.
It has powerful MIDI editing and audio editing striking a balance between them.
3. FL (Fruity Loops) Studio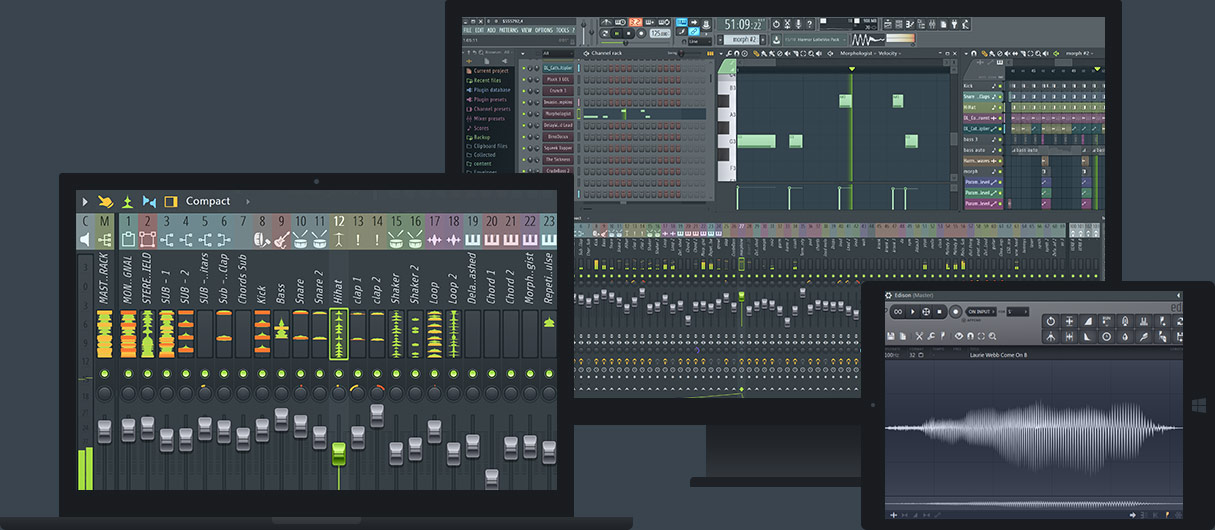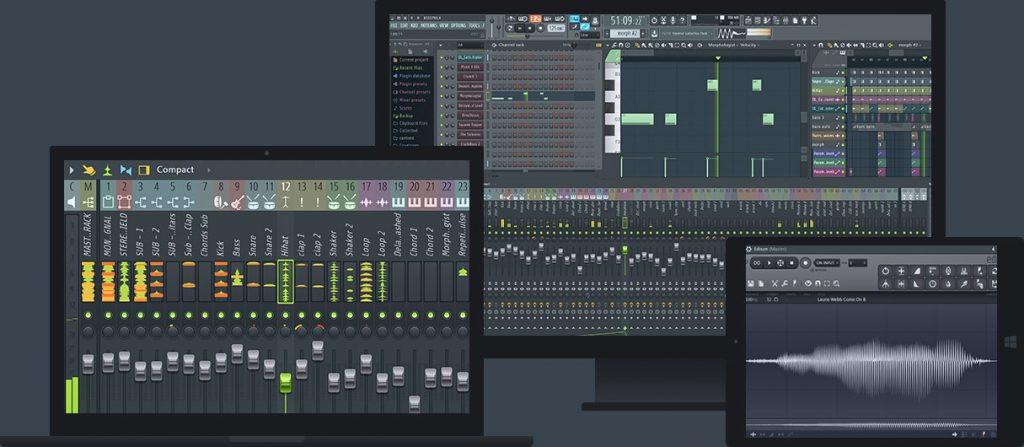 If there is software that has been there for quite some time is Fruity Loops known in the music industry as FL. Developed by image-Line in 1997, it has undergone a couple of upgrades with its current version being version 12.
These versions come with scalable interfaces and multi-touch interfaces.
It also comes with a wide variety of plugins including samplers' virtual effects synths as well as support for VST, VST2, VST3, Rewire and DX.
It has free lifetime updates after you have purchased a copy you will have access to upgrade free for every version. It is available for Windows only.
What we liked
It has Sytrus which is fruity loops operator 6 FM.
FM synthesis is a bit hard for starters Sytrus makes this easy and satisfying it also makes one make monstrous sounds.
It can found in three versions – Fruity Edition, Producer Edition, and Signature bundle.
It has a number of plugins and synthesizers.
It can efficiently cross-work between working with MIDI virtual instruments and audio.
4. STUDIO ONE 3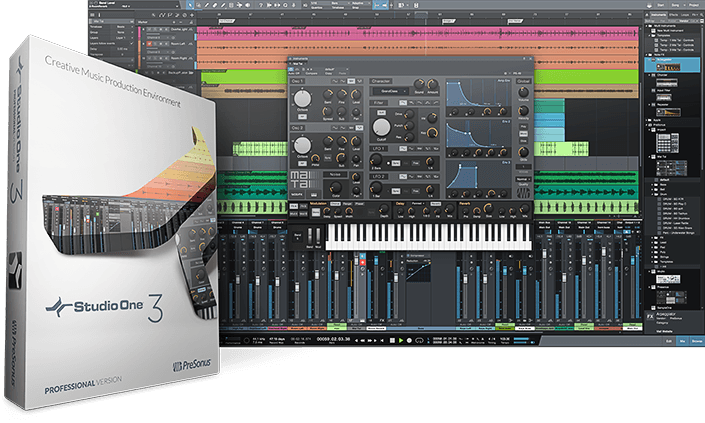 The workspace of Studio one 3 is easy to navigate its workflow allows one to go a full mix session quickly. It has good editing capabilities which enables one to test other ideas as work goes on.
The screen interface is touch which allows you to navigate different screens quickly and easily. It comes with a lot of preloaded instruments and sounds. It is available in two versions – artist and professional.
Available in Windows and MAC OS.
What we like

Scratch Pads this is a feature in Studio 3 that allows one to sketch ideas that you can, later on, drag in your project.
Before putting anything in the mix, they duplicate areas of your mix in a side panel.
5. SONAR Platinum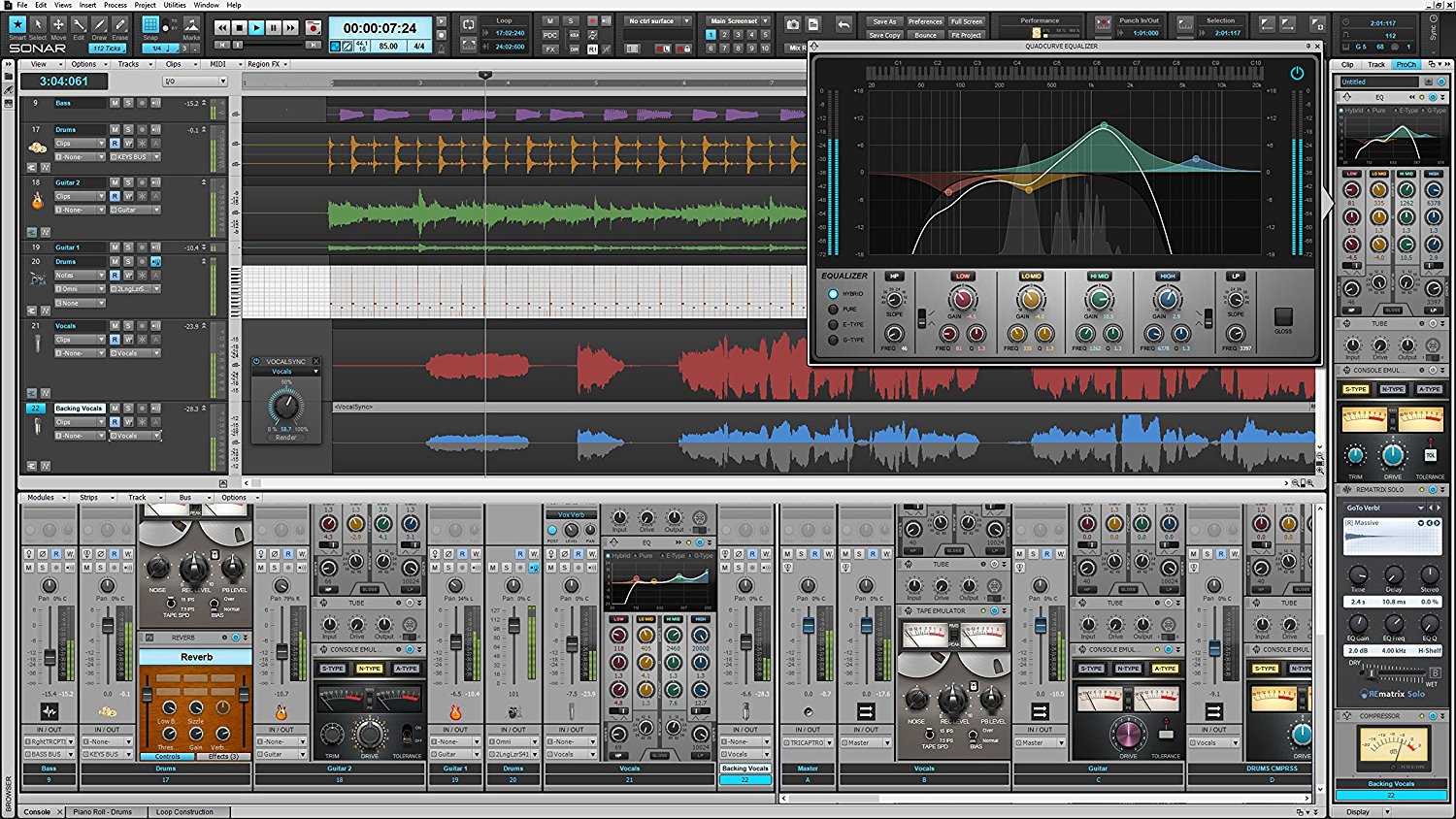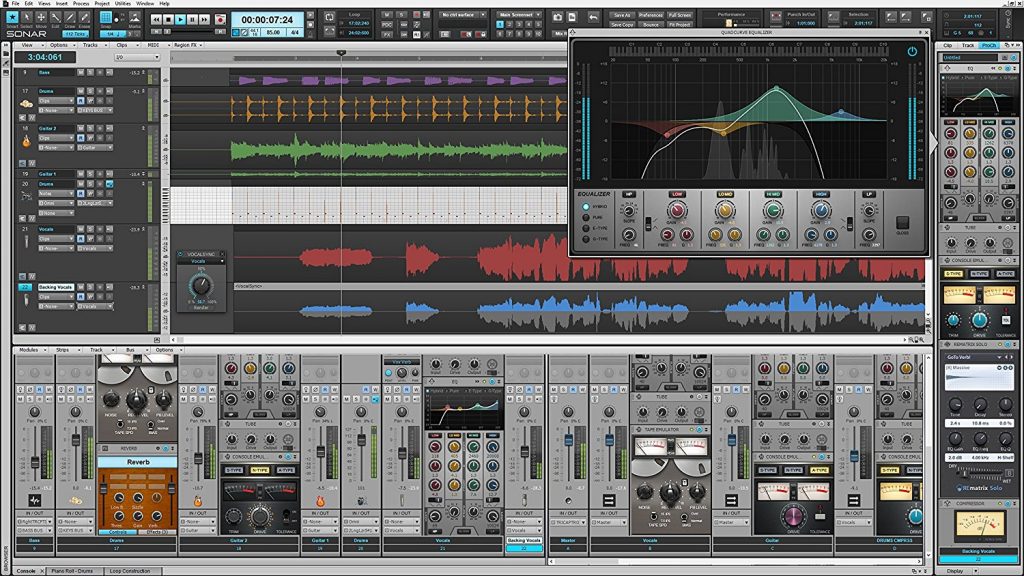 It is one of the older software. Touted as one of the best DAW out there.
It was initially released in 1991, and it has grown to be a powerful music creation software. It has an interface called Skylight which is separated into five regions that make it easy to navigate.
You can move hidden or moved depending on what you are working on.
It has a control bar to enable one access all their tools.
It also has a drum replacer tool that can be used to enhance your drum tracks.
Its vocal Sync is used to sync easily vocal tracks that are different together.
What we liked about it
It has a Paint MDI function that is quite useful for composing.
6. Audacity (Best Free Music Production Software)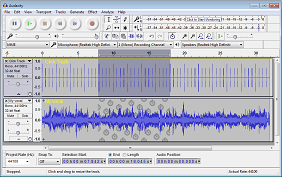 First released in 2009 as a free recording software, it continues as a free software to this day. It also has support for different operating systems.
It has a flexible interface that is easy to master. Therefore Audacity is a good platform to start if you are trying out your luck as a beginner. The software has a frequency analysis tool that allows a user to adjust bass, treble, pitch and analyses tracks. Using the program users can edit audio files as the program presents tracks as editable waveforms.
Compatibility: Windows |MAC | PC
What we like about it
It is simple, and that is its primary strength. It is easy to learn and has many advanced features as that of many top tier music production softwares.
7. GARAGEBAND (Best Free Music Making Software for MAC)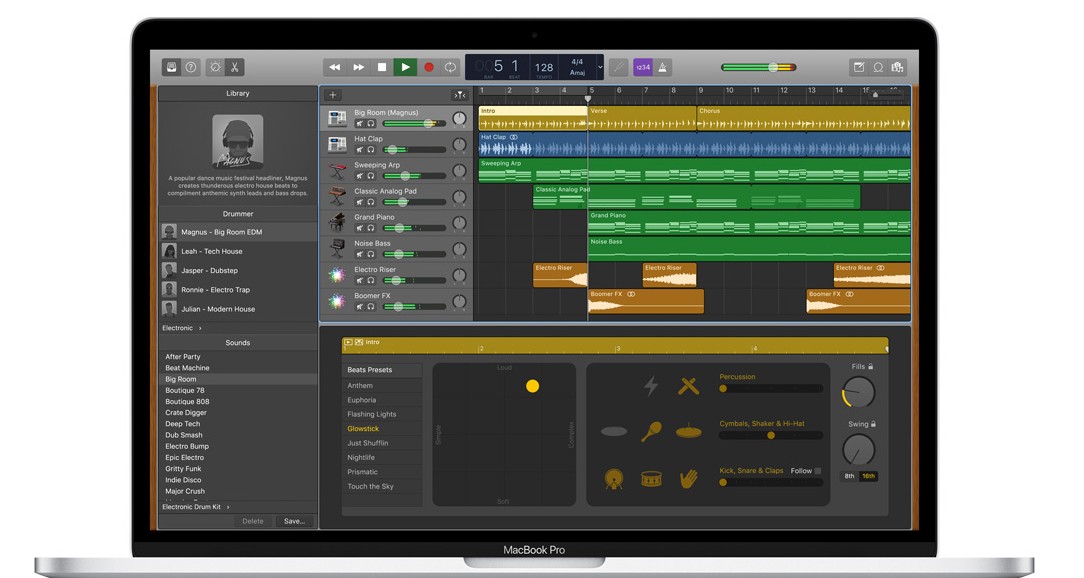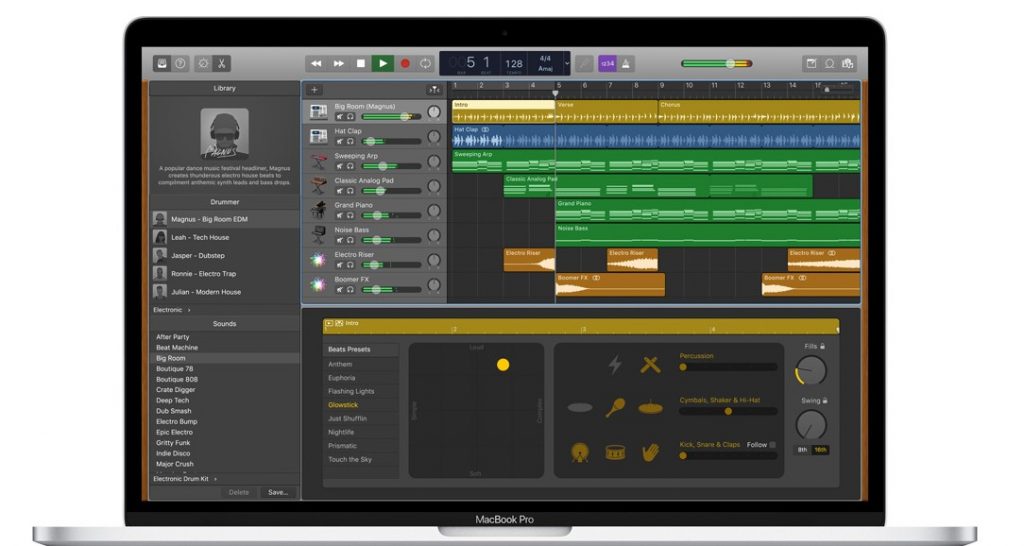 Garage Band this is a free DAW developed by Apple. It comes free with all its Mac OS versions it is also quite popular among the Apple fans. Its principal likeability point is its accessibility and ease of use
It is simple to use and has a straight forward format when you add an instrument you see it on the tray.
Its' straight forward coding makes it easy to follow. All tracking is simple to understand, and the instruments loops are easy to navigate.
It has a simple layout so that first-time users can be able to understand.
What we like

It is simple to use and comes pre-installed on Mac OS.
It is also easy to upgrade to the more advanced operating systems which are also developed by Apple.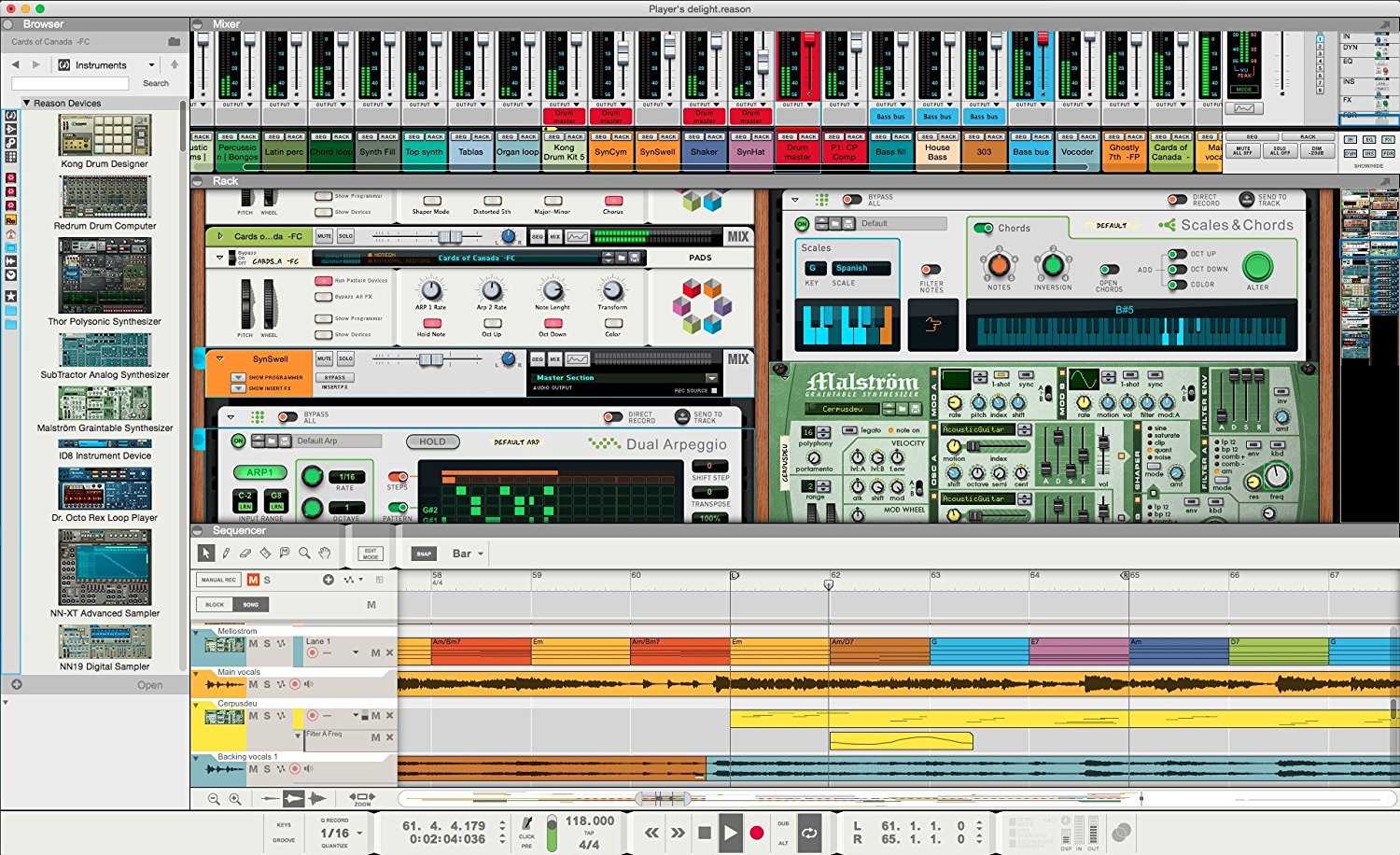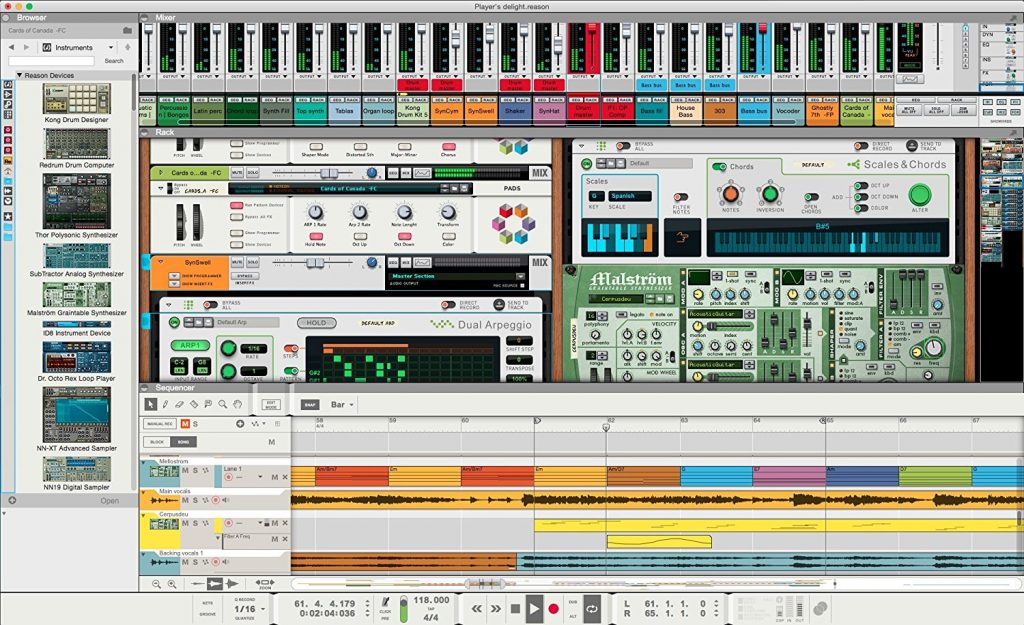 The first version of Reason was launched in 2011. Now it'sin version 9.5. It has the loyal following of many music artists and producers.
Its key features centers around 'Rack' view. Instruments, processors, and modules can be added for simple, arranging to sample, and editing.
The tool at the center is the rack as you create your song you insert the sounds effects and instruments. With the new version that is the reason 9.5, the developers have added VST plugins to the software. The addition of VST plugins was one of the most requested features on PROPELLERHEAD forums. This shows that the developers are always paying attention what the customer want from the software.
The software allows you to add more Rack extension and more VST plugins. Their VST plugins are Reason strong point. It offers one of the best virtual instruments among the DAWs.
Reason VST capabilities are its strong point. It offers some of the best virtual instruments out there.
What we like about it
Reason is used as music workstation or as a VST instrument for recording companions.
It also has a 30-day trial version which can be downloaded and tested out to see how it performs and works.
9. AVID PRO TOOLS 12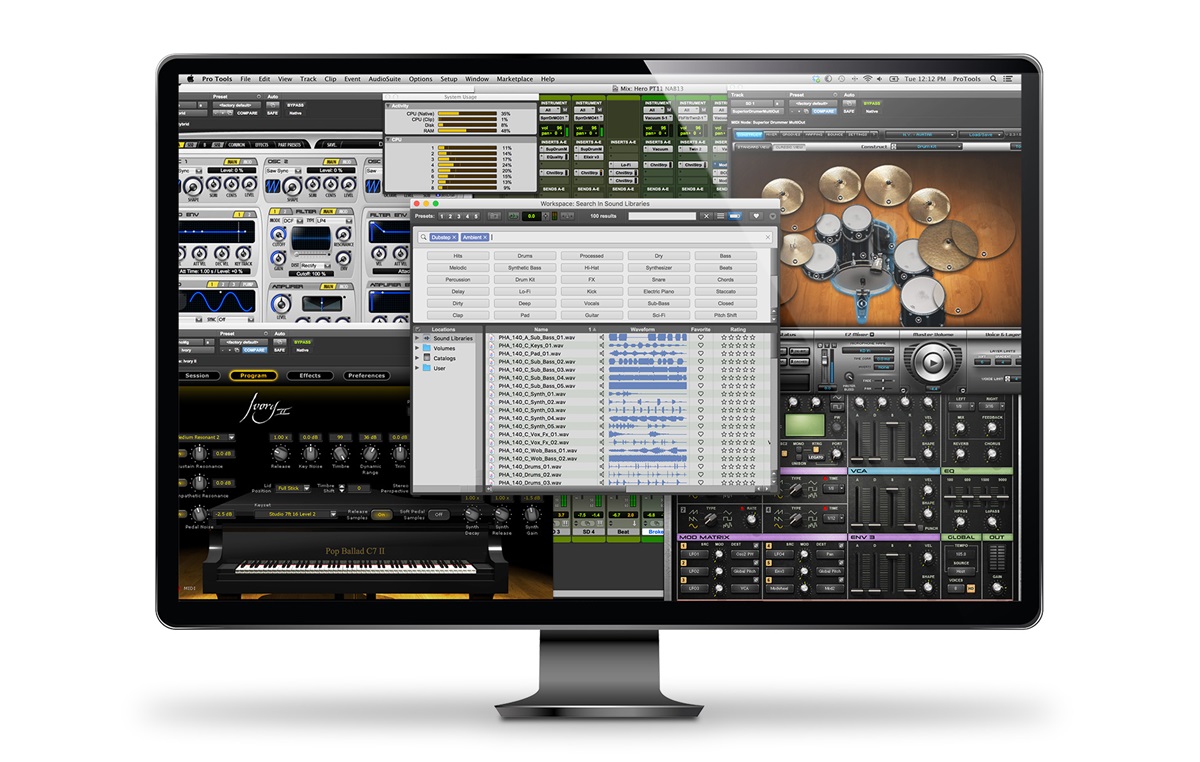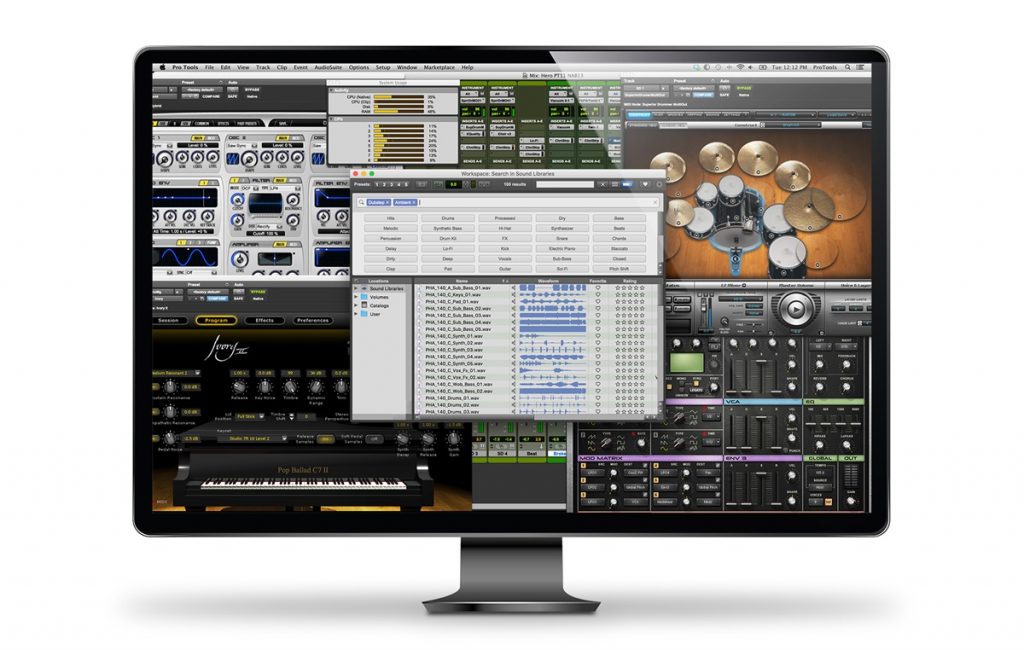 First released in 1991, it offered four tracks at that time. Currently, on its 12th version, it has improved compared to its predecessor. It enables one to record, compose, edit, mix and share records.
It requires a lot of patience to master its true capabilities, but when you finally get a hold of it, there are only a few DAW systems that can rival Pro Tool's capabilities.
It provides every single tool that a music producer would ever want.
It comes in three versions depending on one needs they are:
• Pro Tools: – This is for singers who are starting to use Pro Tools.
• Pro Tools: – Pros for musicians and producers who want to create advanced music.
• Pro Tools HD – is for experienced music producers who need audio production who need to check surround sound, track counts, and performance.
It has the distinction as the software used by Ricky Martin back in 1999, and his songswere at the top of the charts. This was way before many of the moderns softwares came into existence.
What we liked about it.
It has free version a starter version which newbies in the industry can start using as they progress on their way up
It enables one to freeze and unfreeze plugins so as to free up computer processing power.
It has project revisions this feature keeps a present version and history of an audio organized, so you can have various versions use the one you are really impressed with.

It is one of the earliest, music production softwares, and its earliest version was made by Atari ST in 1989.
It quite respected and widely used, currently the newest iteration is the PRO 9 version. It has editing composing and mixing tools laid out in a very simple design. This particular version is dubbed as their best product yet. The new version is said to have many major UI changes. The whole experience has been enhanced to suit every customer out there.
It has plenty of advanced features for the experienced in the field of music production.
Cubase elements – it turns your computer into a fully equipped music production system. Here you can edit record audio and MDI tracks.
Cubase Artist – it offers musicians additional editing tools
Cubase Pro – it consists of highly advanced music tools specifically suited for the experienced producers and musicians.
It has a cloud feature enabling one to work from anywhere and also collaborate with anyone using the same platform.
What we liked about it.
The ability to work from anywhere is a big plus for Cubase.
It has VST expression which lets you automate each note individually.
It is available for MAC OS and Windows.
11. REAPER


This software is from the developers of Win-Amp software. It is an adaptive Music Production System that has no quality compromises. It has a free 60-day retail period and has video and tutorials to enable one get to know and use the product.
The uncluttered interface is a multi-track arrangement window on a timeline. The arrangement view offers easily moveable media items.
Each track that is made can be done with whatever one wants as there are no track types. This makes customizing the layout simple.
What we like about it

It has a fully customizable interface and can be adjusted to your liking.
12 LOGIC X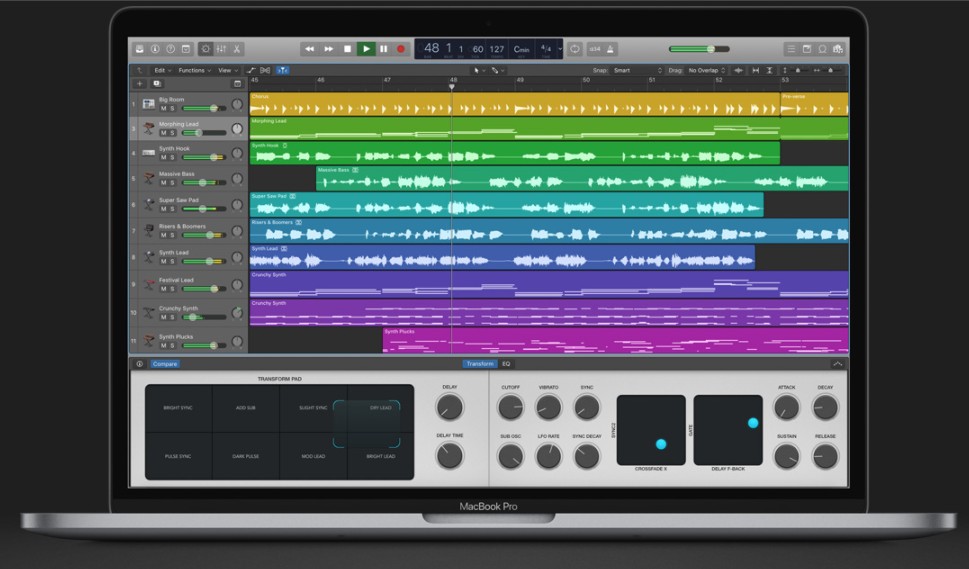 It was originally released in 1993 by Apple. It has undergone quite some enhancements and has added a ton of plugins. It stands on repute as one of the best DAW systems that one can buy.
It makes everything simple because the developers opted for a single window view. This makes the arrangement, composition and mixing simple as it is done all in one place.
The drummer plug– in is one of the most noticeable effects of the Logic X. A drummer plays along with your tracks. In each session, a virtual drummer comes in with a playing profile and some patterns to pick from.
What we like about it
The drummer plugin is a sure plus for this DAW.
Easy to use and produce.
Conclusion

There are many music production software's out there. The number is huge and can really be confusing. The Softwares listed above are the major players when it comes to choosing the best music production software. The choices have grown considerably compared to what was available ten years ago. Before buying, you can always choose to test as many software as you want as the companies listed here give free trials. Some offer monthly subscriptions. Offers like this can be used to test the features that you want from each music production software. Remember to choose a software that helps you grow as a producer.