The craze for music is undying in some people. We have always imagined our self-rolling on the stage with the mike and singing like a rockstar but sadly that was just an imagination. Well, not sure about the real stage feel but the karaoke is one of the best alternatives to it. Karaoke machines are started bruising in the trend around the globe and we have listed best of them here.
Karaoke Machine is one-time investment and fun for numerous time. It behaves as an asset. No matter what type of party it is, it will never fail to put a glow in your moments. Just put on your mike and start singing on the words of your favorite songs, even in no party time. It takes actually just Karaoke to feel like a rockstar.
We've framed the article comprising all types of machine karaoke which can complement your preferences.  Be a tipsy patron on your own karaoke machine.
Also, See: 
Best Karaoke Machines
| | | | |
| --- | --- | --- | --- |
| Karaoke Machine | Support | Bluetooth | Product Link |
| Memorex MKS-SS2 SingStand 2 |  Mac, Smartphones, tablet wielders | Yes | Check Price |
| Singing Machine SML385BTW | CD+G top loader, TV screen, Bluetooth Audio Streaming |  Yes | |
| ION Audio Block Party Live | Bluetooth-enabled smartphone, tablet, computer, App Control | Yes | |
| Electrohome Karaoke Machine | CD/CD+G/MP3,  Smartphone or Tablet through the 3.5mm auxiliary input | No | |
| Akai KS800-BT | CD,CDG,CDR,MP3,MP3G, Bluetooth-enabled smartphone, tablet, computer. TV via Aux |  Yes | |
| Singtrix Party Bundle |  Smartphone, Tablet, Computer, Guitar and keyboard VIA aUX | No | |
| Singing Machine iSM1030BT | CD, CD Graphics, MP3,Bluetooth Enabled devices |  No | |
| Little Pretender | Smartphone or Tablet via Auxiliary input |  No | |
Best Karaoke Machines for Home Use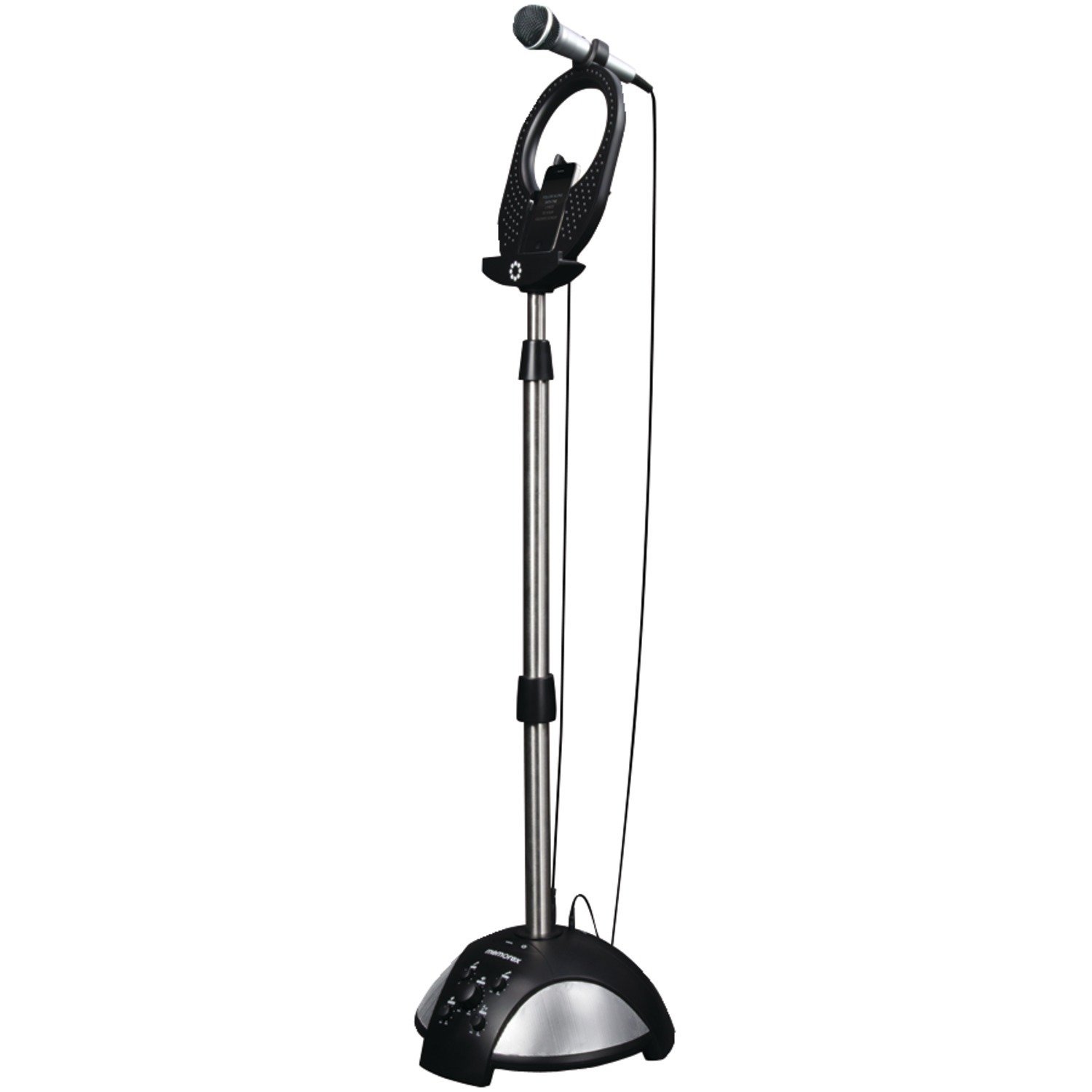 Well, I count Karaoke in essentials, if we talk about the Home purpose. No matter if your friends hit your place regularly or occasionally, you can always use this as a refreshment after a long tiring day. Memorex MKS-SS2 karaoke machine just not recreate the atmosphere but add on to the memory glimpse.
The machine is quite convenient and easy to use and does not cover much of the space, Easily draggable from place to place. The device can assist unlimited music as the music comes from the support of the application. Most of the karaoke systems use CDs and CD-Gs as a part of the expanded collection. However, MKS-SS2 just assist Apple Products and Smartphones. Not even windows, surely this is sad part if you use windows but you can always look for assistance from tablets and smartphones.
It has enhanced controls with ultimate responsive audio outputs which give you the best ever karaoke experience. Unlike other karaoke machines, the MKS-SS2 doesn't muffle. The system is strong enough for emitting strong and clear sound. Besides all this, the model is comparatively in best price if we compare all the features with other karaoke devices.
Best Karaoke Machines with Bluetooth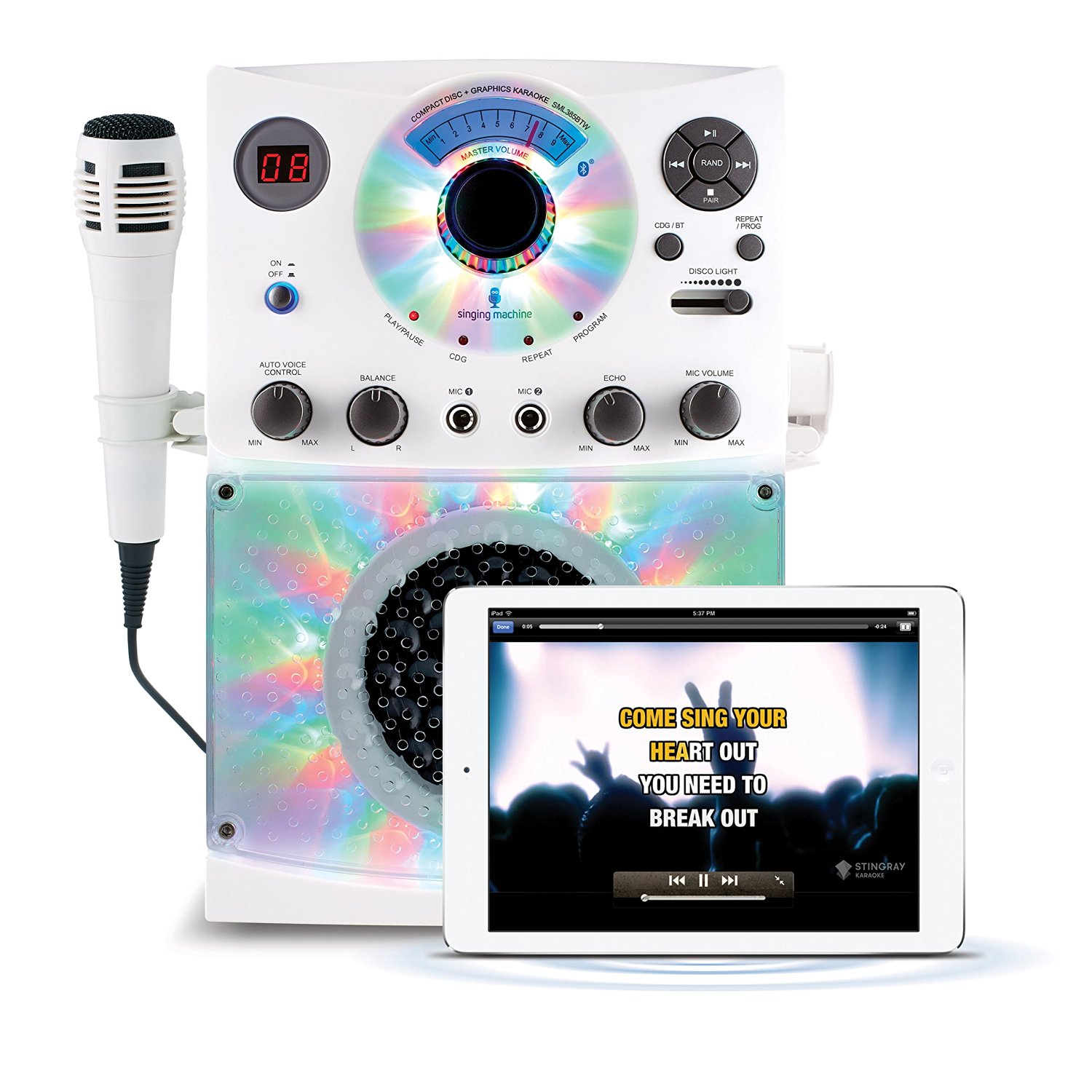 Singing Machine SML385BTW is Top Loading CDG Player with Disco Light Effect which gives the complete feel of stage performance, disc light just complements the environment and give the whole arena look of the party. With the hands-on mike, you can give your winning performance via Bluetooth Audio Streaming Support.
The Line in for the Music Devices shows how the device itself supporting in your passion for music. It is fueled by two Microphone Jacks for the duo moments with volume control on the panel. It even has the LED display but that is just upto two digits.
The device has been built with balanced and auto voice control and built in speakers. For more enhanced voice in vivid area, you can even connect it to other speakers, Howevers its inbuilt speakers are quite sufficient. Its Line In control and connect assists well in Echo Control and Voice effects.
Best Party Karaoke Machines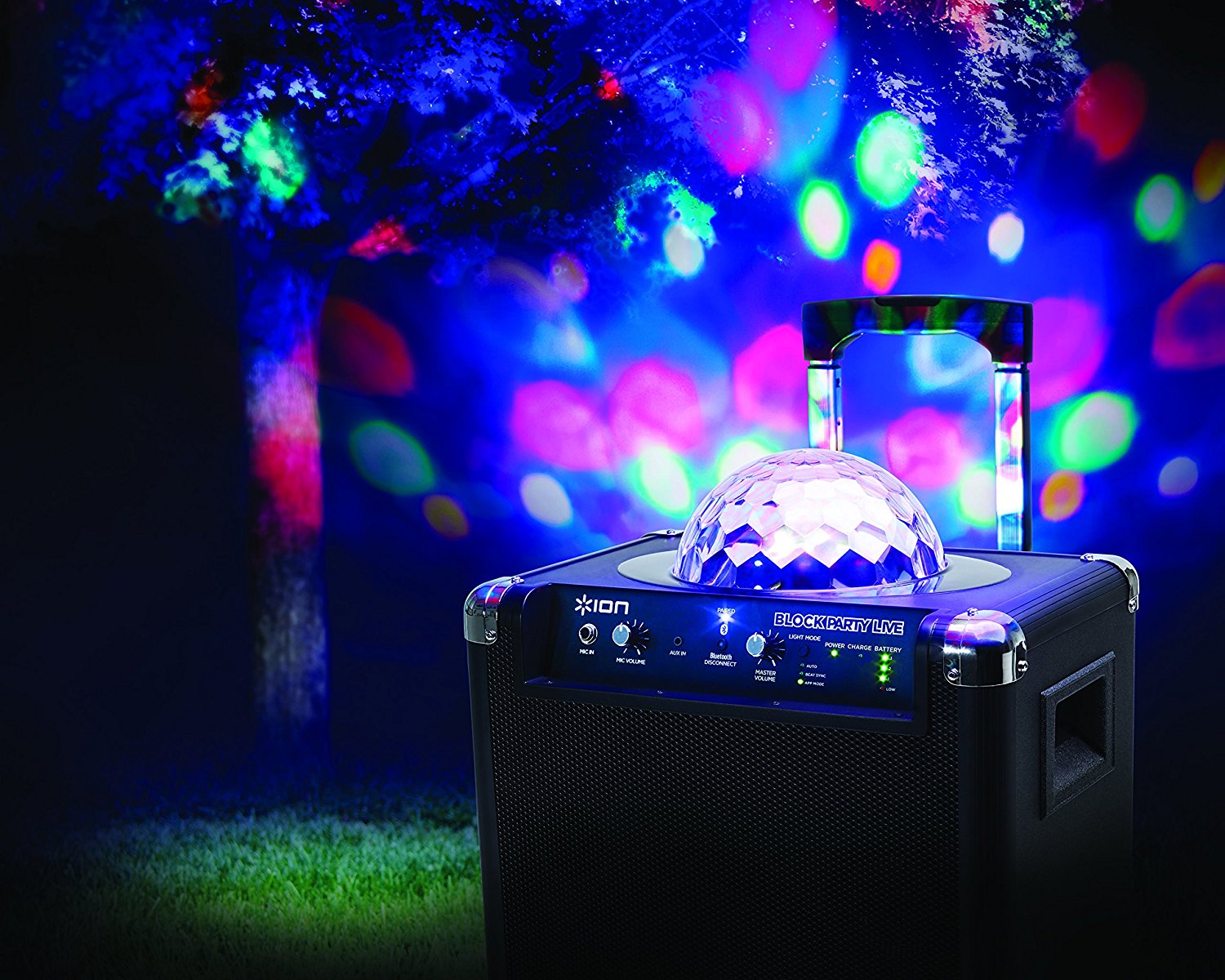 Here comes the party material, the ION block party Karaoke Machine. The most dynamic and powerful 50 Watt speaker system with the built-in light display which fluctuates with the music like the total party material. One can stream the music wirelessly from any Bluetooth enabled devices which include the Bluetooth-enabled smartphone, tablet, computer. Apart from it control it via its application.
The machine is total fun with built-in multi-mode LED Light Dome which casts a dazzling light show. It is tough as well as the convenient machine which has the rugged cabinet to keep the two-way speaker system safe, smartly designed wheels which keeps it in the category of portable yet party material.
The device is powered by and internal battery which is rechargable, you need not to run after battery draining issues as its long lasting one. It has got to offer 1/8″ input to let the amplify non- Bluetooth audio devices and 1/4 for Bluetooth one. Overall amazing sound and noise quality it offers, obviously party material it is due to its lights setup.
Best Budget Karaoke Machines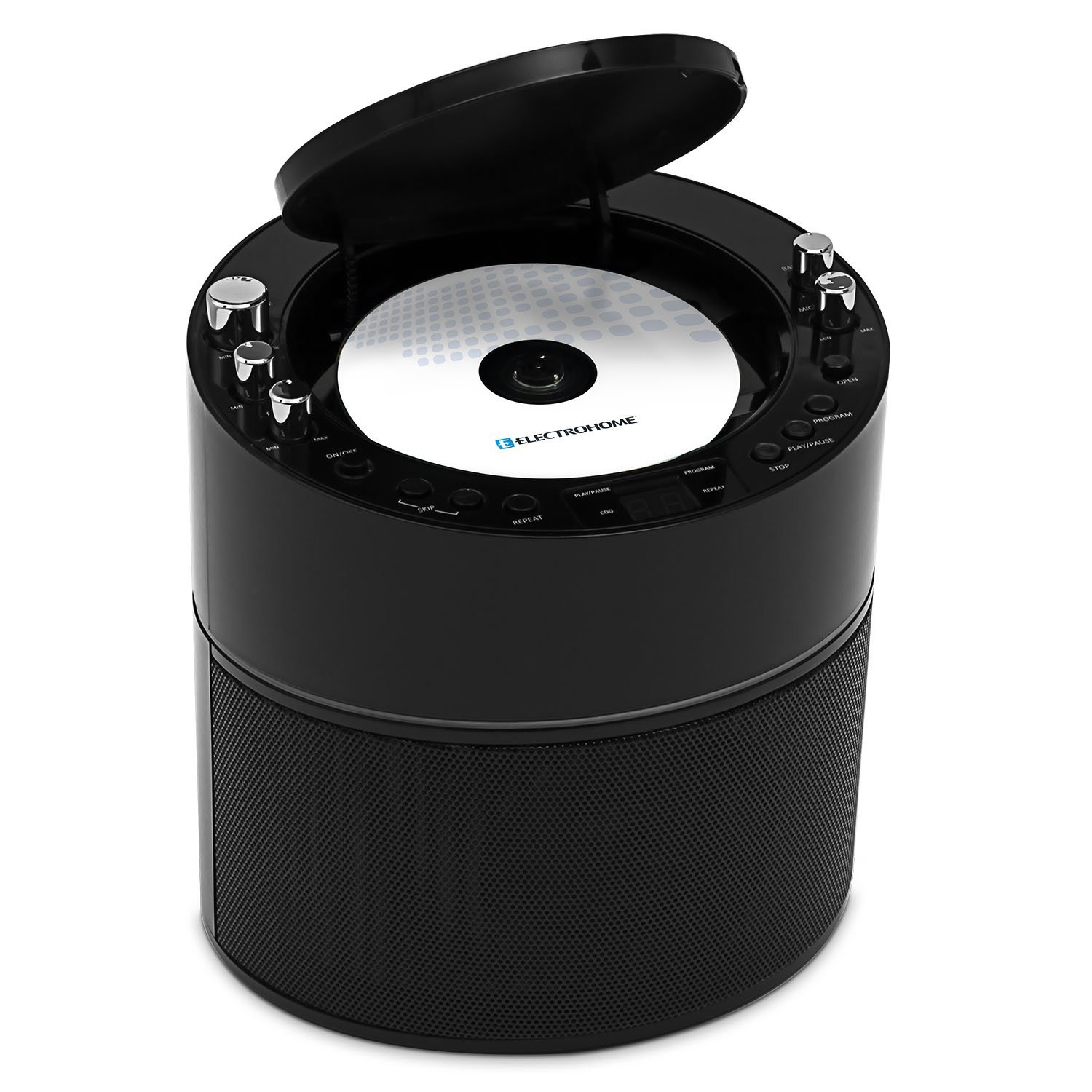 The best budget karaoke speakers ever with the A1 quality of speakers systems which plays CD/CD+G/MP3 singing music easily. Its high-quality sound and electrifying music delivery which gives the astounding feel of singing via the device.
Just connect the device with TV to roll in your favorite songs or just tune to the music in your smartphones or tablet, it can assist you well. However it does not have speaker support but in the given range, such quality of sound is quite a lot.
Nevertheless, it has the powerhouse of voice enhancing effects which includes the digital Echo Control with rich sound and better tunes. It helps you in leaning the lyrics fast with Auto Voice Control as a guide if you forget to speak any word in between. If you too at your beginning phase of singing, this machine isgoing to be great companion.
Best Karaoke Machine With Lyrics Display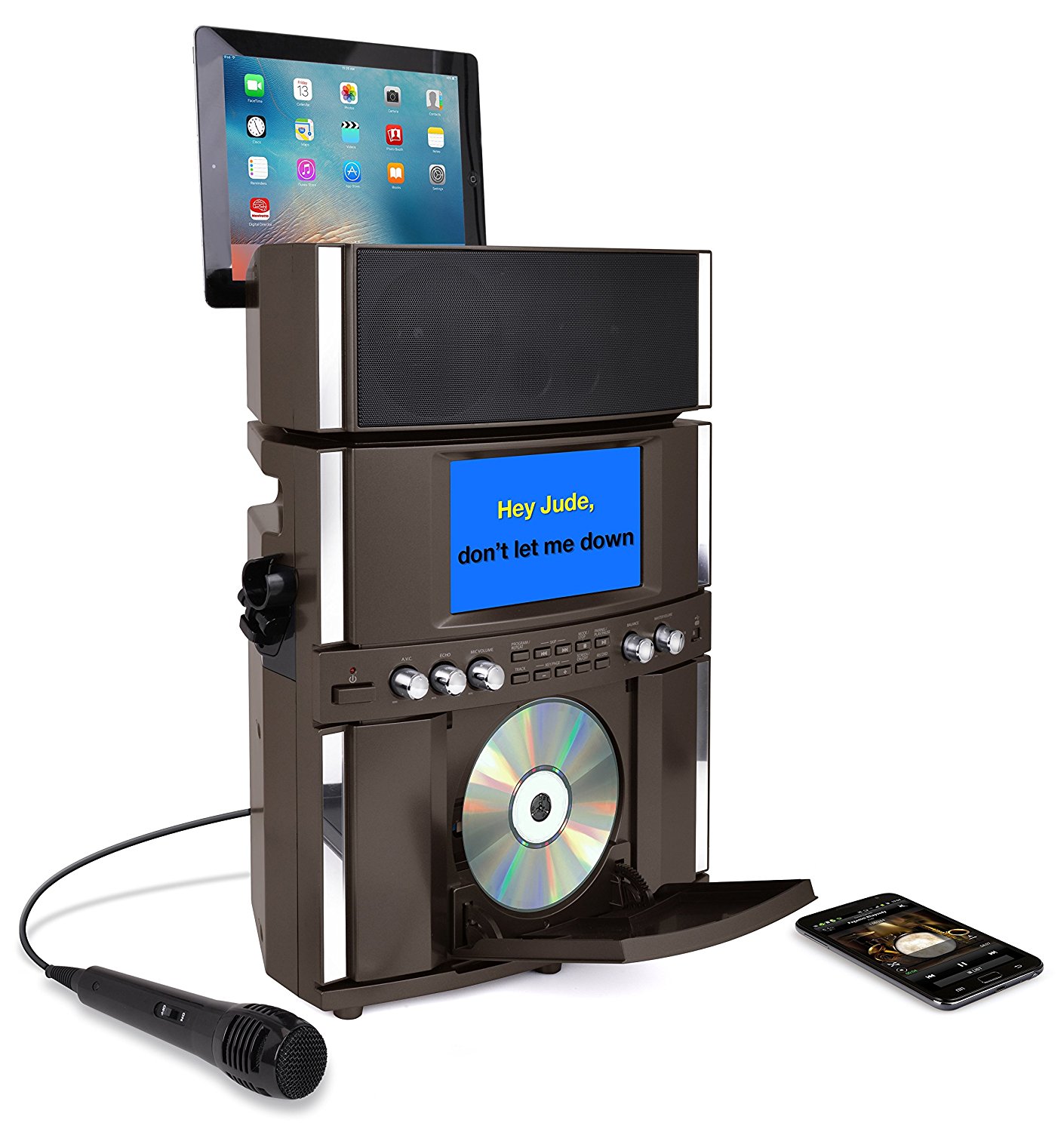 Here comes the machine which even shows character on the display screen. Place it anywhere, in the house or in the club the product will never fail to maze the witnesses. Connect it via Bluetooth to Bluetooth enabled devices or run it with MP3, all your choice. You can fill the room with all your favorite songs sound. Moreover, you can even play your favorite karaoke via  CDG's or Music CDs in its convenient front loading CD Player. It allows USBs too to stick in to play your favorite collection.
Record all the songs you have sung or any party which you've thrown as a key one. The USB allows you to record the songs as well which were played or sung meanwhile.
The big 7 " Color display makes the device self sufficient in entertaining. The display comprises of easy reading and let each support roll easily. No matter if it be TV or CD. Just 10 watts of power and you can roll in the environment of entertainment.
Best Professional Karaoke Machines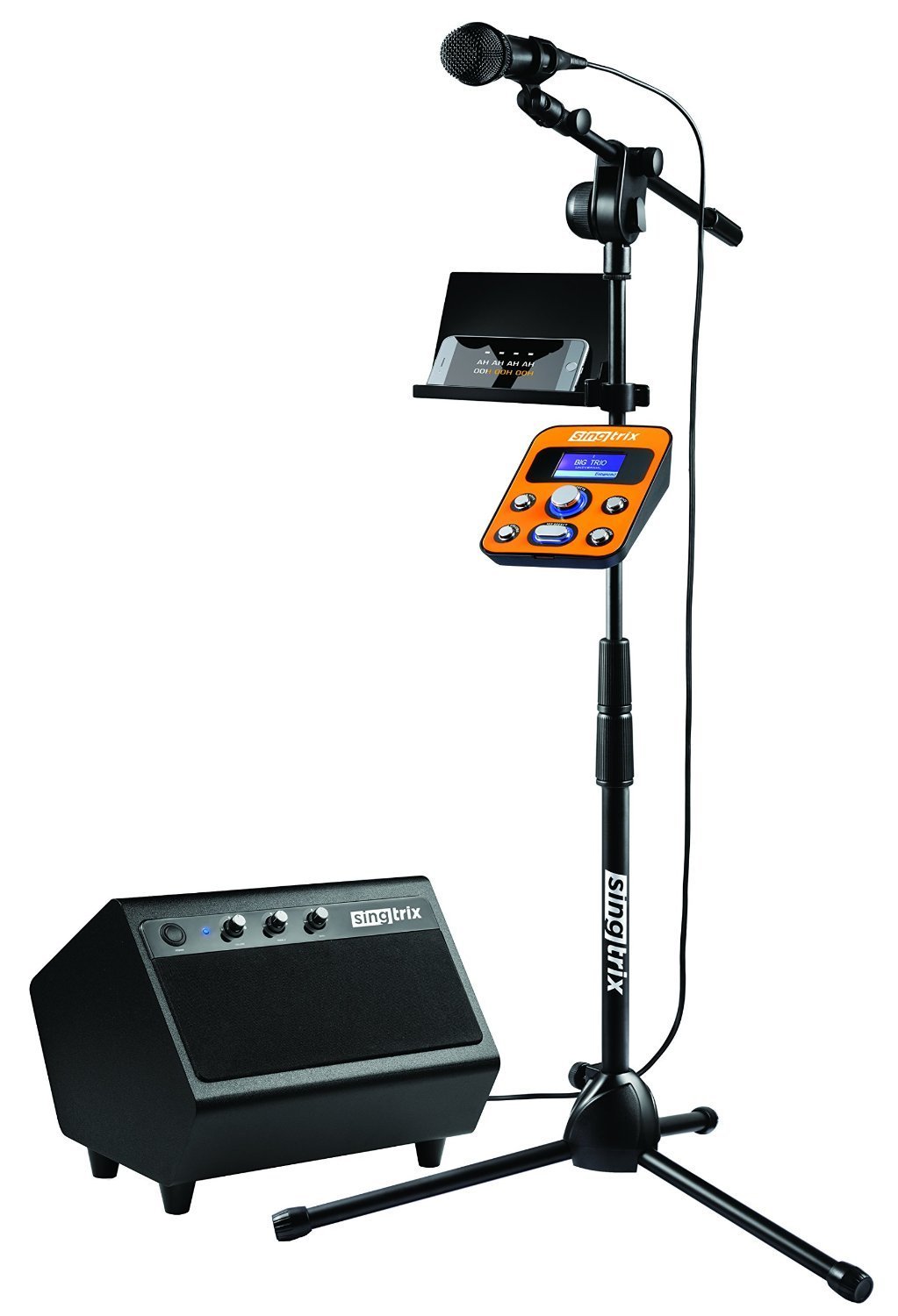 The premium edition Karaoke specially built for professionals. The system is endorsed by celebrities and used on very hit shows like SharkTank etc. It literally takes the singing to next level. It is addressed as the greatest innovations to the singing. It is powered by live vocal effect technology and patented with plug and play.
It helps in improving the improving singing and grasping of words. Singtrix Party Bundle creates the environment which makes you feel like performing in concert or recording concert. It has over 300 effects which cover each and every genre of the music generation. Above all, it has natural pitch correction technology. Overall, if I say this device is not just Karaoke Machine but the blend of features to every single on a professional platform.
It works with thousands of free music streaming websites like Youtube Karaoke lyrical videos etc, You can also connect it with application of your smartphones. You can even use instrumental sounds instead of musiv and sing on chords. Enjoy with the dcevice which is just blend of features.
Best Karaoke Machines Under $200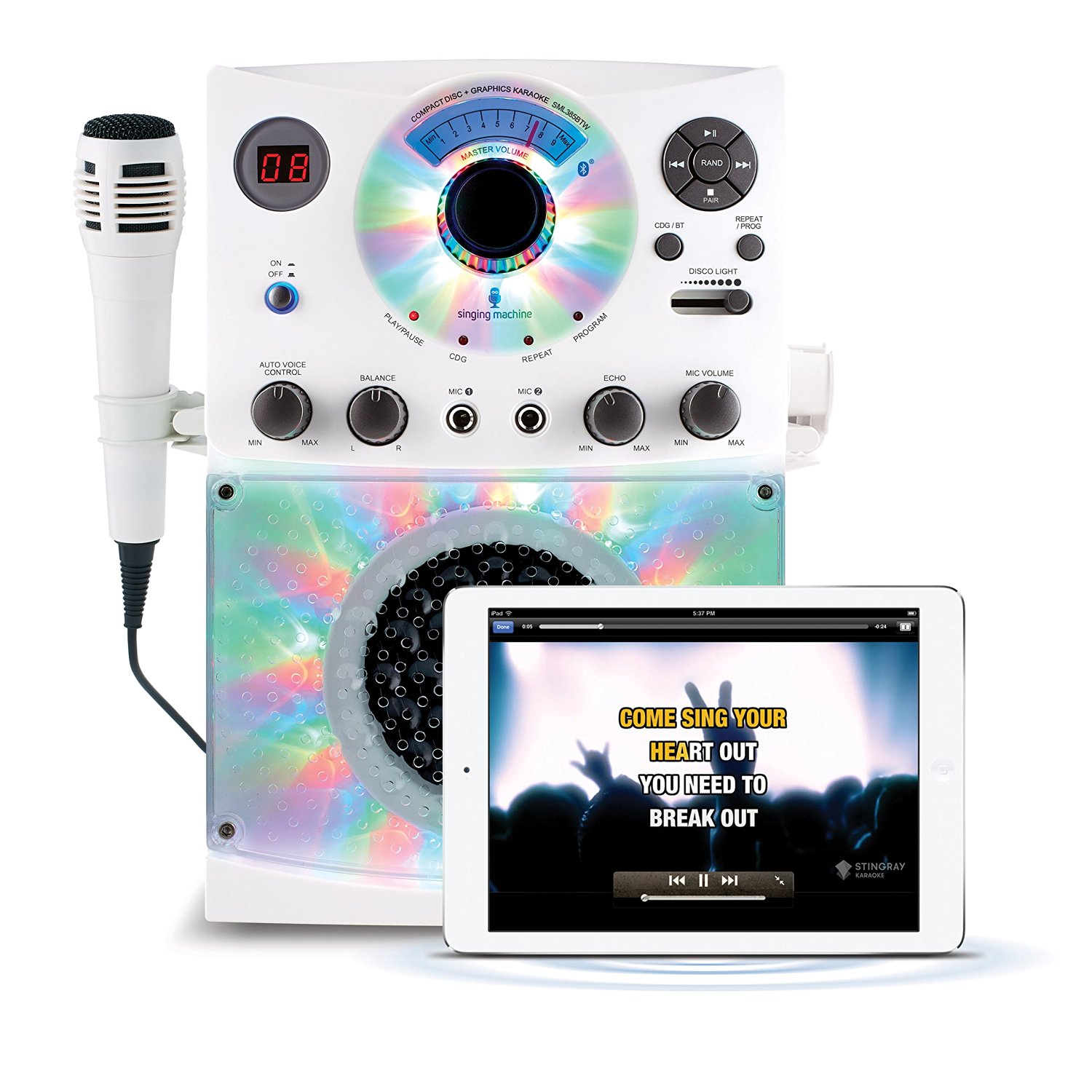 Budget matters the most and when it is already 200$, we can expect good. So Singing Machine iSM1030BT is a machine with unique looks and pedestal as a support. It lets you stream to any type of music via Bluetooth Digital Audio Streaming. It can even let you play via CD, CD Graphics, MP3, Bluetooth Enabled devices Or cradles for all iOS and Android tablets.
It has 7 inches of color TFT LCD display screen with digital keys and balancing the Echo controls and Auto voice controls. It is even beautifully followed up with the powerful tower speakers which give the whole feel of rockstar while singer.
It is followed by enormous features like Built-in Speaker, Digital Key Control, Echo Control, FM Radio, Line-in, Monitor, USB Playback etc. You can consider all this features as too much in the range of 200$. Just sing like the rockstar, record you audios make playbacks. Enjoy the feel of music with satellite speakers for amplified speakers. It even comes with two mikes for your rocking dua performances.
Best Kids Karaoke Machine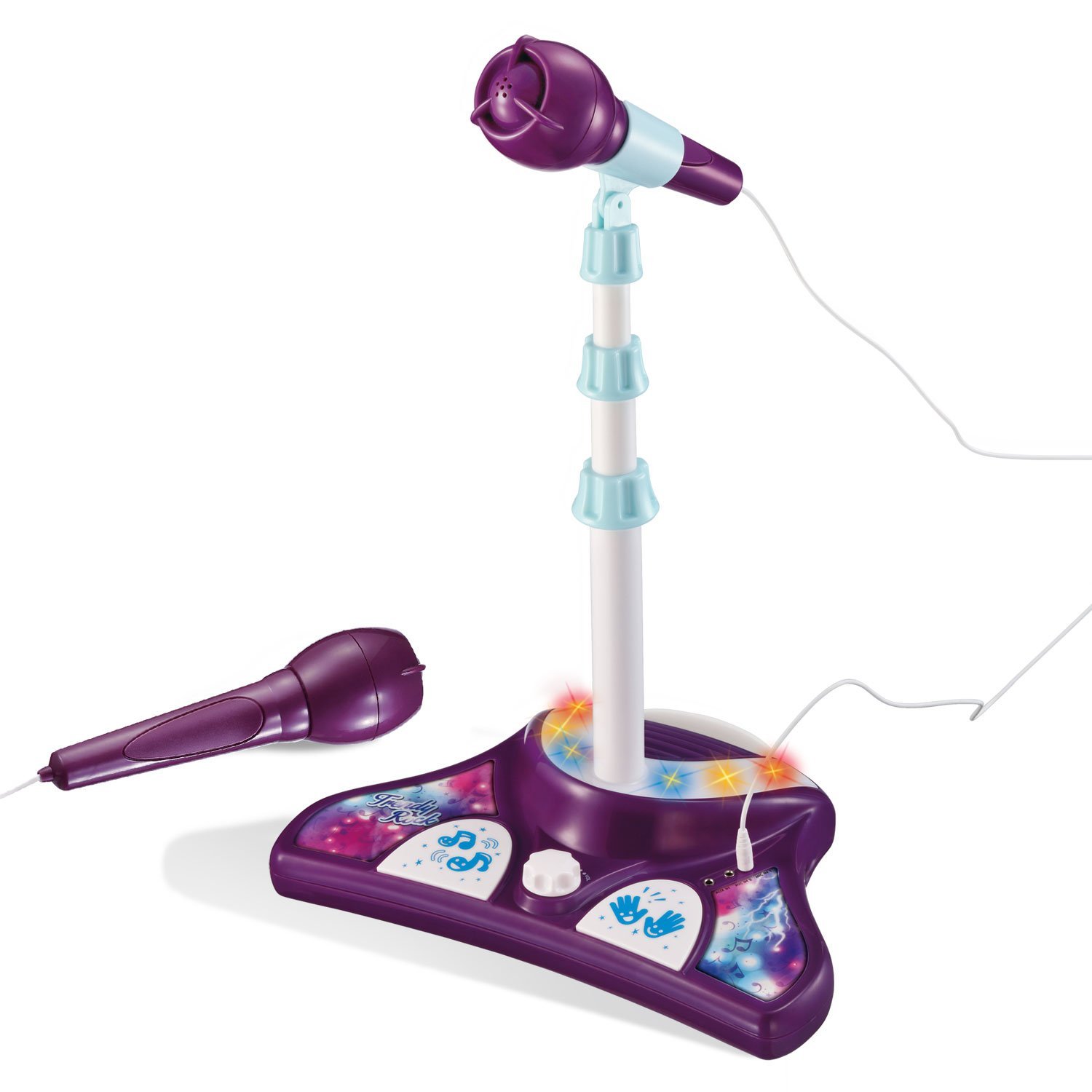 Why Kids stay back when it comes to singing. The new Karaoke machine designed especially for kids to enhance their music skills with the fun device. whether it be the birthday or any casual party, let your kid be the king of it. Your kid can Bragg about it easily and this even motivates children to speak and sing which they hesitate to do in public.
The Little Pretender Kids Karaoke Machine comes with two handheld Microphone with the adjustable stand. The handheld gear is so perfect and lightweight that the little star can easily dance along while singing. It is quite easy to assemble and disassemble that kids can do it by themselves. It even looks quite fanatic like what the kids will love.
Just connect it to the device via Aux Cable and play music for them to sing. You can manage the volume from volume knob on the device. Moreover, to add the fun, it takes the singing to whole new level by giving the option on the toes, By pressing the pedal of left toe one can add some tunes and on the right foot the claps and applaud gesture will be seen that will praise the kids.
Wrapping Up
So roll to the favorite karaoke machine, according to your budget and likings. You can find a lot more products if you'll see in depth but these are the best in their category. Surely not each machine in the above list is Bluetooth compatible but all of them offers enhanced sound quality with inbuilt speakers.