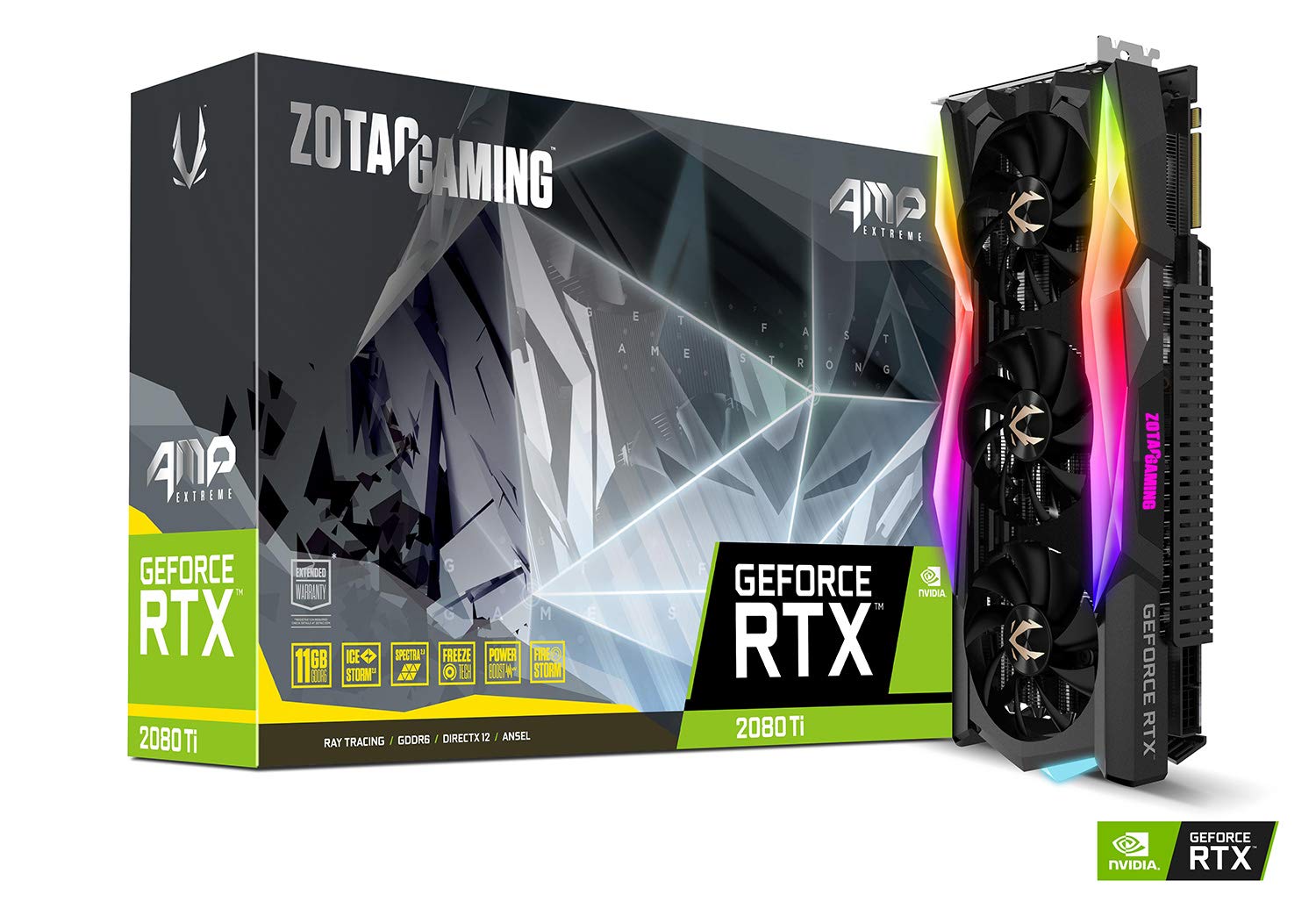 As you know GeForce RTX 20 series is one of the best graphics processing units developed by NVIDIA and the RTX series is under the group of this processing unit.
Let us simplify the term 'RTX 2080 Ti' for you. Here RTX is the series, 2080 is the model, and 2080 Ti is the modified version of its own. In July 2019, GeForce RTX was announced after several modifications by NVIDIA.
Most Powerful Graphic Cards in Market
Recently in the Graphics market, NVIDIA is winning the race and this graphic card is a kind of superpower in gaming. 4K gaming runs smoothly in this graphics card & the range is 60 – 117 FPS, clock speed is 1635 MHz which is the dream of every gaming guys. Here we are going to cover the best graphics card in the market to date and let you know which suits you the most.
Front line manufacturers are ASUS, MSI, EVGA, Zotac, and Gigabyte. These manufacturers are making this master graphics card to satisfy the hunger of gamers.
Why the gamers need graphics cards?
Users or gamers need Graphics Card for presenting any image on their monitor. The image comes by reforming data into a signal form which is understandable by the system. Users need to keep in mind that the better the graphics card you use the better and smoother image it will produce. So, gamers and video editors need to keep this in mind before purchasing a graphics card.
Click here for the:
Buying Guide
Specs to look at before buying Best RTX 2080 Ti Graphics Cards:
Memory: Memory space is an important factor that you need to check before buying a graphics card. Chose a card that has at least 4GB or 6GB space and 1080p resolution for gaming. Memory space and high resolution are the two factors that make an ideal choice of graphics cards.

Form Factor: Room case for your card is an important factor. So, make sure you check the length, width, and thickness. Chose a card that is approximately 8 inches long or which looks like a mini card.

Thermal Design Power (TDP): TDP is considered as the amount of heat dissipation by the card. It also supplies users with an estimate of how many watts are required to run your card. As an ideal choice, a 600W PSU will be the best option to handle powerful graphics. Also, 800W will be suitable for a single GPU with overclocking.

Ports: Users need to make sure that their card can support HDMI or Display port for a potential display.

Power Connectors: Hardcore gamers need to pay attention to the power connectors. Their cards should draw more than 75W power. The PCIe power connectors come in 6- and 8-pin modifications. So, make sure your connectors have the required power otherwise you need to upgrade it.

Clock Speed: Everyone wishes for a card that has a higher clock speed which can fit in different frame rates. But the gamers or users need to understand that the clock speed isn't everything. The main factors are the core counts and the architecture that needs their attention.

Steam Processors: The performance level of a GPU is important. As it tells the users the product is worth buying. For this, the users need to compare the core counts within the same architecture than comparing it to separate architectures. For example, we can compare the core counts of AMD and Nvidia architectures.

Bandwidth: The bandwidth or the memory speed is also an important factor to look upon. We need to keep in mind that the higher the clock speed, the faster memory will make the card faster than other cards.
So, take a look at the features and specifications of the 10 Best RTX 2080 Ti Graphics Cards.
List of 10 Best RTX 2080 Ti Graphics Cards:
1. ASUS ROG STRIX RTX 2080 Ti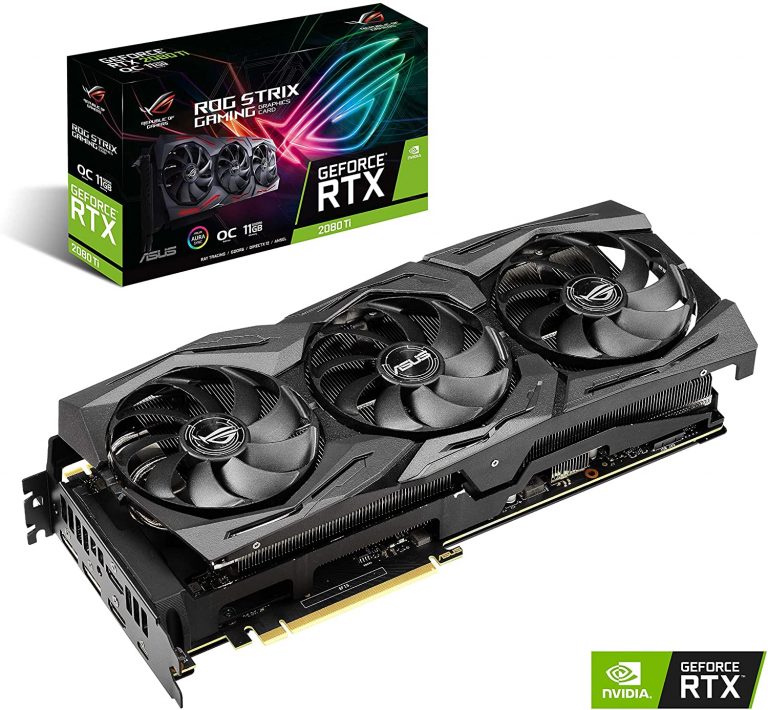 This is one of the best graphics cards in the market to date. You'll never regret after getting this. Asus makes it overclocked that's why it shows high performance compares to others. Isn't it impressive? Max's contact technology improves its heat transfer that is why its cooling system is fantastic. Most of the graphics cards are running behind Asus to get its cool specifications.
Features:
12 RGB panels compatible with AURA sync.
 Triple-fan cooler enhances temperature. 
It has 11 GB GDDR 6 V- RAM. 
PCI Express x8 hardware interface is a plus point which is included here.
Its factory boosted clock speed is 1890 Mega Hz.
Pros
Unmatched 4K gaming performance.

Faster than the Founders Edition.
Cons
Doesn't look as good as the Founders Edition model.

Very expensive.
2. MSI GEFORCE RTX 2080 TI GAMING X TRIO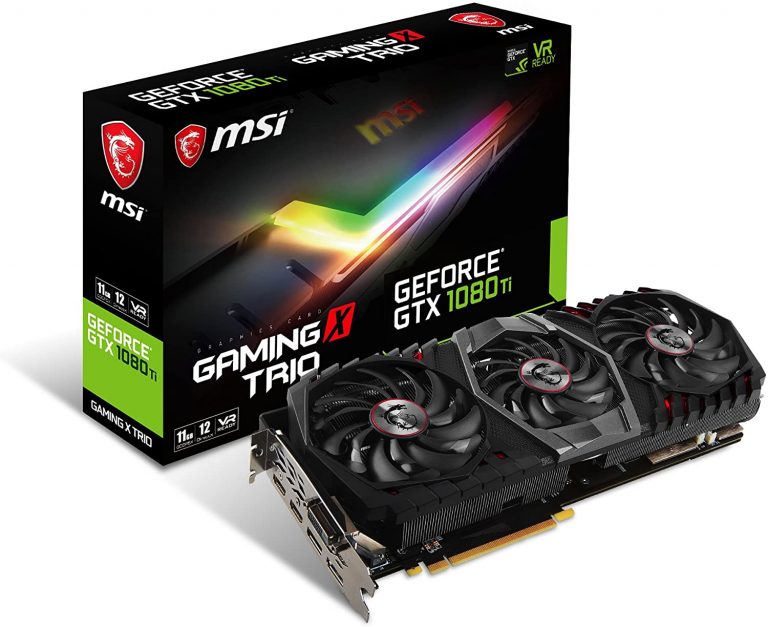 MSI's gaming cards are generally at its best. Nothing has changed majorly with its upgrade. It has boosted up to 1775 Mega Hz with a good triple-fan cooler. With this identification, you can run a 4K game easily. And yes this is smoother and affordable than MSI's Duke Variant. From all statements, its cooling system is fabulous & attracts people who run heavy games.
Features:
It has boosted up to 1775 Mega Hz.

It comes with a good triple-fan cooler.

It has 11 GB GDDR 6 V-RAM.

 12.79×5.51×1.89 in dimensions.
Pros
Outstanding performance.

Arrives with USB 3.1 Type-C port.

4K 120 Hz is possible with lower settings.
Cons
High pricing.

It has only one HDMI 2.0 port.

And it is only 6% faster than Founders Edition
3. ZOTAC RTX 2080 Ti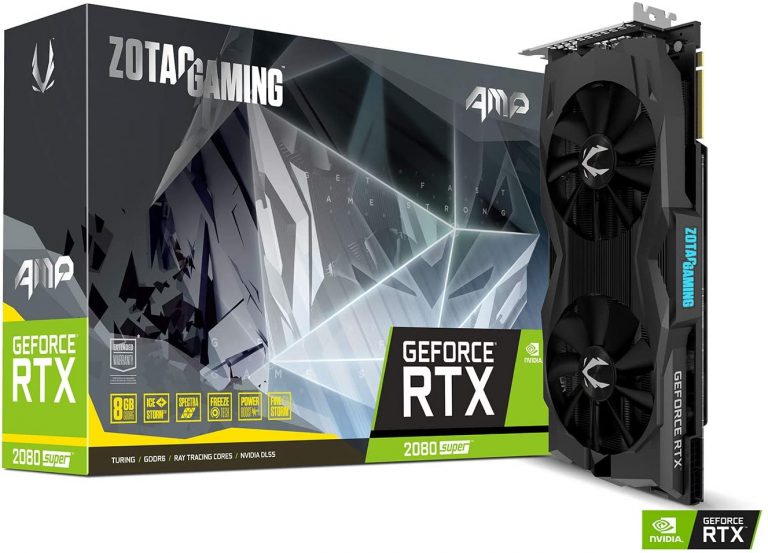 ZOTAC is one such affordable graphic card in this list, but I understand people in this field never look at their budget.
Its specifications look a bit boring compared to others but if you're looking to save your pocket then it's the best option you have.
Features:
Zotac RTX 2080 Ti's clock rate is 1665 Mega Hz.

It has a triple-fan cooling system, that's why overheating is not a part of Zotac RTX 2080 Ti.

This card is congenial with OC scanner software.
Pros
Highly energy efficient.

No overheating.
 4. MSI RTX 2080 Ti Sea Hawk X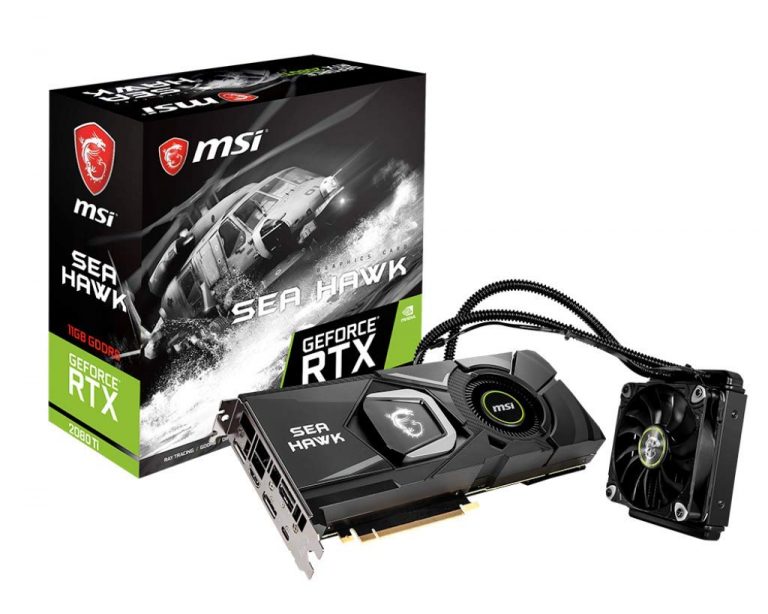 Liquid cooling for maximum efficiency is one point that separates this card from others and it has also thin skin. This card doesn't need a heavy cooling system because it is comparatively thin. You need a big space because of its two slots compatible system. It is the best choice if you're okay with its comparatively big size.
Features:
It comes with a video memory of 11GB GDDR6.

14 GHz of memory clock speed.

11 GB RAM size.

Slightly big.

Dimensions: 26.92 x 11.43 x 4.06 cm
Pros
A liquid cooling system and huge fans keep it cool.
Cons
No RGB.

And the price of the product.
5. MSI RTX 2080 Ti Duke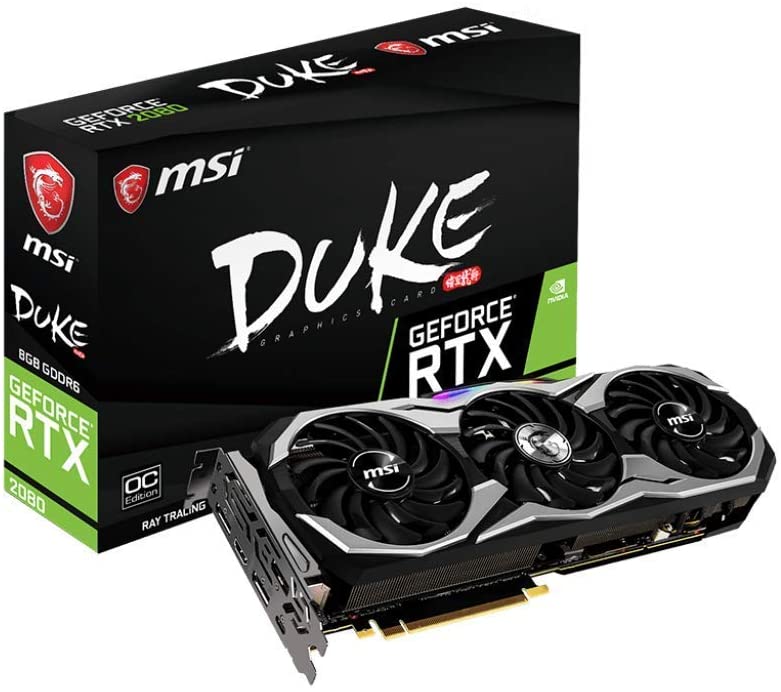 You know it's one of the costliest products that we've discussed so far. But it is worth the value of money. This card has an RGB strip at the top. For more compatible temperatures it has a triple-fan cooler having a clock speed of 1665 mega Hz. It is costly but lets you know that it has a huge demand in the market. Compared to other graphics processing units it has kept more attention from gamers.
Features:
The clock speed is 1665 MHz.

Triple-fan cooling system.

An RGB strip on the top.

Its OEM board gives a decent balance of price to performance.
Pros
The performance is good.

Good FPS rates of well above 100 are available with this card.
6. EVGA GeForce RTX 2080 Ti FTW3 Ultra Gaming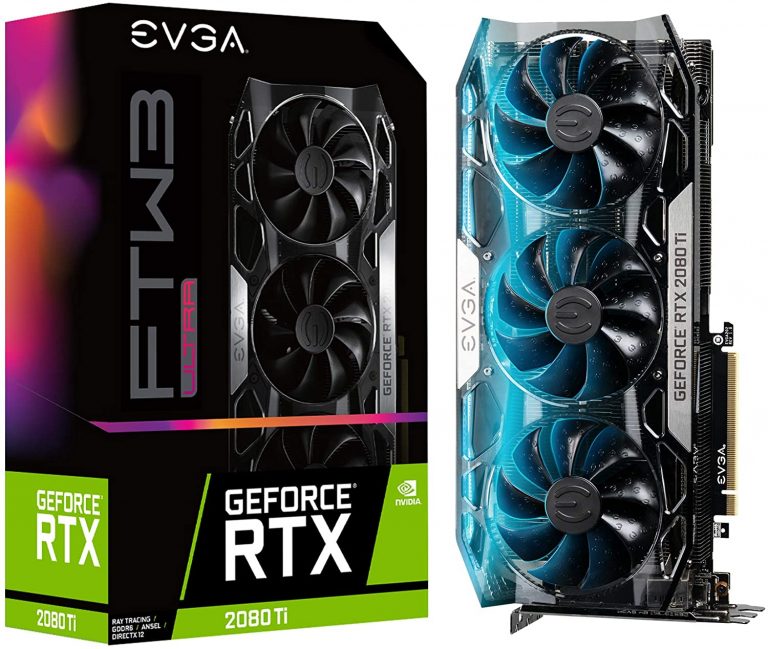 It has three slots that reduce its compatibility. And you know which specification makes this card a favourite of people? The answer is its reliability. Triple fan cooling system, a very good RGB coverage are some cool features. This card has a clock speed of 1755 mega Hz which is not that bad.
Features:
Triple fan cooling system so no overheating.

The clock speed of 1755 mega Hz.

11 GB RAM size.

Adjustable RGB LED settings which can fulfil your lighting needs.

With EVGA, you get the power to overclock like a Pro.

Dimensions: 30.23 x 24.13 x 13.97 cm
Pros
Great inbuilt.

Higher performance.

More peaceful acoustic noise.
7. Zotac GeForce RTX 2080 Ti AMP Extreme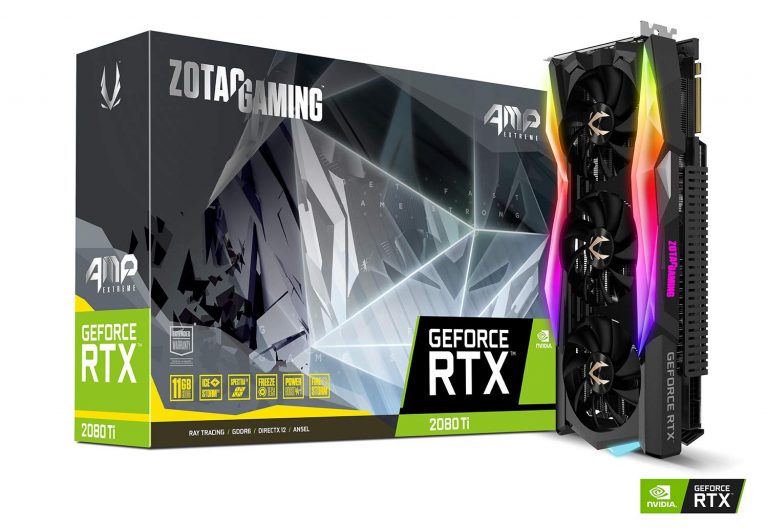 This GPU has something special which makes it unique. It's IceStrom 2.0 heatsink which improves its temperature. With an 1815 MHz clock speed, this card's durability is fantastic. For greater protection, it has a wraparound backplate. This is a kind of choice from the manufacturer ZOTAC.
Features:
It has the strongest cooling system.

11 GB RAM Space.

Enhanced power stability.

The clock speed of 1815 MHz.

Dimensions: 32.39 x 13.59 x 5.89 cm.
Pros
Stays cool at max 1815MHz clock speed.

Supports ray tracing.

Easy to install.
8. Gigabyte AORUS GeForce RTX 2080 TiXtreme 11G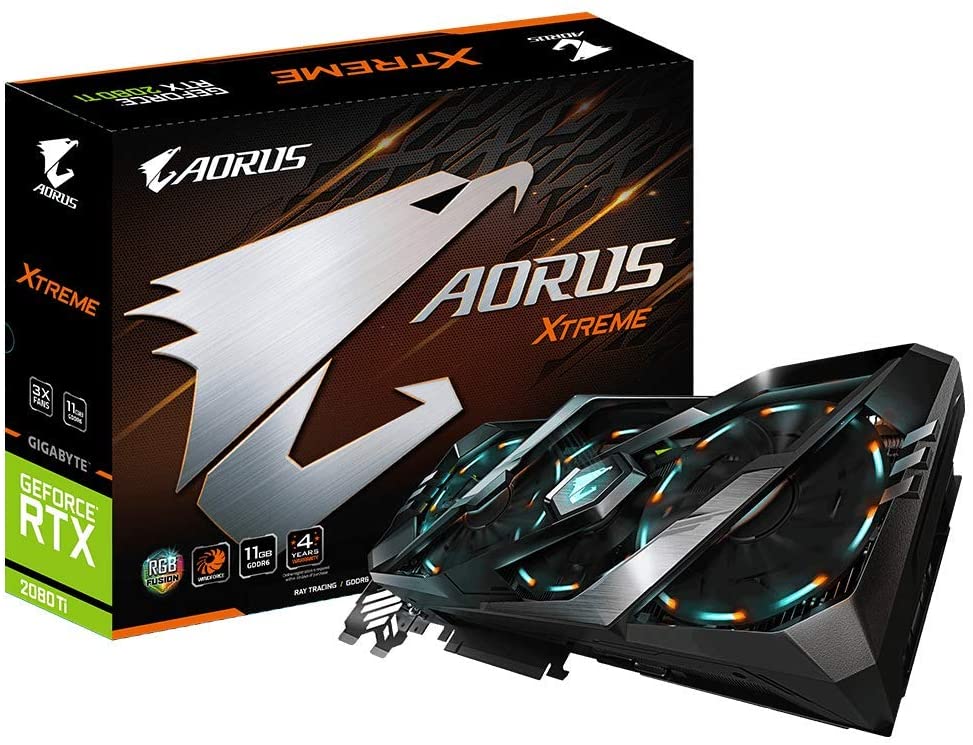 If you're willing to buy from gigabyte then this card is a topmost suggestion from our side because the specifications of this card deserve to get a place honestly. RGB fans are a super cool statement from gigabyte. It can Tick all your boxes to be a favourite GPU. But some features of this card has made the reputation down. One specification is its engine. AORUS engine is one of the lowest rank engines to date. Otherwise, this card has more buyers.
Features:
The clock speed is 1770 MHz.

It is fitted with RGB fans.

Real-time ray tracing feature.

Dimensions: 2.5 x 2.5 x 2.5 cm.
Pros
Outstanding Performance.

Has good thermal performance with low airflow.
Cons
Extra RGB Lighting.

Expensive.
9. Gigabyte GeForce RTX 2080 Gaming OC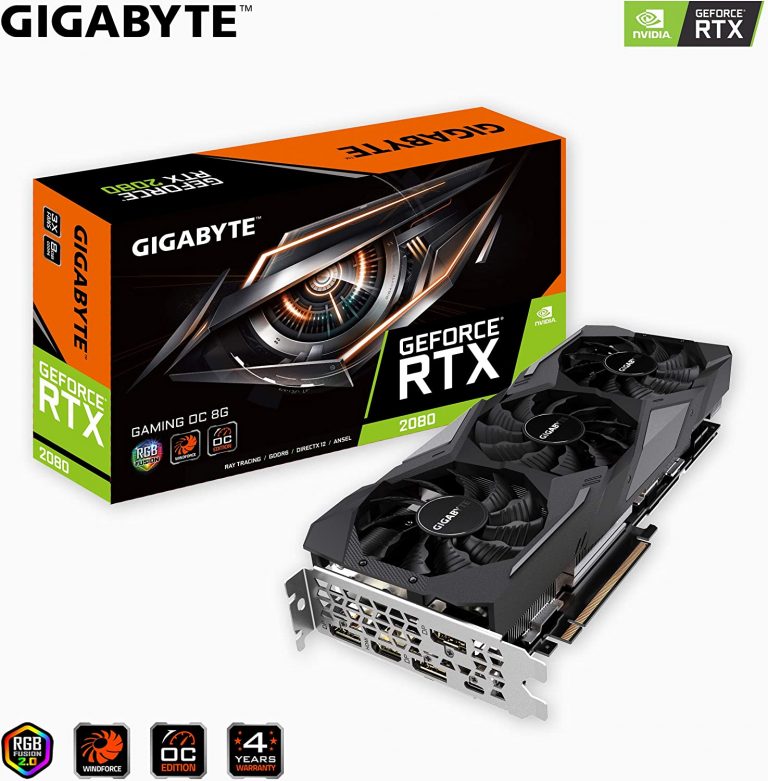 Triple fan cooling with wind force and plain design is simple but effective in this case. This card also includes the AORUS engine. It has a 1665 MHz clock boost. It may clock slower than other variants. It is affordable and a common card for all. Because of its cheap price maximum individuals use this one.
Features:
8 GB RAM space.

1665 MHz clock speed.

Easy to install.

It comes with a user manual.

Dimensions: 28.65 x 11.46 x 5.03 cm.
Pros
Faster than the GeForce GTX 1080 Ti.

Highly energy-efficient.

Quiet in gaming.
Cons
High price.

Small overclock out of the box.

Power limit adjustment range lower than on Founders Edition.
 10. NVIDIA GeForce RTX 2080 Ti founders Edition
At last, we're referring to this founders edition cards having a clock speed of 1635 mega Hz. It is a reference model from NVIDIA. It has dual cooling fans so it is ranked lower. Because of its low clock speed, it cannot make its move.
Features:
11 GB RAM space.

Dimensions: 26.67 x 4.45 x 11.56 cm.

Should fit in a mid- or large-tower.
Pros
Powerful card.

Great in terms of performance.

A great choice for hardcore gamers.
Cons
Incredibly, expensive product.
 Conclusion
Users need to know that NVIDIA'S turning architecture is known to win the hearts of the customers.  Also, it's best when it comes to quality.  Here, we've discussed some of the best RTX 2080 Ti Graphics Cards which will help you to decide which suits you and which is the best for your PC. Now, it's your call.