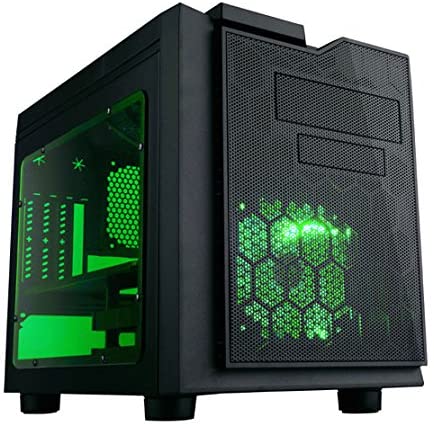 With the development of digitalization, computer cases have become an essential component of a computer. For gamers, a computer case is a popular choice. Computer cases come with some impressive features that are responsible for grabbing the attention of gamers and technology lovers.
Before PC cases were introduced, gamers used to pick any hardware case and fit their PC and that's it their job is done. But nowadays cube PC cases are trending in the market. The main advantage of purchasing a cube-shaped PC case is that it helps you protect your computer from damage such as dust particles and accidents.
When you're looking for cube cases remember that they differ in size and shape. Also, it belongs to either mini or micro-ITX categories. The sleek design and shape make it freakish in the market and has everything any gamer would love to have in their PC cases. So, to make sure that you're buying the best computer case. 
Here, we have shortlisted some of the best cube PC cases of all time.
List of 10 Best Cube PC Case:
1. Thermaltake core V21 SPCC: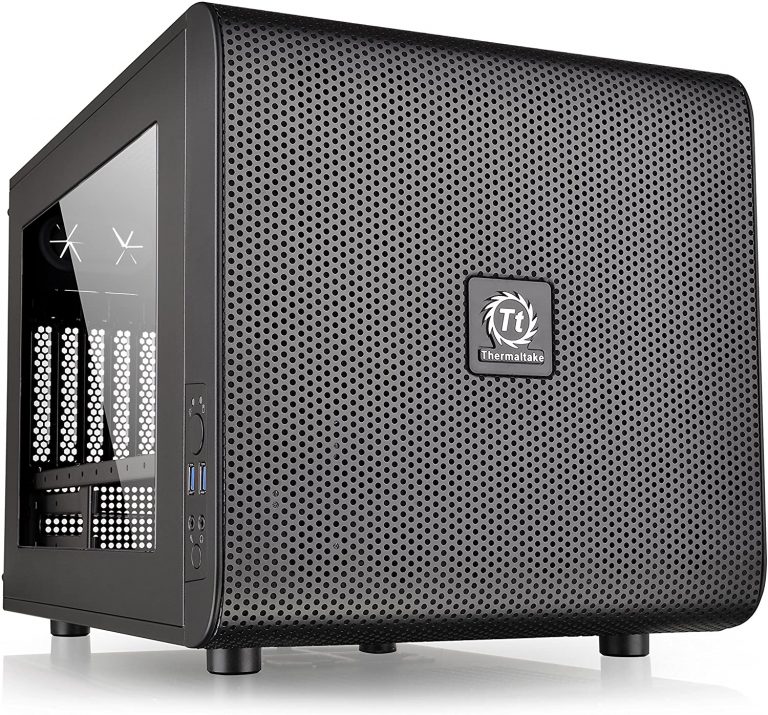 Thermaltake is a popular name in terms of PC cases. Their products are very high quality and super affordable. If you're looking for a top-notch computer case but you don't want to spend a lot, then you should definitely go for the Core V21 by Thermaltake. It doesn't matter if you're using the motherboard vertically or horizontally, core V21 is designed to work both ways. It has transparent panels and it's very eye-catching.
Features:
It supports both M ATX and mini ATX motherboards.
It comes with an advanced ventilation technique.
Expansion is remarkable.
The thermal solution is flexible.
Comes with 3 years warranty.
It has one inbuilt processor.
Dimensions:16.7 x 12.6 x 13.25 inches.
Pros
Pocket-friendly.

Easy installation of new parts.

Excellent cable management.
Cons
It has only 1 pre-installed fan.

The case size is a bit small.
2. Corsair Air 540: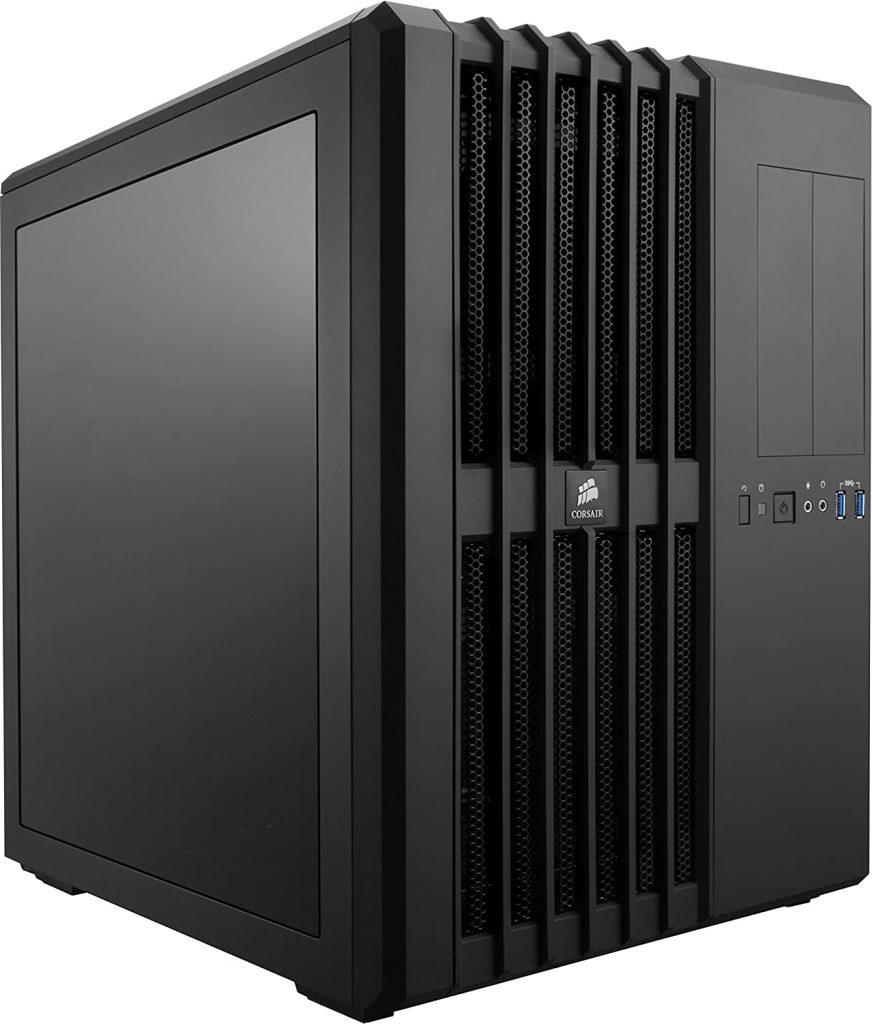 Corsair 540 is another popular PC cube case. The Corsair Carbide Air series is also known for its reliability and premium quality. It is available at a pocket-friendly price.
The product is made up of stainless steel and comes in both white and black colors. Its side panel is made up of plastic and its airflow system is quite impressive for the new ones.
Features:
It has a dual-chamber with a direct airflow path.
It has high-performance AF140L fans.
Air cooling and liquid cooling feature.
It is fitted with a front dust filter.
Dimensions:17.99 x 16.3 x 13.11 inches.
Pros
The cube case is large.

Allows users to add new parts.

The cable routing system is effective.
Cons
Fitted with only one air filter.

It only has 2 USB ports
3. Corsair Crystal 680x: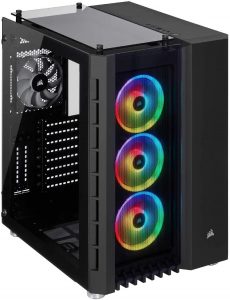 If you like crystal cube cases then Corsair Crystal 680x RGB will be the best product for you. It's an amazing product that is available in two different colors black and white both have their own versions. It has tempered glass panels. It has 48 individual LED lights.
Features:
Outstanding airflow cooling system.
It comes with 3 cooling fans.
Dual chamber design.
Dimensions:16.65 x 13.54 x 19.88 inches.
Pros
Efficiently cooling system.

Easy to setup.

Its design is eye-catching.
Cons
It consumes a large space.
4. Cooler MasterBox Q300L: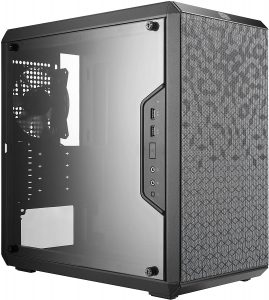 The MasterBox Q300L is an outstanding product that outshines in terms of functionality, modularity, and thermal performance. It is a combination of practical design and a unique customizable aesthetic. It has magnetic dust filters and six oriental panels. Thermal performance is worth noticing.
Features:
It has an edge to edge transparent side panels.
Enough space for hidden cable management.
Dimensions:15 x 9.05 x 15.23 inches.
Excellent air cooling system.
I/O panel can be adjusted in any position.
Pros
It's very handy and easy to use.

You can adjust the set-up at your convenience.

It's ideal for both office and home.
Cons
Dust filters are poorly designed.

Holes are misaligned.
5. Cooler Master Elite RC-110: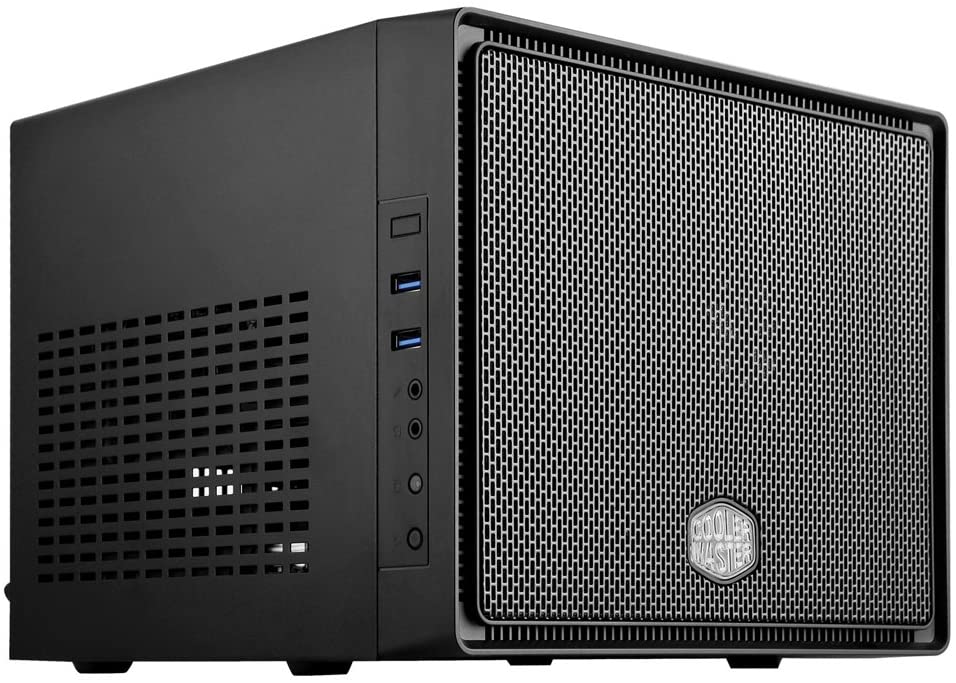 Cooler Master Elite is a super-compact product. Even though it's small its features are amazing. You can add some extra components like a home theatre or steam box. It's handy and it is also pocket-friendly. Its steel finish imparts it a sturdy look.
Features:
It supports a mini ITX motherboard.
Excellent back airflow design.
120 mm water cooling system.
Dimensions:11.1 x 10.3 x 8.2 inches
It comes with 2 USB ports.
Pros
Pocket-friendly.

An ideal choice for gaming.

Cooling fans make minimum noise.
Cons
Space is not adequate.

Set up process is difficult.
6. Thermaltake Core V1: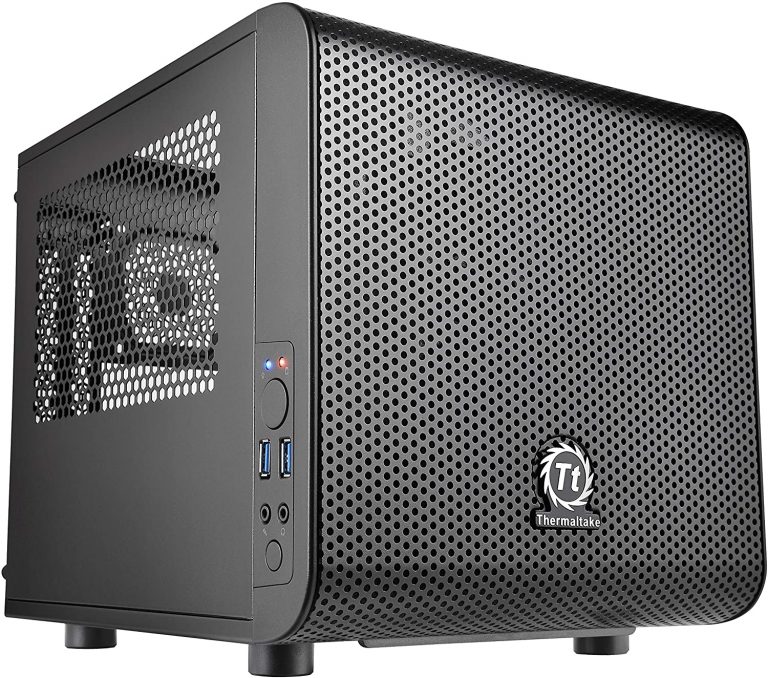 Thermaltake core V1 is easy to install and it provides maximum cooling. It has both air and liquid cooling system. This cube is smaller and affordable than core V21. It fits your budget. It has interchangeable side panels. It is an award-winning product.
Features:
Supports mini ITX motherboard.
It has 2 USB ports and 2 fans.
It features an asymmetrical panel.
Advanced ventilation feature.
Comes with a 3-year warranty.
Dimensions:10.2 x 12.4 x 10.9 inches.
Pros
Available at a pocket-friendly price.
Easy to build and handle.
7. NZXT H710i :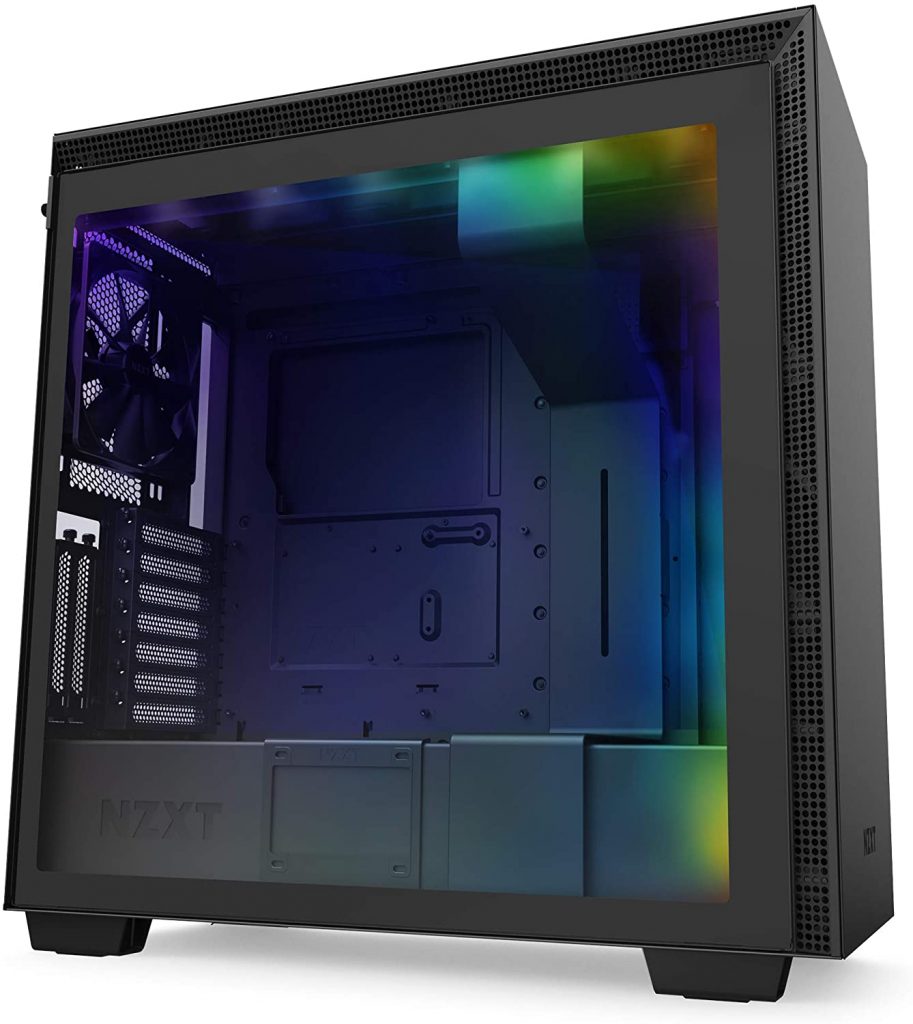 NZXT H710i is a marvellous product that includes a patented cable management system. It has removable fans. Drive trays are easy to use and come with 3 high-speed USB ports. It also has tempered side glass panels which makes it an eye-catching product.
Features:
It supports mini ITX, micro ITX, and EATX.
Easy to install and setup.
Dimensions:19.45 x 9.06 x 20.31 inches.
Pros
Pocket-friendly

Makes minimum noise.
8. Rosewill Gaming Cullinan PX: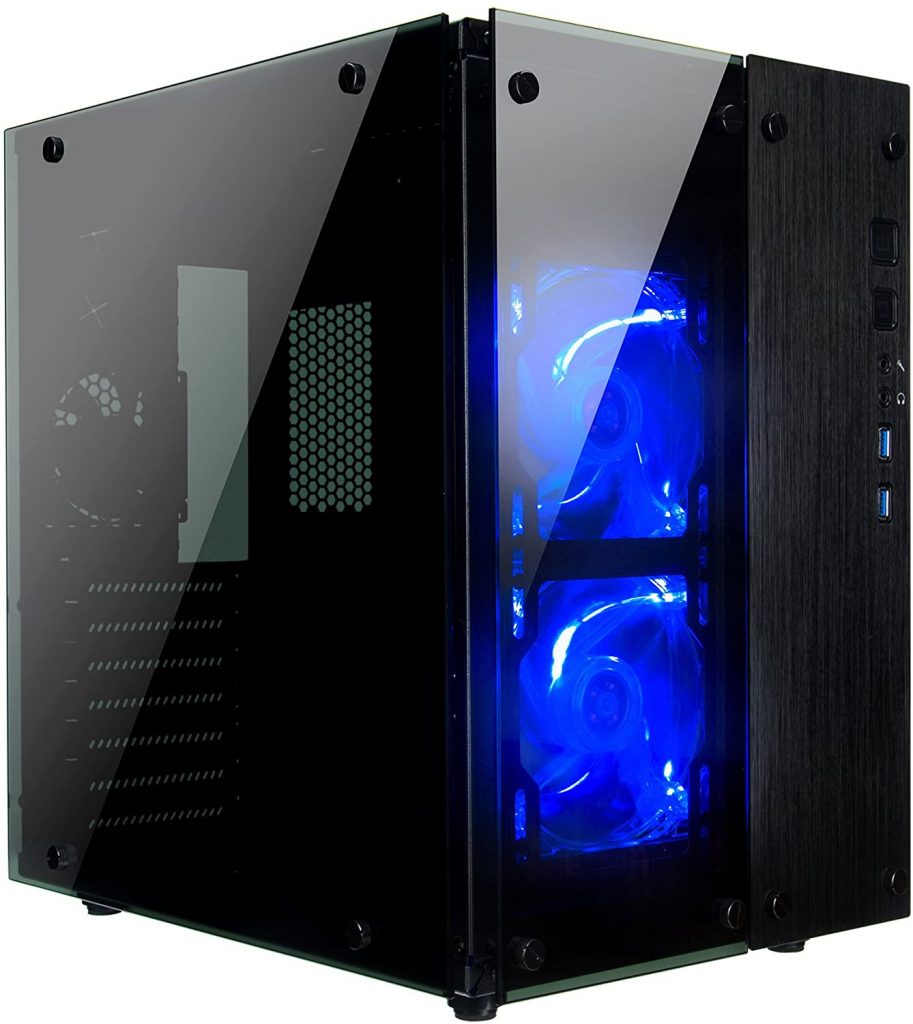 This product has an elegant design with aluminium, steel, and tempered glass finish. If you're looking for a classy cube PC case material then this is the right choice. It comes with a dual-chamber design and a separate PSU and hard drives. Its airflow system is updated and has side tempered glass panels.
Features:
Dual-chamber layout.
Tempered glass window.
Supports both mini and micro ATX.
Advanced water cooling systems.
Dimensions:18.9 x 18.8 x 14.4 inches
Pros
Eye-catching design.

Easy to install.

An ideal choice for gaming.
Cons
Design is fragile so handle carefully.
9. Thermaltake core X1: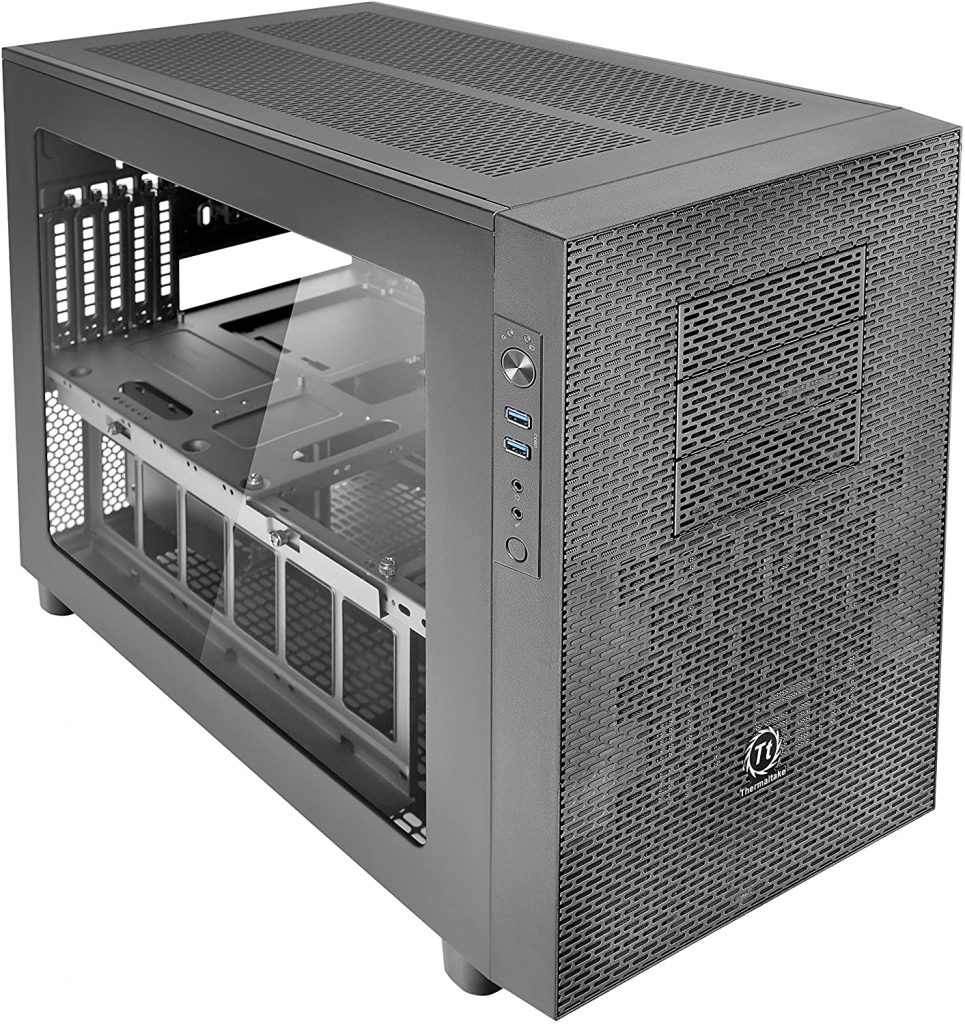 The Thermaltake Core X1 cube PC case is a certified product due to its design standard. It supports both DIY and AIO cooling systems. It has an acrylic side window. Ventilation is good and it comes with 2 fans. It is available at a pocket-friendly price.
Features:
Large chamber space.
It comes with 2 USB ports.
Cooling efficiency is good.
Dimensions:19 x 22 x 14.25 inches.
Pros
Slots are expansible.

Easy to set up and handle.

Also, easily removable.
Cons
Compatibility is limited.

Not a durable product.
10. Apevia X-QPACK3: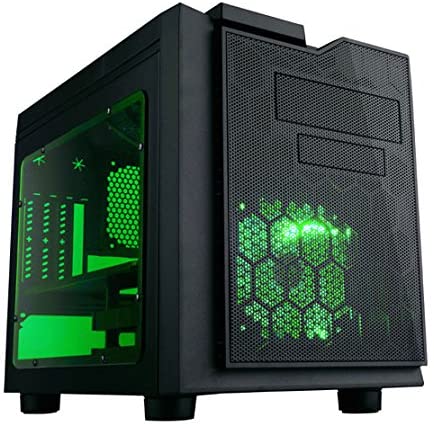 Apevia X-QPACK3 is a developing brand and it's popular among gamers. This product is the 3rd generation of the series. It comes in two different colours and it has various LED light options. The building process is very easy. The ventilation system is good.
Features:
Supports micro ATX/ITX and mini ATX.
It comes with 2 USB ports.
Green tinted side windows.
Dimensions:15.25 x 10.25 x 13.75 inches.
It has 4 expansion slots and 5 drive bays.
Pros
Pocket-friendly.

The design is good and comes in different colours.

The airflow system is good.

Easy to install.

Ideal for gamers.
Cons
Ventilation is not that good.

PSU space is limited.
Buying Guide For Best Cube PC Case
Do refer to the following factors before buying the best cube PC case for your computer.
Form Factor:
Motherboards come in different styles and types. So, that's why you should consider the best cube which can fit high-quality motherboards and different varieties of motherboards.
Size:
Make sure that you choose the case which is easy to handle. Nobody likes a case that occupies a lot of space. Whereas everyone wishes for a device that can fit in some other device in that space. So, you should buy a PC case which is compatible with your room size.
Cooling Performance
:
Heating is a major problem for every electronic device. It affects the performance of the device and it will last for less time. So your PC case must be equipped with a good cooling system and a maximum number of fans for proper functioning.
Installation:
After buying a case you have to install the device by yourself. So make sure that the product you choose can be easily installed. Otherwise, you might have to hire someone to install the device.
Budget:
The budget is the most important factor. You should need to opt for a device that doesn't affect your pocket and has good features at a reasonable offer. In that way, you will save money, time, and effort. Also, you'll have a good quality product.
Conclusion
Many cube PC Case comes in different sizes and can support both mini and micro-ITX categories. The shape and design are what make them unique. For every competitive gamer, a case that has maximum USB ports and a good cooling system would be an ideal choice. Also, these PC cases protect your device from different dangers. So, it''s your turn to choose a good product from the list. Happy shopping!