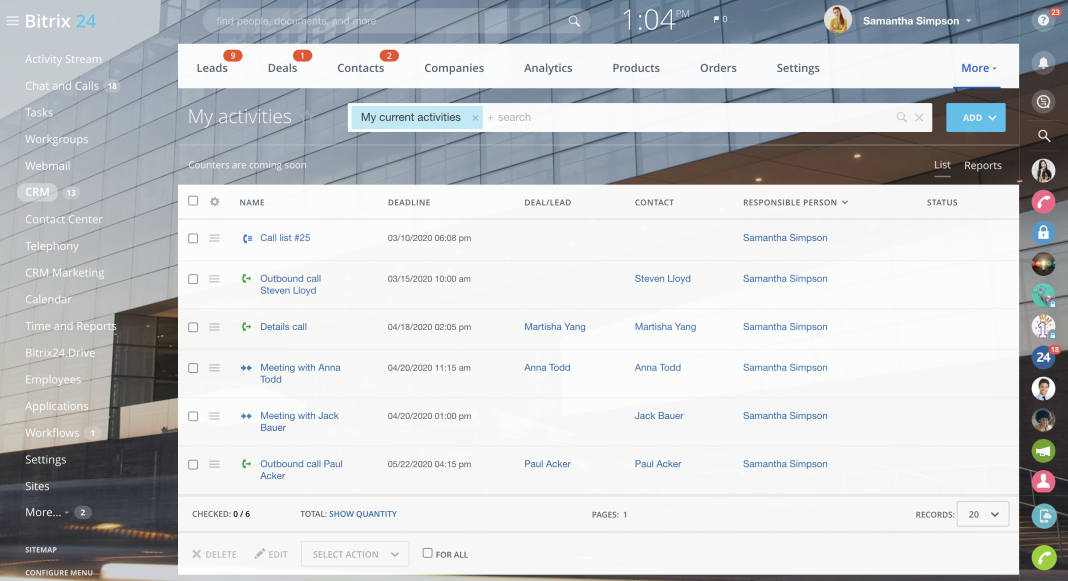 Bitrix24 is a comprehensive online Customer Relationship Management (CRM) software used by over 12 million companies globally. It is flexible because it can be used in the cloud or on-premise. The on-premise version gives you access to the open source code. Bitrix24 is great in many areas, and it lets you have an infinite number of leads, deals, contacts, companies, quotes, invoices, and scheduled appointments.
| Parameters | Rating |
| --- | --- |
| Ease of Use | 3.9/5 |
| Features | 5/5 |
| Customer Support | 3.9/5 |
| Integration | 5/5 |
| Pricing | 4.2/5 |
| Security | N/A |
| Overall Rating | 4.2/5 |
Ease of Use
While Bitrix24 scores reasonably well on ease of use with a rating of 3.9/5, some users have noted that navigation could be challenging due to the hidden or unexpected location of certain tools within the interface. Nonetheless, many users appreciate the workload planning feature, indicating it assists effectively in distributing workload among team members.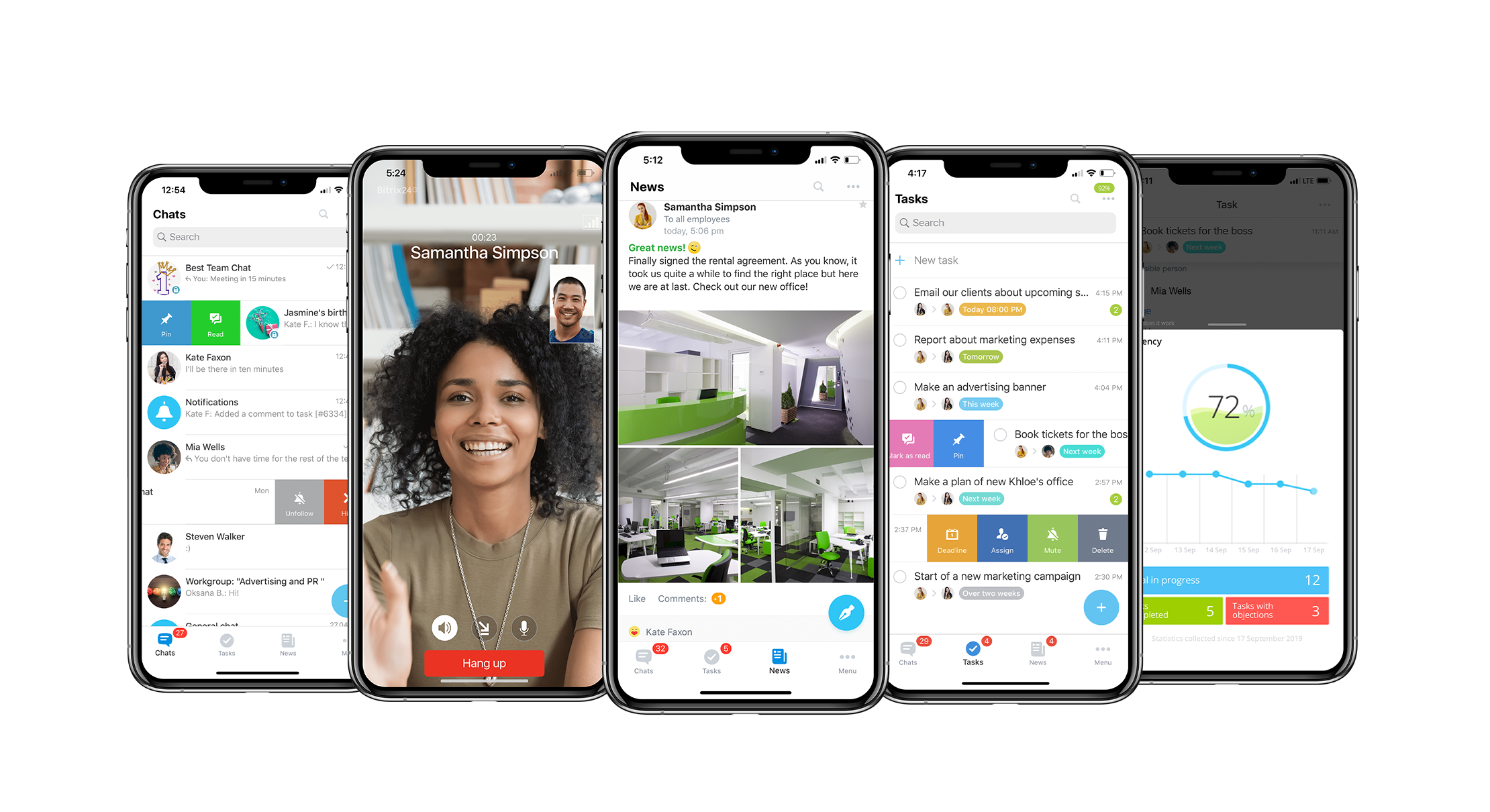 Suitable for
Bitrix24 is designed to cater to all types of businesses. It doesn't matter if you're in sales, marketing, project management, HR, or any other department – this CRM platform has something to offer. With its capacity to automate sales processes and enhance team performance, it's a versatile solution suitable for a broad range of businesses.
Features and Functionality
Quotes/Estimates
Social Media Integration
Client Database
Website Management
Self Service Portal
Customizable Fields
Pipeline Management
Data Import/Export
Lead Capture
Marketing Automation
Contact Database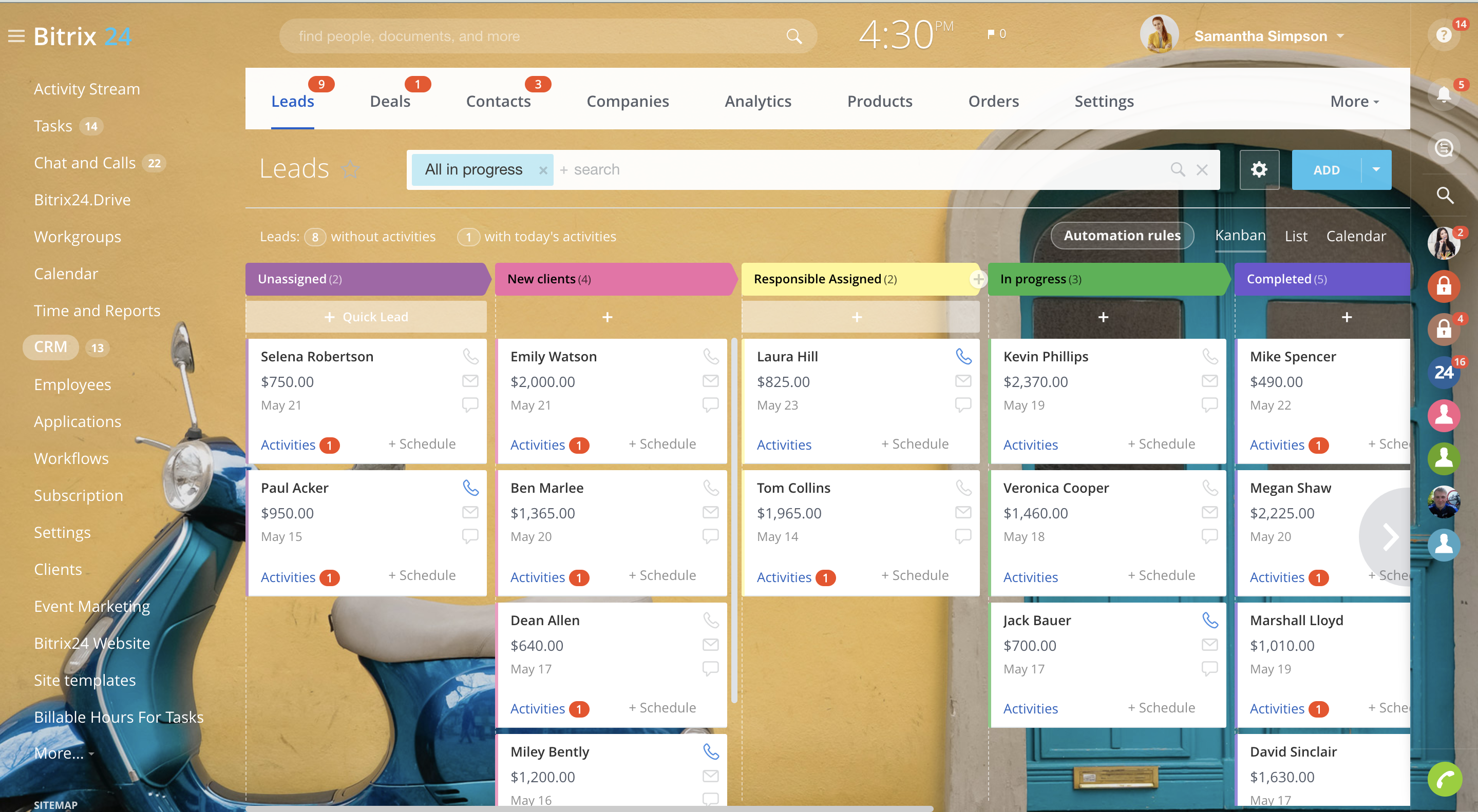 All of these features have perfect 5/5 scores, which shows how well the software works. Bitrix24 also has advanced versions that include sales and marketing automation, bulk SMS, and campaign management. It also works with different pipelines.
Customer Support
Customer support is an essential element of any service, and Bitrix24 provides support via email/help desk, FAQs/Forum, Knowledge Base, 24/7 live chat, and even in-person training.
Integration
Bitrix24 integrates seamlessly with social media platforms, enhancing the customer relationship experience by merging various communication channels into a unified system.
Customization
Bitrix24 offers customizable fields, allowing businesses to tailor the CRM to meet their specific needs. This flexibility ensures that the CRM can adapt to various business models and requirements.
What I Like/Dislike
Likes
Workload planning: This feature helps in distributing workload among team members effectively.
Lead management: Managing leads from different sources on a single platform is a major plus.
Sales process automation: This feature enhances control over company operations and boosts team performance.
Dislike
Navigation: Some users have found navigation a bit challenging due to the hidden location of certain tools.
Reporting structure: Some users have expressed dissatisfaction with the lack of a reporting structure in the sales process.
Potential for bugs: Some customers have complained about encountering bugs within the CRM system.
Pricing
Bitrix24 has a flat-rate pricing model starting at $61 per month. They also offer a free trial and free version.
Further plans include Cloud Basic ($61/mo), Standard ($124/mo), Professional ($249/mo), and on-premise options Business ($2990 one-time license) and Enterprise ($24990 one-time license).
Conclusion
Bitrix24 is a versatile and powerful CRM solution that offers a broad range of features to accommodate various business needs. Despite some complaints about navigation and reporting, it remains a top choice for businesses looking for a comprehensive CRM system.