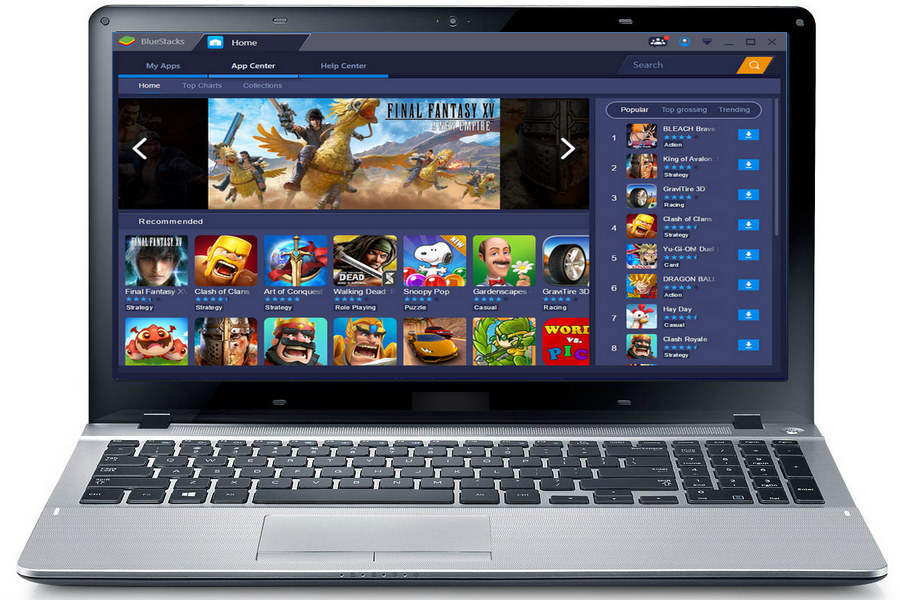 If you are someone who prefers to work or perform significant tasks on PC or you find it easy to test android apps on PC than on Android Device. Some wish to play mobile games on their PC than on their mobile phones. So, here in this article, I am going to talk about the best Android Emulators for PC in 2018.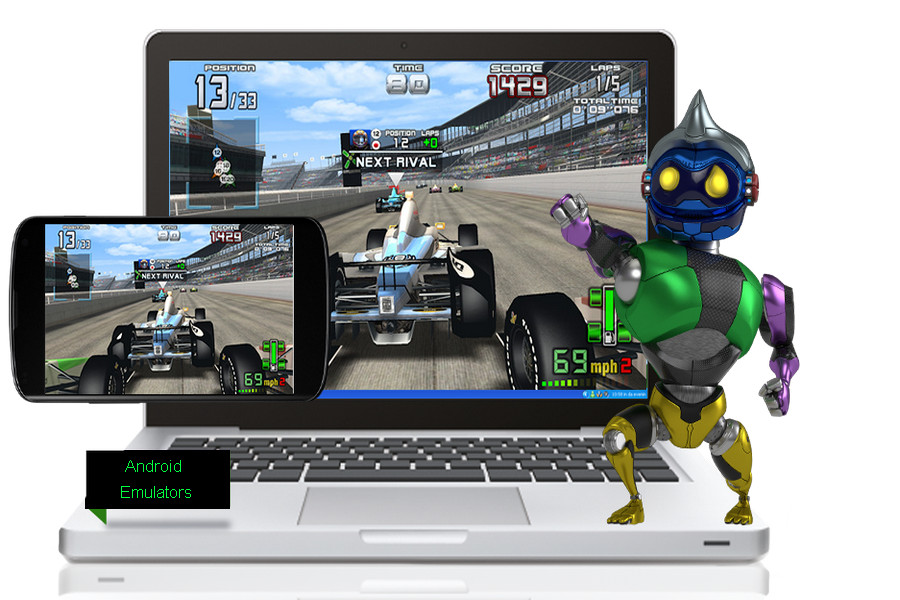 Although there are lots of options available in the market which certainly makes challenging to choose the best one for you. So to make it a step more comfortable for you, we shortlisted the best ones. All the emulators are available for free and paid versions and vary upon the features making it work exactly like your Android Smartphones.
Upon our research, gaming was the most common reason for running emulators on a desktop computer. However, you can use it for running any app available on the Google Play Store. For Example, if you run the Instagram Application on the Emulator, you can easily upload photos and videos directly from your PC desktop something which isn't possible otherwise. So here is the list of emulators but before that do look at the Minimum PC requirements to run the Software placidly.
Minimum PC Requirements for Android Emulators:
Microsoft Windows 7/8/10 (32- or 64-bit).
3 GB RAM minimum, 8 GB RAM recommended.
2 GB of available disk space minimum, 4 GB Recommended.
1280 x 800 minimum screen resolution.
Best Android Emulators for PC
Let us begin…
1. BlueStacks 3 App Player
BlueStacks App Player is perhaps the most-known Android Emulator offering extraordinary quality and reliability. This emulator has been designed for making it user-friendly with the performance and looks just an Android Tablet or Smartphone. There are both free and paid versions available for the emulator. In the free version, you see ads and list of sponsored apps, but these are hardly discreet.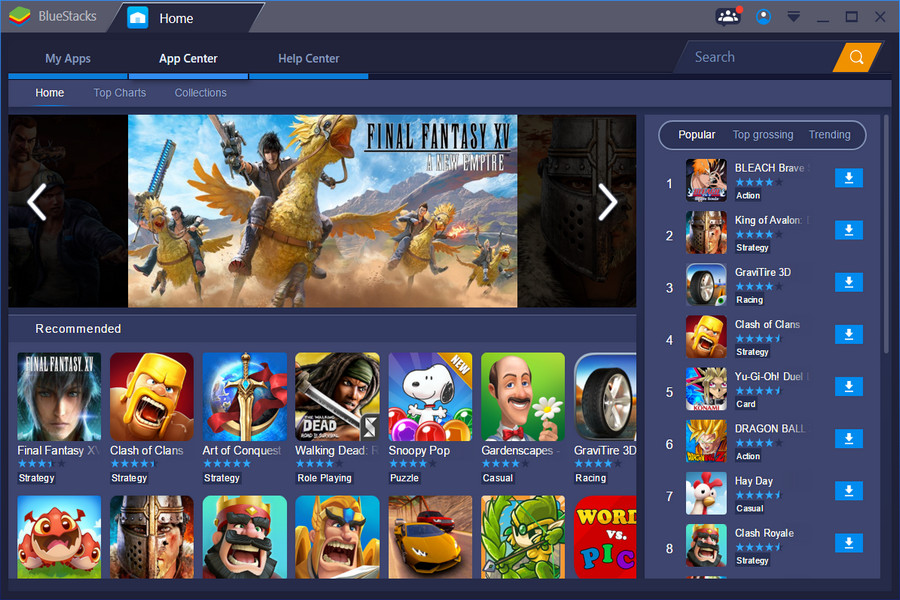 BlueStacks is primarily used for playing, and you can quickly search for games and apps after visiting the Google Play Store. Downloading and Installing apps is precisely like your Android Phone.
However, if you wish to add apps and games from other sources, you get the option to use standalone APK files too. Talking about the performance, which depends upon your system's hardware delivering decent performance. Although using BlueStacks is a great way to bring Android to the bigger making it the best emulator for Android.
2. Nox
Nox is another very popular and fast and slick Android Emulator like BlueStacks for PC. The Emulator runs on Android v4.4.2 which is easily capable of running most of the Android Apps. Also, if you want to use Nox for your gaming seasons, you will be happy to know that Nox enables the use of your favorite gamepad, you also get an option of mapping key and perform various Android Gestures.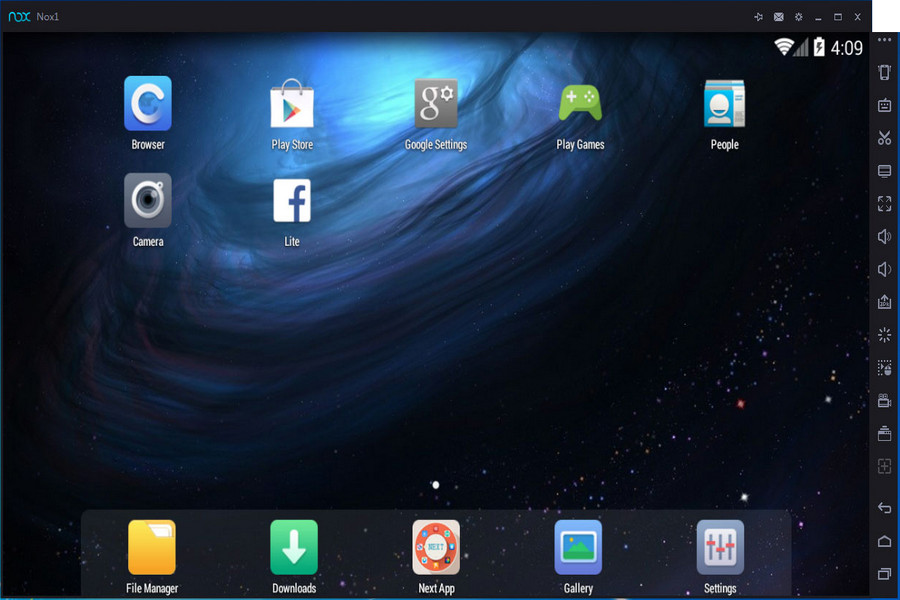 Nox gives you the vanilla feel of the Android and is specially designed for gamers, letting you install apps and games directly from the Google Play Store. With all that the Nox comes completely free.
Although this emulator is completely free but packs some great extras placed on the vertical bar on the right-hand side of the Window. Here you will find multiple options and tools like screen or video recording shortcut, a macro record link and an option to install 3rd party APKs on NOX.
3. KOPLAYER
KOPLAYER is yet another Android Emulator keeping performance in mind. Ideal for games, it comes with two modes: Speed and Compatibility. So it already clear that you can try the speed mode when you need to maximize the game performance and when you run into problems you will have the compatibility mode to get everything sorted.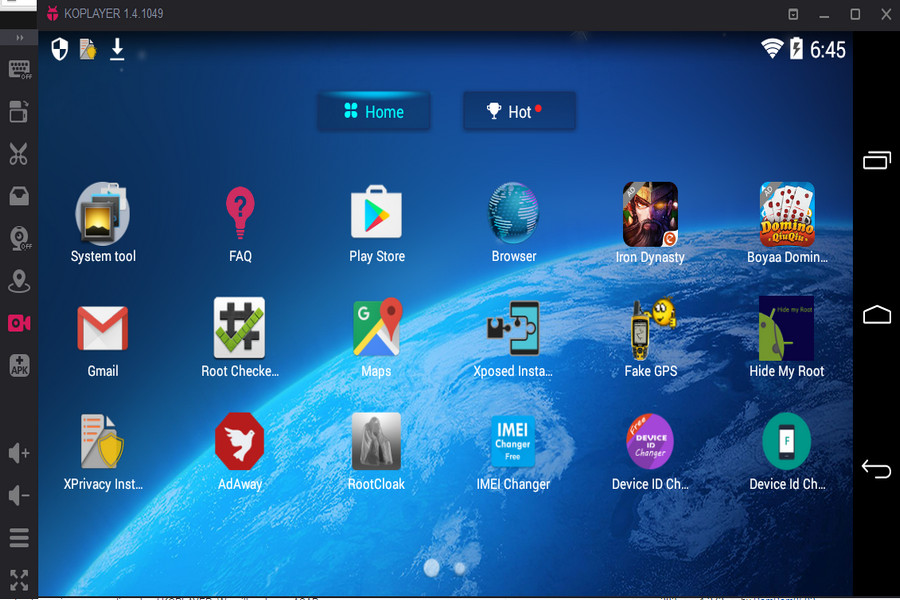 It also has an excellent Multi-Manager Tool which lets you two or more situations on the emulator at once. However, KOPLAYER didn't do as well as above mentioned emulators and went on like a bit hit and miss.
The emulator even crashed in its compatibility mode and hadn't been updated for a year. Luckily if you get this thing running on your hardware, you are up for a treat. Despite its mainstream to run games, it can also run a wide range of apps. You can download a load of APKs from its website.
It hasn't been updated for a year, but if you do get it running on your hardware, you're in for a treat. Despite KOPLAYER's focus on games, it can run a wide range of other apps too, and there are lots of APKs available to download from its website.
4. AndY
AndY is a very interesting Android Emulator based on VMWare Player. It is huge Android Emulator making its installation size weigh huge 3GB. It is equipped with lots of optional extras bundled up in the installer which are probably unwanted, so keep your eyes open and decline them.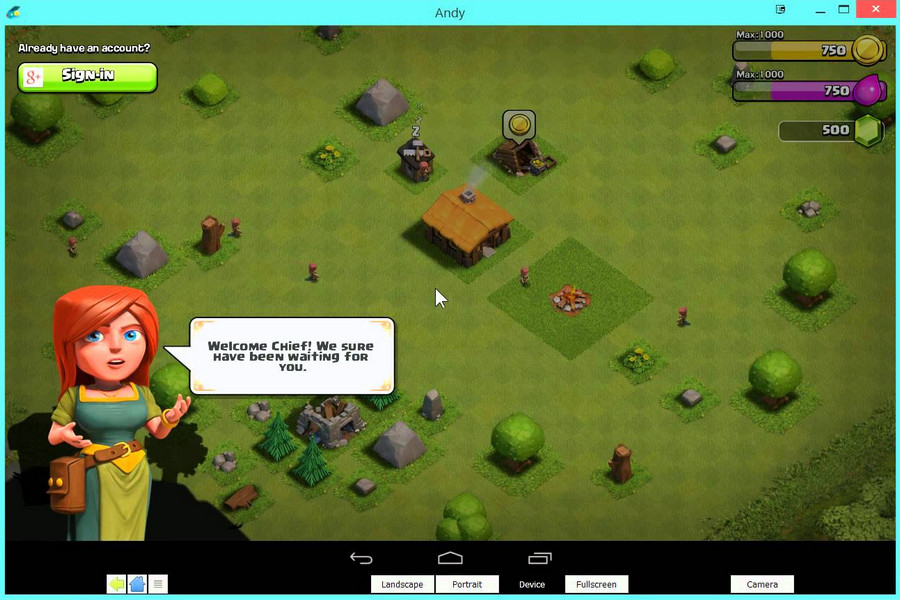 About AndY's design and performance we can conclude that it was designed keeping gamers in mind. This brings Android Gaming for PC to another level with support for not only PlayStation or Xbox controllers, but also for using your Android Smartphone as a gamepad itself. This makes it the most advanced Android Emulator for gaming in 2018.
Although get this emulator running is not everyone's cup of tea and less spontaneous than other emulators listed above which is enough to put some people off. It is a disgrace because is very impressive and it will be great to see it become more accessible. Above that, you also get to root your virtual Android Device to run maximum softwares.
This is a shame because AndY is very impressive and it would be great to make it a little more accessible. Available for both Mac and Windows, it also gives you the option of rooting your virtual Android device to run more software.
5. MEmu
MEmu is one of the latest Android Emulators on the list, but this doesn't make it less popular than others. Its full name MEmu Play itself signifies that the primary idea behind its development was Android gaming on PC. For raising the Android gaming standard, it comes with the support for Intel and AMD chips as well as for the dedicated and integrated graphics with a good level of support.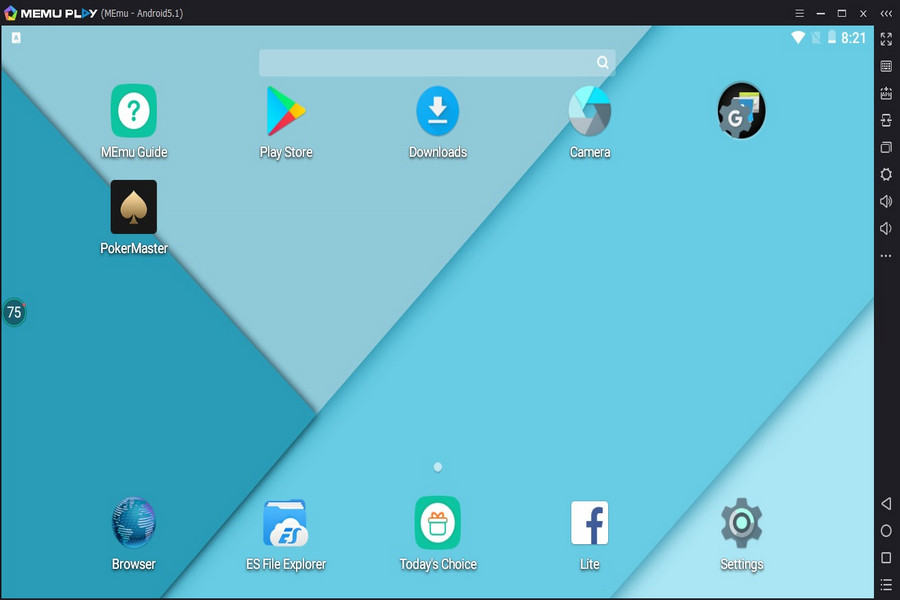 To enhance your gaming experience, it also lets you map your keyboard keys. With that, you can also install apps and games directly from the Google Play Store. Alternatively, you can drag and drop the APK on its window to install.
On the right side of the window, you will find a vertical menu with a range of additional features you can access similar to what you find on Nox. However, the only downside of this amazing Android Emulators is that MEmu runs on the much older Android v5.1.1.
Also Check
Which is the Best Android Emulator for Windows?
These are the best free android emulators for Windows PC. There is not much to do, download the emulator using the link and install it on your PC. Open the emulators and directly install apps or games using 3rd APKs or the Google Play Store and enjoy your favorite Android applications on your PC. However look at the minimum system requirements to run these emulators smoothly.
Edited by: Abhiyanshu Satvat