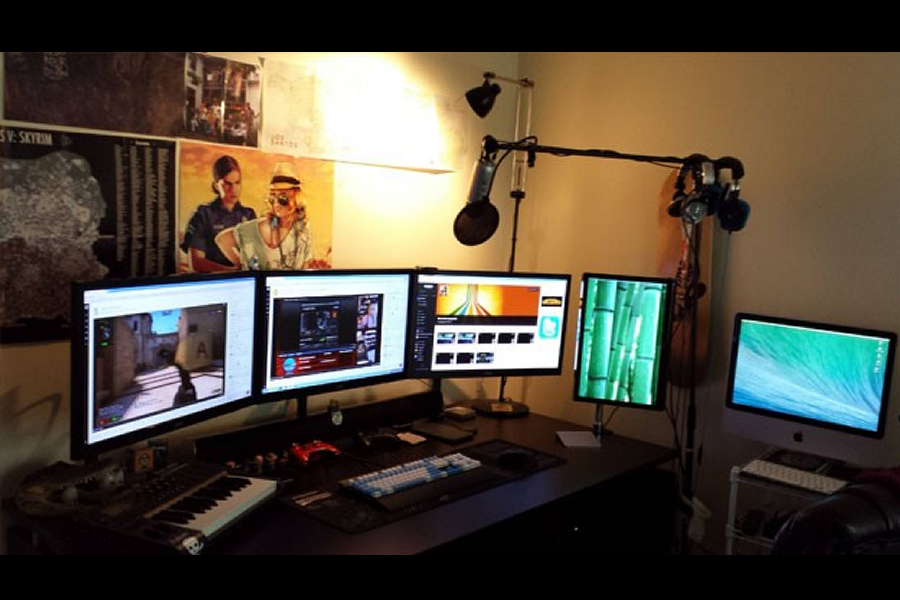 Today, games are the most prominent entertainment way on the internet. You need to download the game and start playing, but it does not help you. Moreover, Later you might need few instructions and tricks to perform, understand the game. Moreover, for that, you follow some video tutorials of that game made by the gamer like you.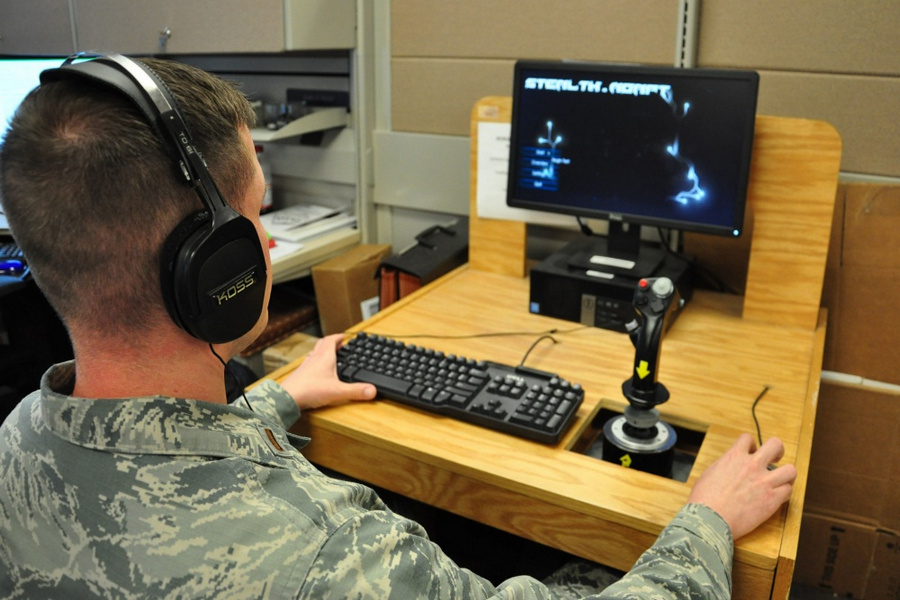 However, Did you ever wonder how they made those tutorials, which gadget did they use? Well, doing that is very simple and not any rocket science. You can record your gameplay footage with the listed best game recording software.
There are many Game Recording Software available on the internet. You can use any of them and start the recording the game, but you need to know something about them. This article will help you to know about some of the best screen recorders and use them to record gameplay on your PC or Smartphone.
Best Video Game Recording Software in 2018
A game screen recorder software gives you much functionality, some of them come built-in live streaming and editing tools also. If you want to broadcast your video then also a few of them offer you this function and game recorder software make it easy for you. Note that whenever you record the game, please make sure, that your video file size should not be too much. ; you Now, let's check the best game screen recording software.

1. Open Broadcaster – Best Free Game Recording Software
Open Broadcaster is one of the best game recorder software. This is free and open source software also offers you much functionality to the user. The interface of this software is so simple you do not need any user manual to understand this software. All you need to do select the source and start the screen recorder.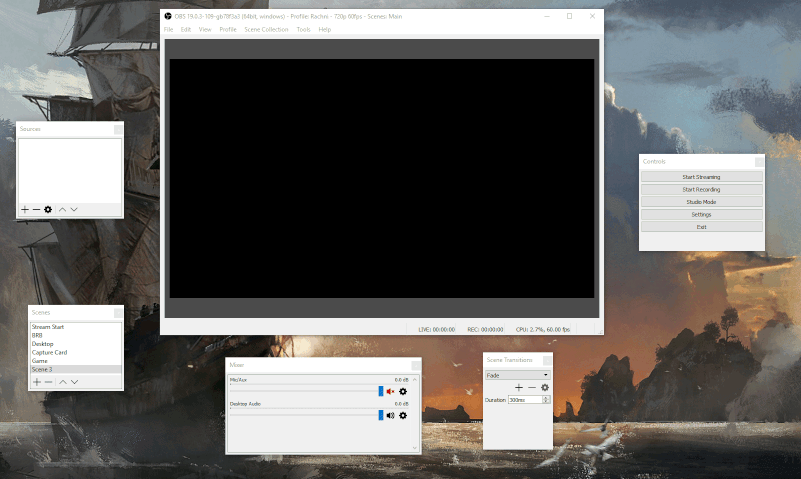 This software also offers you live streaming of the video on youtube, hitbox, twitch. You can also save the video on your computer as MP4 or FLV  format. Apart from these essential function, there are some other features like push-to-talk, watermarks, and many others. You can also use its dedicated mobile Remote App to control your streams.
Key Features: Free, Simple Interface, Open Source, Remote Access, and Consumes very small space
Available For: Windows, Mac, Linux
Price: Free
2. Bandicam Software
Bandicam is one of the best-paid video recording software on the internet. It will offer you a lot of functionality as a beginner. The interface of this software is simple and easy to understand. You can record the video at 4K resolution but in this software, you can not live streaming with this software.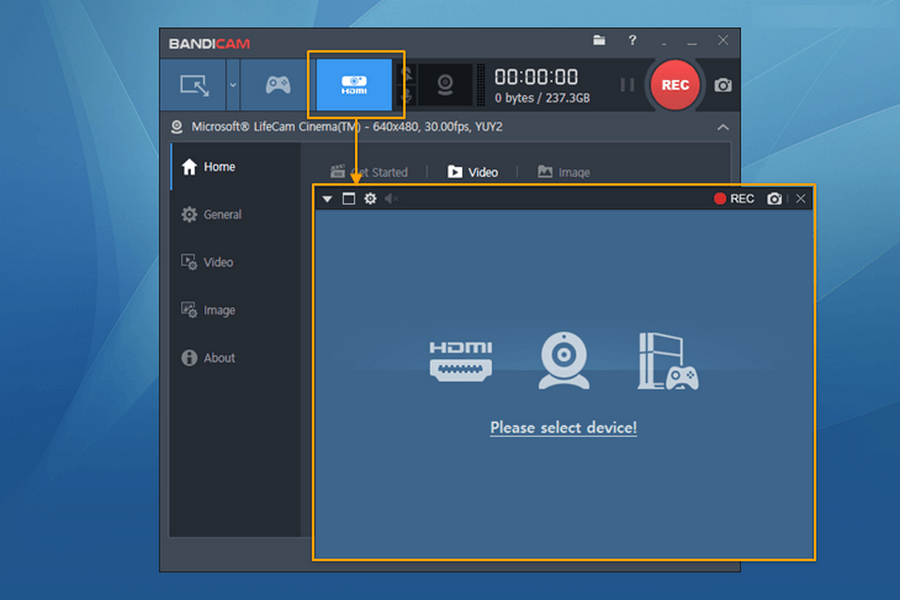 It also offers you video compression which will help you to compress the video size and also editing option are available. There is another option available schedule the video means you can schedule the video and your video essential.
Key Features: Video File Compression, Simple Interface, and Less complicated menu.
Available For: Windows.
Price: Free Trial; $39 for 1 licence and $59 for 2 licences.
3. Action – Best Game Capture Software
The action is a paid screen recorder software also offers amazing features. It will use your GPU to record your game screen and put less pressure on your CPU. You can record video up to 4K resolution and add your voice to video.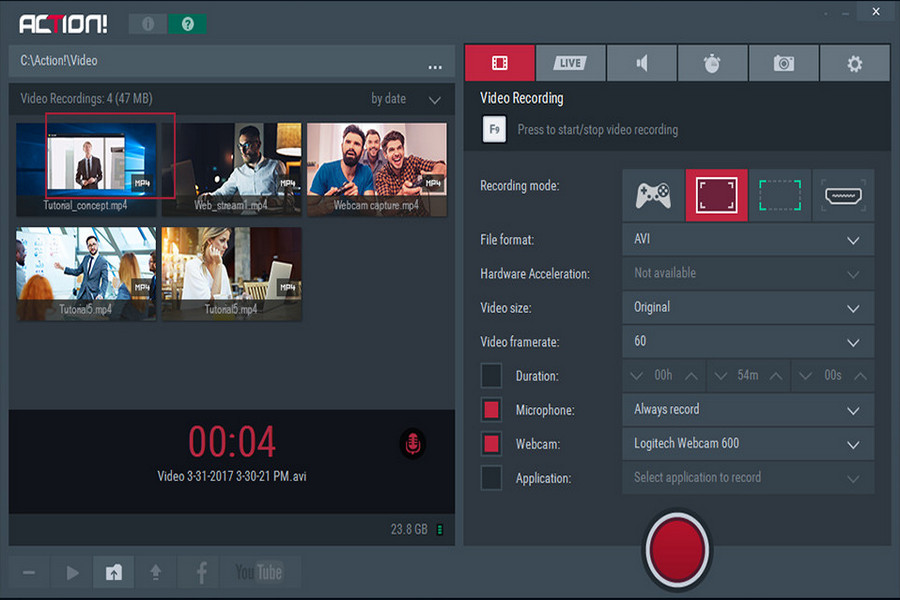 This software offers you online streaming on youtube, hitbox, twitch and other gaming sites. You can also control this software by using your Android app, and, this, app is compatible with Windows 7 to 10. The app can perform essential record functions like play, pause, check frame rates and play recording preview.
Key Features: Remote Access, 4K Video recording, Utilizes GPU for acceleration, and Time-Shift mode, a couple of output file format AVI 2.0 or MP4.
Available For: Windows, Android
Price: Free Trials, Paid: Personal Use $30 and Commercial Use $50.
3. D3D Gear Software – Best Video Game Recording Software
D3D great is an another best software to screen recording. This is a light software and simple also. You don't need a special skill to understand, use this software. The user interface of this software is simple you just need to set the location of download video and start recording.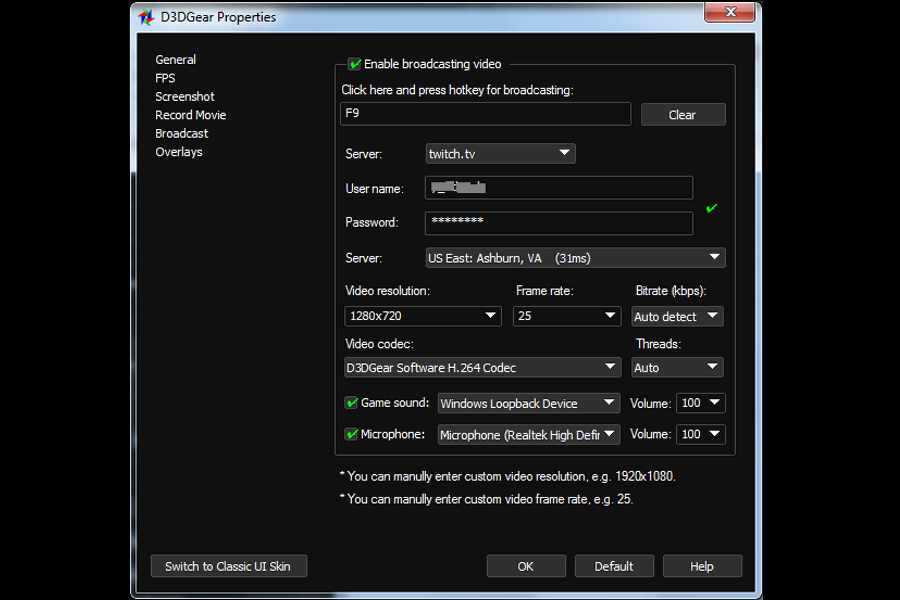 The best feature of this software is it comes up with built-in compression so if there less space on your PC than you can use compression in running mode.This software also offers you online streaming on the internet. It will use your GPU, not your CPU so your gaming will be fine.
Key Features: Efficient recording engine, can record main game audio and microphone voice commentary, hardware GPU encoding (AMD/Intel/Nvidia)
Available For: Windows, Oculus Rift VR
Price: 15 days Free Trials; Paid for $30.
4. ShadowPlay Software – Best Nvidia Game Recording Software
Shadowplay software is provided by the Nvidia GeForce company. As per the graphics driver, this software also uses the GPUs Performance rather than CPU. In this software, you find two different modes. One is shadow mode, in this mode, your game will be recorded for the maximum of 20 mins.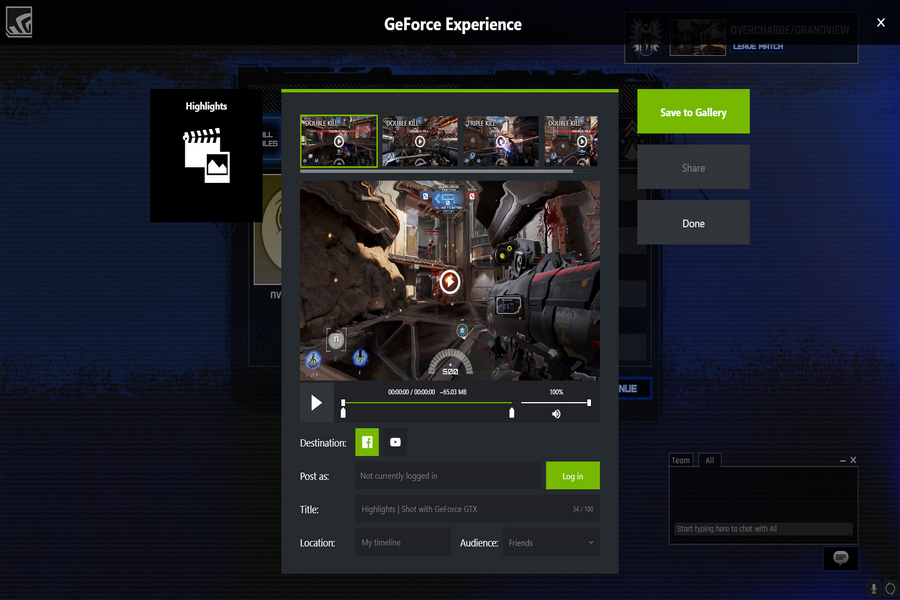 Another mode is a manual mode, you can start and pause the recording manually. This software also lets you record your gameplay in 4K quality which you can live stream too. Also, Nvidia is the world's leading GPU manufacturing company, has specially designed this software to the improve the game recording experience. However, you will need to have at least of Nvidia GTX 600 or above to run ShadowPlay. You can also live stream over twitch and save it on your local storage.
Key Features: Free, Shadow Mode, and Dedicated Software by Nvidia
Available For: Windows
Price: Free
5. Xsplit Software
This is also another paid software with a unique feature of cloud storage. It also provides you live streaming on any gaming website and as well as on Youtube. Using it you can also save the recorded video to its cloud or on your personal computer and with that, you can later upload as a tutorial video. All of its functions work completely fine and very easy to use as this is one of the best multitasking software.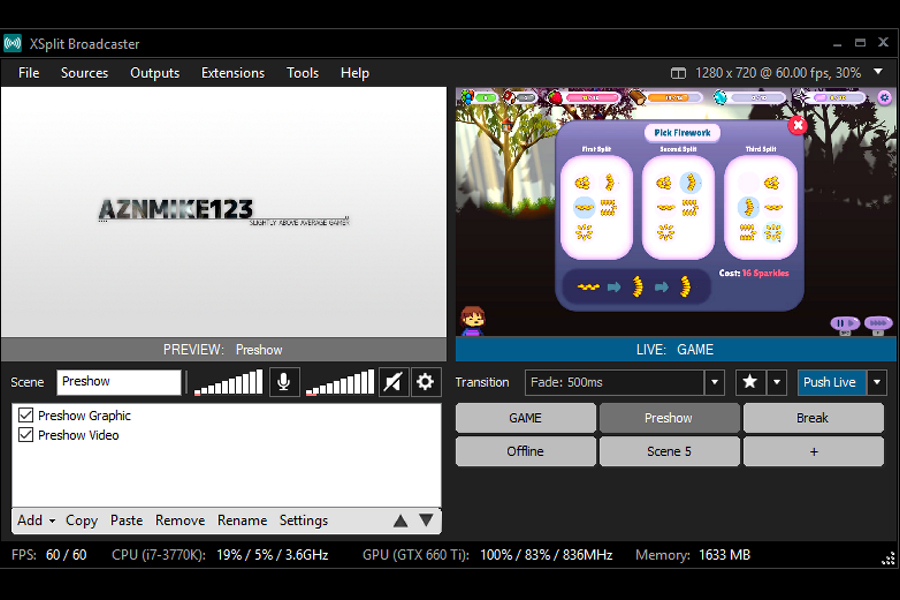 You can also do other basic stuff like high-quality video recording, streaming on other popular streaming websites and most importantly the GPU support. It also has some useful features like Picture-in-Picture (PIP) Mode, Video Annotations, watermarks and few other video editing tools to make your gaming experience to a different level.
Key Features: Sturdy streaming features, Simple and swift to use and offers a free account with all basic recording features.
Available For: Windows.
Price: Free with limited features; Personal subscription at $4.95/month and Premium subscription for $8.95/month with added features.
7. Dxtory
This is yet another paid software, great for recording your gameplay. This software is a little different to use, the user interface is little complicated and you will need to spend some time carefully to understand this software. However, it comes with a lot of customization like you can set the quality of video, sound and more.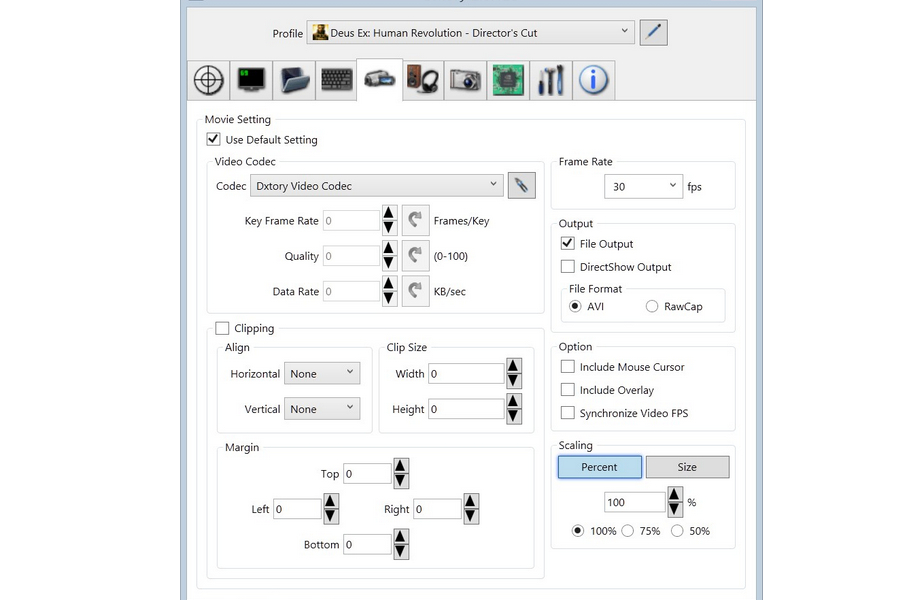 Like other softwares, it will also use the GPU, not CPU. It can be used as free and paid where paid version comes with some extra functionality.
Key Features: Small and simple, Robust customization options; comes with a free version too.
Available For: Windows.
Price: Free; Paid for $32.
8. Fraps
Fraps is another great video game recoding software. Like D3D gear is has a very small size of couple of MBs. Its a simple application with all the useful features needed to record and stream your gameplay. Talking about the video quality, it can record your video up to 7680×4800 resolution with custom frames which can be adjusted between 1-120 fps.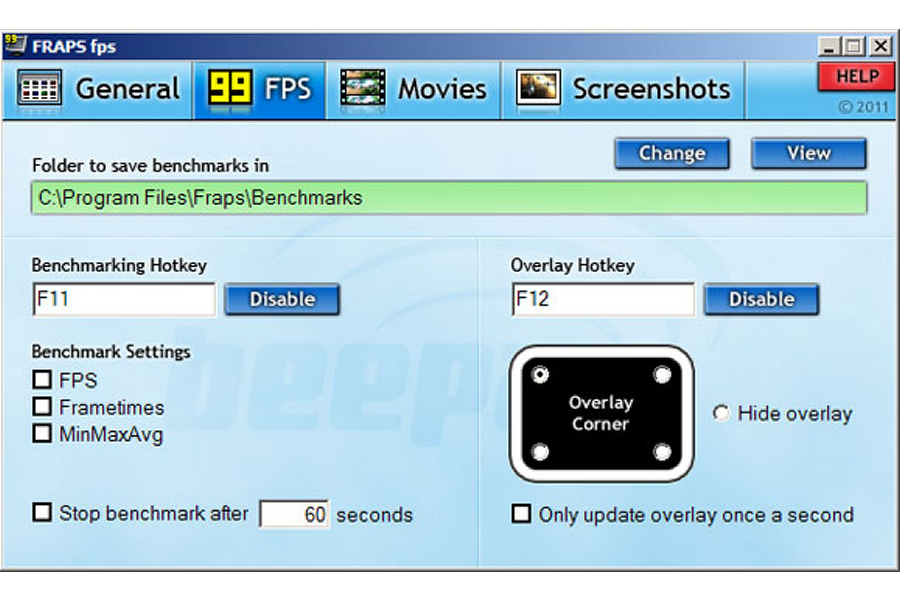 Moreover, Fraps is also used as a benchmark tool to check the number of frames ruuning and the smoothness of a game. This tools takes a corner the screen and shows you the total frames per second. It also shows the performance stats and average performance rate which can also be saved on your PCs local storage.
Key Features: Take small space, records High-quality video with among frames, and BEnchmark Tool
Available For: Windows.
Price: Free with limited features; Can be purchased for $37.
9. WM Capture
WM is not a game screen recorder, it is a basic screen recorder. You can record the screen from anywhere on the screen. Howvere, you can not use live streaming, compression software in it. The recording quality isn't great but you can save the video in multiple formats like MPEG, AVI and more.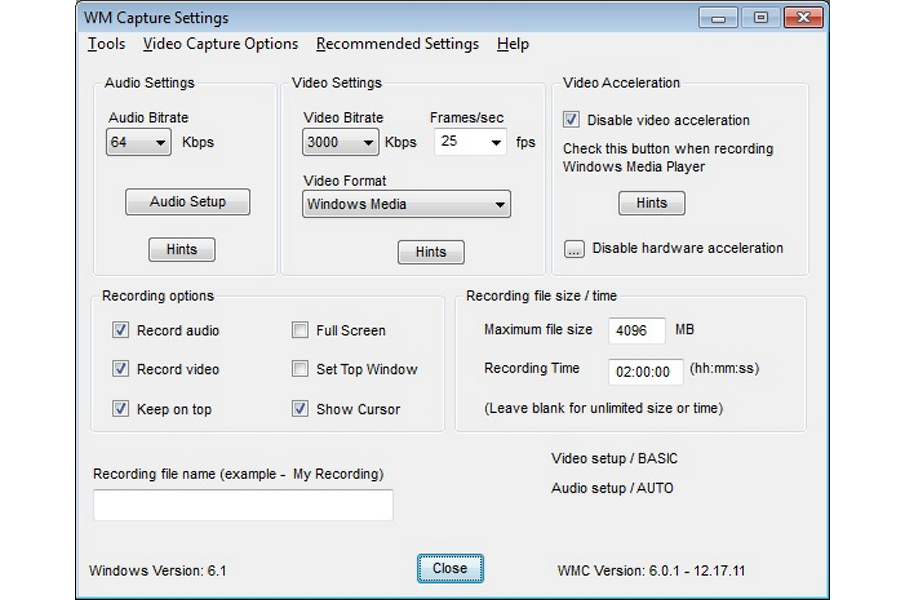 The interface is so simple you need to install the software and, a screen will appear with all the controls related to screening recordings including formats and quality.
Key Features: Customizable capture options, can take a screenshot of video and save videos in multiple formats.
Available For: Windows, Mac.
Price: Free Trails; Paid for $39.95.
10. X-box Game Bar – Game Recording Software for Windows10
If you have Windows 10 then you don't need any screen recording software. Windows 10 has a special feature Game bar, with the help of game bar you can record your gameplay. The game bar doesn't support live streaming on youtube etc, also cloud space.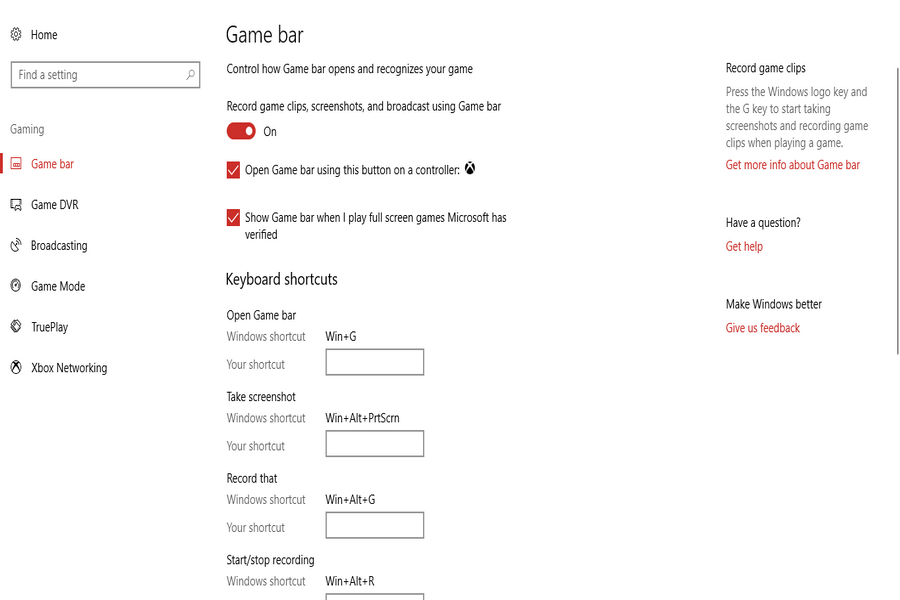 For recording your gameplay just press and hold Windows Key + G and game bar will appear or you navigate to game bar via Start Menu -> Settings -> Gaming. You can start and stop the recording manually or shortcut key is Windows Key + Alt + R. You can also set the quality of video just clicking on setting option. This feature is only in Windows 10.
Key Features: Free, Simple Interface, Easy to use, Shorcut activation, Built-in Windows 10
Available For: Windows 10.
Price: Free
Wrapping it Up
The above mention tools are Best Video Game Screen Recorder Software for Windows and Mac users. You can use any of them, all record the high-quality video, Live streaming and some of them offer you cloud facility also. They are also compatible with the windows version. If you find any better screen recorder which we haven't mentioned in the above list, or if you have any kind of query tells us through the comment section.
Edited By: Abhiyanshu Satvat