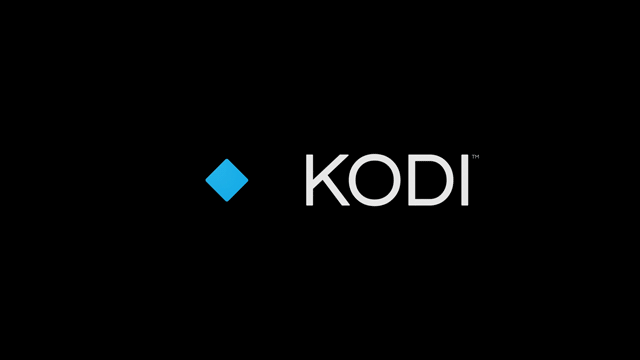 Kodi, previously known as XBMC is a free Open-Source Multimedia Player to serve you many uses. Most Importantly, the reason behind its popularity is its availability on maximum platforms like Windows, Mac, Android, SmartTv Amazon Fire TV, Playstations, Roku, Linux, Rasberry Pi and more. You can either use for your offline content or can also live TV on it by adding best live TV Kodi Add-ons. You can watch any of your favorite TV daily or live sports on it.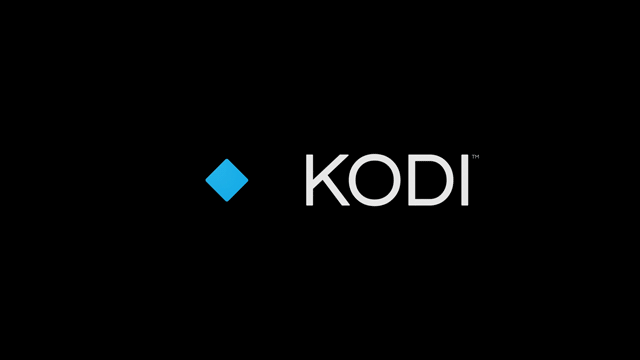 With the high support of add-ons, skins, and builds, Kodi can be easily customised according to the user. You add Kodi Add-ons, download different builds and use skins to make it look your way.
In this article, we are going to cover the Best Live TV Kodi Add-ons. However, Kodi live TV add-ons are kind of hit or miss, if they work, great and if they do not, you really can't do much about it. Which means these will work fine one day while the other day you can face some streaming issues or they could no longer work. Although this service is improving every day you cannot expect it to as good as a Cable TV and this up and down can be frustrating thus we suggest you to stick to already recorded shows or find an excellent server if possible.
Important: Before you use Kodi
To secure your privacy and prevent you from data loss, we recommend you to use a VPN service before you start using Kodi. Using a VPN can help you bypass your ISP's tracking your browsing history or the content you are watching. Using a VPN also lets you access the blocked contents in your country and secures you form any copyright issues. It also prevents you from hackers accessing your data or user files.
How to Install Kodi Add-ons for Live TV
Launch Kodi
Select Videos
Select Add-ons
Scroll down and select Get more
Then, select your preferred Live TV add-on
Select Install on the selected Add-on page
You will get the notification as selected Add-on enabled or successfully installed
Add-on is available and ready to launch
Once you open the Live TV Add-on, go to home screen and select Videos > Add-ons > Select Live TV Add-on
7 Best Live TV Add-ons for Kodi (Our Recommendations)
1. USTVnow Plus
USTV Now Plus is an add-on to all the American TV shows and movies and entirely lets you eliminate the cable usage forever. You will need an account to authenticate, or you can also subscribe to use its list of channels. Most importantly this add-on comes free on trial basis and charges you some amount after the trial period ends.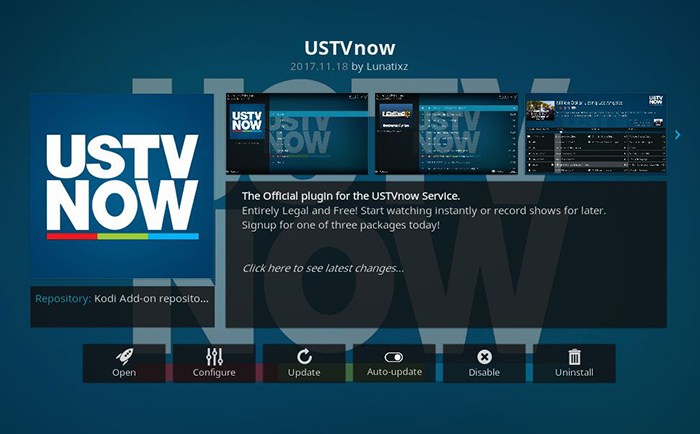 Talking about its plan, this add-on can be viewed free of charge with access to 6 channels with HD streaming for 45 days. After the trial ends, you will need to pay $19 to watch its 24 favorite channels in HD format for a month.
You can add this using the following URL: http://srp.ru and name it as "Super Repo" and click "OK" once done.
2. BBC iPlayer (iPlayerWWW)
Like USTVNow Plus, BBC iPlayer is also limited to BBC's original channels and programs. With this you can watch your personalized program for next 30 days, you can also track your favorite programs for that particular time. (All that without even recording). The content streaming is very high quality and are rarely down or have any issues. It also provides its users with their on-demand content and accessing them is very easy.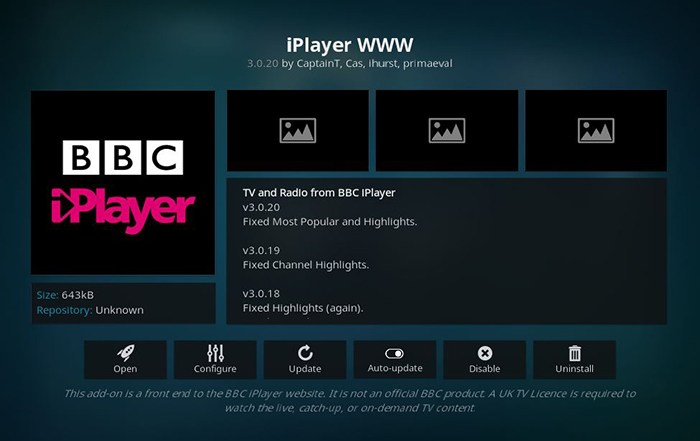 Moreover, the content on this is exclusively geo-restricted and is only available for UK based users for free or as a paid subscription. However, if you are a non-UK resistant, you will need to buy the TV license to access its content, or you can use a VPN with UK IP Address to bypass you though it.
You can add this add-on directly from its store (Get More) and install from its Zip file repository to use it.
3. cCloud TV
cCloud stands for Community Cloud and consists of members dedicated to live TV streaming. It is a "must have" live TC add-on with a list of thousands of channels under it. However, you will find most of the UK and US-based channels with a limited list of international channels as well. The interface of cCloud is clean and easy to navigate.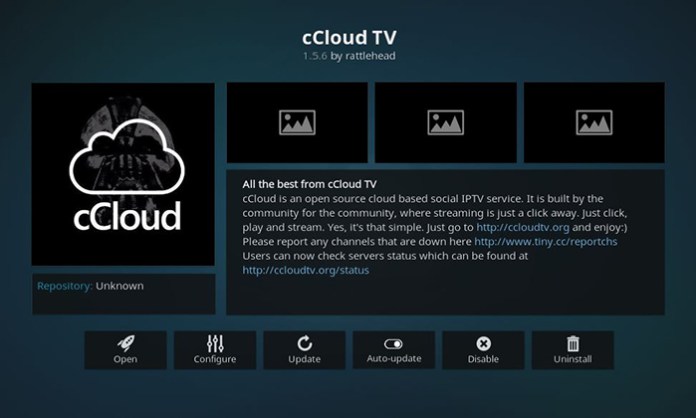 Moreover, the streaming quality can be a bit spotty, but that could be an issue with the server or the stream source and not cCloud TV. You can see many favorite TV channels like National Geographic, CW, Animal Planet, ESPN and more. However, it will take your little time to explore its functionalities and support. It also has a server section to check which servers are up or down.
You can add this using the following URL: http://kdil.co/repo/ and name it as "Kodi Israel" and click "OK" once done.
4. UK Turk Playlists
The UK Turk Playlists is known for always working, and a wide variety of content on TV channels form the UK and Turkey. It has vast collection may that be movies or TV shows and including live TV. However, its live TV content is not as significant as others, but most of the content available on this works smoothly as they are regularly updated.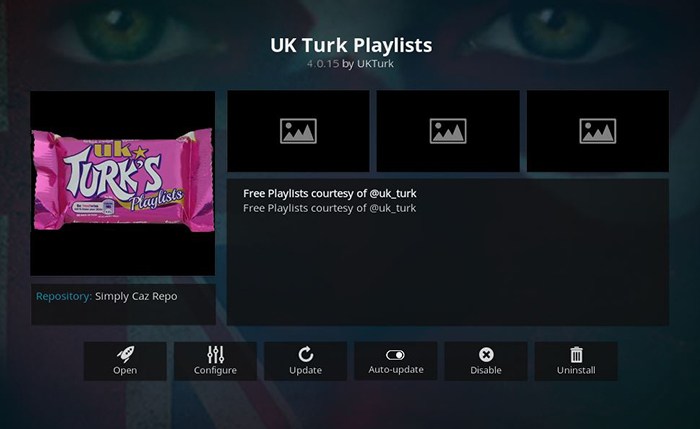 About the depth of the content, this add-on has a whole new feature of a global search to find the relevant streams, and you can also play them from its previous streams. You can add your favorite shows to your library. Also with regular updates, it brings a ton of new features and improvements to improve multi-link channels.
You can add this using the following URL: https://addoncloud.org/ukturk/install and name it as "Turk Repo" and click "OK" once done.
5. Goodfellas 2.0
If you want to watch live sports, head to GoodFellas. Goodfellas 2.0 is upgraded version of GoodFellas back after a break. Goodfellas is a very popular add-on as lets you stream live TV without any restrictions. This add-on has dozens of options including categories like Premium TV, Live Entertainment, Sports, News including KIds channel. It also brings on-demand videos, and can also watch latest and classic movies including TV shows and anything in between them.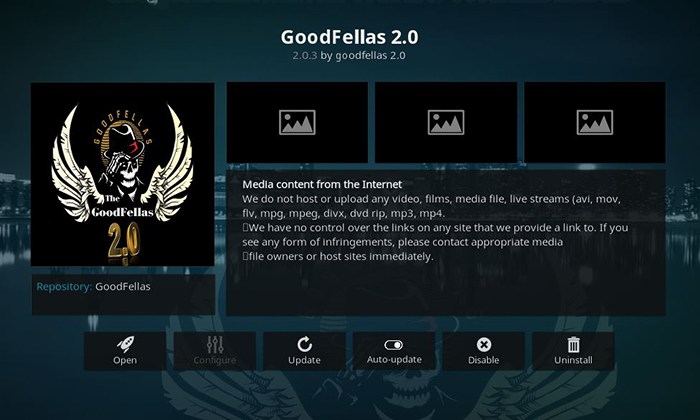 GoodFellas 2.0 is easily a live TV add-on to compete with IPTV big names like cCloud TV and Sanctuary. Using it is very easy and efficient to manage your selected streams.
You can add this using the following URL: http://www.goodfellasteam.com/Repository and name it as "GoodFella" and click "OK" once done.
6. Nemesis
Nemesis, not a very know add-on but is one of the oldest add-ons to let you dive into the world of IPTV. It is the best all-in-one add-on as it offers a large number of on-demand and live TV streaming services for its users. Apart from just streaming, you can also play your audio book on it. Also, it provides live camera feeds from the around the world.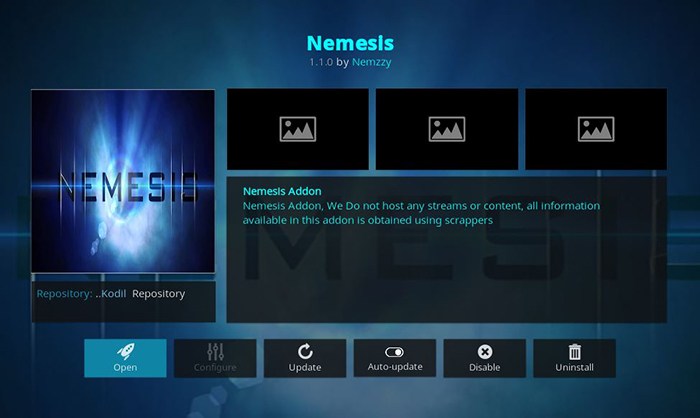 Using it is a bit complicated as it is set to ask a PIN code for every interval of four hours. However, this add-on is worth of those efforts, however, its a way to some extra bucks for its developers.
You can add this using the following URL: http://streamarmy.co.uk/repo/ and name it as "Stream Army" and click "OK" once done.
7. Quantum (Sanctuary)
We are ending the article of best live TV Kodi Add-ons with one of the biggest names of IPTV. Quantum was earlier known as Sanctuary for offering the all-in-one solution with something for everyone. After its rebranding, it has been taken over by new management and few popular add-ons is merged into one and the results are fantastic.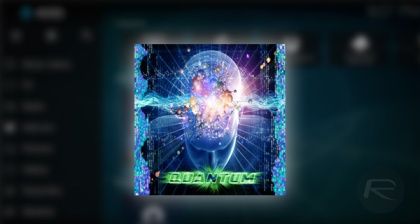 It has an all in one mega add-on with everything and is widely popular amongst its users. The interface is clean and comfortable to use and is available for free.
You can add this using the following URL: http://sanctuaryrepo.esy.es/sanc and name it as "Sanctuary" and click "OK" once done.
Wrapping Up
With this list of Best live TV Kodi Add-ons, you can use any of them for accessing live TV through Kodi either to watch your favorite movies or for streaming sports live. However, we request you to use a VPN before you start using Kodi. All of these add-ons are our recommendations, and if you find any other live TV add-on useful, you can comment down in the section. Also, if you have any query related to the article, feel free to reach us.