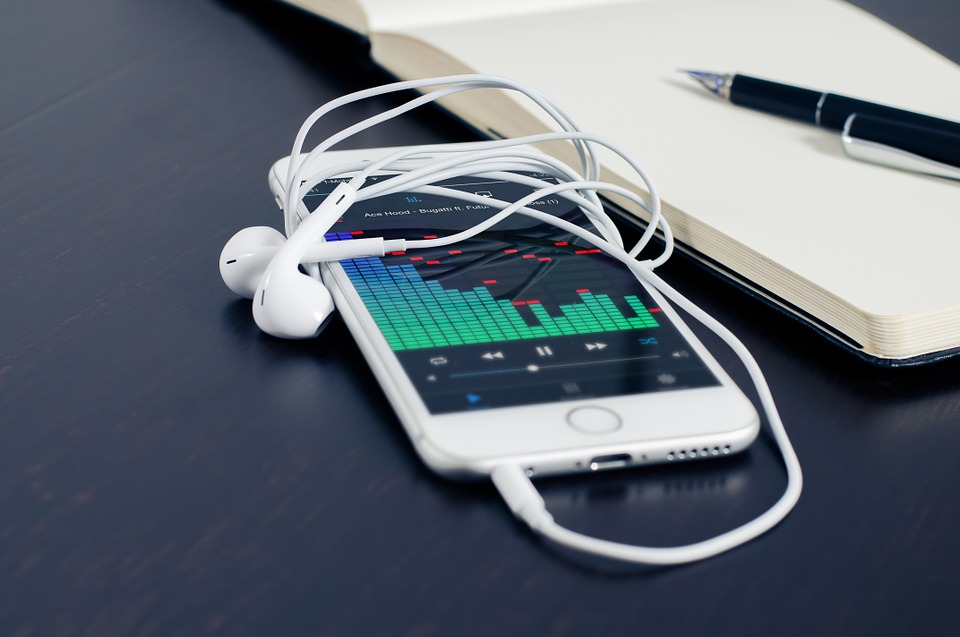 Downloading Music on iPhone is the very annoying task if you don't know the right method. If you are new to iPhone, you will face lots of issue in transferring files or downloading songs on your iPhone. And if you go to App Store for music download apps for iPhone. Most of the apps are paid or have some limitation. Some free apps which allow free music download is removed by App Store team due to privacy issue.
The best music Downloader app for iPhone must have all the functions like user-friendly interface, large music Library in all category, Playlist Creation Facility, Music Search Bar, Music Download option for Offline Playing and other normal features.
So let's select the best iPhone app to download the music. If you are an Android user, you can check these Android Music download app or top free mp3 download sites.
Best Music Download App for iPhone
Here I will list all the best app according to their features; I will also mark whether an app is Free or Paid. So you can quickly select your desired one.
1.Spotify Music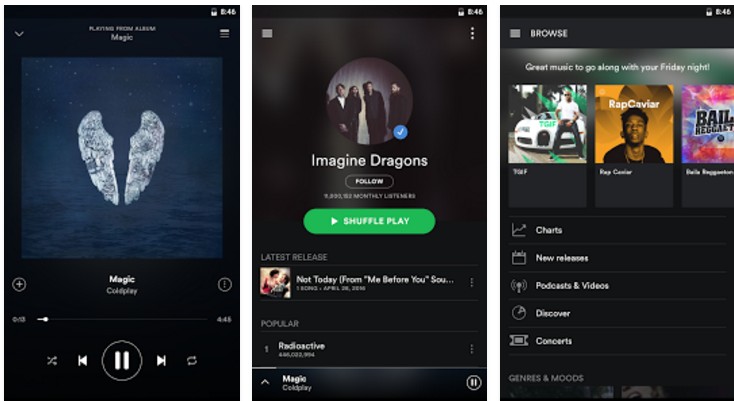 Spotify is one of the most popular music download apps for iPhone in the United States. You can quickly search any Music Track, Artist or any Album. They have the large collection of Music. You can listen to music online for free on Spotify, and you can also create your playlist and can share it with your friends. Or you can also select from the suggested or recommended playlist by experts.  You can also save the track to play offline.
Currently, it is limited to some countries only. You can enjoy it for with ads, or you can have its premium version(ad free). There are some more features in the premium version.
Spotify Premium Version Features
Adfree Music Experience.
Enjoy music on all your devices Mobile, Tablet or Desktop.
Download music and play it offline without the internet.
Much better sound quality than free version.
Supports: iPhone, iPad and iPod touch. Requires iOS 8.0 or higher.
2.Pandora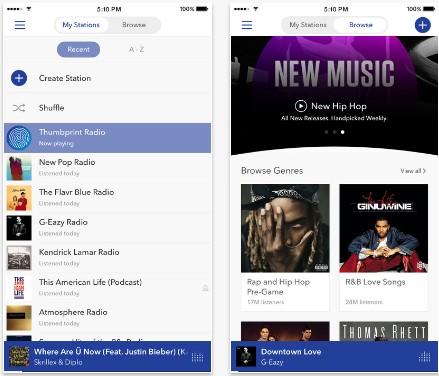 It is another popular music streaming service in the US, Australia, and NewZealand. It is known for its automatic music recommendation according to your mood and taste. When you select an artist, it will play the different genre and then ask you for feedback; you can give Thumbs up or down. And then it analyzes your taste and recommends you songs.
You can also curate your station or select from the pre-curated genre stations, or other user stations. It plays ads in between songs.
It is compatible with almost all your devices Mobile, Desktop, Tablet, TV and other Home devices.
It has premium version also (Pandora Plus), but currently available for the US only with charges $4.99/month and Features:
Premium Version Features
Listen to AdFree Unlimited Music
Save and Enjoy your Favourite Stations Offline.
Skip and Replay All You Want
Supports: iPhone, iPad and iPod touch. Requires iOS 9.0 or higher.
3.SoundCloud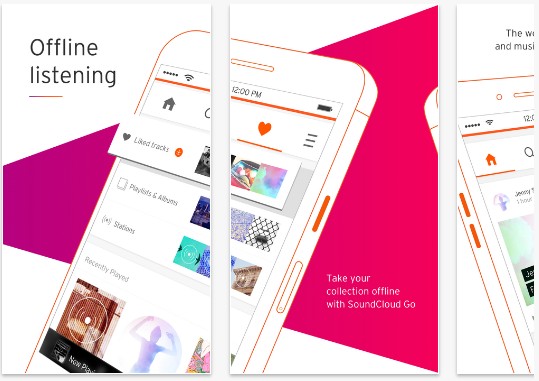 SoundClod is one of the top music streaming services with about 150 Million tracks in its database. Besides streaming, you can also upload your own songs and music track. For a Musician or Artist, it is the best platform that helps you reach you to the large audience.
The user can search according to Genre, Mood, and Artist, etc. It also suggests you music according to your listening habits and likes. You can also create your playlist of favorite songs according to your moods.
It also let you connect with your friends, Artists, and interact with them. It's kind of social networking for music lovers.
Beside this Free version, it has premium service also named Soundcloud Go and Go+ with charges $5.99/month and $12.99/month.
SounCloud

(FREE)

SoundCloud Go

($5.99/Month)

SoundCloud Go+

($12.99/Month)

Access to 120 M Tracks
Access to 120 M Tracks
Access to 150 M Tracks, including Superstars and Major Labels
No Offline Mode
Offline Mode
Offline Mode
Supports Ads
Ads Free
Ads Free
No Revenue Share With Artist
Revenue Share With Artist
Revenue Share With Artist
NO Acess
NO Acess
Acess Premium GO+ Tracks
If you are an Artist, you can also use Soundcloud Pulse with features like create music, podcast, Analytics, etc.
Supports: iPhone, iPad and iPod touch. Requires iOS 8.0 or higher.
4.iHeartRadio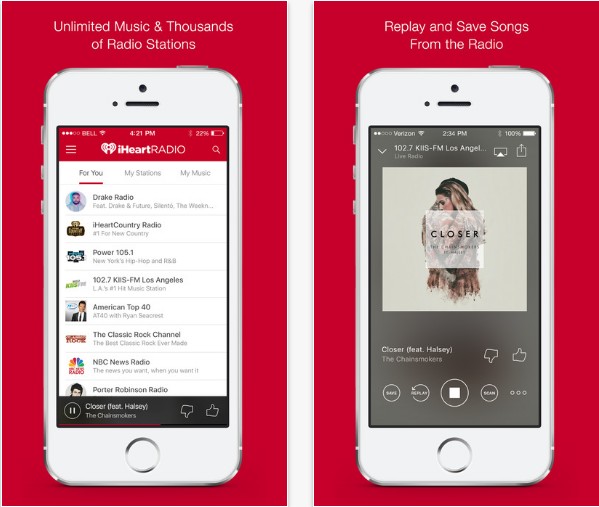 With this app, you can enjoy unlimited music and listen to thousands of music stations. Not only music and radio station, but you can also enjoy comedy shows, sports, news, etc. on iHeartRadio. You can also browse through all the radio stations across the globe. Even sports station like ESPN Radio, FOX Sports are also available.
You can create your personal music station with your selected artist, genres and from other music.
Like another app it also has the premium version with similar features.
Premium Version Features
Save and Listen Offline.
Create Unlimited Playlists.
Unlimited Skips.
Save and Replay any Song from the Radio.
Supports: iPhone, iPad and iPod touch. Requires iOS 9.0 or higher.
5.Amazon Music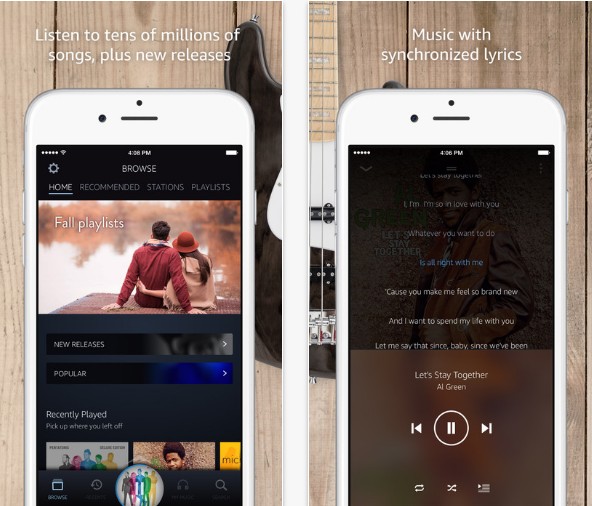 With Amazon music you will get a new way to listen to music, they have a library of millions of songs with regular new updates. You can search for their collection and also try the pre-curated playlists and stations. It will also give you personalized recommendations according to your taste.
Amazon music is not free it has premium plans starting from $7.99 with 30 days free trial.
Amazon Unlimited Music lets you listen to adfree music with unlimited skips.
You can also download songs for offline listening.
Get the latest release from the top artist.
Supports: iPhone, iPad and iPod touch. Requires iOS 9.0 or higher.
6.Shazam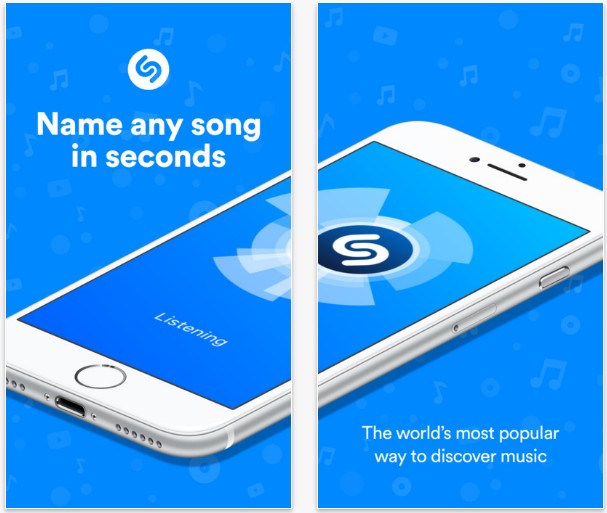 It is another favorite app for streaming music online. It has the large user base who keep searching for music. It a music identify app, which listens to your microphone and finds a match in its database to get the full music. It also provides you the song lyrics with the tracks. You can also enjoy Music videos in the app.
You can follow the artist and get to know what they are discovering. Also, connect it to your Facebook account and get to know what your friends are listening and share your list too. Discover and listen to most popular songs in the world from their top charts.
Features like offline play, device sync, and AdFree music is also there for premium members.
Supports: iPhone, iPad and iPod touch. Requires iOS 9.0 or higher.
How to Download Music to iPhone
There are different ways to download music on iPhone. You can download using the above-mentioned iPhone music apps or through music download sites. Downloading mp3 using the app is very simple, you just need to install the app and select your favorite music and then save it to your phone. Many apps like Spotify, Pandora etc allows you to download songs on their premium plans only.
To download using sites, you first need to downloads songs on your computer then you can transfer it to your device using iTunes. You can check this article on How to transfer music from computer to iPhone using iTunes.
I found out these are the most popular and the most downloaded music download and streaming apps for iPhone. And most of them are also available for Android and another platform. So it's great when you switch your device. All your data will be sync, and you can continue listening to your favorite music. Do let us know what's your favorite music app and why?.