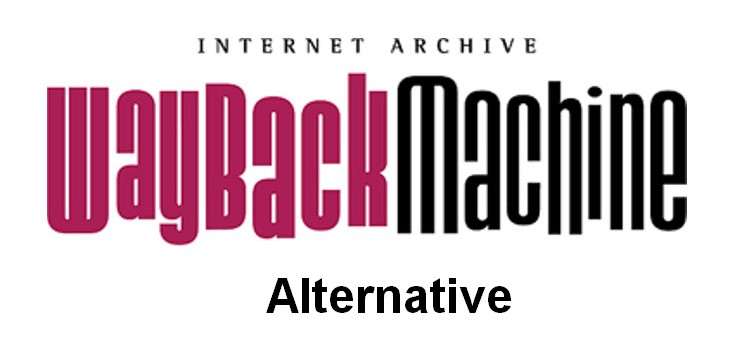 Internet Wayback Machine is used daily by many peoples. There are many users of Wayback machine, some people use it for accessing the deleted data of the websites, and some use it for creating business strategies or competitor.
So, a Wayback machine gives you the power to see a website history and how it developed in previous years or the archive internet pages. Here we are providing you the best Internet Wayback machine alternative.
Today we will tell you some of the best Wayback machine alternatives which will help you if you could not access the Wayback machine websites. These sites also have some unique feature which will help you a lot. So go through the list and check which will suit you.
Best Internet Wayback Machine Alternative

Let us begin…
ScreenShots is the another best alternative to the Wayback machine. As its name it works, screenshots just take a snapshot of the websites and save it to the database so you can only access the snapshot. You can not access the code and other things like its destination link and more.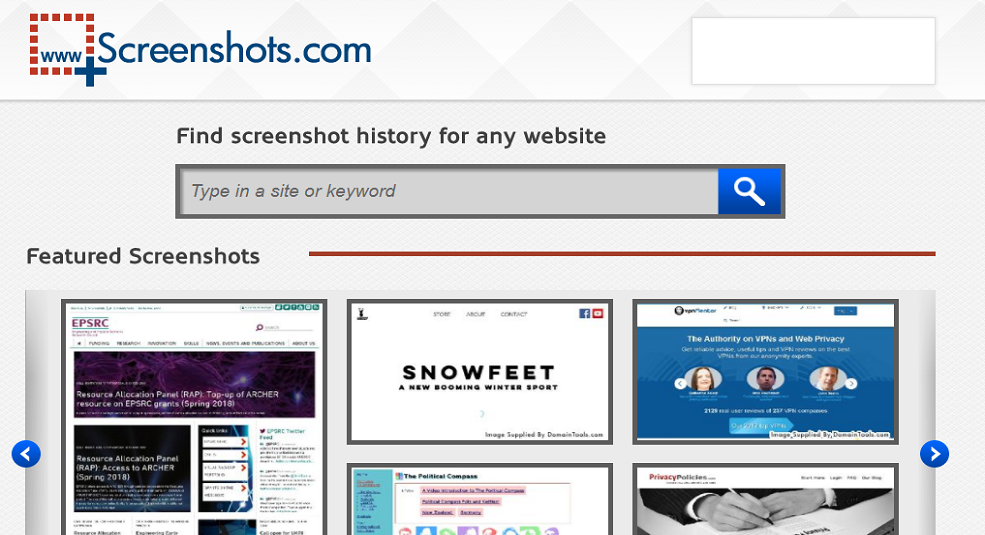 It provides you all the details on a domain you are searching for as screenshots and has a great interface and allows you to zoom the images to look for the appearances of the website in a proper way.
Features:
Captures screenshots instead of copying domain code
Easy to use Interface
Shows complete WHOIS record of the domain ID
Archive.is is one of the best Wayback machine alternatives. The archive comes with great functionality which can not offer others. The archive is getting so much popularity on the internet because of its function, user-friendly and easy navigation. When you visit Archive.is you find two search bar. Archive.is gives you the power to access the content of any websites and also the screenshots of that website.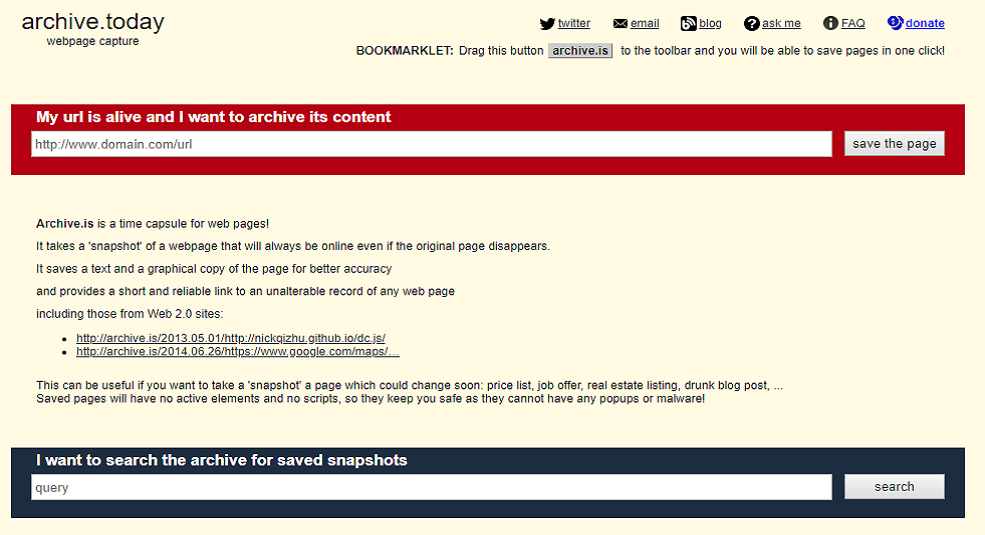 In Archive.is there are some good feature like here you can find both code and screenshots of any page of the websites. If you want to share the screenshot of the webpage, then there is also an option for that. Archive gives you one best feature that downloads the report, means if you want to download the code and screenshots and all that content.
Features:
Archives the screenshot and code of a web page
Has an enormous database
Allows you to share & download results
You can archive any website, anytime
iTools is also a certain website and provides you all the information of any domain name. This site accesses the Alexa database. It will also tell you the domain popularity, traffic, and competitors of the website.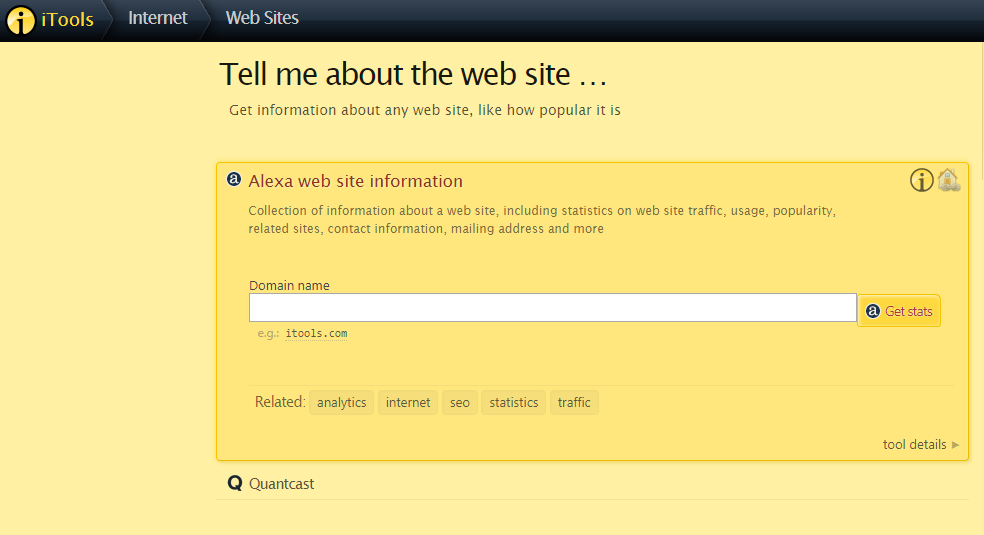 iTools is a slightly different tool from other wayback machine tools in the list as it doesn't provide any archive option on its homepage. However, you can access it in another way, and to do that, you first need to click the "Internet" tab from its homepage and then on "Website" you need to check the archive for.  It also shows you everything important about your competitor to help boost your business.
Features:
Shows up all information related to domain
Used to boost your business
This is yet another great alternative website to Internet Wayback Machine, on this site you can find the screenshots of any domain. You can access the screenshots, emails and some other features but you have to sign in for all that. Once you register on this site, you will access all the other features of this site which is free.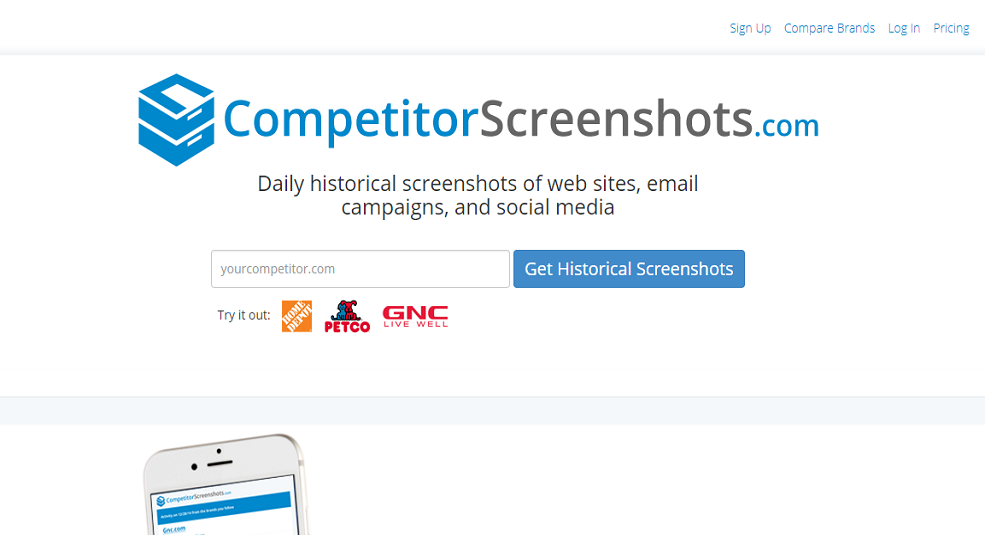 It gives you detailed information of any domain you enter in its search bar, but you will be able to access all of its features only once you register with them. Moreover, once you sign up with them, you get to access screenshot, contacts, visitors and more to any website you choose. The best part about it is that it shows the transparent results in comparison with other competitor websites.
Features:
Shows up detailed information of a domain
Display transparent results related to your competitor
This site offers you lots of functionality; you can use this to extend your business. You can also use archive content of the website also, and this helps you see your competitors. Moreover, you do not need any special skills. You just need to sign in and get started.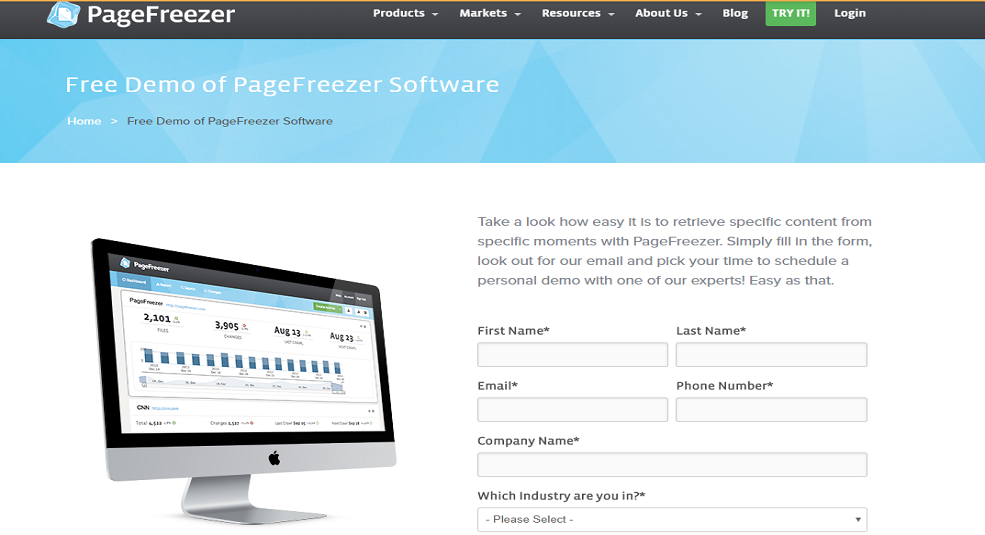 This tool is one of the most reliable and comfortable web history checker tool with instant results of the website you are checking. This tools come handy even when you are searching for online marketing tools or boosting your business. With that it also a user-friendly interface making it reliable for every user.
Features:
Has Online Marketing Tools
Let's you archive website content
Editor's Recommended Alternatives
Conclusion
So, readers, These are the Best Wayback Machine Alternative Sites, totally trusted and working so you can use any of them. With the help of these sites, you can check the site history, content and how a website look in past or any deleted content also you can access. If you find any other site better than these, let's know through comment section.
Edited By: Abhiyanshu Satvat