When you want to know about a car's condition, what do you give preference to? People's views or Carfax's report? Well, I certainly opt for the latter. A Carfax report gives you the entire overview of a car's life. A look in the history of the car you may call it. It is indeed a well-drafted report covering all the aspects of a car's state. The full-fledged information of a car lets you make the rational judgement of the car. This report is very necessary when you are looking to buy a car, especially a second-hand car. But then why carfax alternatives?
Well, since you know Carfax does put a lot of essential information in front of you, but at the same time, it has a few drawbacks. Let's see why do we need Carfax alternatives?
Why Carfax Alternatives? 
The one major drawback would certainly be cost related to the report. The report is not cheap, if you need it, you'll have to spend a handsome amount over it. As per the latest cost record, one report costs $39.99 for one, $79.99 for 3 and $99.99 for 5. So, this makes it a bit costlier and adds to the drawbacks portion.
While there are others which provide this service for way less then carfax, and some are even free. They are really good at what they do. So, when you get a cheaper service, why pay for it more? Let's see the alternatives of Carfax.
Top 10 Carfax Alternatives 
Given following are some of the best contenders for your service. These would perfectly fit in the carfax's shoes if you want to try them.
This Carfax alternative, again, is a free service. Not only does it offer you the vehicle history report, but you can also get vehicle specification, impounds and towing events, vehicle sales history, and vehicle theft check. Moreover, it will speculate the expected market value of the vehicle as well.
They also give you an inspection checklist, so that you can run a self-inspection. It provides all the premium features for free. That is why it is our first choice as the Carfax alternative.

AutoCheck services are much cheaper than Carfax. You can get one report of AutoCheck for around $25. You can search for as much as 15 vehicles, by entering the VIN or if you don't have the VIN, just enter the license plate number, and you'll get all the information.
The best part about it is that you can get all the information on your phone, both on Android and iOS through the mobile app. Here, you also get buyback protection on registered and qualified vehicles. Also, you can scan the VIN and create an AutoCheck score that will reflect the risk and reliability of buying the vehicle.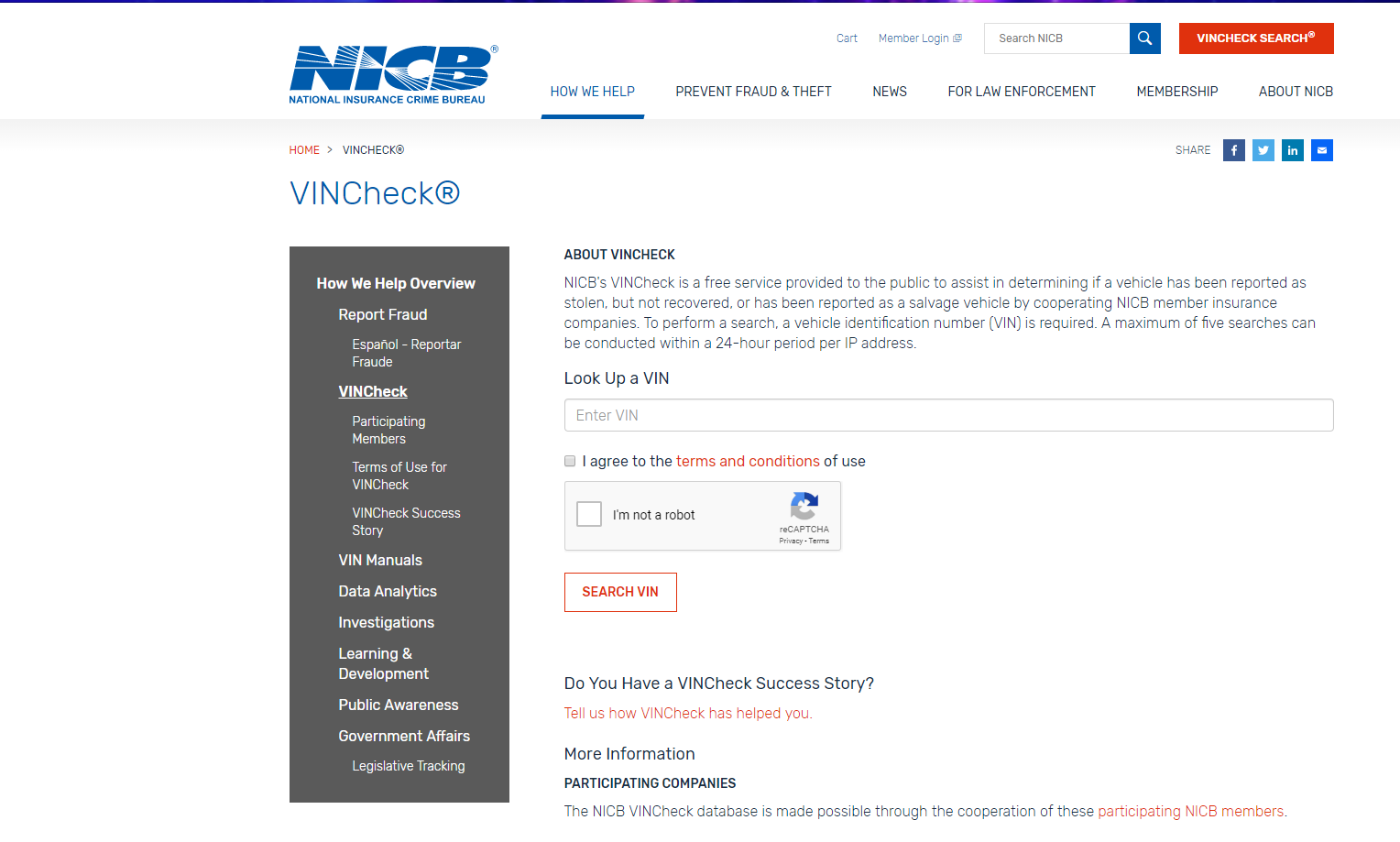 This service is absolutely free for everyone. The service is linked with the National Insurance Crime Bureau to prevent you from buying any stolen or salvaged vehicle. You can do a search for 5 vehicles every 24-hour window using the vehicle's VIN only.
To avail the service, you need to visit the NICB's website. In the 'Theft and Fraud' menu, scroll down to 'VIN Check'. Just type the VIN and you'll be served with all the available information of the vehicle.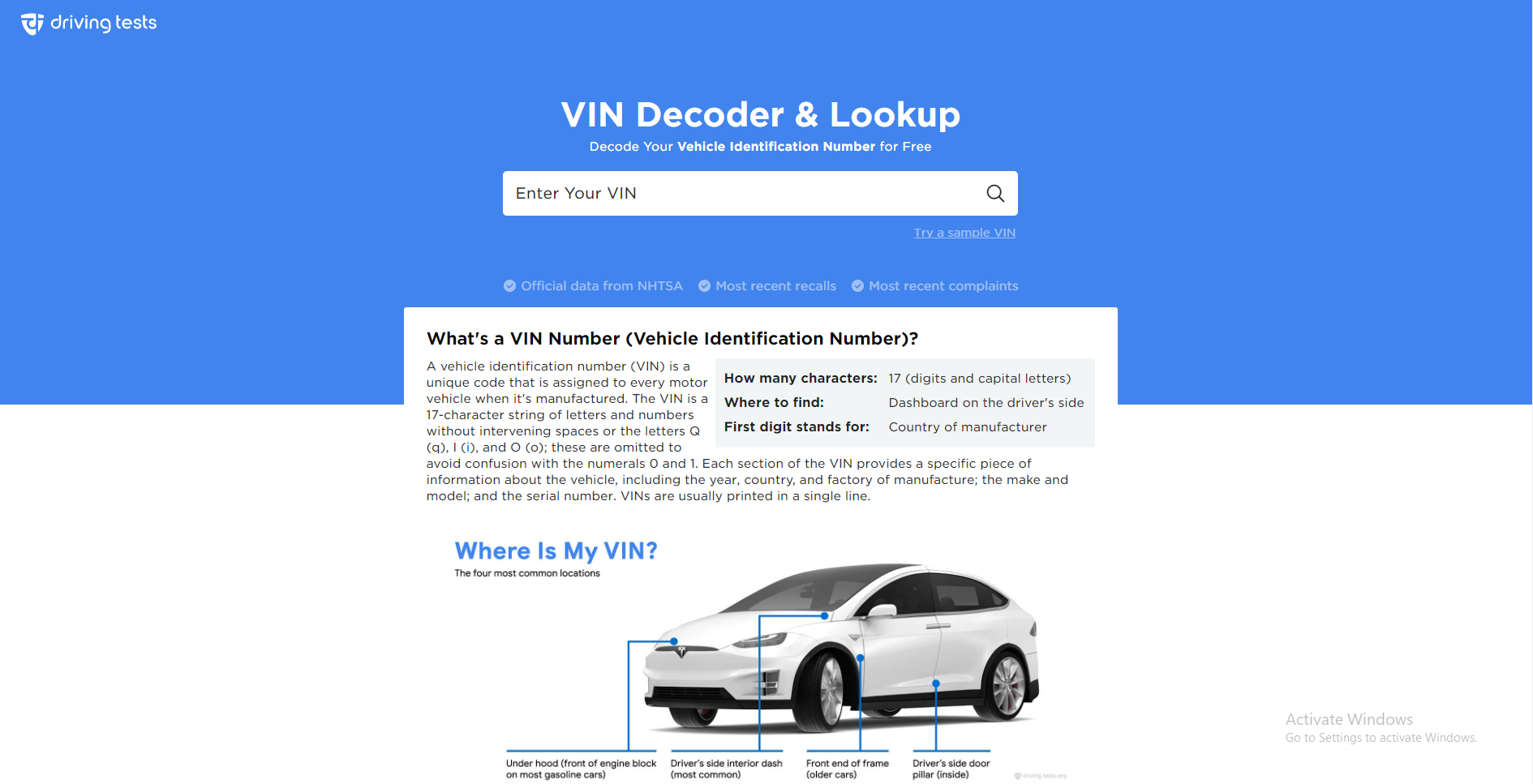 Talking about free services, here's another one for you. You get all the essential information, reports, etc. without paying a penny. It will use the VIN and will do all the work for you. While searching for the vehicle, it creates a 3D image of the vehicle, official data of the vehicle (from NHTSA), recent recalls and recent complaints. 
So, you can judge the vehicle from every prospect. That's a lot of information for a free service though. But, then that is what makes it a Carfax alternative.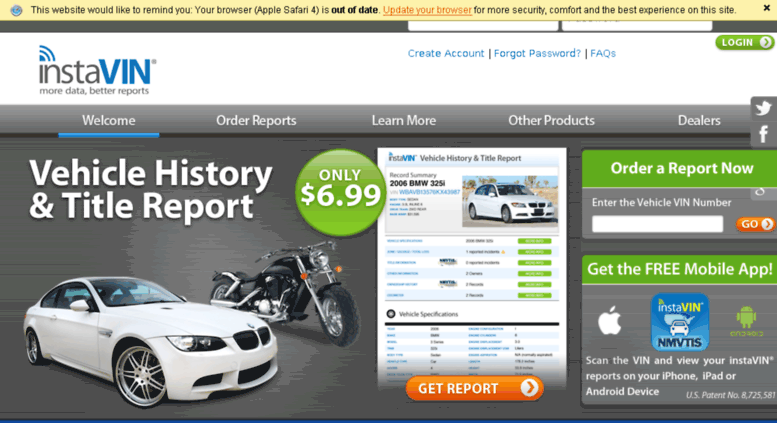 InstaVIN is not a free but an extremely cheap service that you can use if you are looking for car service report. It offers you a salvage or VIN check report for about $3, and a full-fledged history report for about $7 per vehicle. You can either visit their site or download their app (for both iOS & Android).
Plus, it uses the National Motor Vehicle Title Information System and claims to provide you with more and authentic data. If you get all this in less than $7, why not give it a try?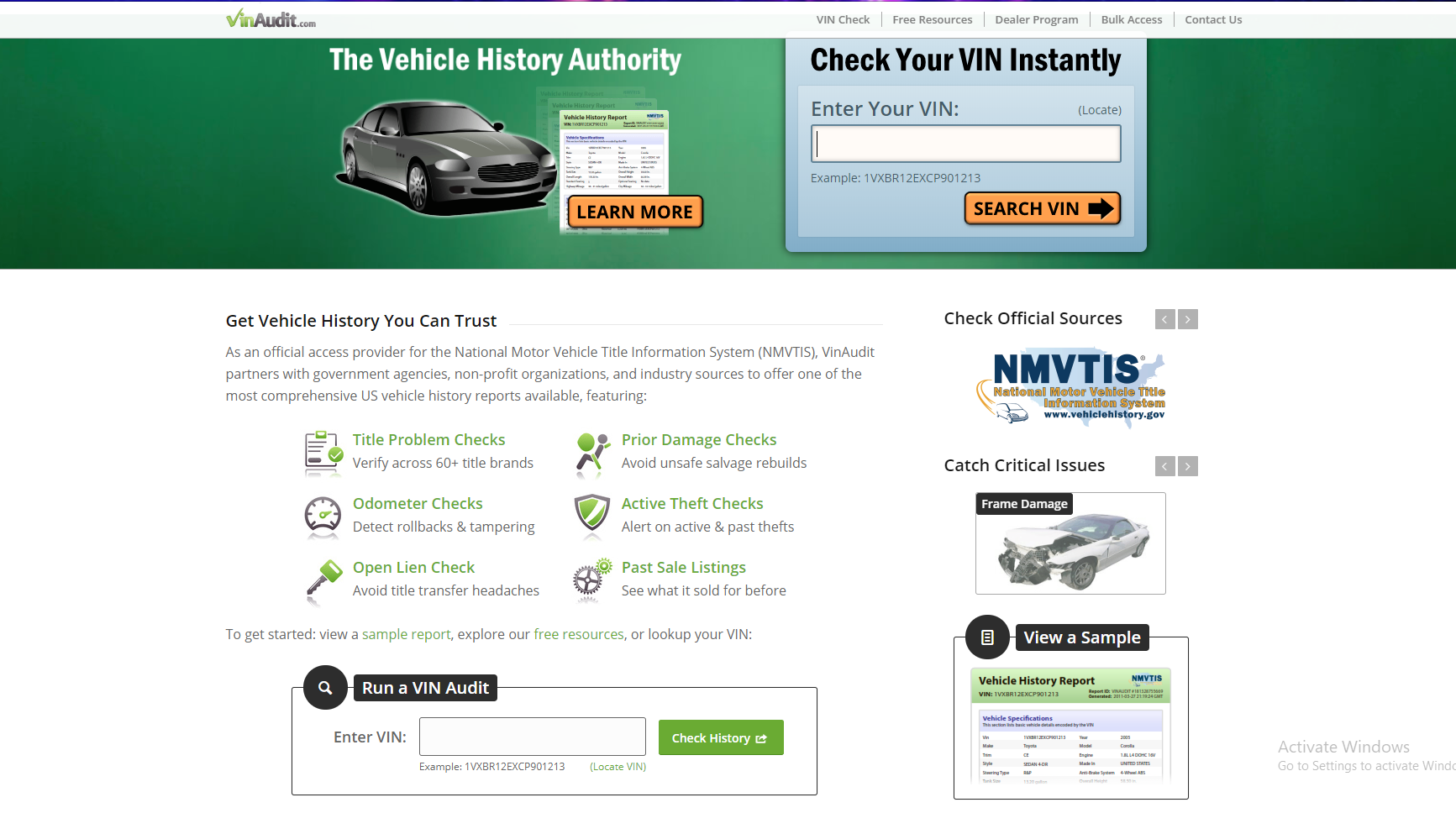 This is another paid service but is much cheaper than Carfax. The report provided covers all the critical issues related to the vehicle, like flood damage, fire damage, hail damage, odometer tempering and much more. You can get to know about the vehicle possession status as well.
The cost of 1 vehicle check report would be around $10. They claim to offer "one of the most comprehensive US vehicle history reports" and it is approved by NMVTIS. Worth a try though.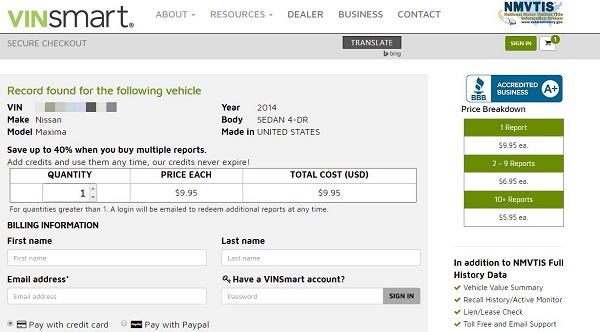 This alternative of carfax is available either online or in apps, for both Android and iOS. They have partnered with NMVTIS which has data from various agencies like vehicle agencies, salvage auctions, insurance agencies, etc. The price of the reports vary, as they charge $9.95 for one report, $6.95 for up to 9 reports, and $5.95 for more than 9 reports.
So, if you order reports in bulk, you can save more money. And don't worry about the credits, they will never expire, so if you plan to buy another car going forward, these reports can be of great use to you.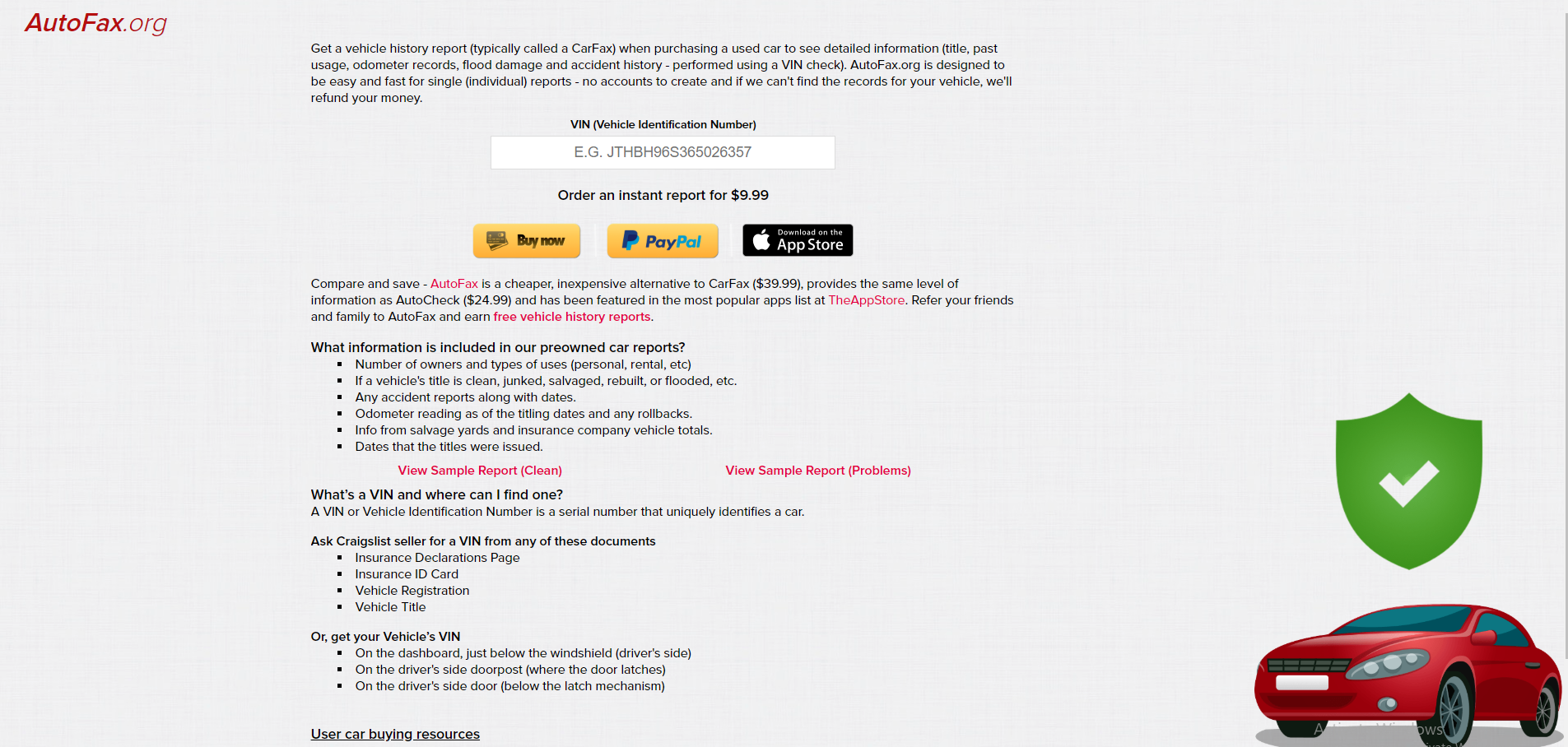 AutoFax is the last of our suggestions. Again, a paid service, but cheaper. You get a full detailed report of the vehicle including the title of the car, its past owners and odometer records, flood damage, and accident history by performing a VIN check. The report cost around $8.99.
Plus, they give you an AutoFax score based on their own inspection. It is available on the App Store as well. If you refer it to your friends, you earn referral credits. And using those credits, you can earn a free vehicle history report as well.
Final Words 
So, these were the best Carfax Alternatives that we sorted for you. If you do not want to pay more for the vehicle report, we suggest you avail any of the above-mentioned reports. All of them are highly accurate and authentic. Try the free ones and try the paid ones, you'll not be disappointed. If you have any doubts, or queries, or want to give us feedback, do use the comment section below.