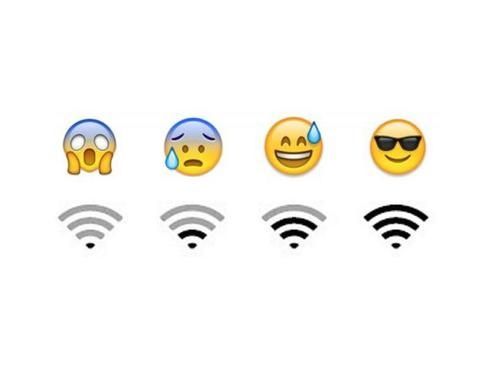 Funny WiFi Names
Wi-Fi is the new gift of technology to us, and this gift has made the world wireless and closer than ever. WiFi didn't only provide wireless connectivity, but also helped us in developing good neighborhood relationships.
Well truly, now instead of asking sugar from your neighbor we ask for their WiFi's password. On a serious note, put your hand on your heart and confess that how many times have you tried to crack or even hack your neighbor'sWiFi password, I know numerous times, right.
But how many times have you paid interest in the WiFi router name of your Neighbors? We are too focused on cracking the WiFi password that we forget to pay attention to the name of the router because that name is either the operator's own name or something lame and boring.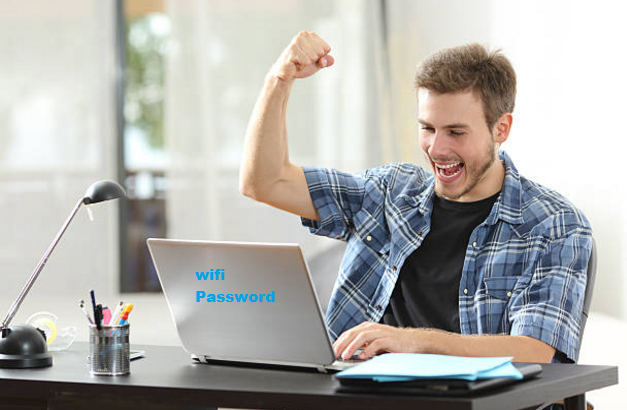 Best, Cool, Funny and Clever WiFi Names
But today we are going to search for few funny, clever, creative, dramatic and cool WiFi names for your WiFi devices that will make your intruder to roll in laughter and forgets to crack your WiFi password.
After searching many best WiFi names on the internet, we came to find that there are numerous cool and funny WiFi names available. These names make us fall with laughter attack and some can even give your intruder a mini heart attack. So the short listed 300+ cool and funny WiFi names to share with you are given below and we promise they will sure make your day.
100+ Cool WiFi Names List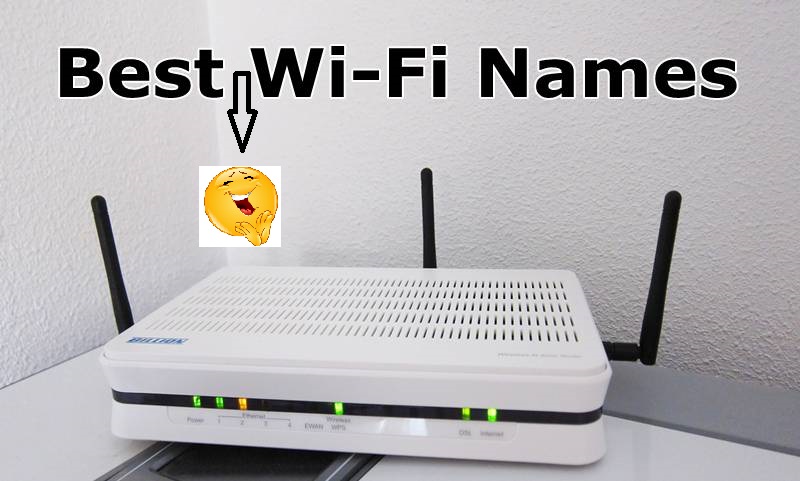 This will blow your mind and let you think twice before renaming your WiFi. So let's begin our journey of cool WiFi names.
I will find you
I know your secret
Error code 404
Call me anytime
See you tonight
I am at your Door
Sale at a mall
Wifi is infected
You are my crush
I will kill you
I am under your bed
Look at your back
I am watching you
You are a murderer
Monster is behind you
I love you
Don't you dare touch me
Touch me not
Help HelpI got Cockroach
I know your girlfriend
I will send you the bill
Buy your own WiFi
I will haunt you in dreams
Tell me I love her
I have crush on your daughter
You are fat
Be aware of dogs
Strangers not allowed here
I will call the police
Open your door
Don't underestimate me
Mind it, I'm rajnikant fan
I know the Commissioner
Just realized from Mental Hospital
I am FBI agent
Top Secret files
Don't you something else to do
Your wife is at my place
Your house is burning
Let's rock tonight
Who's there!
Stop bugging me
Crack my password
Go and study
I will call your mother
Tick Tock I know you
Hello stranger, let's meet up
You are dump then I thought
I will send you bill
See you soon
My password is
Searching Searching searching
Out of coverage area
I'm at your house
I will Steal your wife
My WiFi is my wife
I will report to police
I will hack your system
I know you kill her
Get 3G it's Free
Why don't you get JIO
I will protest against you
I know NarinderModi
Only Zombies allowed
WiFi has AIDS
Awesome WiFi Names
My WiFi is my wife
I love my WiFi
Call me on 1111124
Horn OK please
Your car is on fire
You will burn in hell
God won't forgive you
Mommy he is back
I will tell the mommy
Don't you dare open me
Go to hell!
WiFi tell I love her
Wait a second, I am sending you bill
Only to watch porn
Restricted area, enter at your own risk
Hey, you again
Wait I will call you
Ohh! You are my hero
Hackers are not allowed
Do not disturb
WiFi is sleeping
WiFi is tied of you
Omg you can't be serious
FBI is looking for you
You lost your mind
Enter at your own risk
That's it no way you can crack my password
You have nice body
I can see you
Laugh out a loud
Boom! Boom! Boom?
Take long breath and get out
So you won't listen
Under Construction
Use protection tonight
You are cheap
These are 101 Cool WiFi names with some cool ideas giving the name a cool touch. I know you must be rolling with laughter by now, but the trip is not over yet fellas, as we have a long journey ahead of us. Take deep breath and gear up your jaw for another laughter fit.
100 Best Funny WiFi Names You Should Try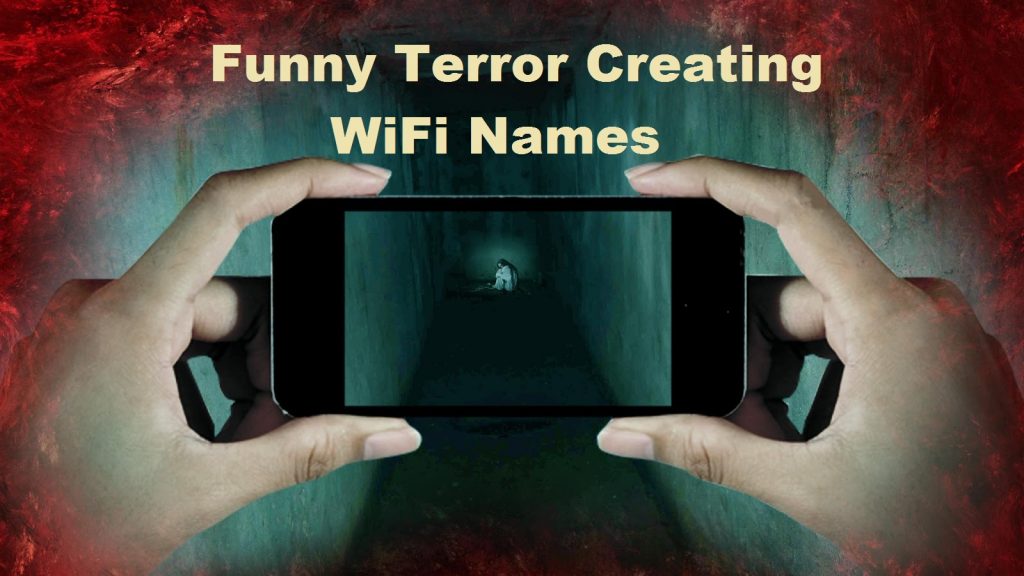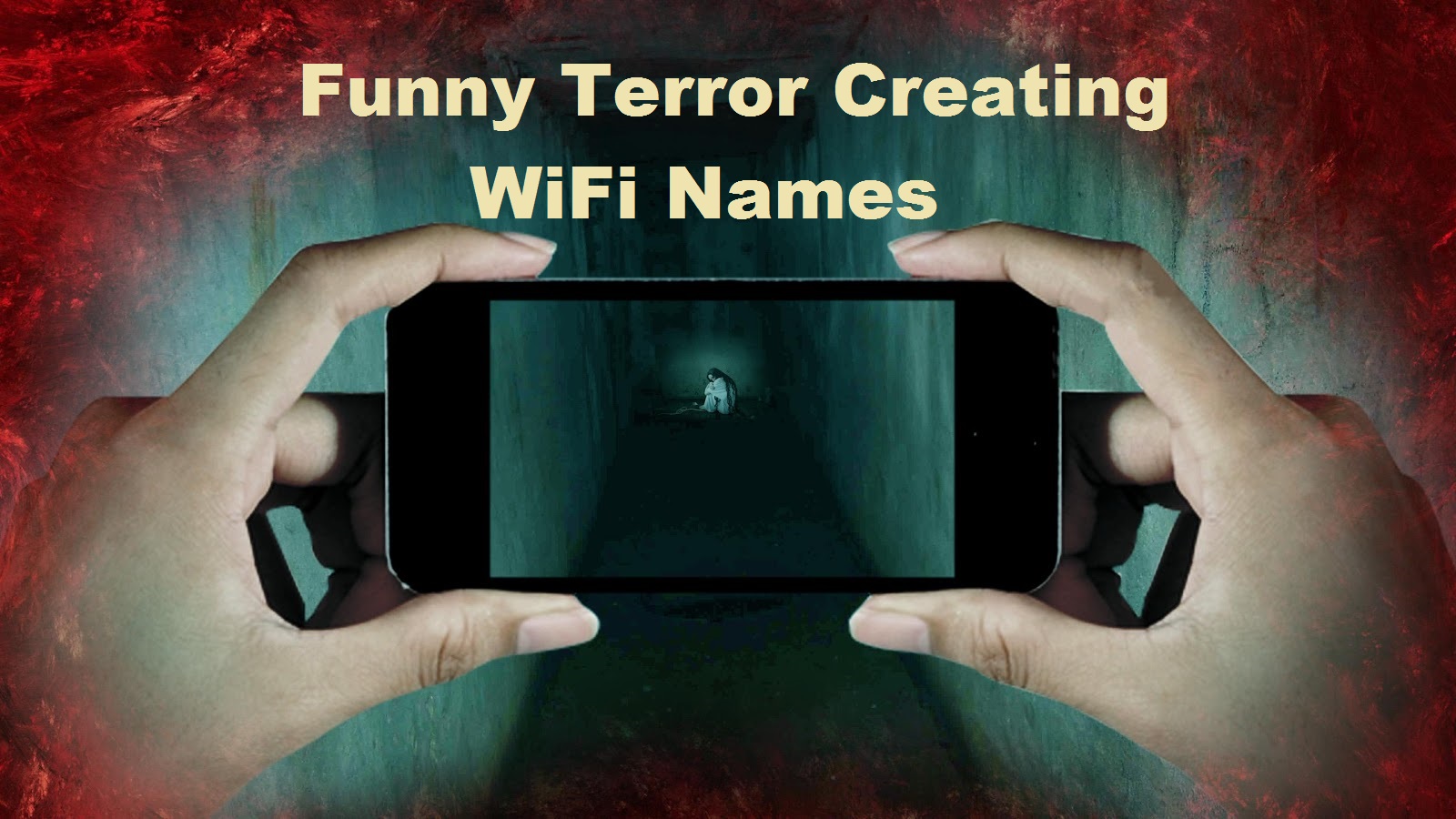 Funny terror creating WiFi names that will sure give a mini heart attack to your noisy neighbors. Let's roll on:
ISIS agent
Raw is looking for me
Just released from prison
Count four and Iwill kill you at five
I am DON
Donald Trump is calling you
I know your Facebook password
Your selfies suck
I'm selfish so I don't believe in sharing
Sharing is not always caring
Do your wife tonight
My friend is Ganesha
Don't abuse my WiFi
Mother killer
Jack andJill sat on my WiFi
Trump knows you are a spy
I amTrump you are Russian
That's it I'm coming for you
Let me kill you, please
Wink Wink Wink
Rolly Polly
All is not well
Last warning for you
Red light area
I know you cheated on your wife
Get away wife beater
Don't look at porn
Yell "Doggy" to know password
Justin Bieber trivia questions
Don't Snoop
Last night I saw you naked
No Wires, Still alive and working
Hack me
Network error
Ye old Internet
Hogsmeade
Nacho WiFi
Please use me
You are an abuser
I know your address
I am waiting for you at room no. 25
I am wireless not heartless
I am unlimited
Grow some balls and come in front of Me
WiFi is sick
Call 911 on you
See you tonight
Bring beer with you
This WiFi is notsingle
Let's hook up later
WiFi is loyal to me
Get your connection
I have mailed your details to police
My neighborhood is isis
Buzz of the town
I am very hard
Rock on!
Godfather
Godzilla is my friend
I am not human
Verify your identify
Enter the password
Call me to know password
I hate you
WiFi ismine
This restricted area
Look your feet
You are a cheater
Thief's not allowed Here
Good Wifi Names
Do to hell
I Pronounce You Man and Wi-Fi
LAN of Milk and Honey
All Your Bandwidth Belong to Us
Go Go Gadget Internet
Porque Fi Searching…
This is Not Free Either
Please Connect for Identity Theft
Pretty Fly for a Wi-Fi
Really, asshole? Curry again?
Wi-Fight the inevitable?
Super Thanks For Asking
99 problems but WiFi ain't one
To use, bring booze John Wilkes Bluetooth
Please stop your barking dog
Wi-Fi Network Names
Martin Router King
John's full name in CAPS, no space
a.LLama
I hate my neighbor
iam Droppin'
The Dark Knight
Used Nicholas Cage DVDs 2 for 1
Poonshangle
Free virus
Love is in the air
Ahhahhahhahhahh
TringnTringwhose calling
Knock knocksomeone at the door
Open your door
Sorry busy with your daughter
Be kind to one another
I hope you are enjoying the funny ride of the WiFi names and trying to select the name for your WiFi'sunique name. Don't get worked up yet, as we have few more interesting ideas for you.
Best Funny Creative WiFi Names List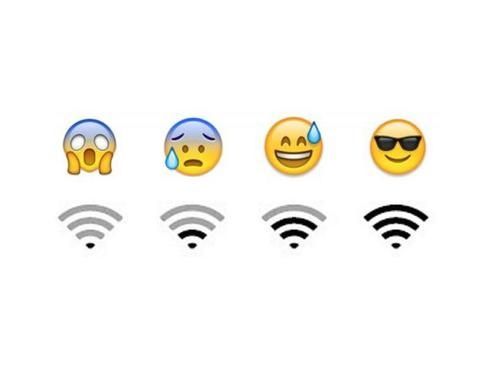 Funny creative WiFi names to show your creativity to the unwanted intruders and make your WiFi sound like daily soaps fan. So let's see some more WiFi names based on your creativity.
Look at your back
I am spy
So what's for dinner
Shoot I forget you were coming
Let's party tonight
It's the time to disco
Lock your main door
Someone is at your backyard
You stings, go get a bath
70% sale on Gucci
My name is khan
Power of a common man
Do I know you?
Welcome back, I was waiting for you
I love your daughter
Get off my WiFi
Stop Annoying me
Rose is red
Pink Panther
WiFi is high on speed
Who's in your closet?
Not again!
Hello Hellohello
I know your number
My number is 11345678
Don't even try it
Get your Own Wi-Fi FuckHead
No Free Wifi for you
My Own Damn Internet
Tell My Wifi I Love Her
Virus Infected WiFi
Get Off My Lawn
You Pay Now
Will U marry me?
Mom Use This One
Go Home Tourists
Buy Another Cup You Cheap Skate
For Porn Use Only
Feel Like Flying
Bring Beer and Women to 40.2
Your grammar is more annoying
Your music is annoying
Internet Costs $
Ouch…sat on my nutz
6th Sense Mobile WiFi
You're All Noobs
I Can Hear U Jacking Off to it
Get OFF My LAN
Open Wi-Fi
Don't You Wish Your Wifi as Hot Like
Your Baby Is Really Ugly
I will kill your dog
I can hear you
Make me cake
I have short gun
I'm under your bed
Pinky promise
Cheater cheatercheater
Pink butterfly
Sore patch
I am pirate
Bill billbill
Check your mail
Under processing
You are an idiot
Peace
Doing your daughter
Can I marry your daughter?
You are sick
My life sucks
WiFi demonetisation
Alert thief!Alert thief!
Clever Wifi Names
Bill Gates isn't my uncle so pay bill
Such a jerk
Open me
Unavailable right now
May I kill you
Hell is waiting for you
God is watching you
I am watching your every move
WiFi hacked
Virus alert
Open at your own risk
Riseand shine
Party Saturday Night APT #434!!!
Free Wi-Fi
Get Your Own Damn Internet
Guess My Wifi Password
It Hurts When IP
Pretty Fly for a Wi-Fi
Caitlin stop using our internet!
Not Free So Use 3G
YourDogShitsInMyYard
Quit Using My Wifi
Router, I Hardly know Her
Please no more grindcore at 3am Hide your Kids,
Hide your Wi-Fi
2 Girls 1 Router Guys,
please stop fighting for myWifi
Stay OFF my router
I'mChristian Grey
50 shades of WiFi
So, guys, we have to stop here, as we have already given you the WiFi names for a year, you can change your router name daily now. So what are you waiting for, go and change your WiFi name and tease your neighbors as much as you can, who won't stop stealing your WiFi even in eternity? Happy Teasing!