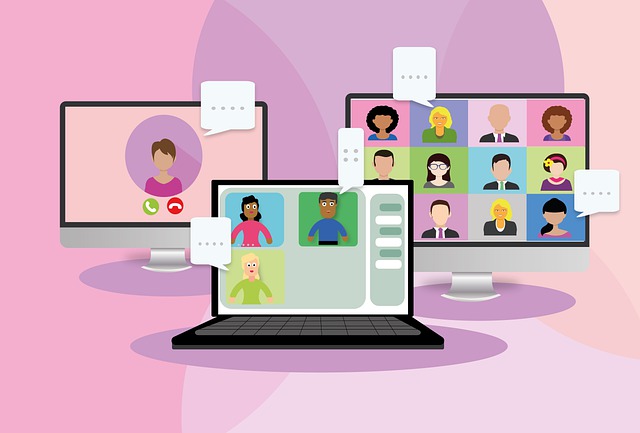 There's no question that video conferencing is on the rise, as more and more people are looking for ways to connect with colleagues and clients without having to leave the comfort of their own homes or offices. In fact, according to a study by Global Workplace Analytics, the number of people working from home at least half the time has increased by 103% over the past decade. 
With so many video chat apps available, it can be tough to know which one is right for you. For this blog post, we've chosen the 3 best video conferencing services that are not Zoom or Skype and have unique tools to offer remote teams.
Why video conferencing?
Telecommuting is nothing new, but the videoconferencing technology that makes it possible to see and hear colleagues as if they're in the same room is just becoming the new normal. And now when it's more affordable and practical than ever, businesses are starting to reap the benefits.
There are plenty of reasons to make video conferencing a regular part of your workplace:
It's an efficient way to get people from different parts of the world in one virtual room. 

Online conferencing eliminates the need for expensive and time-consuming travel. It also minimizes the amount of wasted time and money associated with traditional phone calls and email.

It improves relationships with colleagues and clients. During a video call, people can see each other's facial expressions and gestures, which helps build trust and rapport.

It helps to reduce misunderstandings, as people can clearly hear each other.

Video conferencing makes it easier to share information thanks to real-time screen and file sharing. 
As you can see, online communication is an essential part of the modern workplace. It allows teammates to keep in touch with each other regardless of their physical location. But to make this all work perfectly, you need special software. 
Our top 3 picks
Whether you're trying to save on travel costs or just want to stay connected with distant teammates, video calling is a great way to do this. These days, many apps offer this feature, but not all of them are created equal. Here are three that are truly unique.
1. Whoosh
Whoosh is a newcomer on the market of video chat apps. And it's going to revolutionize it with its powerful AI-driven features aimed at making video conferencing more engaging and impactful.
What's good about it:
Experience the most immersive video calls on the market with Whoosh's powerful camera and impressive 3D backgrounds that feel real, whether it's a sea view with a lighthouse or an exotic beach. And with Full-HD video and supreme audio of every call, it's easy to forget about the screen between you and other participants.
With Whoosh, you can feel the true power of AI. The app comes with a motion-tracking technology that allows you to control the atmosphere during meetings by just moving your hands. Plus, its smart scheduling assistant will help you choose the right time for your next meeting.
Unique cloud recording technology
Say goodbye to missed opportunities. Mementos, short video mashups, allow capturing all the highlights of an online meeting. It analyzes the recording, chooses the most prominent moments, and generates a short and informative version of everything that took place, accompanying it with a text transcript.
Unrivaled presentation experience
Whoosh offers a bunch of useful AI-driven tools features for an interactive experience. Touch-up tools help you look your best. Weatherman layouts let you combine the background with the speaker, making it easy to follow along. Audio separation allows working in groups without interruptions. 
2. Whereby
If you're looking for simplicity, Whereby is your choice! The app allows creating a meeting link, sharing it, and starting a conference in three taps. No additional actions are required. We tested this, and no one from our team had trouble with the connection. As for its features, Whereby offers to invite up to 100 people to the conference, record the event, talk in a chat, and share screen.
What's good about it:
Free plan perfect for small teams
If you're an owner of a startup or work in a small business, Whereby offers an ideal option for you – a free plan. What's inside? 1 room URL, up to 100 meeting participants, unlimited 1-1 calls, and group conferences for up to 45 minutes.
Unique integration functionality
Whereby offers integration that differs from everything you saw before: it embeds apps right into the meeting room. For example, if you open Google Sheets, you'll get an actual table that everyone can edit in real-time – it's fully integrated into the webpage.
If your major aim is to make it simpler for anyone to join a meeting or share an invite, Whereby is at your service. It doesn't require creating accounts for every participant. The platform is browser-based and allows for joining a meeting "without downloads, logins, and hassle", as its website claims.
Whereby also provides its users with the opportunity to personalize virtual workspaces, meeting rooms, URLs, and branding. This is highly convenient if you have several workspaces or teams, which you want to look different from each other.
3. BlueJeans Meetings
BlueJeans is another robust solution for upgrading your digital workplace. It's a feature-rich platform aimed at making video meetings, online events, and virtual conference rooms accessible from anywhere and from any device. 
What's good about it:
Live-operating smart system
BlueJeans allows its users to save time on meetings with in-app intelligence: meeting highlights, live transcription, real-time controls, automated alerts, notifications, and productivity analytics.
Easy access to corporate events
For seamless user experience, the app offers one-tap access to any online conference regardless of a used device and its operating system. What's more, every team member has access to the entire video conferencing activity within the company.
With BlueJeans, all data, files, and messages you share online are 100% protected. The app uses meeting IDs, room locks, participant passcodes, and end-to-end encryption to ensure everyone's privacy and data protection.
To wrap things up
When you're in business, there's no place for mistakes. Especially when it comes to communication. Video calls are a great way to communicate with your team and clients, but they can also be very time-consuming and frustrating if you are not prepared for them. That's why you should choose the right software. The one that is powerful enough to blur boundaries and build bridges between distant people. Just like the three options, we described above.