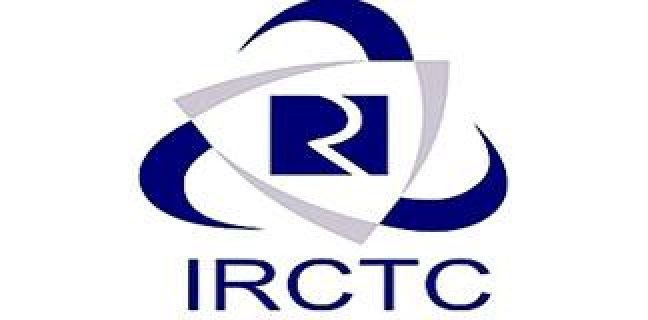 Tatkal Booking is a facility provided by IRCTC for people who need to book a train ticket at short notice. However, due to limited seats and huge demand, the booking process often leads to frustration.
Booking a Confirmed Tatkal ticket from Irctc is like you have won some lottery. It's not easy to book tatkal ticket from Irctc, as there are only a few seats and most of them get booked in few seconds of Tatkal booking start.
You can either book it from railway ticket counter or from www.irctc.co.in. This is the only site where you can book your Train tickets. But don't worry, I have some Irctc Tatkal booking tricks. Just follow these methods, you will surely book your confirmed tatkal ticket.
Note: Now you can only book 2 Tatkal tickets a day and max 6 ticket a month from one account of Irctc from 15 Feb.
Also check :
Irctc Tatkal Booking Tricks
Requirement
1. Fast Internet Connection: You need to have good internet connection say about 1-2 Mbps. As tatkal tickets get booked fast, if your internet connection is slow, you will lose the tickets.
2. All Details in Notepad: Just fill up all details in Notepad file, Passenger name, age Id, phone no, payment details like card no etc. This will make your working faster during Tatkal booking as you do not need to type at that time.
3. Some Browser Plugins and Softwares like Magic Auto Fill, User Agent Switcher, Adblock Plus etc.
4. An Irctc account, if you don't have one then create Irctc account now.
5. Knowledge to book ticket on IRCTC: For this, you can read my guide on How to book train ticket on Irctc.
Irctc Tatkal Rules
Tatkal Timings 2018 : Tatkal booking timing is 10:00 AM for AC Class and 11:00 AM for Sleeper class daily for one day in Advance i.e if you want to book ticket for tomorrow then its booking will start today at 10 am.
Tatkal Charges 2018 : Tatkal charges depend on your category and base fare, they have different tatkal fees according to your category and base fare. If you want to cancel a tatkal ticket, no refund will be given. So, book the ticket responsibly.
Tatkal Charges for Second Class (2S) : 10% of base fare
For Sleeper Category (SL) : 30% of base fare
Tatkal Charges for Third AC (3A) : 30% of base fare
T-Charges for Second AC (2A) : 30% of base fare
Tatkal Charges for First AC (1A) : 30% of base fare
There are some conditions for maximum and minimum charges shown in table below.


While booking Tatkal Ticket, you need to have Valid id proofs and you must carry these proofs during your journey, without these id proofs your ticket will be invalid.
Note: According to the recent news about Tatkal ticket, you will not need ID proof while booking a ticket on both offline and online ticket booking from September 1st.
Valid Id's Proofs for Indian Railway
There is 10 valid id proof for irctc tatkal and general train journey.
1.Voter Photo identity card issued by Election Commision of India.
2.Passport
3.PAN Card
4.Driving Licence issued by RTO.
5.Photo identity card having serial number issued by Central/State Government.
6.Student Identity Card with photograph issued by recognized School/College for their students.
7.Nationalized Bank Passbook with a photograph.
8.Credit cards issued by banks with laminated photograph.
9.Unique Identification Card "Aadhaar".
10.Photo identity cards having serial number issued by Public Sector Undertaking of State/Central Government, District Administration, Municipal bodies and Penchant Administration.
Irctc Tatkal Booking tools
Lets now discuss these browser plugins in detail
Latest Irctc Tatkal Booking Software and tricks
To use this method you need to have Mozilla Firefox and a plugin that I will mention here.
Method 1
First, go to myrailinfo(dot)in and install the browser plugin into your Firefox browser.
Now just open the plugin from top right corner of the browser.
Fill all your details, your Irctc user password, your journey details and passenger details. If you feel comfortable you can also fill payment details. Otherwise, leave it blank. Now just click on Save Data option.
Now open Irctc and login to your account.
All the work will be done by this tatkal booking software.
Now at the end, you just need to fill captcha and click on next.
It will ask for payment details fill it and you will get confirm tatkal ticket for sure.
Method 2
1. Adblock Plus : If you will open Irctc website, there are lots of ads, due to which it takes time to load pages and slow down your booking process. So to block these ads and increase your page loading time, just use this Ad Block plugin. It will block ads on all website and help you book ticket fast.
You can install it from here: adblockplus.org. It is available for most of the browsers, chrome, Mozilla etc.
2. Magic auto Fill : This tool is specially designed to fast up your Tatkal Booking. This tool helps you to book ticket quickly by filling all your details automatically.
How to Use Magic Auto Fill
1. Go to www.ctrlq.org/irctc/
2. Click on Reservation Form Button.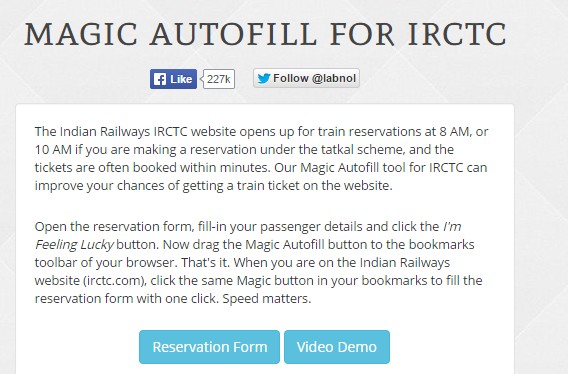 3. Now it will load a form, which is a replica of original Passenger detail form on Irctc website. Just fill all the details of passengers, their name, age, id card details and phone no.
4. Click on I'm Feeling Lucky Button and it will create a Magic autoFill Bookmarklet. Just drag it to your Browser Bookmark tab.
5. Now while booking your ticket on irctc, when passenger detail form will appear, just click on this Magic auto Fill Bookmarklet. It will automatically fill all your details. So it will save your lot of time and make your booking faster.
Tricks to Book Irctc Tatkal Tickets
1. Irctc Tatkal Ticket Booking Start at 10 A.M. Just get up 20 Minute earlier and open Magic Auto fill and fill up all your details there and create a bookmark-let.
2. Now login to your Irctc account 10 minutes before the booking time.
3. Search your train by entering station names. But don't use Tatkal Quota this time ( As Tatkal Scheme is allowed only after 10 a.m, so use General instead of Tatkal). Now keep doing some tasks to prevent session timeout. You can check the train seat availability between two station in many ways.
4. Now, wait for your watch display 10. Now quickly chose Tatkal quota and Click the Find Train Button.
5. It will display the train list, select your seat category and click on Book ticket.
6. Then it will Load the passenger detail form. Now click on the Bookmark-let that you have created earlier. It will fill up all your details. Now fill the Captcha.
7. Now Click on Make Payment Option.
8. Fill your Debit/ Credit card details (I told you to keep your details in a notepad file, just use those details. Don't waste time in Typing) You will surely get confirmed Tatkal ticket if you follow all these steps. And else it depends on your luck and Internet connection. If you want to make your Tatkal Ticket More faster, You can use Cash Wallets like paytm. It will save your payment processing time.
[/sociallocker]
You can now also check your IRCTC PNR status online or by SMS. This will help you to know your ticket status whether it is confirmed or not.
Irctc eWallet (not for Tatkal Booking)
You need to create Irctc e-wallet account for this. But e wallet of Irctc does not work at the time of tatkal. SO you can use the Paytm wallet for fast tatkal booking and can also save money.
1. Sign in your IRCTC account.
2. Click on "eWallet Registration" link on "Plan my travel" page.
3. Submit your PAN card no. and name for verification.
4. After Verification details, create a transaction password.
You need to Pay eWallet registration fee of amount Rs 250 by the available payment options.
After this, you can add the amount to your e-wallet using your debit/credit card or net banking. Then at the time of ticket booking, you can simply pay from your ewallet , you do not need to enter your debit card details. It will save a lot of time and make your booking faster.
You can use all these tricks to book Tatkal ticket on Irctc. If you get any problem in Tatkal ticket booking on Irctc, just comment below. I and my team will always ready to help you.